It all started with an ominous email.
The AirBnB we had rented on Nevis had a plumbing emergency. I think the word 'epic' might have been used.
"And we're so sorry, but would you mind if we put you in a different apartment managed by our company instead? We promise it is even nicer than the one you booked."
We didn't have a ton of options. We were arriving the next day on Nevis, a tiny island with limited accommodations and even fewer in a mid-tier price range. So we said, "Sure. We'll happily switch apartments and avoid an epic plumbing emergency. Thanks for not letting us be the guinea pigs of the plumbing fix."
And then, essentially sight unseen, we showed up.
And the apartment was amazing. Thank god. We were at the mercy of the goodwill of the AirBnB host, and fortunately it worked out this time around. The one bedroom apartment turned into a two bedroom, spacious villa, just steps away from the beach. We each had our own bathroom. We had a full size kitchen with brand new appliances and a blender to make our own smoothies each morning.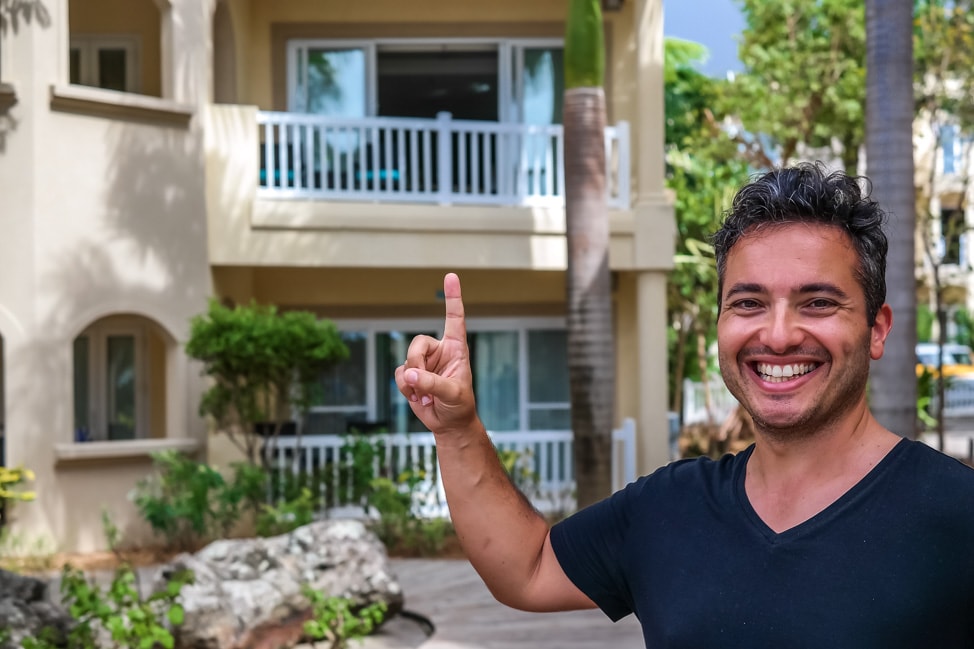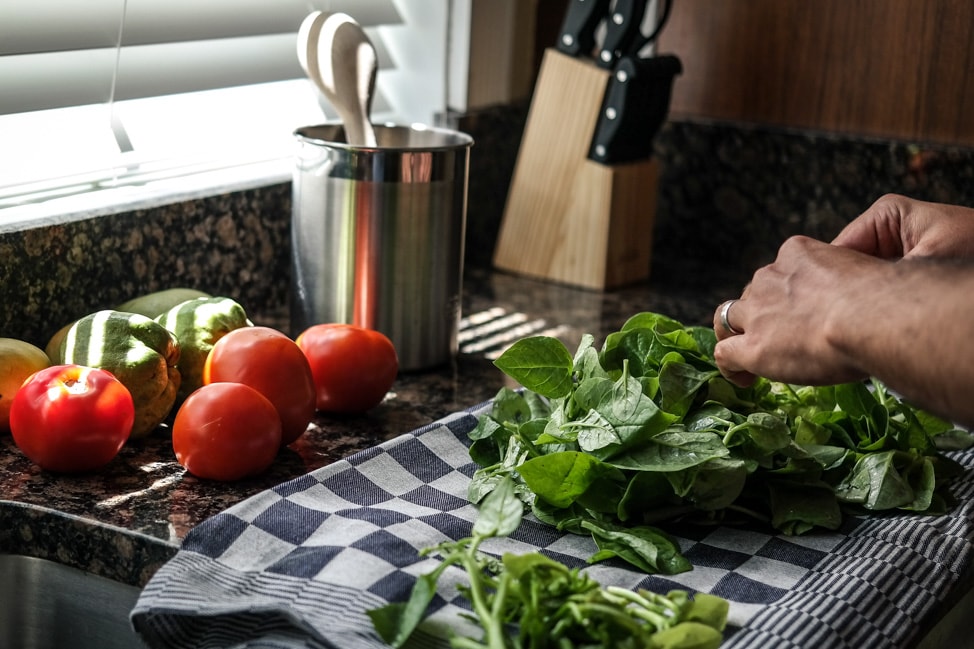 We sprawled out, unpacking completely (something we rarely do), and filling the refrigerator.
The apartment in Nevis came the closest to 'being home' than we've been in many months. I set up my own private yoga studio in the spare bedroom. We cooked most meals at home. Worked. Played. Met up with friends from Maine for lunch one day. Finalized our plan to move to China. Normal stuff.
(By the way, what are the odds that a good friend is on a cruise and your paths cross for precisely one day in an island nation where neither of you have been before?)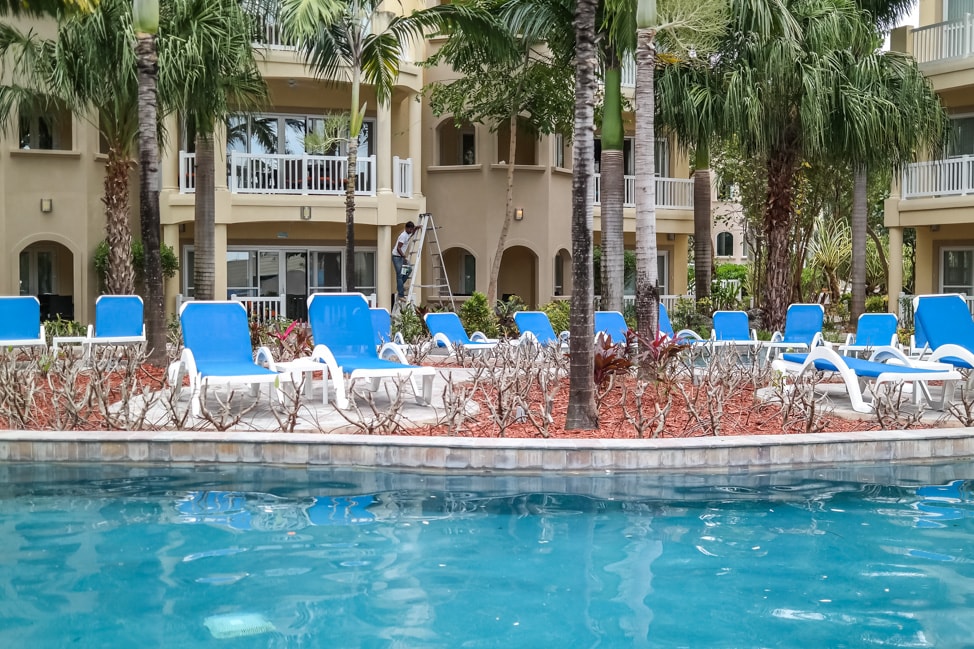 Things to Do in Nevis
With 10 full days in our little Caribbean oasis, you'd think we'd have more to show for it.
This little guy (below) shows up way more than is appropriate in the camera feed. A chance encounter with a family of pigs was also captured – barely. It turns out that being swarmed by piglets is highly distracting and makes it harder to fish the camera out of the bottom of our hiking daypack smoothly.
But with so much time in paradise, you'd think our memory card would be bulging with sunsets and seashells. Instead, we spent many hours at the beach, by the pool, on the terrace, at dive bars drinking rum punch, without a single glance at our camera. Another stunning beach shot? Who needs it?
The best things to do in Nevis are relax and unwind. There is just enough to do in Nevis to keep you interested, but not so much that you don't get distracted from just sitting and soaking in the laid back Caribbean charm.
You know you've made the shift from tourist to resident when you leave your camera at home. #truth
All that said, we did explore. With a car at our disposal for a few days, we covered nearly every paved road on the island. Driving around the entire island only took about 45 minutes, so exploring this little gem of a Caribbean island is surprisingly easy!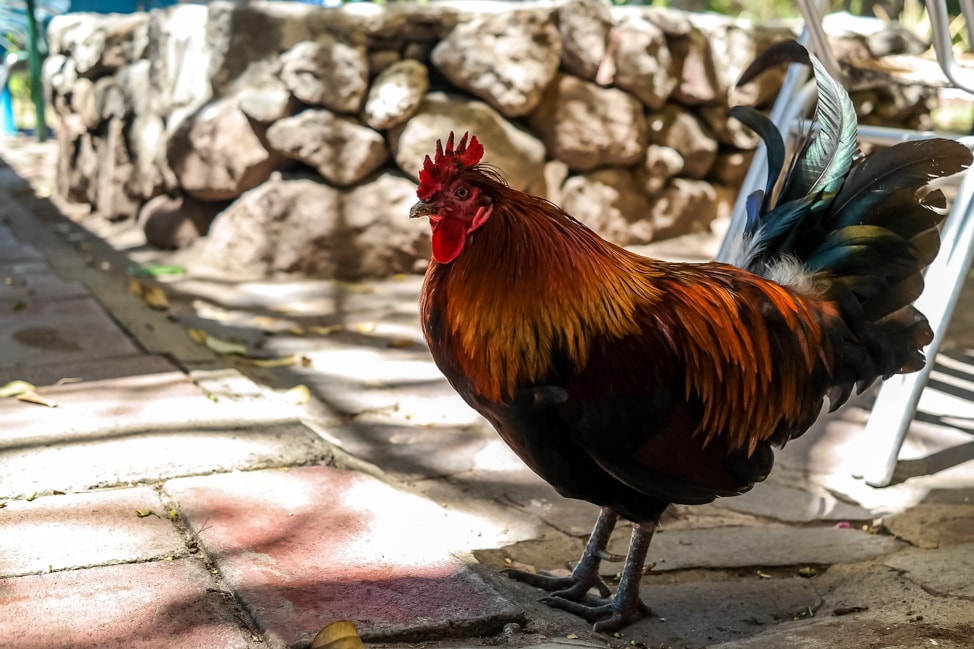 What to do in Nevis and observations from the island's ring road:
Nevis is dominated by the Four Seasons and … Goats
The Four Seasons set up a Caribbean outpost here years ago and it is not only the island's largest private employer but also the hotel that put Nevis on the map. We've seen plenty of Travel Channel highlight reels of the property, and many of the island's visitors head straight to the Four Seasons and don't leave.
While the tourist attention certainly doesn't hurt all of the restaurants and outfitters that have popped up around the island to service the newfound visitors, it does dramatically impact prices. On the Four Seasons property it's not uncommon to pay $15US for a drink or $30US for an entrée at one of its many restaurants.
The goats are a different story. There are goats everywhere, and I really do mean everywhere, on Nevis. They're as prevalent as squirrels are in Boston Common. They wander in yards and along the side of the road. Wherever there is a stray patch of grass, you will inevitably find a goat.
While they don't appear to belong to anyone, goats are very habitual, and they follow their daily routine without fail. So to outsiders they may look wild-ish, but they could very well be trained to come home.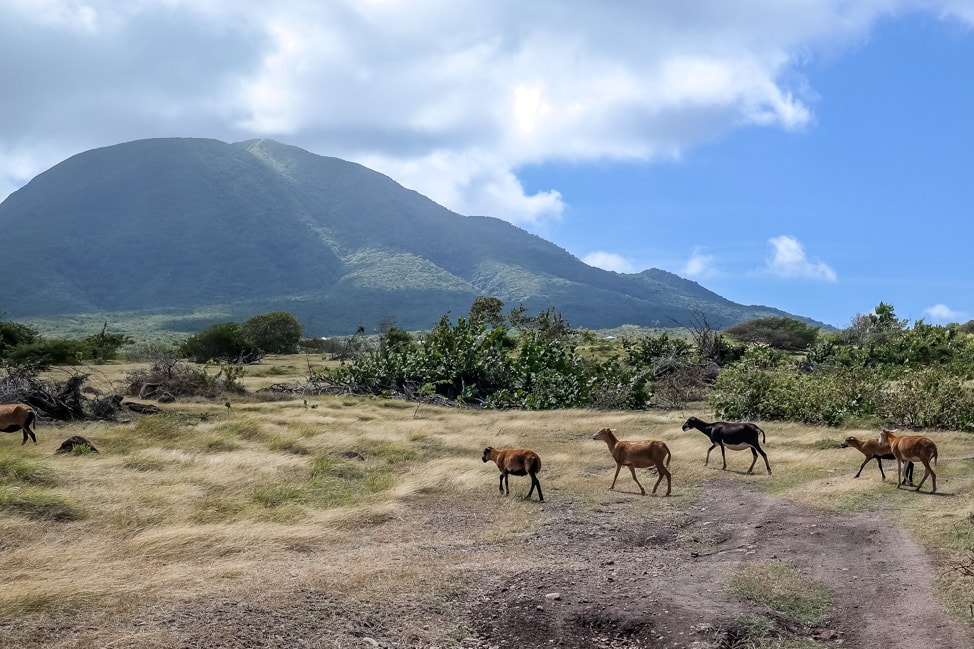 Hiking to The Source
One day, we took a hike up to The Source, the spring that supplies water to the entire island. You know you're on the right track thanks to the exposed piping that follows the trail to, well, The Source. In some sections, the metal pipes have been replaced by PVC, usually propped up by cleverly shaped sticks. Nothing like depending on the strength of a stick to ensure water continues to flow to homes and businesses.
I find it rather enchanting that the water for the island is supplied by none other than The Source, a reservoir situated on top of a volcano. Sounds a lot cooler than saying the water comes from a water treatment facility.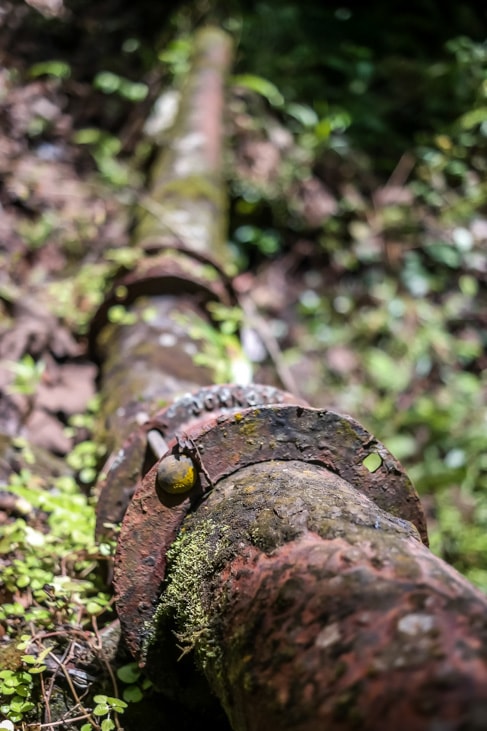 Nevis Isn't Cheap
Like many of its Caribbean neighbors, Nevis isn't the perfect place for bargain hunters. Many restaurants and bars are attached to a luxury hotel, and can afford to charge a premium. Off these properties, prices are cheaper, but not by as much as you'd think. Even simple fish sandwiches at a shack will run $10US or more, and rum drinks are rarely under $8US.
The best buy? Bottles of Carib beer can be found for under $3US at many bars.
Getting around the island by taxi (much like our experience in St. Kitts) is rather pricey as well. It is hard to go anywhere really for under $10-15US, even for a short 5 minute drive. Food prices are also relatively high since most items have to be shipped in by boat, and even local produce, like tropical fruit, are only slightly less expensive compared to US pricing.
Get Stung by The Killer Bee
I'll end with a booze recommendation. While we were in St. Kitts for two weeks, no fewer than ten different people said that once on Nevis we must try a drink at a bar called Sunshines. The drink: the Killer Bee.
Don't drink more than one, we were warned. You'll regret it.
It's rare to get that kind of praise for a cocktail, much less for a rum punch, which is the unofficial drink of the Caribbean. But we went to Sunshines. And we got the famous Killer Bee. And somehow, it was more deadly than the other versions we tried.
I have no clue what was in that thing, but a small was enough to send me lurching home and into a mid-afternoon nap. Is that a good review? A bad one? I'll let you decide the next time you find yourself on Nevis sitting at the bar at Sunshine's.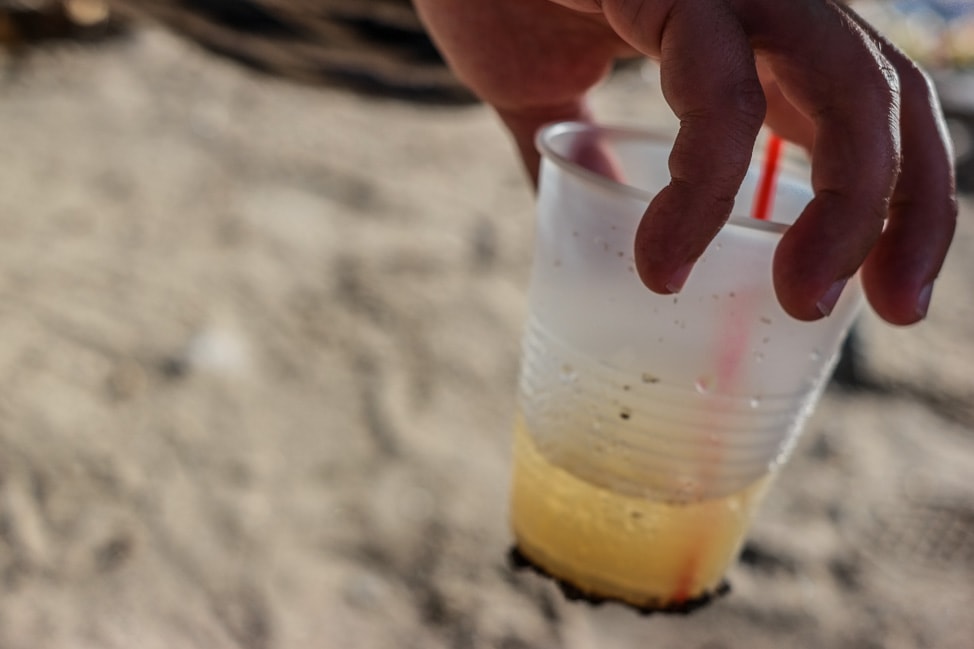 Practical Tips for Nevis:
–Nevis is the kid sister of St. Kitts, and is accessible by ferry. The ferry ride is 25EC, or about $8US per person, per ride. Ferries leave roughly every hour, but check at the ferry terminal for the most up-to-date schedule as the online versions are incomplete.
–We spent a few days hiking on Nevis. The website (created by enthusiastic resident expats) we used for all of our info isn't updated any longer, but we had good luck with the instructions. We wrote about some of our favorite St. Kitts hikes in detail as well, if hiking is your thing.
–We found most of the restaurants on the island pretty mediocre. The food is fine, but the island definitely caters to tourists, so most menus are lacking in local flair and dishes tend to be expensive for what you get. That said, the Friday night happy hour deals at the Yachtsman Grill are great.
–Renting a car for at least part of your stay on-island is smart. We had a rental car for 4 of the 10 days we stayed on Nevis. Much like our experience with rental cars in St. Kitts, rates start at around $45/day and the vehicles are, how do I say this nicely…well loved? Our little hatchback had 75,000 miles and included a pine tree shaped air freshener. It was hilarious.
Oh, and we did take a few seashell and beach photos. We're not animals.