We agonized over booking a St. Kitts rental car.
On one hand, it's always nice to have your own wheels, especially when parking is abundant. You can get off the beaten path, save yourself the taxi fares and go wherever you want, whenever you want. On the other hand, part of the fun of being in the Caribbean, on a tiny island, is that cars aren't necessary. Everything is within close proximity, and when you do want to do something further afield, there are plenty of guides and drivers to take you.
Up until the day we arrived in St. Kitts & Nevis, we were torn about the car rental situation. Do we or don't we? And if we do, for how long and with what company?
Save yourself the trouble and the headache. Here's everything we learned about renting a car in St. Kitts.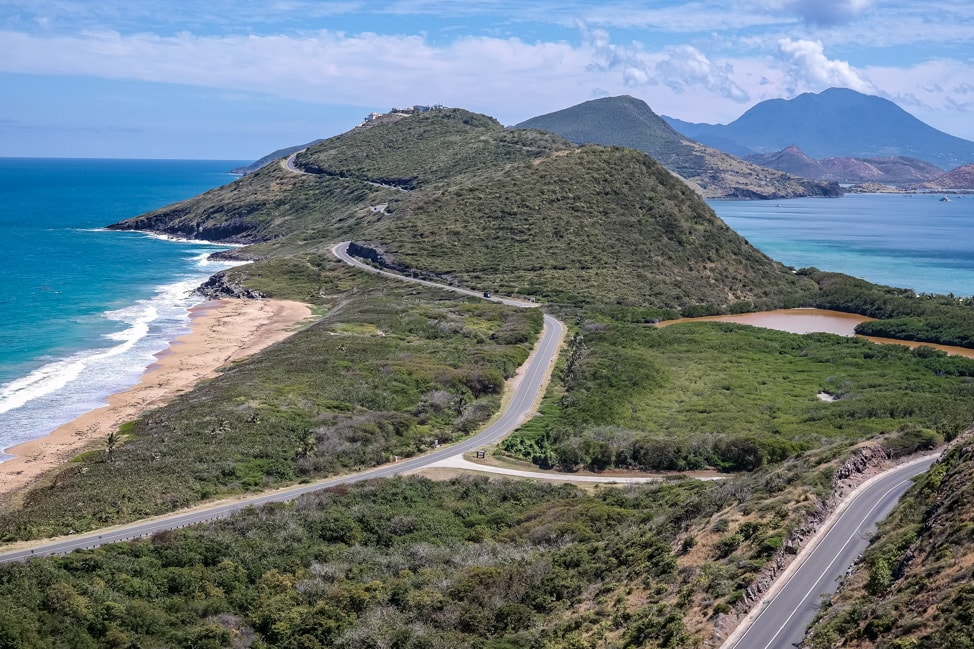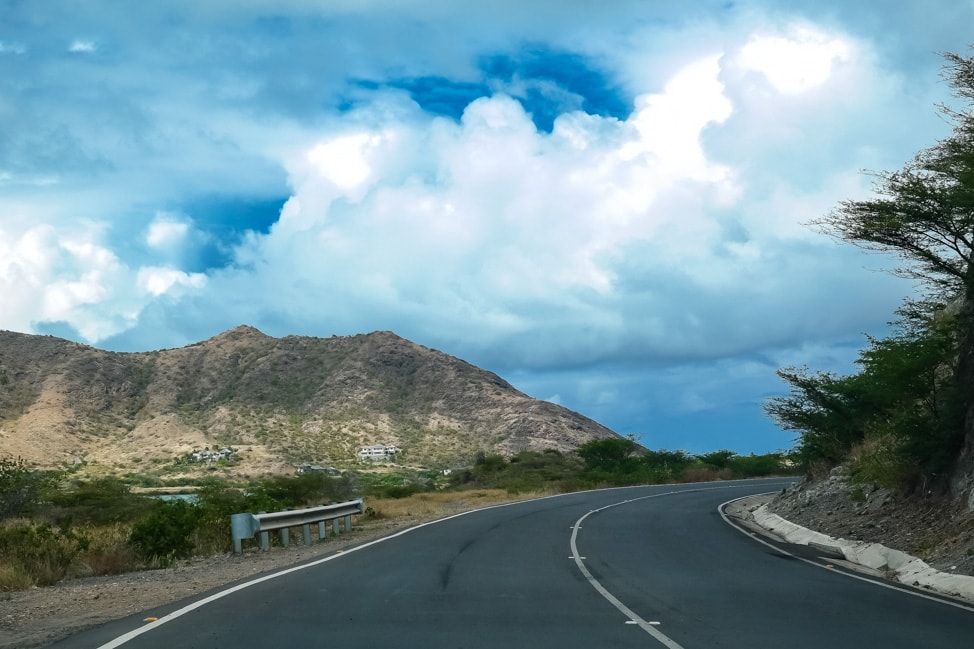 Book in Advance
Ok, this may not be required during low season, but we visited during what is apparently the 'very high' season of late winter, and were met with many companies that just didn't have any cars left. We waited until the very last minute (same day or next day pick up) and only found two St. Kitts car rental companies on the island that still had economy cars available.
Run the Numbers
The base rate for renting an economy-size car on these islands is $45/day (USD, all figures in USD as it is one of two recognized currencies in the area). There is a $10/day required collision insurance and a $1.50/day 'Island Improvement Fee' that are both tacked onto your bill. Add onto that the normal sales tax.
Then there is the one-time only fee of $24 which you pay to obtain a temporary local drivers' license at the rental facility. It is little more than a piece of paper with your name, license number, and local address, but you face fines upwards of $1000 if you do not have one and are stopped by the local police. The good news is that the license is valid for 3 months, meaning you only have to pay the license fee once if doing multiple rentals. Taking into account these fees, a one-day rental can cost upwards of $80, two-days are $150, etc.
Given the deals we normally get on rental cars, all of these fees seemed to us to be quite steep.
Despite the high prices, taxis can be even more costly, if used frequently. The taxis do not have meters, and the base cost seems to be $20 to go just about anywhere. Our taxi from the airport to our Airbnb, located a whooping 2.5 miles away, was $20. So figure on at least $40 minimum for a round trip to any destination. That adds up quickly.
We decided to do a two day rental, during our six days on St. Kitts. We figured that would give us enough car-free Caribbean time, and also allow us a couple days to explore the other sides of the island. When we got to the car rental facility, we learned of a deal to add a third day for $10 dollars more, so our total daily fee for three days was about $52 or so. Not great, but not horrible. We made the most of it, that's for sure.
Although, is it really a good use of time in the islands to spend a bunch of time in the car? Again, such a tough decision…we're still agonizing over it.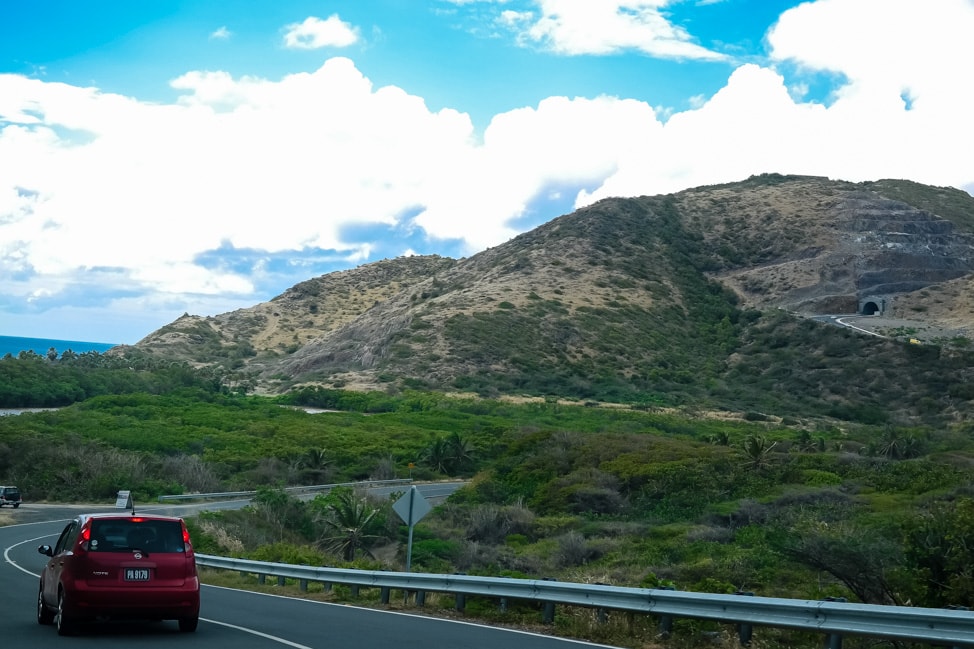 Honestly, Choose Any Company
Every St. Kitts car rental agency uses the same fee structure. There is no rock-bottom discounter that we could find, and we searched all of the big brand rentals as well as the local companies. The big brands (Avis, Thrifty, etc.) have counters at the airport for car pick-up, as well as smaller offices in the capital city (town?) of Basseterre. The smaller, local, companies have one office, but offer the same rates and will frequently tack on an extra feature like car drop-off and pick-up.
With our last minute rental, we found the smaller companies were more likely to have availability because their rentals aren't available on Expedia or any of the major online search engines. We simply called them or submitted an online reservation request. We ended up using Island Auto Supplies, since we could book online instantly, compared to waiting a few hours for a confirmation from the other local agencies. As an added bonus, it was only a 20 minute walk from our apartment, making the transaction even easier.
Pro tip: If you have tons of points on one of the car rental loyalty programs, the Caribbean would be a good time to cash some of them in.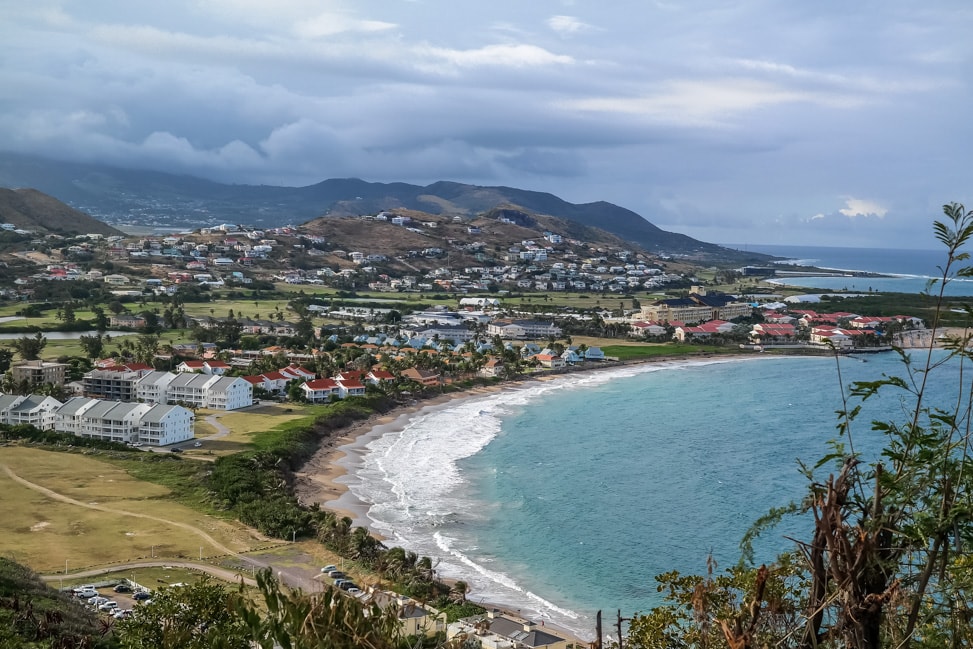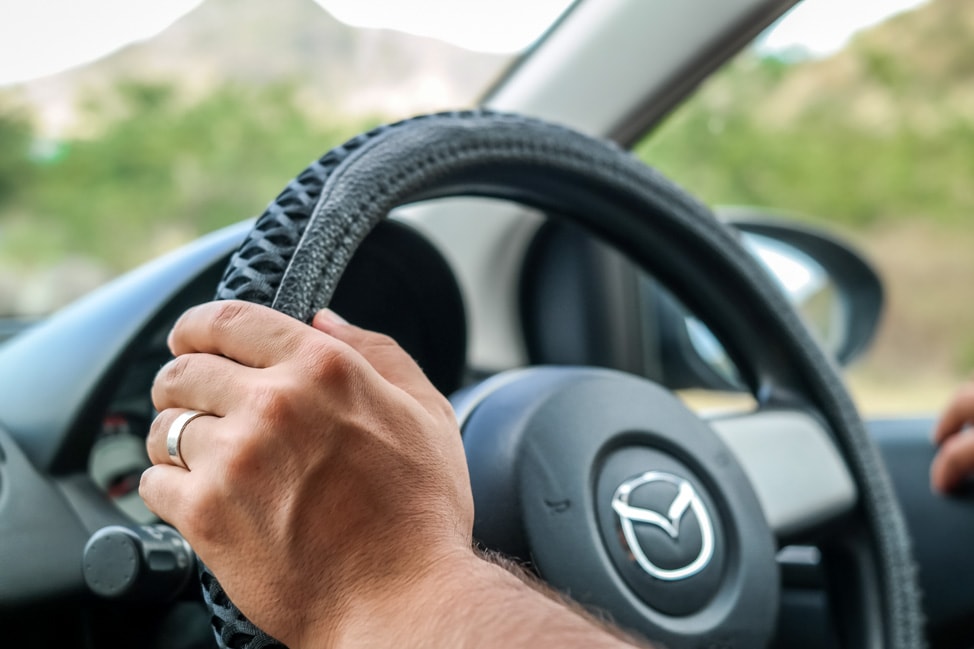 The Lineup of Cars Is…Interesting
Do not expect a huge parking lot of shiny, new vehicles like in most large cities. Unlike in larger countries where new cars are the standard, we found that many rentals in the Caribbean have higher milage than we've ever seen. Our car had over 75,000 miles on it!
Our particular car was interesting in that it was an older Mazda imported from Japan. How do I know that, you ask? Well, the touchscreen display was entirely in Japanese. Occasionally, while driving, the system would beep and start speaking Japanese to us. Considering the radio/display was turned off (I know that thanks to the word "off" being shown in English), I don't know how or why that was happening, but we just shrugged it off.
Many of the St. Kitts car rental companies also offer more fun vehicles like Jeep Wranglers, ideal for driving along the beaches dotted around the island. Many of the access roads to the beaches are not paved, and can range from gravel to grass. While a Jeep may not be necessary (we were fine with our compact car on the unpaved paths), it would be a ton of fun.
Of course, that fun comes at a cost, as a Jeep will cost you closer to $100/day, not including taxes and fees.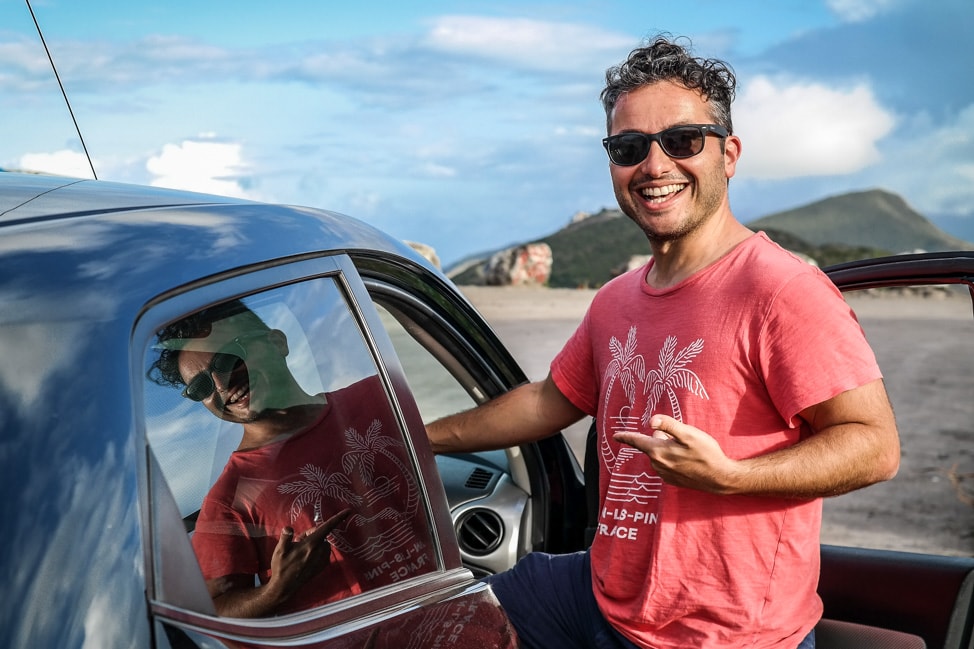 They Drive on the Left (See What We Did There?)
Vehicles drive on the left in St. Kitts, so if you are coming from the US or Canada, give yourself a little time and space to adjust. Thankfully, we have spent the last three years in London, and I have a UK drivers license, so driving on the opposite side of the road isn't an issue for us.
St. Kitts car rentals are available in both manual and automatic, so if you have yet to experience driving on the left, it may be best to stick to an automatic to lessen the complexity.
We found the roads around St. Kitts to be perfectly adequate. There are no stop lights (famously, not a single one), just numerous roundabouts along the island's main ring road. As we mentioned, some of the access roads to the beaches are not paved, but they weren't in terrible shape and perfectly drivable, even in a small vehicle.
The only unique twist to driving in St. Kitts is to be on the lookout for monkeys, goats, or the occasional mongoose crossing the street. Yes it happens, and yes, it's as adorable as it sounds. Baby goats!