As we made our way to the top of the peak, after a rather steep ascent up slippery, loose slate, with the wind howling and the driving rain turning to hail, I had a sudden realization:
Jeans, a wool sweater, a non-waterproof jacket and rain boots are not appropriate apparel for a hike of this intensity.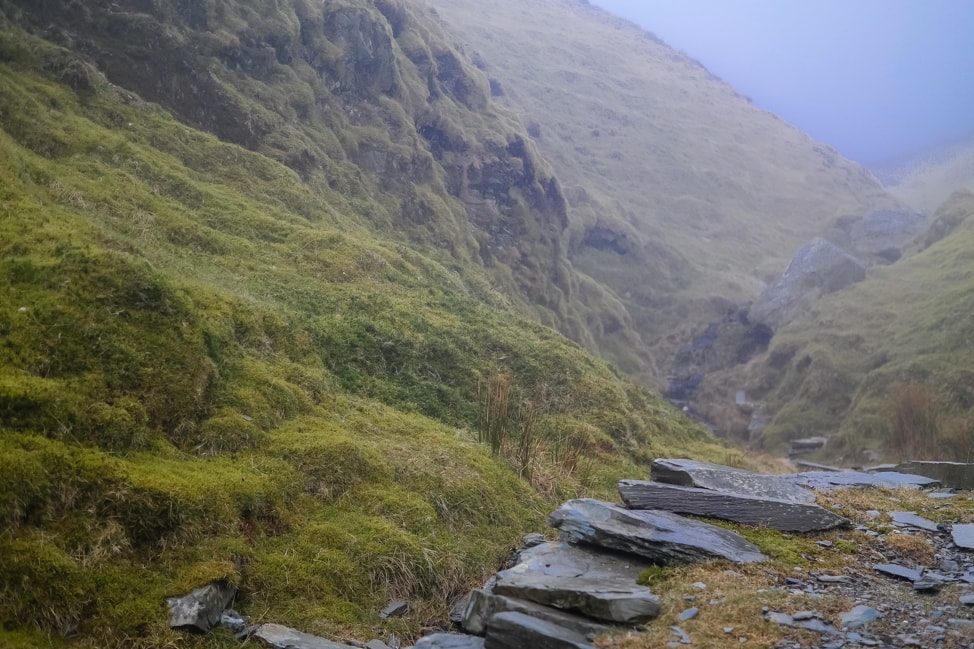 The story of our inability to be properly equipped for hiking is not new. At this point, I now consider us chronically unprepared for most hikes and walks that we undertake. We have learned along the way, and we have gradually become better, but a false sense of our abilities and consistently misguided decisions have allowed for some rather humorous endeavors down trails we are ill-equipped to handle.
Our first real misadventure was back in 2011, when we embarked on a trip to Acadia National Park in Maine, a fabulous national park along the Maine coast, a few hours north of our home at the time.
Our first hike was on a recommendation from Julie, who had read about the "Ladder Trail," which was short (a little over 3 miles) and easy to access from where we were stationed in Acadia. We pulled the car over, hopped out, and began what we thought would be a quick, 45 minute hike. Because hiking always happens at a normal walking speed, right?
90 minutes later, we were gasping for air, sweating through our clothes, and not even close to finishing the hike.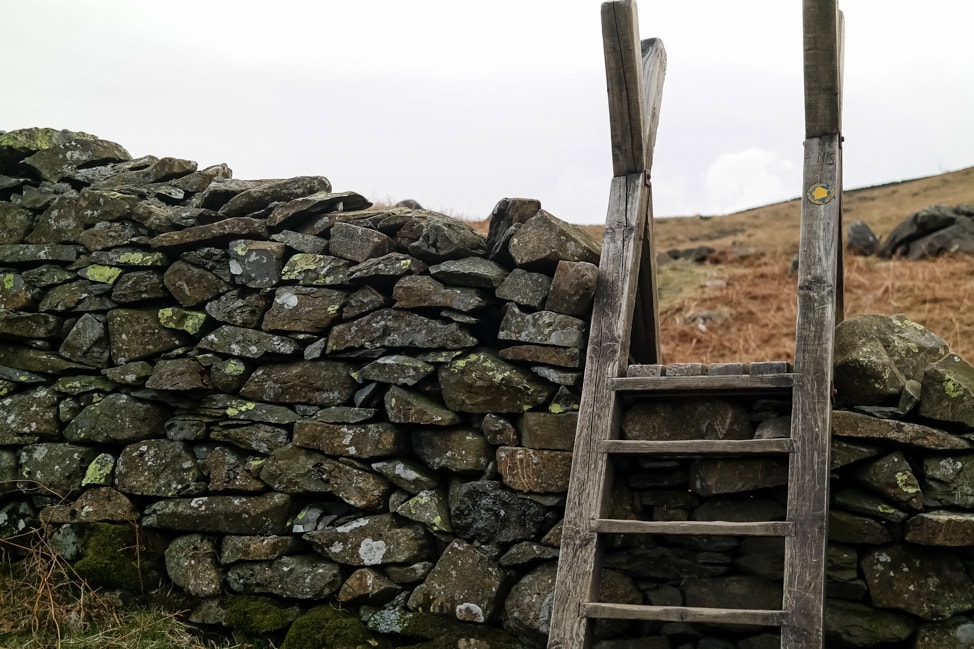 Why, you ask? Well, for starters, over 90% of this trail consisted of granite steps. That's right, it was essentially 3 miles of walking up, and then back down, stairs. There were even real ladders to climb (which sounded fun!), fastened into the sides of boulders, when the trail became too vertical for stairs. While it was certainly not an impossible walk, we made a two critical errors.
For one, we brought no water, simply because we thought it would be a quick walk in the woods. The vertical climb and the warm August sun meant our mistake was soon obvious. We drank a whole bottle of water when we made it back to the car. Oh yeah, that's right, we had water, but we just knowingly left it in our parked car. Smart.
Secondly, our footwear decision would make seasoned hikers, or just most intelligent people in general, laugh in amusement. I was wearing casual sneakers, which weren't necessarily a bad idea, except that they had no treads on the bottom. Julie had it far worse though, as she was wearing flip-flops. You heard that right. Flip flops.
I can only imagine what the other people we passed on the trail thought of us and our sporty, beachwear attire that was soaked in sweat and regret.
We learned from our mistakes and have rarely forgotten water since. However, we did not learn from our mistake of underestimating the difficulty of a trail.
Last summer, our skills were tested once again on a loosely marked trail in the Piatra Craiului National Park in Romania. As we zig-zagged our way up the incline, heading towards the mountains that loomed above us, we planned to take the easy-moderate trail that ran along a side ridge of the mountain and would deposit us near a church.We had solid footwear and multiple bottles of water for the sweltering Romanian summer heat this time around.
We felt prepared. Although, now looking at the picture above, I retroactively question our choice of cute nautical skirt and khaki shorts. Amateurs.
Fast forward two hours, and we were crawling on all fours up a vertical slope, covered in large, loose rocks, that seemed to go up forever. Julie got stung by some stray stinging nettles, so that added a nice twist to the climb. The white arrows that we were following to our easy-moderate trail also seemed to be leading to the peak of a serious mountain. Or maybe they were light pink? Or pastel yellow? Who knows – our GPS map stopped working far down the hill.
Knowing our limits, we eventually gave up, sliding back down the trail to walkable terrain. On our way down, we said hello to two older men with a printed trail map and full hiking gear, as they passed us to begin the trail we had just abandoned. Outhiked by two people 30 years our senior. Ouch, my pride.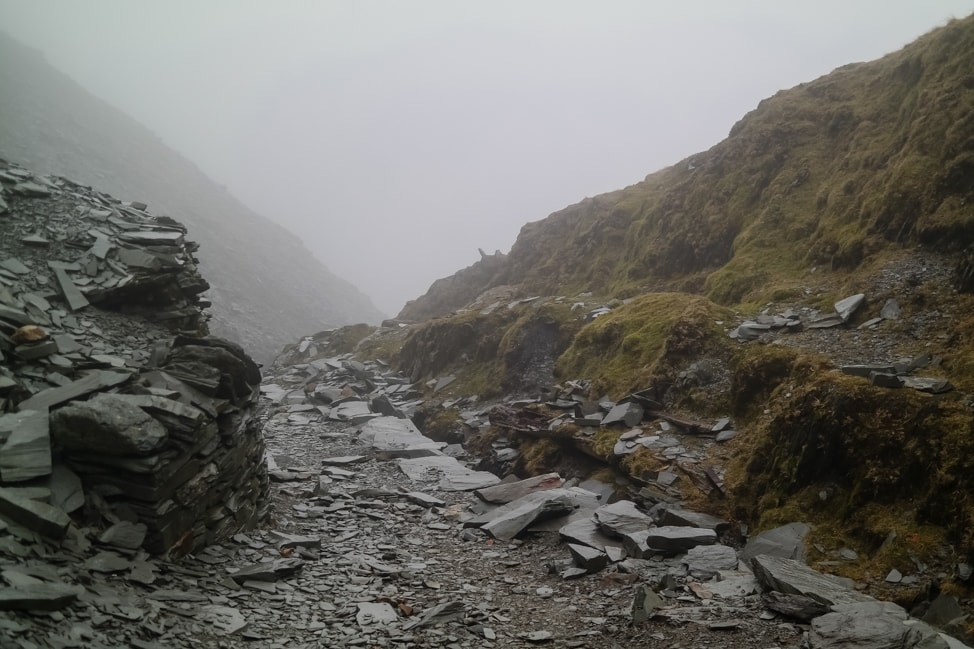 That brings us so this past weekend. We spent the Easter holiday up in the Lake District of the UK, one of the most beautiful parts of England. We were excited for some fantastic walks, since that is the main activity in this region, with hundreds of marked trails, from simple walks around the many lakes to more strenuous ascents up the hills.
From a newly purchased book, dedicated to Lake District walks, Julie picked out a pleasant sounding 5 mile walk, called Coniston Old Man. We felt prepared, because the weather was decent, we had brought our wellies (an essential for walks in the English countryside), and we had on clothes we didn't mind getting a little dirty.
The first half hour was fine.
But then the clear weather quickly dissipated as we climbed the mountain (or 'fell' as it is called in the Lake District), and the mist and fog increased dramatically. The higher we climbed, the less visibility we had. The gentle rain soon turned to a downpour which drove sideways into our faces thanks to the increasing wind. We were convinced that we were near the top, although we couldn't actually see it, because we had been walking for hours.
We walked and walked. Then the rain turned to hail. And then we abandoned yet another hike.
This being the land of hearty hikers, we were impressed by the number of adventurous folks who continued to charge up the fell as we slowly made our way down. Without fail, they were wearing full, waterproof clothing, hardcore hiking boots, walking sticks and waterproof sacks. I was wearing jeans, a Barbour jacket, and wellies. Apparently, they had read the ultimate packing list for UK hiking, something we did not!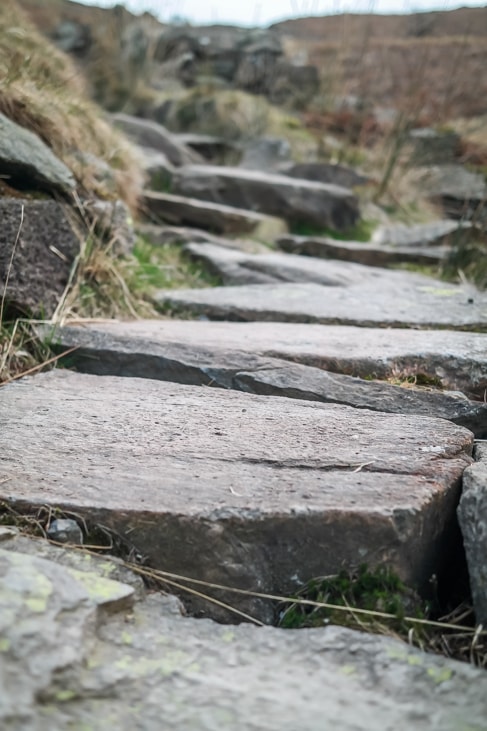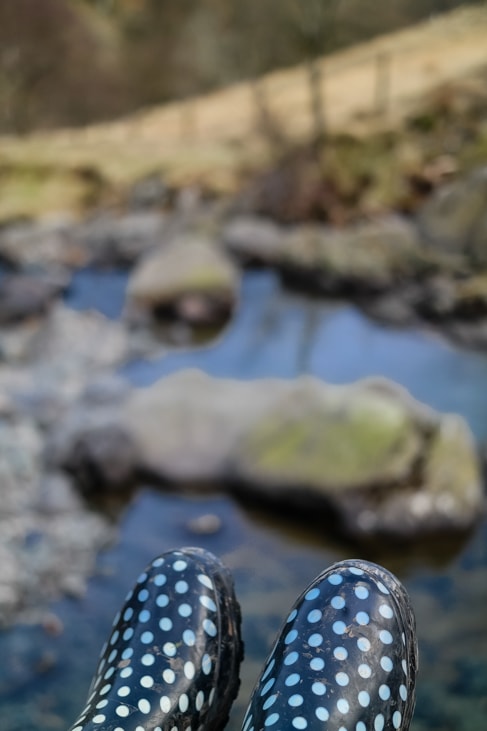 A note on the rain boots: we purchased them specifically for UK walking purposes, after another disastrous walk a couple years back in a small pond that was supposed to be a field. We hauled the wellies all the way up to the Lake District, convinced that we were bringing our pro gear with us. We started this 5-miler feeling seriously prepared.
But once again, we were wrong. Apparently, our wellies are meant for casual walks in the Cotswolds, not climbing a 2,500ft peak in driving rain. I can honestly say that I have been drier swimming in a pool than I was after that hike. My multiple layers were all soaked through, and our single waterproof items, the special boots, were literally filled with water. Julie poured out the water from her boots when we eventually got back to the car.
Maybe, at some point in the (hopefully not-too-distant) future, we will set out on a hike fully prepared, in the right clothing and with all the necessary accessories. Maybe we will walk past some youngsters, setting off in jeans with no water. Maybe one day we'll be the seasoned pros.
Maybe.
Have you ever gotten in over your head on a walk or hike? Leave your stories or comments below!