10/28/2017 Update: Congrats to Rich Table for earning their first Michelin star. Well deserved. It is always great when a place gets the recognition it deserves.
There's nothing like a good redemption story.
Visionary restauranteurs pour their heart and life savings into a new eatery. It opens to accolades and crowded evenings. The reviews come in full of lofty praise. Expectations rise. Annual 'Best Of' lists come out. Our proud but poor restauranteurs eagerly look for their names amid celebrity chefs. Top 50 this, award-nominated that. Reservations lines are busy, customers are happy.
And then Michelin comes to town to ordain restaurants with its rare stars. Stars that catapult some chefs to immediate fame, and sink other restaurants in a hazy fog of 'what ever happened to that place?'
You know the drill. And the drill is brutal.
For the sheer power Michelin brings to the table, it's easy to be leery about the rating system. Chefs work years to be granted a single Michelin star, massaging the menu and decor to captivate the judges. They may introduce an extended tasting menu to grab the judges' attention, and enlarge the wine list to showcase their depth.
Each year when Michelin unveils the new guide, bestowing new stars on some and taking away stars from others, many hard-working chefs are waiting for news that will never come. The wait for their star continues.
We've come across a few restaurants like this over our years of dining out, and it's always tough. We will be blown away by a place, high on dishes that are in the upper echelons of everything we've ever eaten. We will dig around online, finding lots of early praise for a restaurant, those Best Of lists from the year it opened. And then? Radio silence from our friends at Michelin.
Rich Table, San Francisco is one such restaurant. It has been adorned with almost every possible award from food writers, journalists, and restaurant associations. Yet, Michelin has never called with news of a star. They are listed as a Bib Gourmand selection, classifying it as a restaurant that provides quality at a good value.
Frankly, it deserves better than that.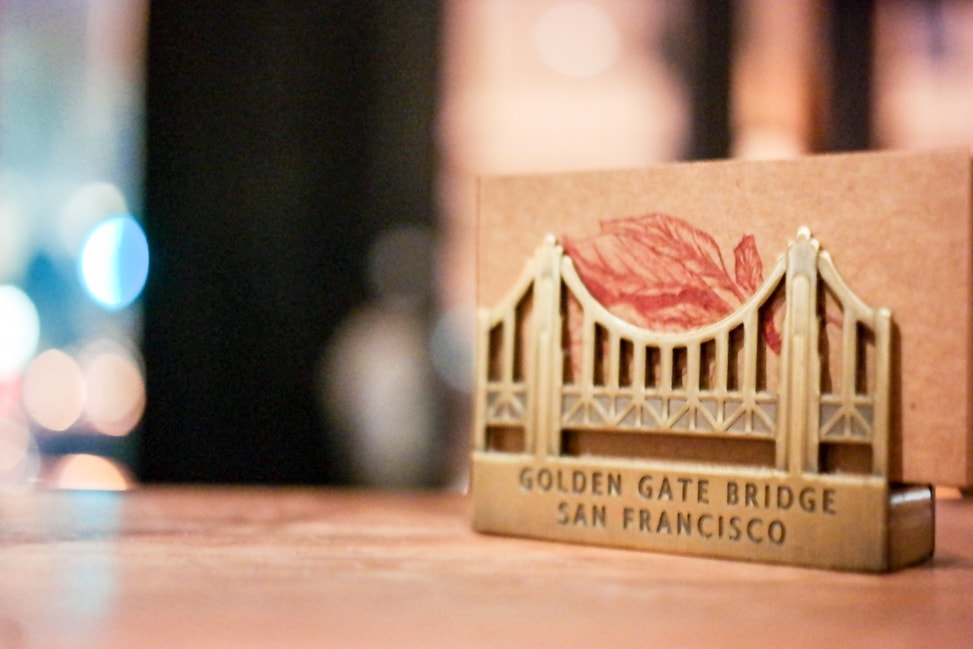 Rich Table, San Francisco: Food Breakdown
Beef Tartare, Little Gems, Aged Gouda, Caesar
Our first shared starter was the beef tartare, a dish I love when it's done well. And at Rich Table, they do it well. Little gem lettuce wedges were dressed in a classic Caesar dressing, hiding the finely diced raw beef below. The dressing had a classic Caesar dressing punch, full of peppercorns, lemon, and anchovies, a fine accompaniment to the beef.
The star of the dish though was, rather surprisingly, the aged gouda, presented in the form of a cheese crisp. The extra crunch and intensive savoriness of the aged cheese really lifted the tartare. If anything, I wish the the tartare had a more pronounced "beefiness," since it almost got a little lost amongst the other strong flavors.
Burrata "Saag Paneer," Grilled Bread, Barhi Date
I was totally unsure how this course was going to play out, but it ended up being a very delicate riff on the classic Indian dish saag paneer, traditionally made with paneer cheese, spinach, and garam masala. The dish was not dissimilar, just replacing the fresh paneer cheese with, in my opinion, the superior and intensively rich and creamy burrata cheese.
The spinach was smooth and seasoned just enough to leave you with a lingering warmth of Indian spices. The generous hunk of grilled country bread, was topped with a jam made from Barhi dates, known for their intense sweetness. The dollops of pickled mustard seeds had a little vinegary bite to cut the spinach and cheese.
The whole combination of spiced spinach, creamy burrata, pickled mustard seeds, and the sweetness of the dates made for an impeccable layering of flavors.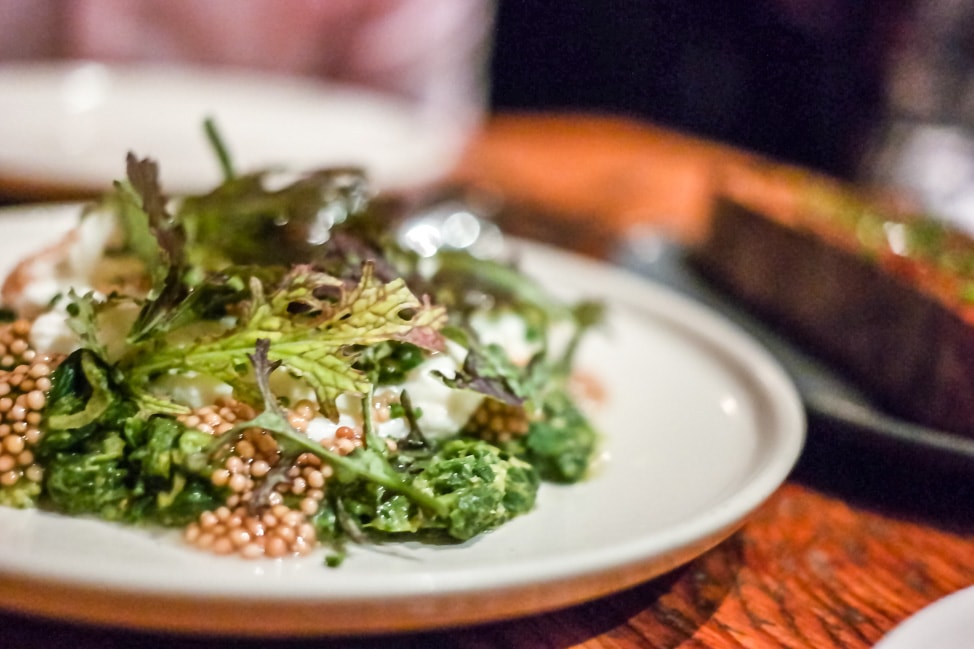 Grilled Avocado, Smoked Trout Schmear, Seeds and Sprouts
After some early indulgence, we decided to order what we assumed would be the "healthy" starter, probably thanks to the word 'sprouts' in the title. This plate was simple in execution, but we found ourselves diving back in again and again for another bite.
The grilled avocado was served slightly warm, covered with a spoonful of smoked trout paté. The paté was not overly smoked, which is a good thing in my book. The seeds and sprouts added crunch and earthiness to the dish.
Now, I'm not sure exactly how healthy this dish was, but it sure does look healthy, right?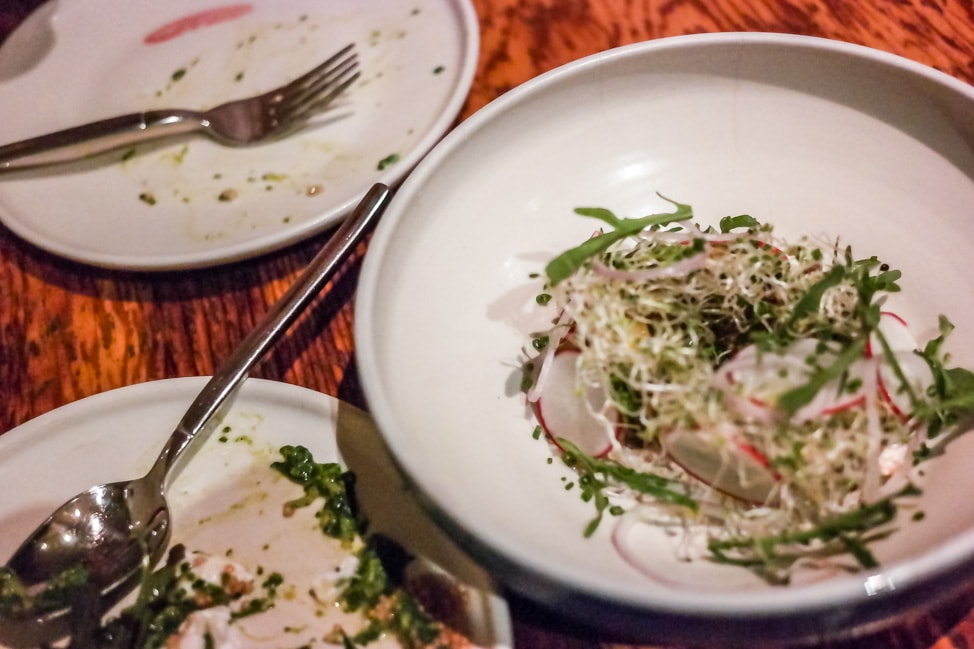 Aged Beef Agnolotti, French Onion Soup, Ricotta Salata
Rich Table's menu has a full pasta section, all of which looked outstanding. Julie is always a sucker for French onion soup, so she immediately gravitated towards the agnolotti, the classic Piedmontese stuffed pasta in the shape of small pillows. An Italian twist of sorts on the classic French soup.
These agnolotti were filled with aged beef and sat in an intense beef and onion broth. The bowl was garnished with a grating of ricotta salata, the pressed, salted, and dried version of the fresh variety of ricotta.
It was a lovely dish, rich and hearty, the kind of thing that would be perfect in the depths of winter. The only qualm we have is that there wasn't an ingredient to cut the richness. She was ready for a nap by the end of the course.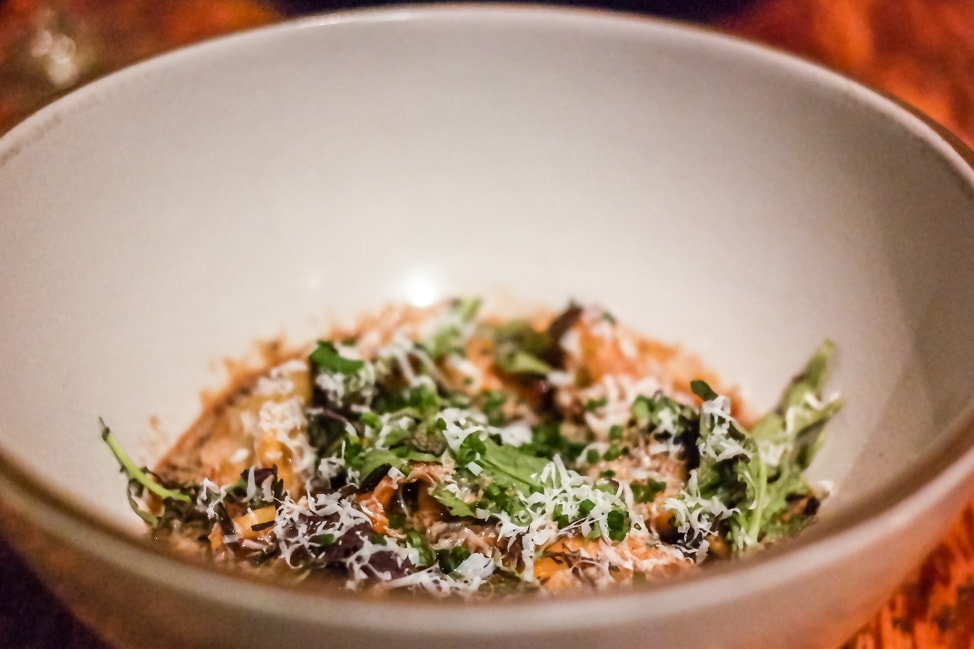 Grilled Mt. Lassen Trout, Rutabaga, Kumquat, Kabayaki
After almost opting for the ribeye for my main course (and the subsequent regret I would have in the morning), I selected the Mt. Lessen trout. The orange-fleshed trout, from a sustainable trout farm a few hours north of San Francisco, was skewered and grilled to perfection. I don't often order trout, but Rich Table reminded me just how delicious a properly grilled trout filet can be.
The paper-thin slivers of kumquat adorning the fish provided some much needed acidity and tartness. I can only imagine that the kabayaki, a glaze made from sweet soy sauce, would have been an excellent addition, but due to my dietary restrictions, it was left off the dish. Thankfully, even without the kabayaki, I think I made an excellent choice.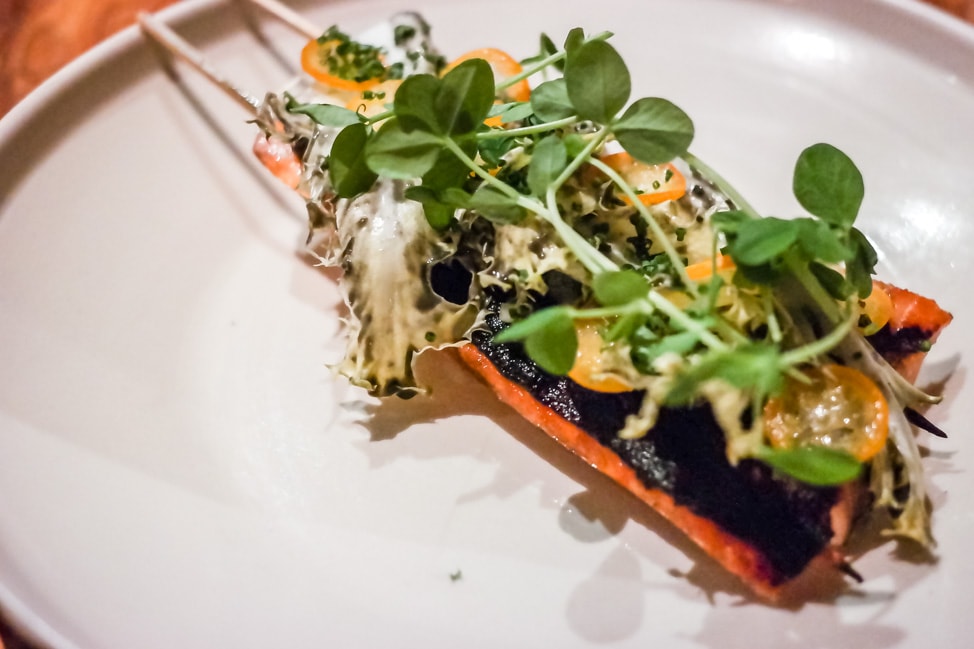 Buttermilk Panna Cotta, Black Sesame, Blood Orange
We don't often order dessert, but I was feeling feisty (thanks in part to the wine), so we ordered the buttermilk panna cotta. The classic, wobbly dessert was barely sweetened, relying on the blood orange, presented as a torched meringue, for sweetness.
The black sesame crumble added more crunch and a strong sesame flavor to the dish which I found intriguing and unique. I could see how this dish could be controversial, especially since the sweetness level was so low, but I personally love desserts that tow the line between savory and sweet.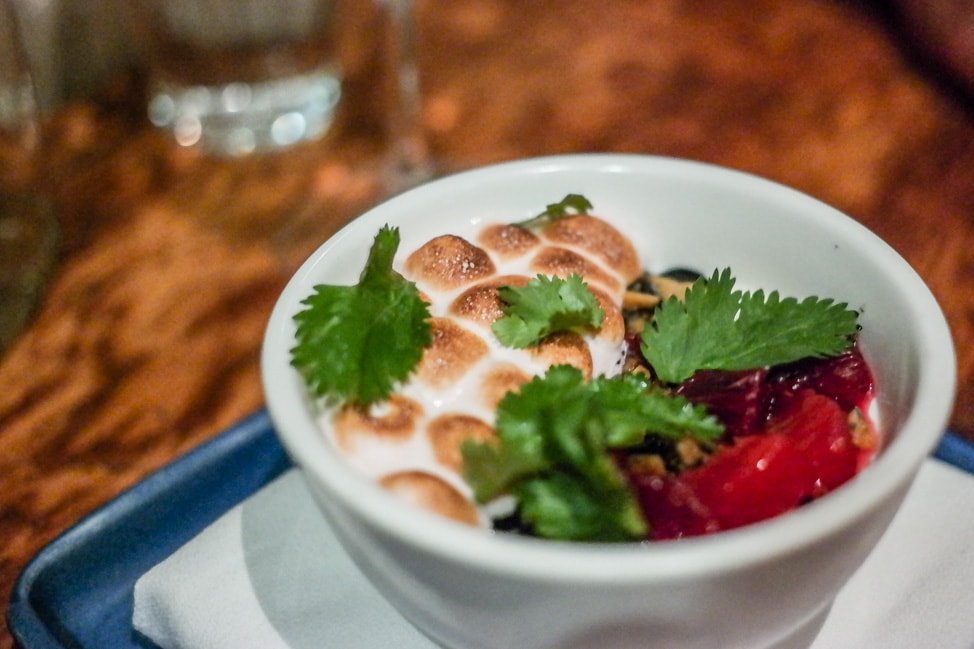 Conclusion
Simply put, Rich Table is deserving of a Michelin star.
The wine list is eclectic and interesting, highlighting many of the new stars of the California wine industry, as well as some classic European producers.
I loved their zinfandel, made for them by Mendocino, CA-based Kivelstadt Cellars. It is semi-carbonic, giving it a freshness to it that is unexpected for a zinfandel. The trousseau gris from Jolie-Laide Wines was almost rosé in color, with unusual flavors of melon and tea.
And if you are not partaking in any alcohol, they have a variety of funky, house-made sodas. Seeing well-crafted nonalcoholic drinks is a sign of a well thought out beverage program.
The staff is excellent, efficient, and well trained. They glide around the intimate space with ease, and are always nearby if you need something, but not overbearing. The room feels like a quintessential neighborhood restaurant, albeit one with a kitchen cooking at a very high level.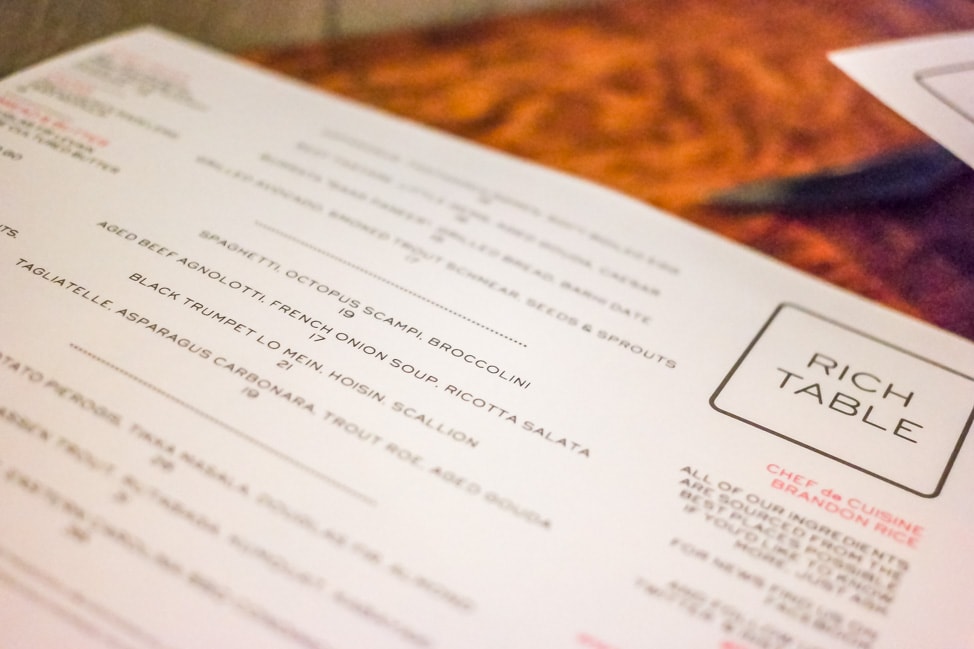 Rich Table currently has a Bib Gourmand listing in the Michelin Guide, and there are 75 Bib Gourmand restaurants in San Francisco. While Rich Table is certainly not as expensive as many of the Michelin-starred tasting menu establishments dotted around the city, it also isn't inexpensive.
We followed the staff's recommendation for how much to order, and for our meal of 3 starters, 1  pasta, 1 main, and 1 dessert, along with 3 glasses of wine, our bill with tax and tip exceeded $200. For some perspective, another Bib Gourmand listing, in San Francisco's Chinatown, has dumplings for $2 a plate with rough and tumble service.
Perhaps that's the dilemma with Rich Table.
It's probably too expensive to be really a Bib Gourmand (though it technically qualifies), and maybe not extravagant enough for a star. However, Michelin appears to be loosening their restrictions, handing out stars to some very casual restaurants around the world.
For now, Rich Table appears to be doing just fine, perpetually packed and still loved by critics. Perhaps this is the year that Michelin calls. Either way, Rich Table is worth seeking out the next time you are in San Francisco, star or not.
Interested in easy, seamless restaurant booking? Check out our friends at Bookatable for all of the fantastic restaurants available for booking. You won't be disappointed!