Is fine dining worth the money?  It is a hard question to ask.  Peoples opinions vary widely on the subject.  If you spend £100 per person versus £10, is the more expensive meal ten times better?  The easy answer is no.  Even though I am clearly a big food person, even I have trouble justifying the expense of many mid-range and high-end dining establishments.  How exciting can a traditional three course meal be?  Therefore, when I go out to a high end restaurant, I want to experience something different and exciting.  Many courses and small portions tend to draw my attention.  While the over-the-top details of many of these fine dining restaurants can get annoying quickly, sometimes injecting a little fun and flair can set an dinner apart, even in the more old school three course setting.  In the case of
Vincent's
, our splurge dinner while touring Riga, the meal was certainly not boring.
Vincent's is one of the best dining establishments in Riga, a city better known for rustic, meat and potatoes type of food.  The chef, Vincent, is a bit of a culinary personality in Latvia, a trait that carries over to his cuisine.  While the food is clearly French focused, it has a strong eye towards modernist cuisine, with subtle, and sometimes not so subtle, touches throughout a meal.  Our meal began with Vincent himself making an appearance in the dining room, providing us with a small plate covered in a glass dome filled with smoke.  The Chef presented the dish and lifted the lid. Inside, lightly smoked perch, nestled atop a soft cooked egg with a strip of bacon.  A funky twist on something more common for breakfast.  The flavors were fantastic, not overly smokey.  Eggs, bacon and smoked fish work every time.
We ordered from the a la carte menu, selecting our appetizer and main, forgoing the tasting menu mostly because the a la carte options looked intriguing.  I had the langoustine bisque and Julie tried the cream of chantrelle mushroom soup to start.  The soup was presented in two parts and finished table side, which became a common element throughout our meal.  The two whole, lightly poached langoustine were placed in a piping hot ceramic bowl and rose from the Bandol region of Southern France was poured into the bowl table side and lid placed on top.  The wine sizzled instantly and allowed the langoustine to gently steam in the wine.  While the langoustines warmed through, I devoured the other half of the starter, a bisque made from langoustine stock.  It was rich, but not thickened with cream.  The shellfish flavor was quite bright to say the least.  Julie's chantrelle soup was filled with large roasted mushrooms and a thick, creamy mushroom soup was poured table side from a quaint, small copper pot.  The soup was intense, rich and delicious, but ugly, so no picture.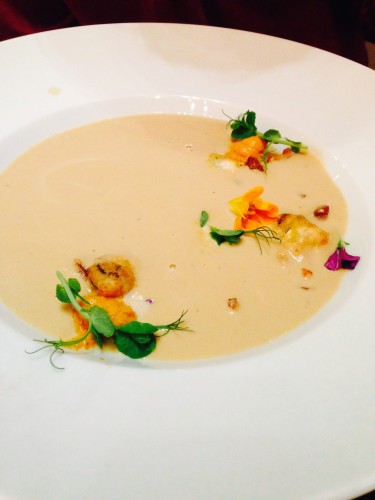 Our mains were delicious and definitely not understated.  I choose the chantrelle risotto (it was mushroom season in the Baltics) and Julie went with the roast cod.  The risotto was cooked with mushroom stock and topped with a bevy of roasted chantrelles and topped with 23k gold leaf as a garish garnish.  Even if the gold leaf was not needed, the risotto spoke for itself and was one of the best risottos I have ever had in a restaurant.  No cream added, not a large, stiff pile of rice and a strong mushroom punch (but brown and kinda ugly, so no picture of that either).  Julie's cod was fairly straightforward (at least for Vincent's) put also finished table side with a olive broth.  The flavors were clean, bright and exciting and our side orders of crispy goose fat chips and the relatively light creamed spinach certainly did not disappoint.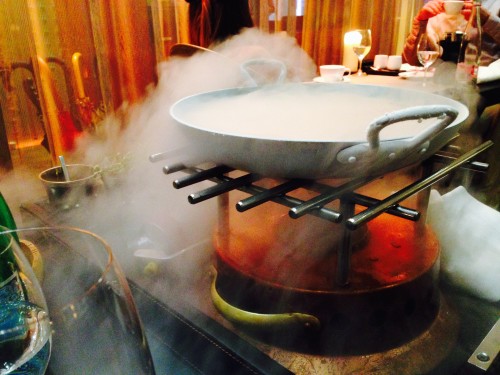 Our pre-dessert was another theatrical note, with our palate cleansing sorbet done as a lolly pop and "cooked" table side in a copper pan filled with liquid nitrogen.  A puree of strawberry and raspberries were pumped out into the boiling, smoking liquid nitrogen, freezing the liquid instantly.  The interior remained soft though, so it had a great texture.  Again, not understated. We finished with a creme brûlée ice cream bar, placed in a gold wrapper, like a posh Klondike bar.  The vanilla and caramel ice cream inside was nice and a nice conclusion to our meal.
We both left Vincent's in agreement about the quality of the meal.  For Latvia, where good meals can cost relatively little, this was a very expensive three course meal.  However, the quirks and lavish presentations provided a frankly fun experience.  The extra courses were also a nice addition and made the meal feel special.  Even my Aperol Spritz cocktail was mixed table side and finished with a flair by the bartender.  People also seemed to be having fun, arguably the most important determining factor of a good restaurant.  So not only was the meal delicious (in fact, one of our better meals of the year) but we felt no problem with the cost.  Money well spent.