We decided to brave the crowds.
The last time we visited Croatia we explored lovely Istria, and we were virtually alone, the sole English speakers in a region that doesn't draw many visitors. It was beautiful and quiet and we felt like we uncovered a gem up there in the north, an area that many people haven't heard of. It remains one of the best places to visit in Croatia, hands down.
This time was different. During our second visit to Croatia, we visited the Big Three – Plitvice Lakes National Park, Split and Dubrovnik. They are some of the best places to visit in Croatia according to many visitors. For two fairly crowd resistant travelers, this itinerary was pretty much like stepping into the lion's den, a den full of cruise ships and tour guides waving fake flowers and menus in twelve languages.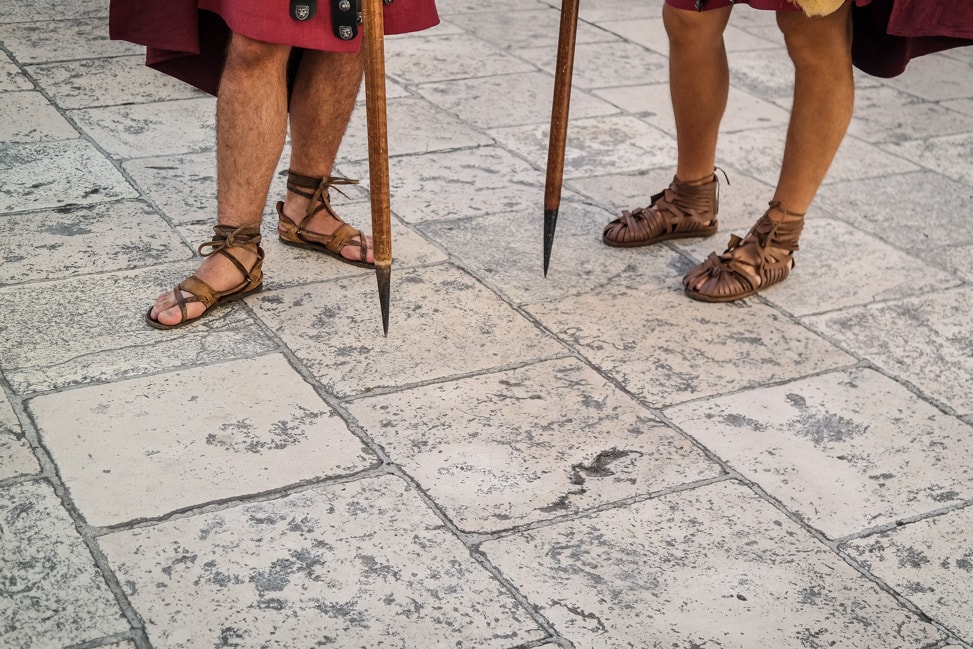 But, as we dutifully remind ourselves from time to time, there is a reason why places are popular. As much as I hate Times Square, for example, I totally understand the drive to go there, stand in the middle of one of the few places in the world that feels like the center of the universe, and look up. You can't help but be moved, lump in throat, all glitter and sparkle. It's a place you should go.
Back in Croatia, our expectations were high. A small country with three serious tourist hot spots? Well, we should probably check them out. See for ourselves why the crowds keep coming back, why Croatia has gained the moniker, 'the next Italy', with so many places to see. It can't just be about Game of Thrones, right?
And with that, we joined the throngs of visitors to explore Croatia's big three.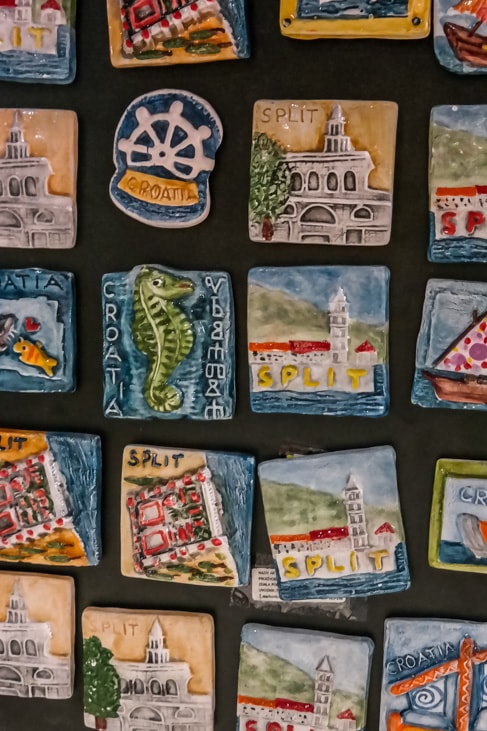 To protect our delicate constitutions, we took a few steps that help us to not get burnt out by the crowds.
First, we stayed entirely in private guesthouses and AirBnB rentals, a walk or drive to the center of the chaos. Second, we traveled during shoulder season, mid-September, after school has started, the weather is warm but not smoldering, and the summer craze has mellowed. Third, we refrained from packing in the activities, limiting ourselves to one or two plans per day, with many hours of downtime scheduled.
Of the three Croatian hotspots, Split is the easiest to explain and explore. It is itself a big city, with roughly 180,000 full-time residents, the second largest city in the country. This single fact means that even during periods of lots of visitors, it's not quite so obvious.
The single cruise ship in port might be daunting as its hull dominates the horizon, but the additional people don't make a huge difference to the feel of the streets. In urban planning speak, the city's infrastructure can manage all the visitors pretty seamlessly.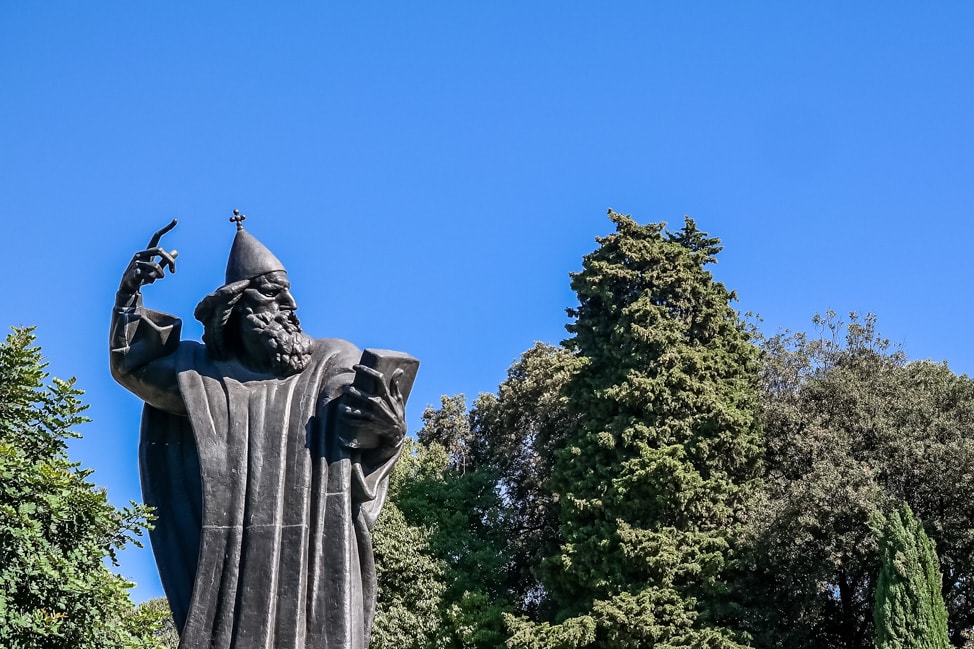 The walled Diocletian Palace is by far the most touristy part of Split, and where every tour starts and ends. But it is a big enough palace that there are quiet alleys and corners at any time of day. When we ducked into a wine bar, one with hundreds of fantastic ratings on every major ratings website, we were completely alone.
Most of the walled part of Split is actually residential, and it was comforting to see laundry hanging from the building shafts, kids in uniforms on their way home from school, and even plenty of grocery stores. On the other hand, Dubrovnik (as we would learn later), has a dwindling population in its walled city, down to only 700 residents from a high of 4,000 just five years ago.
Our AirBnB host recommended a local fast-food joint that she visits frequently despite express guidance from her doctor not to. The chain, Popaj (pronounced 'Popeye'), offers up the requisite sandwiches, fries, and small pizzas. When we were scrambling one afternoon for a quick, inexpensive bite, we went to the location of Popaj within the city walls and had a massive meal for €6. We were the only English speakers around, and put in our order through elaborate gestures and butchered Croatian.
I cannot emphasize enough how difficult it can be to find actual local eats and actual local shops within city walls, usually prized real estate dedicated to all things tourism. Let me assure you, it is almost unheard of. And we loved it.
Split's daily fresh market is massive, but there were just as many stalls selling everyday produce to locals as there were vendors hawking sachets of dried lavender to tourists. We weren't out of place with our camera and people automatically called out to us in English. But we were also comforted that this is a place where regular people do their daily shopping.
Despite the efforts we take to protect our sanity from the crowds, we really wanted to learn about Split and also spend as much time on the water as possible. So we did what any self-respecting tourists would do and booked ourselves onto two different day tours (a new record for us, I think). The first was a general walking tour of the city, focusing on Diocletian's Palace, and the Riva, the waterfront promenade. The next day, we joined a small group excursion to kayak and swim around the western side of the peninsula, a protected park and forest.
During both experiences, we were part of the tourism machine that keeps this city going. But we learned a lot. And we met some really nice people. We were the oldest people by about 10 years on the kayaking tour (ouch, that never gets comfortable does it?) but we had a grand old time, jumping off cliffs and snorkeling. Oh, and we saw many naked Croatians, but all in a day's work.
Back in our cozy wine bar, the one with all the reviews and none of the crowds, we reflected on Split. Of the big three Croatian destinations, it's the one that I feel most enthusiastic telling people to add to their 'places to visit in Croatia' list. Tourists and locals aren't segregated into different areas of the city, the walled palace has plenty of normal life, and the size of the city helps visitors blend in, not completely but just enough to feel like we're all peacefully coexisting on the beautiful Dalmatian coast. I mean, there's enough to go around, right?
I'll grab the Popaj take-out, you grab the cheap grocery wine, and we'll meet for a picnic on the promenade. Just like the locals do.
Logistics:
We really enjoyed the AirBnB we had in Split, as well as our lovely host. She gave us the recommendation to try out the local fast food joint, Popaj, and also showed us how to eat the fresh figs that were growing in the garden. Strong WiFi, washing machine, free onsite parking, easy access to groceries, what more could we ask for!
We paid for both tours we took in Split, which ranged from 100kn/€14 for the walking tour to 270kn/€37 per person for the kayaking excursion. We used the same company for both tours, which has a couple offices within the palace walls and lots of very enthusiastic employees to help you pick the best tour for you.