I was woken by a blast of sunshine in my eye that poked through the narrow slot between the curtains and the edge of the window. It was cruel. My stomach was making disturbing rumbling noises, but I managed to get up and drink a huge glass of water. I heard some voices from the other bedroom, so I checked on my friends. The scene was not pretty.
"I  don't think I've ever eaten that much cheese and gone directly to bed before" said my friend Tom. "The other four dishes of cream, truffled mayonnaise, butter and creme fraiche at 2:30am probably didn't help either," I said.
We had destroyed our bodies. We were defeated.
My one night stay in Paris was arranged only a few weeks ago, as our friends Tom and Lauren had finagled a two bedroom flat in Paris for two weeks while Tom was doing some translating work. Julie could not manage to take more time off of work, so I went down to Paris solo. I decided to stay for just one night, so that Julie wouldn't be too mad at me for going to see our friends without her.
She probably won't let me forget it for some time.
After arriving at their beautiful flat in the posh St. Germain area on the Left Bank, we decided that the best course of action was to head out for a mid-afternoon bistro stop. Our day would not be spent seeing the sites or touring the Louvre. No hop-on, hop-off buses. We would barely even leave the St. Germain area. No, this day was all about eating and drinking in Paris.
We skipped the few touristy cafes in the area, but soon stumbled upon Le Royal with a menu only available in French. It was a charming French bistro, with dark wood and a funky bar lined with the classic French liquors like Pastis and Richard.
I went straight for the steak frites, a tender, flavorful skirt steak with crispy fries and a simple green salad. The meal was rounded out with some other classics, like beef tartar with a raw egg yolk on the side, tuna nicoise and an cheese omelet. And a carafe of light, summery Brouilly, a simple wine from Burgundy.
Things were off to a great start.
After devouring our late lunch, we were off to the fromagerie on Rue Cler, one of my favorite market streets in Paris. Is there any sexy than a cheese shop in Paris? The funky odor pouring out the doors into the streets practically pulled me in and forced me to buy cheese. We settled on two soft cheeses, including a truffled camembert filled with a layer of mascarpone.
Any calorie counting or dieting got checked at the French border.
Our next destination was a high-end food store that would kill me, both physically and financially, if it were located near our flat in London: La Grande Epicerie de Paris. It is packed with crazy expensive groceries, but the colors and the smells are seductive. The charcuterie. The fromagerie. The butcher. The fishmonger. Truffles everywhere. Literally, I have never seen so many truffle products in a store, fresh truffles and salts, sauces and even potato chips! Maintaining restraint in a store of this quality requires strong will.
Our cart was filled with our ingredients for the night. Thick, rich creme fraiche and heavy cream, fresh clams from Brittany, heirloom tomatoes, escargot stuffed with garlic butter.
At least the tomatoes were healthy.
Before departing we had to pick up some wine of course, so we sauntered downstairs to the wine section of the La Grande Epicerie. In this food heaven, is it any surprise that there is a whole floor dedicated to French wine? With the help of the friendly staff, we chose four bottles and hit the streets.
"We will dinner around 9:30ish. That's fine, right?" said Tom. "I'm in no hurry" I said. Now, with food errands over, it was time to drink.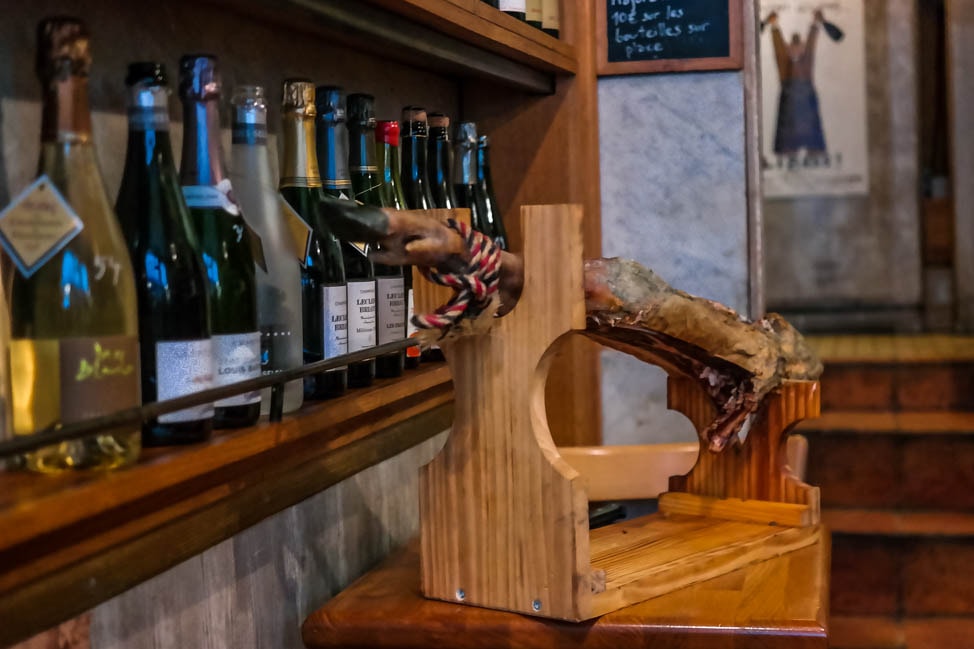 Tom insisted that we first visit a wine bar that they had walked by numerous times but yet to try. La Cremerie is a small wine shop turned wine bar, focusing primarily on natural wines from France. Natural wines, made with little chemical and technology intervention by the winemakers, can be super funky and unpredictable. There can be major differences not just between vintages, but from bottle to bottle.
We settled on a bottle of Savagnin from the Jura region, a fun white that smelled of honey and apricots. The owner brought us over a few plates of cured meats for free, including some beef salami that glistened with fat and was packed with flavor. The small room, full of dark wood and walls lined with bottles, is the kind of place you can curl up with a few bottles and spend an entire evening. I briefly thought about asking the owner if I could live there.
I love Paris.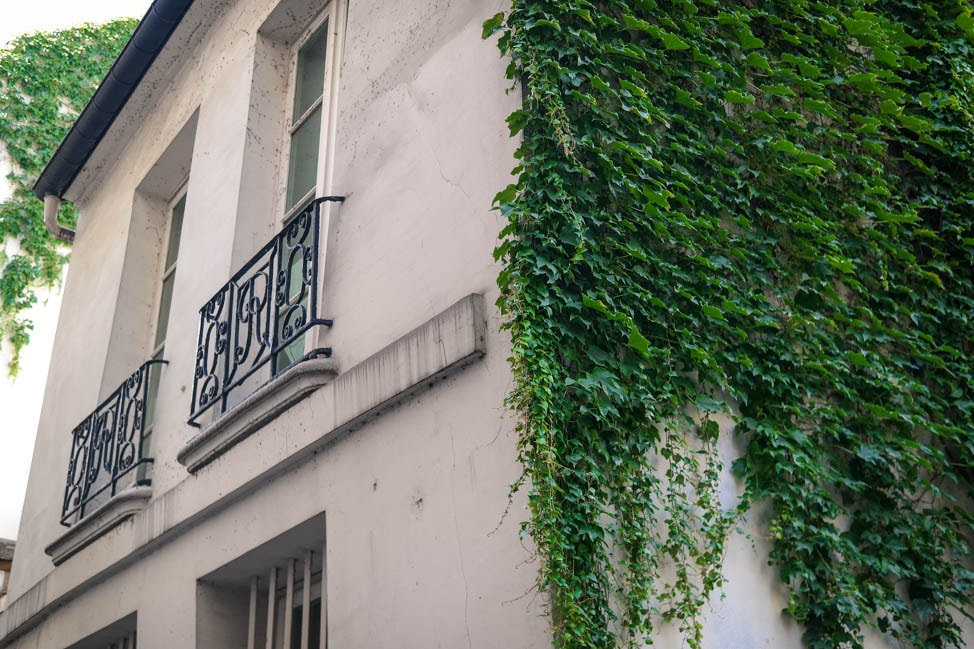 Our night was just beginning though, so we hit the street, strolling along the Seine River, with the Notre Dame as our backdrop. The destination was Ille St. Louis, the small island opposite of Notre Dame in the middle of the Seine.
There, we hiked up the five flights of stairs to friend Charlotte's charming apartment. Situated on the top floor, the charming flat has a terrace overlooking the neighborhood, a thick, old wooden beamed ceiling and walls lined with bookshelves filled with French children books and back issues of National Geographic. Of course, this being Paris, she had cheese laid out, one creamy goat cheese and one firmer cows milk, along with a bottle of white from the Loire Valley.
I knew this was going to be a good night.
We talked, chatted and discussed all sorts of topics, from the frustrations of French bureaucracy to the broken food system in the US. We opened more bottles, consumed more cheese and enjoyed the company.
"Do you want to drink some caipirinhas?" asked Charlotte, who was feeling a bit tipsy by this point. We looked at each other and nodded in agreement. After three rounds of caipirinhas, a potent Brazilian cocktail made with cachaça, sugar, lime juice and soda water, we were floating on the high of a fun night and a beautiful view. I glanced at my watch.
"Holy shit, it's 1:30am. Hey guys, we haven't eaten dinner yet!"
Our departure was swift, thanking our friendly host for a fun and much longer evening than expected. We stumbled back to the flat, luckily situated just a short stroll away. We grabbed at ingredients and put together the meal. The image of three slightly intoxicated people trying to conjure up a full, multi course meal at 2am was probably entertaining.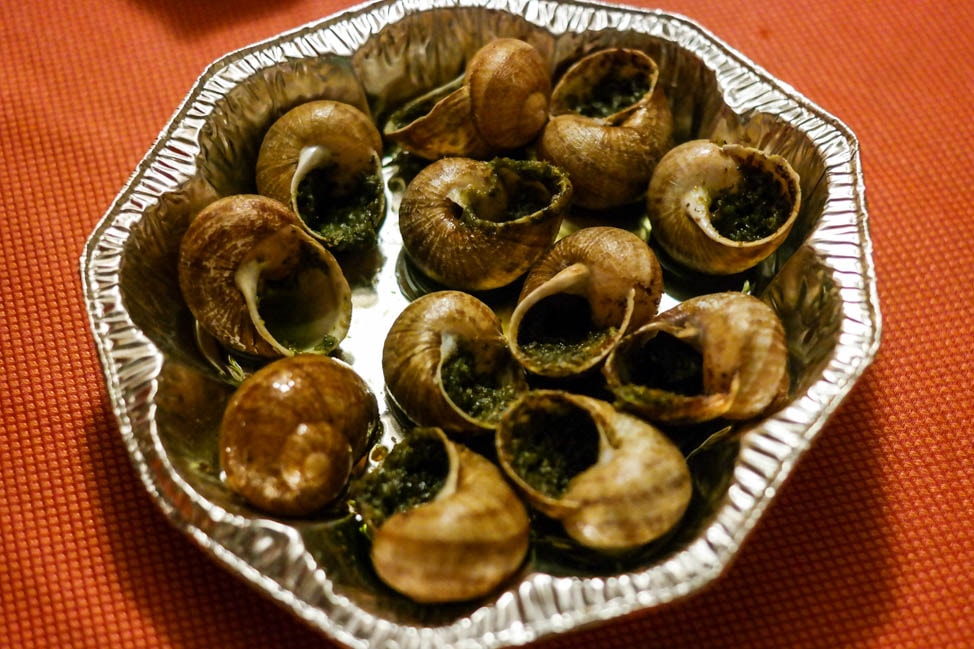 Amazingly, we pulled it off, with the assistance of two more bottles of wine of course, a Muscadet from the Loire Valley and a Picpoul from the Languedoc region in Southern France. While most people would make instant ramen noodles or a grilled cheese sandwich at 2am, our aspirations was slightly more aggressive and demanding.
The menu? Broiled escargot with garlic herb butter, breakfast radishes dipped in butter and salt, heirloom tomatoes tossed with truffled mayonnaise, gluten free gnocchi with clams, creme fraiche, heavy cream, chives, fingerling potatoes, onions and truffled salami with a celery leaf salad. Dessert? A pot of custard with creme fraiche and sweetened chestnut puree for dipping. Oh, and two huge wheels of cheese, with toasted gluten free bread. We don't mess around.
By the time we sat down and started eating, it was 2:30am. Given the time and the duration of our evening so far, none of us were particular hungry, but that didn't stop us from gorging ourselves on the indulgent meal.
The gnocchi was one of the best dishes I've eaten in a while, though my cognitive abilities were impaired, so take that with a grain of salt. It was a take on clam chowder, turned into a pasta course. It was super heavy, but that didn't stop me from having seconds.
We broke out the cheese around 3am, diving into the wheels with abandon. The truffled camembert was creamy, and pungent, the marscapone center adding to its complexity. Where has this cheese been all my life?
Because I am in France. They do cheese better than anyone.
The next morning can best be described as a food hangover. We were slow to get up, move around or do anything. Our stomachs were unsettled, which happens when you consume an obscene amount of cheese and then go to bed five minutes later.
By early afternoon and with a few hours to catch my train back to London, we were back on the street, heading to Breizh Cafe, which specializes in buckwheat crepes. I was still feeling the affects of the previous evening's activities, so I chose a simple ham and cheese crepe with a cafe au lait. Lauren went a little heavier, sampling the spinach, goat cheese and egg crepe. Tom, who was still in physical pain, went all in with a mushroom, cheese, egg and cream crepe.
Tom was happy until he took his first bite, realizing that he was not hungry in the least bit. With a little encouragement from Lauren, he somehow managed to choke down the whole crepe, cream and all. It was an impressive sight.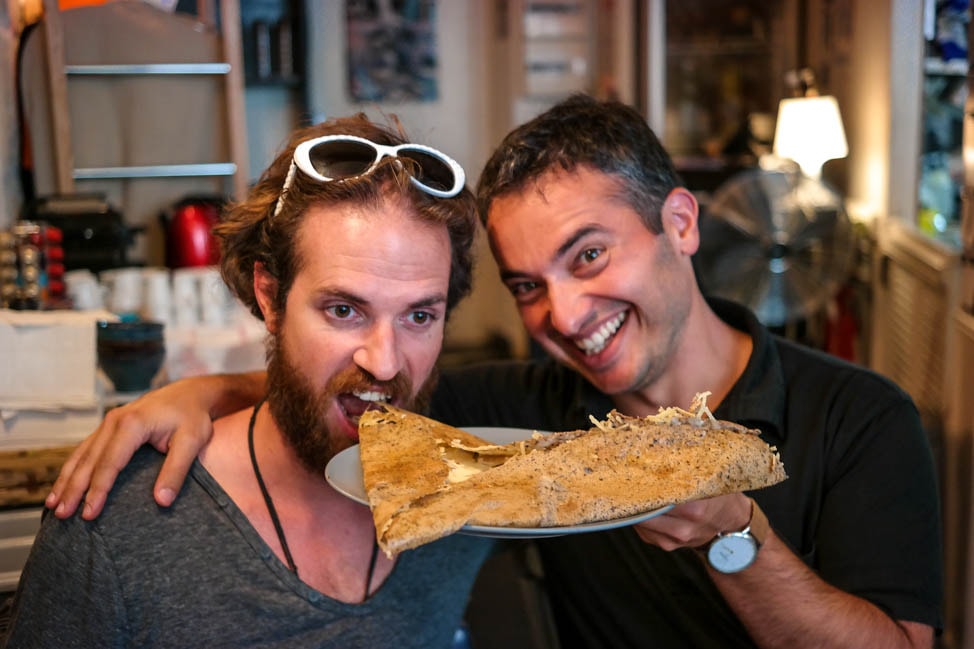 After a final, quick stop at Maison Georges Larnicol for some macaroons and chocolate for Julie, a gift I hoped would make up for me leaving her to see our friends in Paris (I don't think it worked), it was time to head to Gare du Nord to catch the Eurostar train. My 24 hours eating and drinking in Paris was over.
As I boarded the train and settled in, the force of my time in Paris hit me. I attempted to read a magazine, but as soon as the train started moving, my eyes were heavy. My five hours of sleep was not enough. I gave in, closing my eyes and sleeping for most of the trek back home. I was defeated.
It was fun, but crazy, dear Paris. I can't wait to see you again soon.
Have you overindulged in Paris before? Share your stories and comments below!