The Peabody Hotel, with its famous ducks and beautifully decorated lobby, was a moment of escape during an otherwise family-centric visit to Memphis recently.
Huge numbers crowded the Peabody Hotel, waiting for the nearby performance of the Nutcracker to begin. We, along with our unofficial Memphis ambassador, Drew's cousin Beth, marveled at the opulence. It being after the ducks' official working hours, we went up to the roof of the hotel to gape at the ducks in their evening residence, splashing and resting away from the gaze of visitors.
Memphis is a lovely southern city, home to Elvis, barbecue and African American history. But it's also a place where some of our family lives, and during our swing around the Southern states, between Thanksgiving and Christmas, we knew that Memphis was a definite destination to add to the itinerary.
Unfortunately for us, during the weekend of our visit, many of our family was out of town, leaving us in the hands of cousin Beth, her daughter Maggie and visiting dog, Bob Wiley. For those few of you not obsessed with the classic early 90's film, What About Bob?, well, just note that nearly half of the conversation in Drew's family is somehow tied back to the movie. A refresher before a holiday is never a bad idea.
Faaaayyyeeee, is this corn hand-shucked?
I digress. We rolled into town just in time for happy hour and Beth promptly whisked us downtown for a drink. Unlike Drew who has visited Memphis many times over the years, I had never been, so was itching to see the famous Sun Studio where Elvis recorded and of course, those Peabody ducks.
The Peabody ducks, a staple of Memphis tourism and international fame, are ducks that spend six hours a day swimming in the indoor hotel fountain. They walk on a red carpet to and from the fountain each day, taking the hotel's elevators. And when they're off duty, you can find them in their rooftop duck mansion (no kidding, it's a house on the roof with pools and nests and play structures). We arrived after their fountain swimming, but ventured to the roof to say hi.
I venture to say that the ducks have done more for Memphis tourism than nearly anything else, but don't quote me on that.
We walked the lobby of the Peabody, and settled in for a drink at the Majestic Grille, where It's a Wonderful Life was playing (silently) on the big screen. On our way home, we stopped by Central BBQ for our first taste of the eponymous Memphis style BBQ.
Memphis BBQ is almost 100% pork, and its crowning achievement is the pulled pork sandwich and ribs. The sauce is sweet and tomato-based, and coleslaw adds a bright finish to nearly every dish. If you don't love sauce, you can also get 'dry ribs' which just feature a dry rub with no sauce. Either way, you will be eating well!
We tried an off-menu item at Central, pulled pork nachos served on BBQ chips (instead of the standard tortilla chips). It was a gut bomb for sure, but it was the best thing we ate all weekend.
For BBQ nuts, the other well-known venues in Memphis include A&R BBQ, The Bar-B-Q Shop, Leonard's Pit Barbecue, Cozy Corner and Payne's. Our family favors Central, and we were happy to oblige. We did have grand ideas about sampling our way around Memphis BBQ, but frankly, after a single decadent meal, we were hankering for salad and vegetables, so our plans were foiled.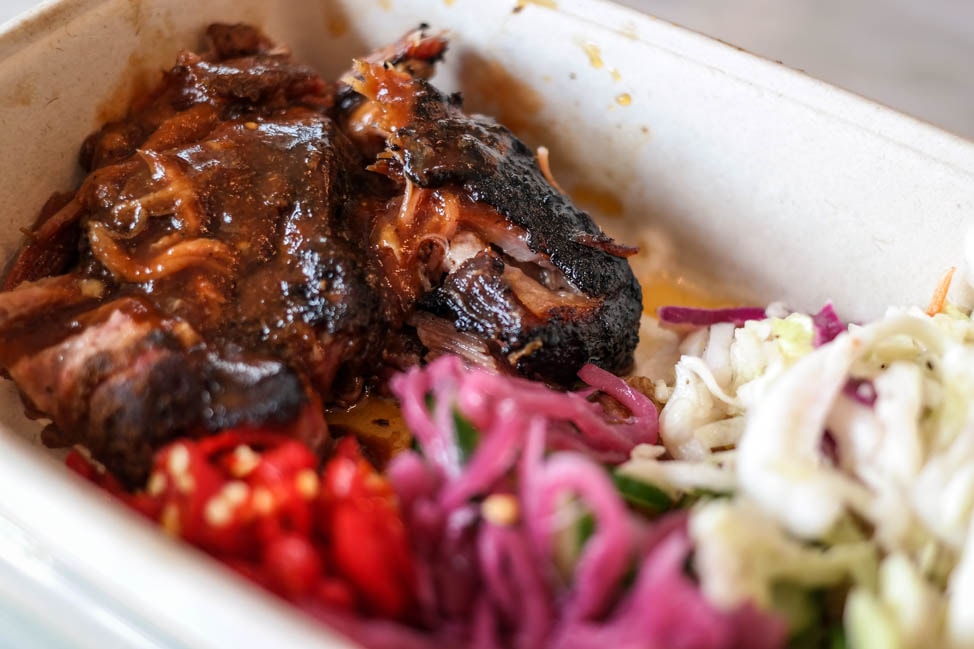 During our evening out, we also ventured down Beale Street, the main drag of Memphis' downtown and one of the most iconic streets in America. Here, the action picks up at night, when people spill into the street from the bars and restaurants lining the street.
Live music is on the agenda up and down the street and you'll find plenty of people singing the lyrics to the song 'Walking in Memphis' when they have their 'feet ten feet off of Beale.'
Between playing with Bob Wiley and spending time chatting at home, another highlight of Memphis was our visit to the National Civil Rights Museum at the Lorraine Motel. The museum came highly recommended to us by several friends and on a Sunday morning we headed over.
The Lorraine Motel is where Martin Luther King Jr. was killed in 1968, standing on the small balcony of his hotel room. When the hotel risked closure, some local businessmen thought it would be a good location for a museum showcasing the civil rights movement. A separate, attached, building as been added as the entrance hall, but much of the museum exists within the walls of the original motel.
Room 306 where King was staying has been perfectly preserved and is the final stop on the museum tour.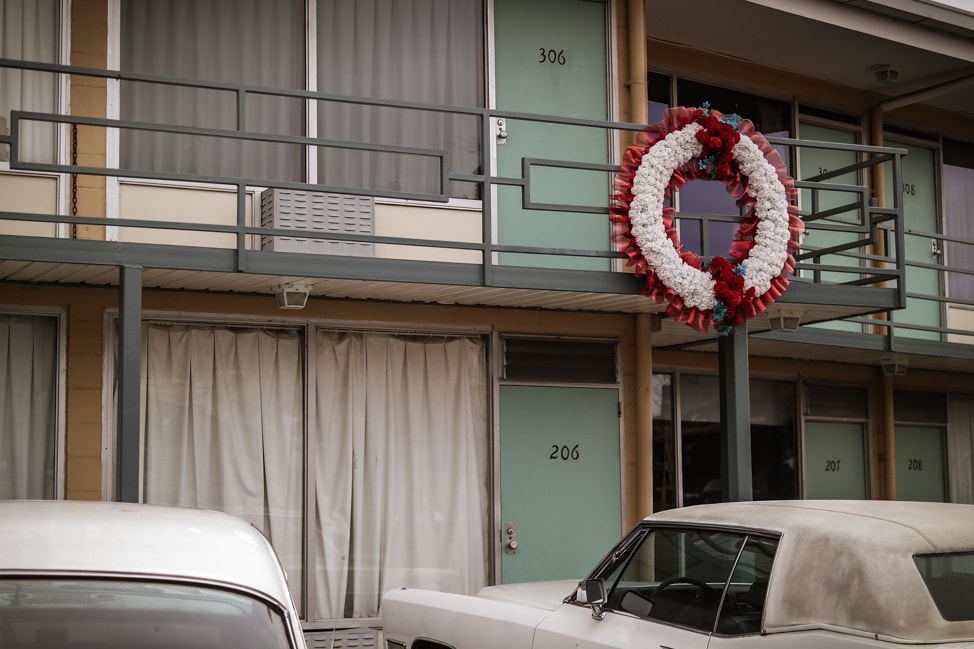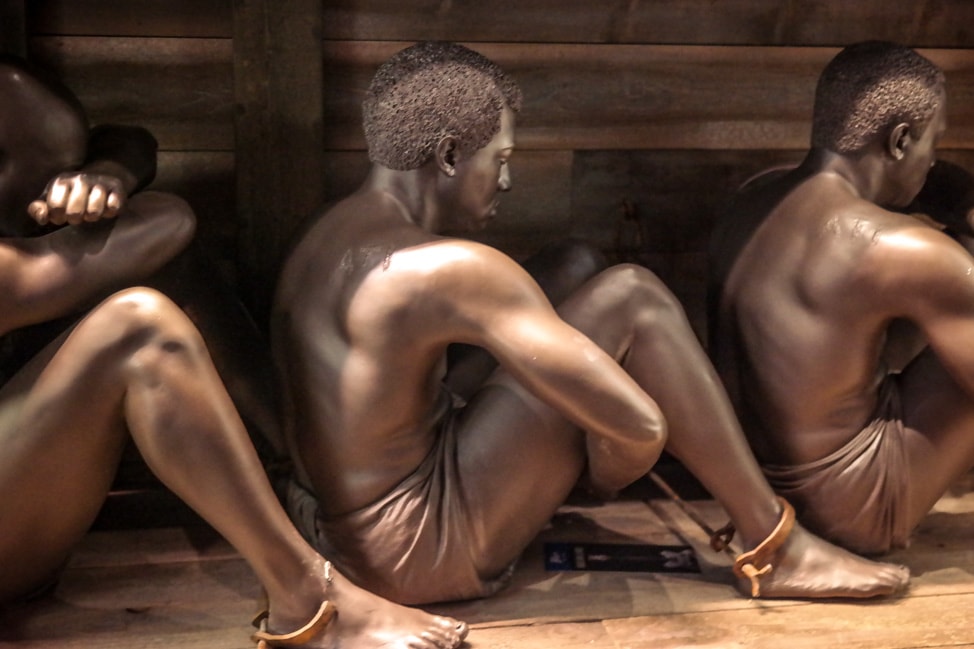 We found the museum equal parts powerful, horrifying and hopeful, sobering and proud.  When I was in elementary school, I memorized the entire 'I Have A Dream' speech during a project about national heroes, so I particularly enjoyed the room where a video of that speech was played in full, on a loop.
The words ring true, even fifty years later.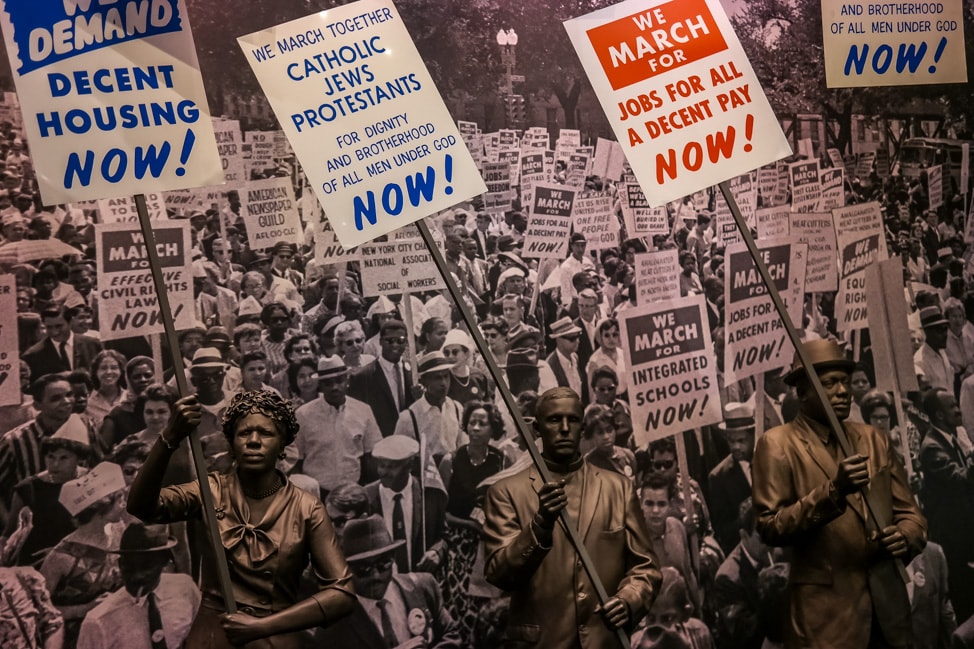 Memphis is an important city in America. It is the place where pivotal things happened, where our country shaped its identity. Go for the food and music and stay to be inspired and humbled by the civil rights museum. And don't forget to say hi to the Peabody ducks!
Pro tip: We got a private tour of one of Memphis' most impressive historical homes (owned by family friends). The James Lee House was completely restored and is now a luxurious B&B. It's the location of my dream family reunion and the place I would stay the minute all of the guest rooms fill up around town. I was so in awe that I barely took any photos (nice one!) but check out the website and be dazzled.