The sun is shining, the roses are in bloom and the Underground carriages are as warm as the surface of the sun. That means it's summer time in London! It also means it's a great time to explore the food markets dotted around the city. While the bigger examples like Borough Market get most of the press, as we have noted, there are a load of other options. One that has been on our hit list but that we had yet to enjoy was Maltby Street Market in Bermondsey.
Shame on us, because after venturing down this past weekend, we can tell you that it's stellar!
The location of Maltby Market is a little hidden. A spot you would never happen to walk by, but by no means inconvenient. Located less than a ten minute walk from Tower Bridge, Maltby Market is situated in the South London hipster enclave of Bermondsey, now known as the home of artisanal food producers and craft breweries.
It is located along elevated train tracks, so if you have ever taken a National Rail train from London Bridge station, you have zipped right over this gem.
Hidden under the brick arches of the train line are some fantastic companies that showcase their goods on Saturday and Sunday during the market. St. Johns, the legendary restaurant, runs its wholesale bakery business from Maltby Street and has a small dining area open during the market hours. The delicious pastries of Comptoir Gourmand are made on Maltby Street as well, with a very tempting table of macaroons, cakes and cookies laid out for passersby.
There is also 40 Maltby Street, one of the best restaurants in South London, with a small, yet focused Italian-inspired menu, handwritten on a blackboard. During the market, additional tables are put out during good weather, so you can grab a bottle of wine or a small plate and enjoy some sunshine, while hearing the rattle of the trains running overhead.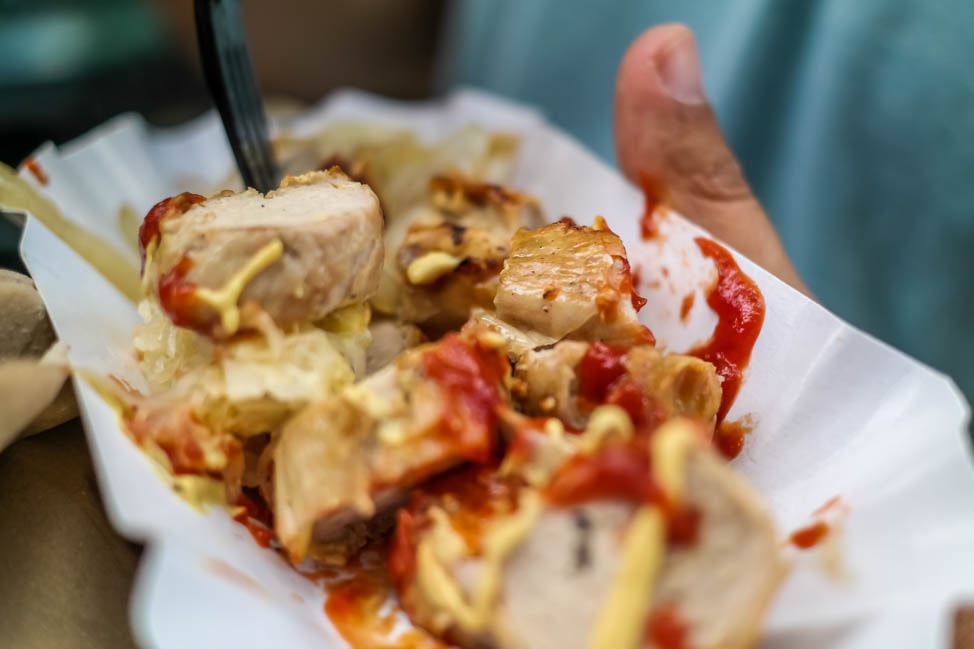 We sampled a snack from Herman ze German, a sausage restaurant with a few locations around London. The bratwurst with sauerkraut, mustard and ketchup was excellent.
The Beefsteaks puts out a solid product as well, doing triple-cooked chips, grilled steak and steak sandwiches. We went with the steak and chips (£8) with chimichurri, a great combination. The chips were crispy and perfect and the steak, which looked like an onglet steak, was grilled to medium and full of beef flavor.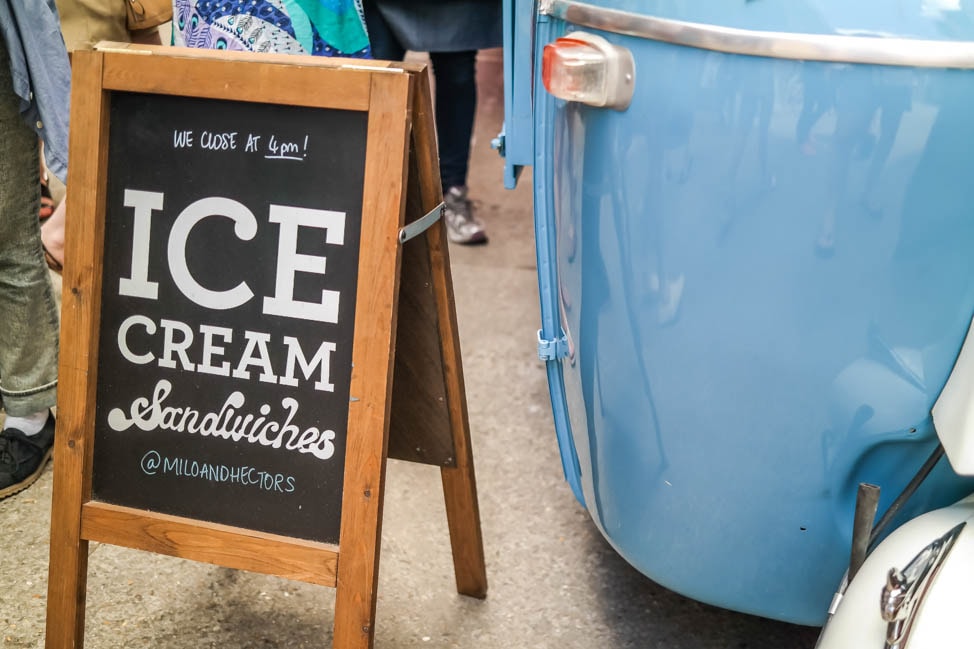 There are so many tempting options down on Maltby Street that more trips are needed to fully evaluate all of the food. Bad Brownies had some ridiculous looking brownies (I had my eye on the salted caramel) and Hansen & Lydersen, makers of legendary smoked salmon, had some tempting smoked salmon toast laid out on their table.
There was also Jamaican jerk chicken, fried chicken and waffles, freshly shucked oysters, frozen yogurt, ice cream sandwiches, Brazilian sandwich wraps, homemade beef jerky.
So many choices, so little room in my stomach!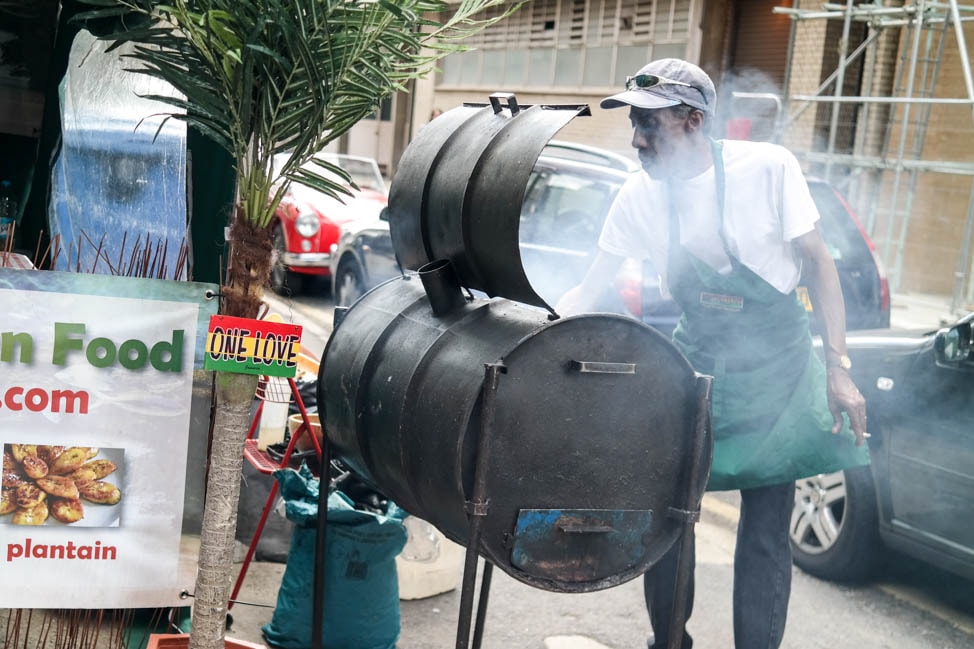 Maltby Market is now one of our favorite markets. It has a fun vibe, packing in people along the narrow back alley street. The handful of restaurants/stores that put our tables and chairs, offering cocktails, beers adds to the fun, meaning you can linger around the market for hours and enjoy this hidden gem in South London!
Have you been to Maltby Market? Tell us your thoughts in the comment section below!