As we now depart Riga for our next destination, Tallinn, it is time to reflect on our three nights in Riga, in the now classic high/low fashion.  Overall, we loved Riga.  The EU Capital of Culture for 2014 (no idea how significant that is, but sure sounds nice) Riga should be on everyone's list of cities to visit.  The Old Town is beautiful, everyone speaks English and the weather is spectacular!  Oh wait, scratch that last one.  Anyway, without further ado, our high/lows:
Highs:
1) The Bus Ride to Riga – This one sounds bizarre, but trust us, it was spectacular.  We booked our bus journey from Vilnius to Riga on Lux Express, splurging for the slightly more expensive Lux Express Lounge seats.  The coach was modern, and the "Lounge" section in the back of the bus was like a business class cabin of an airplane, with impressive seats to match.  There was one seat on each side of the aisle, and each fully reclined, with individual TV screens preloaded with about fifteen movies and nice headphones provided.  We received a bottle of water, free coffee and a granola bar (random, but appreciated).  The ride was four hours, but we would have been happy to spend a few more hours relaxing on the bus.  Those are words we have never uttered before.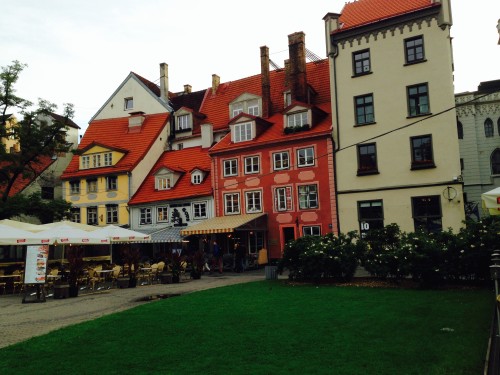 2) The Old Town – Riga's Old Town was compact, but loaded with stunning architecture and dozens of ornate, beautiful churches.  Most of all, it was colorful, something not usually associated with a former Soviet territory.  Luckily for us, the Soviets built their drab, depressing, utilitarian structures mostly outside of the Old Town, leaving the baroque, gothic and art nouveau buildings for us to enjoy.  Riga is actually one of the best cities to see the art nouveau style, with literally hundreds of examples.  Of course, taste is subjective, so I will let you choose for yourself.  Here is a picture of a Soviet building and an art nouveau building from the Old Town.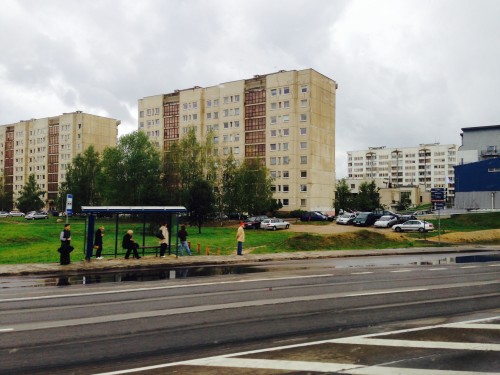 3) Hiking in Sigulda and Gauja National Park – 
We booked a tour through
Discover Latvia
, a small company based in Riga.  Our tour was for a group, but since no one else signed up, it ended up as a private tour.  Our guide Rihard took us by bus out to the town of Sigulda, about an hour north of Riga and a jumping off point for exploring Gauja National Park.  We hiked for about four hours, following the Gauja (pronounced 'gow – ya') River and enjoying the beautiful scenery.  It was not physically demanding, but getting out of the city and getting in some nature time felt great.
4) Vincents –
 Julie snagged a reservation at Vincents months before our departure.  Well done Julie.  The food was amazing and the presentation was crazy, if not a little over the top at times.  Every dish was finished with some flourish as it was served, whether it was adding a sauce, or making the sorbet course with a pan of liquid nitrogen.  The highlights were the langoustine bisque, the chanterelle risotto with gold leaf and the cream of chanterelle soup (August and September are mushroom foraging season.  Mushrooms are everywhere).  The service was great, the cocktails and wine hit the spot and was one of the better meals we have had in quite a while.  Maybe it deserves it own blog post….
Lows:
1) Riga: Not Great at Sushi – After searching for a restaurant and not being able to find it (suck it TripAdvisor for not updating your Google Map of Folkklubs Ala Pagrabs with its new location), we decided to try Tokyo Cafe, an extremely popular sushi joint.  We had low expectations, and they were met.  The people of Riga seem to love it, but anyone who has tried sushi outside of Latvia would not be impressed.  We went in with a sense of humor about our decision, and we were not disappointed after being handed a massive menu, with full pictures of every dish, ranging from sushi rolls, to caesar salad, to pizza and pasta.  75% of the rolls contained "Philadelphia cheese", every large sushi sampler is 2-for-1 (many people pack up the extra meal to go) and there is a section of baked sushi, with melted cheese on the rolls.  My favorite was this roll below, with the hat made out of a pepperoni slice and a halved cherry tomato.  It also was filled with cream cheese and Gouda.  Oh god, why.