In the grand tradition of our travels, we spend a lot of time making lists of our favorite bits of a place. This is done on a daily business when we typically play 'high/low' at dinner or over a drink. Then, on our flight home, we play high/low of the whole trip. We're easily amused. It's not weird.
Today we are on a bus between Lithuania and Latvia (two of the Baltic countries, over near Russia, but not so close as to require a visa). We just passed the Latvian border, in fact, and saw one of the most desolate and run down border crossings ever. Now that we're safely out of Lithuania, here are our highlights and lowlights of our brief visit.  And yes, they have a statue in honor of Frank Zappa.  We do not know why.
Highs
The Lithuania Litas – While Lithuania is part of the EU, it won't adopt the euro until the beginning of next year (2015). Usually this is the perfect time to visit a country, as the transition to the euro usually comes with increased prices. The litas has been fixed to the euro for years, so maybe it won't happen as rapidly here, but still. There's just something patriotic about a unique currency and we like the mental math of converting currencies in our heads all day long. Some Lithuanians are also sad about this upcoming transfer and have begun to draw tears on the faces of the politicians that grace the bills. We made sure to save a few coins, and we will hold on them for austerity sake, in our little Ziploc bag of random money.
Free Walking Tour – This has become our go to activity in many cities we have visited in the past year. Most capital cities have them, operated by various tour companies and we have had great experiences everywhere. The premise is simple: the tour is free but you tip the guide. How much is up to you. I am sure some people make this a completely free experience and skip tipping, but those people are assholes. Our guide in Vilnius was great and enthusiastic even though it rained for the whole two hours and she even gave her umbrella to someone on the tour. We learned a lot about the history of Lithuania, especially the Soviet occupation and some weird quirks about the country. This tour specifically focused on some off-the-beaten path places, because, as the tour guide said, Vilnius is not that big and you can go to those places on your own. At the end, it only cost us 20 Litas (the guide's tip), which is about £5. Not too bad.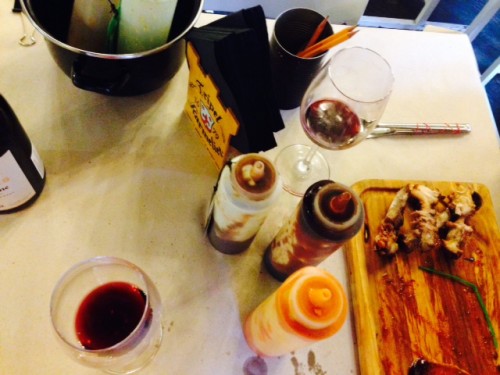 Rene Restaurant
– We hit this restaurant right after our walking tour, which ended around 3pm and we had yet to eat lunch. Our Lonely Planet guide mentioned it, so we decided to give it a shot since it was close to where our tour ended. This place was a little bizarre, with a faintly Belgian vibe and a massive menu (in size, not length; it was like holding a poster board). We dined on a Sunday, and according to the menu, mussels were only typically available on Tuesday and Friday, to ensure freshness and "never on Mondays". So that huge section of the menu was pointless and any dish, of which there were many, that included mussels in some way were also unavailable. Bizarre, but I respect the quirkiness. We had slow roasted pork ribs with a side of frites and Flemish pork sausages over mashed potatoes with an arsenal of six different house sauces in squeeze bottles. It was like a choose you own adventure with sauces. Both dishes were fantastic and the wine from the shop upstairs was cheap. We drank a Cote du Rhone for about 44 Lita (£10) and enjoyed our dining experience so much we cracked another bottle of 2005 Barolo for 78 Lita (£18). Great food and a solid mid-afternoon buzz. Win and win.
Baltic Independence – On the 23rd of August, 1989, to protest Soviet rule peacefully, the citizens of the Baltic states made a human chain that stretched from Tallinn to Vilnius. Of the 6 million citizens total across all three countries, 2 million people participated in the chain. Full independence from the Soviets came a couple years later, but August 23rd remains a special day. We happened to arrive in town the evening of the 23rd, and were treated to an outdoor concert, a nighttime 5k run through Old Town, and a festival near town hall.
And now, our low:
Rain – We must be becoming true Brits because we can't stop talking about the weather. For something over which we have no control, it certainly occupies a higher percentage of our conversation than it deserves. Unfortunately, Vilnius is a pretty rainy city (only about 30% of days are sunny), so we experienced true Lithuanian weather with a pretty drizzle for two days – stopped to rain long enough for us to lug our stuff to and from our hotel, which was nice. And that's the last think we'll say about the weather. Promise.