Cosme is one of the best new restaurants in NYC. It redefines the concept of Mexican, without trying anything gimmicky. The restaurant is run by chef Enrique Olvera, a man behind numerous restaurants in Mexico, most notably Pujol in Mexico City, the 16th best restaurant in the world according to the latest San Pellegrino list released last month.
Cosme is so popular that even on a Tuesday night, we were only able to snag a table at 5:45pm, not an ideal dining time but our only other option besides 10:30pm.
The food at Cosme can be classified as modern Mexican, so do not expect enchiladas or burritos or anything like that. This is Mexican fine dining at its best, with knowledgable staff, great cocktails and stunning plates of food flying out of the kitchen.
The interior is sleek and modern, foregoing any typical kitschy Mexican restaurant decor. There are no sombreros to be seen. Instead, lots of blond hardwood, dim lighting, and minimalism abound. There is a small bar leading to an open dining room space, seating around 100 guests. Not huge, but not tiny and intimate. This is a serious restaurant, but one that always wants you to have fun and enjoy the food and drink.
Quality like this does not come cheap. It is definitely a splurge, but well worth your money.
The menu is set up as a collection of small plates, broken up into seafood, vegetable and meat sections. The pricing varies, but potions are fairly consistent. We ordered five dishes plus dessert, which was more than enough food for the two of us.
With my gluten free lifestyle (not by choice), dining out can occasionally lose some of its luster. Cosme on the other hand is almost 100% gluten free, for those looking for that sort of thing. With the reliance on masa (corn flour), only one dessert item contains any regular flour and the fryers only handle corn-based items, so there are no cross contamination issues. It is a gluten free paradise!
Food Breakdown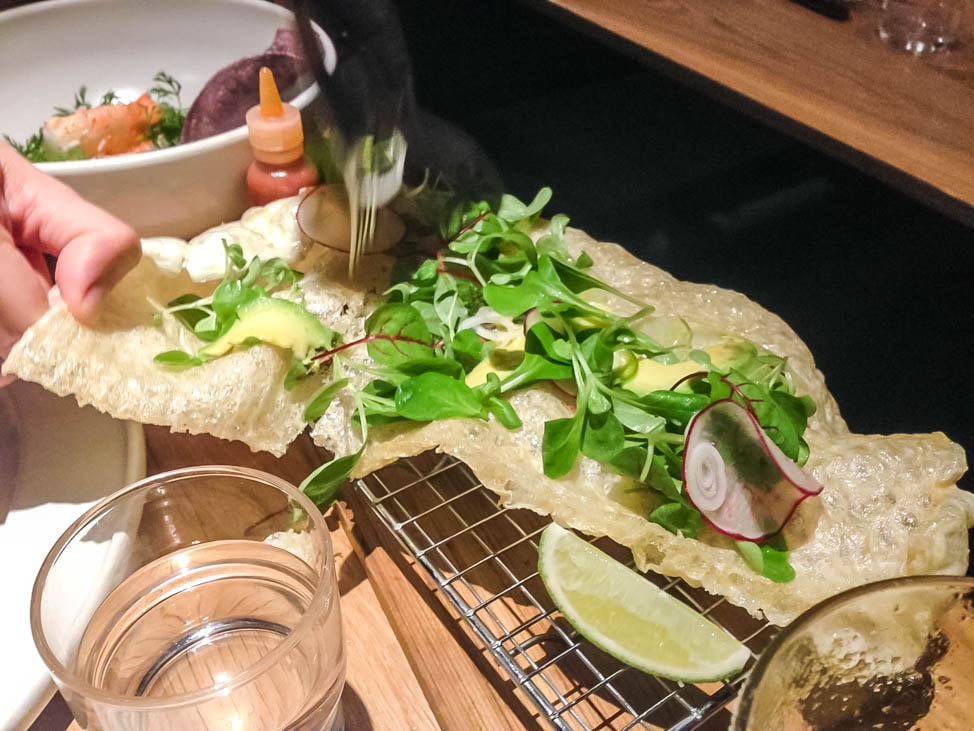 Chicharron, radish, cilantro, avocado, hot sauce $13
I was not expecting this huge pork cracker to hit the table when we ordered this dish. The chicharron (fried pork rinds) was the size of my head, garnished with radish, cilantro, avocado, some greens and a wedge of lime. The mini squeeze bottle of hot sauce was a nice touch, something we kept on the table for the duration of our meal.
The chicharron was crispy and delicious, but not oily in any way. The mixture on top was a nice accent, especially the acidic hint of lime and hot sauce. A nice way to start the meal.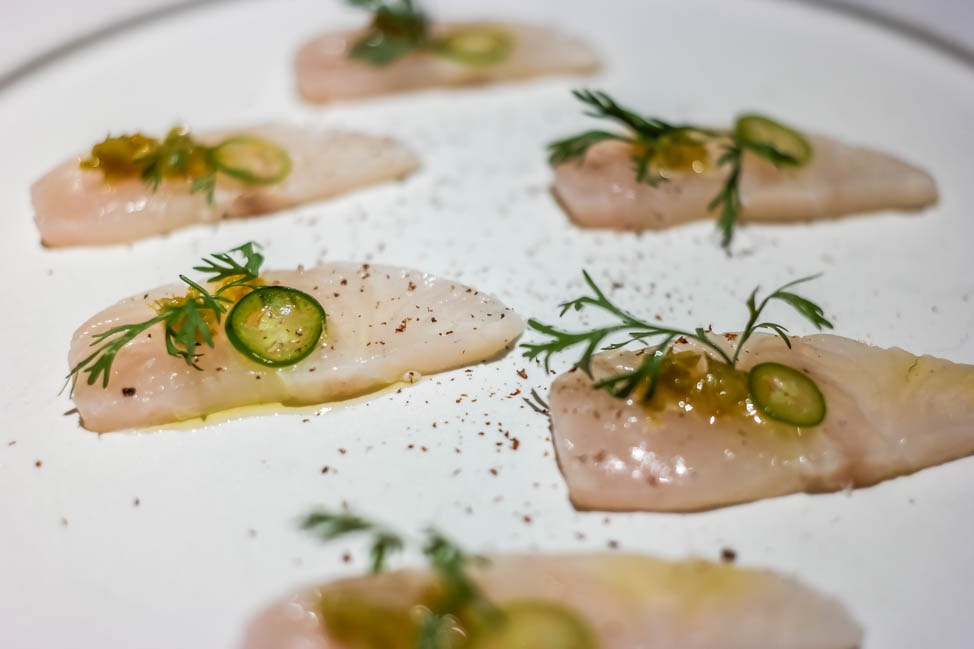 Sliced raw hamachi, fermented serranos, fish sauce, black limes $20
I love raw fish and hamachi is one of my faves. The six sashimi-like pieces were super fresh and slightly firm. The mixture of the serrano chiles, fish sauce and limes had a nice heat/acid balance, but did not overpower the beautiful fish. Another winner.
King crab, mexican gribiche, green garbanzo, chervil $20
I haven't had King crab in years, mostly because it is crazy expensive and I'm not willing to shell out $60 for a pound of crab legs. The portion of crab was VERY generous for the price and again, was delicious. The gribiche was great (think tartar sauce but thickened with hardboiled eggs) and the chervil added a nice fresh herb touch. The freshly fried blue corn tortillas were the perfect crunchy vehicle for scooping up everything in one bite.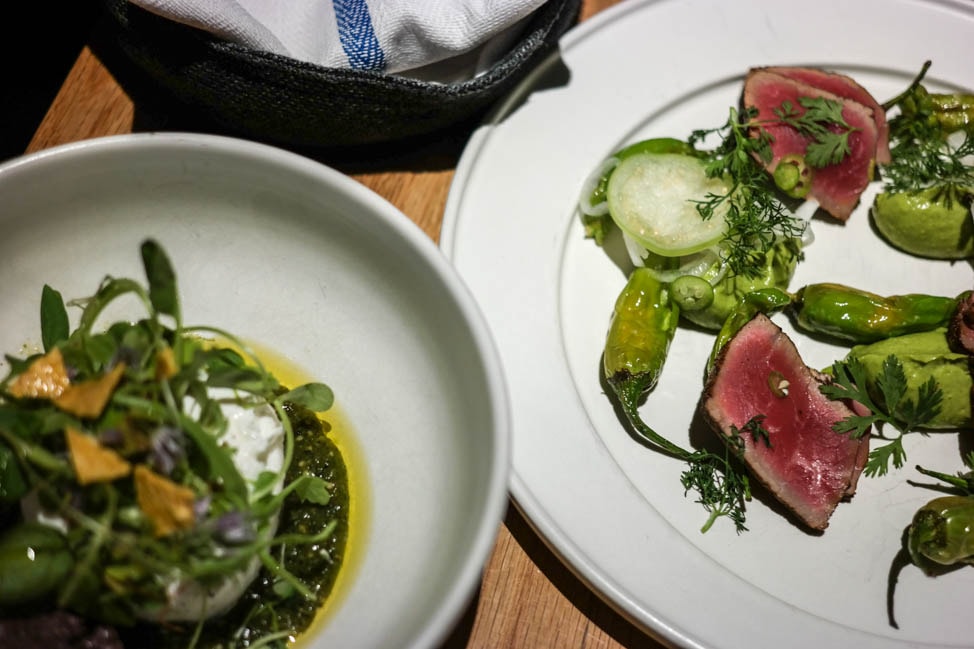 Burrata, salsa verde, weeds $25
Literally the creamiest piece of burrata (the dish on the left) ever. It is basically a cream filled ball of mozzarella, so when we cut it in half, the creamy, decadent center spilled out everywhere. Mixed with the the fresh salsa verde and aptly named weeds (a mix of unusual greens like dandelion), this dish disappeared quickly. Julie always orders burrata if it's on the menu and if the speed of which she attacked this dish was any indication, she enjoyed it immensely.
Black garlic rubbed NY strip for tacos, shishitos, pea-avocado purée $35
The homerun dish of the night (pictured on the right above). Served with hot, fresh corn tortillas, among the best I've ever had (possibly tied with El Palmar the dive restaurant in Lompoc, California, where we dined earlier on our road trip in California), the steak was beautiful cooked and super tender. The 'make your own taco' set up was perfect and the pea avocado puree was like an improved version of guacamole: light, fresh and amazing. The little bottle of hot sauce that was still hanging around from the chicharron course added a little more heat to our tacos. These were among the best tacos I've ever eaten. And that's saying something.
Conclusion:
Cosme was a revelation. I think it is one of the most important restaurants to open in NYC in years, mostly because it redefines what a Mexican restaurant can be for a city that already understands and appreciates Mexican food. It doesn't try to throw people off and do something modern for the sake of being modern, but takes familiar ingredients and combinations and makes them more exciting. If you find yourself in NYC, you need to put Cosme on your hit list.
Status: Highly Recommended
Cosme
35 E 21st Street
New York, NY 10010
Have you been to Cosme? What are your thoughts? Feel free to leave your comments below!