The smell of burgers, caramelizing on a flat top. The sound of freshly cut chips being dunked into a bubbling cauldron of oil. The sight of neatly stacked tiers of freshly baked pastries. A French creperie next to Colombian empanadas next to freshly made Neapolitan pizzas. The endless options of unique and delicious creations.
Welcome to Camden Lock Market.
Camden Lock Market is situated in the heart of Camden, a mess of shops, stalls and storefronts. The streets are packed with tourists and locals, staring at the bizarre street performers or being drawn in by the endless maze of tee shirt stores. Right along the canal, Camden Lock Market has really exploded, now packed with dozens of stalls, winding around an old stone building.
This is not a place for a relaxing stroll or a leisurely bite to eat. It is just as busy at Borough Market on a Saturday. A sea of hungry people, all seeking the next tasty bite. Settling on a spot is difficult, especially since I am notorious for being indecisive when it comes to food. What if just around the corner, the perfect stall awaits?
I fear food regret.
I love the chilli from Louisiana Chilli Shack. Tortilla chips topped with cheese, BBQ beef chilli and coriander lime salsa. The chilli is perfect, packed with cumin and chilli powder. A little touch of the salsa and some Louisiana hot sauce for heat. You can't go wrong with that combination. It is a great way to start an eating adventure at Camden Lock Market.
The smell of grilled chicken wafts from Mama's Jerk Station, selling some of the most tender jerk chicken ever. I love Jamaican food and jerk chicken is one of my favorite dishes. Loaded with spices like allspice and with a little heat from some chilies, the chicken gets doused in mango mayonnaise for a little sweetness. Amazing.
Arepas should be more popular, because they are amazing. Essentially a Venezuelan corn-based version of a small pita, the arepas are cut open and stuffed with a myriad of fillings and toppings. At Arepas & Co, its flat top full of sizzling arepas, they beg to be eaten. Chicken, cheese and some chili tucked into an arepa makes for a filling snack.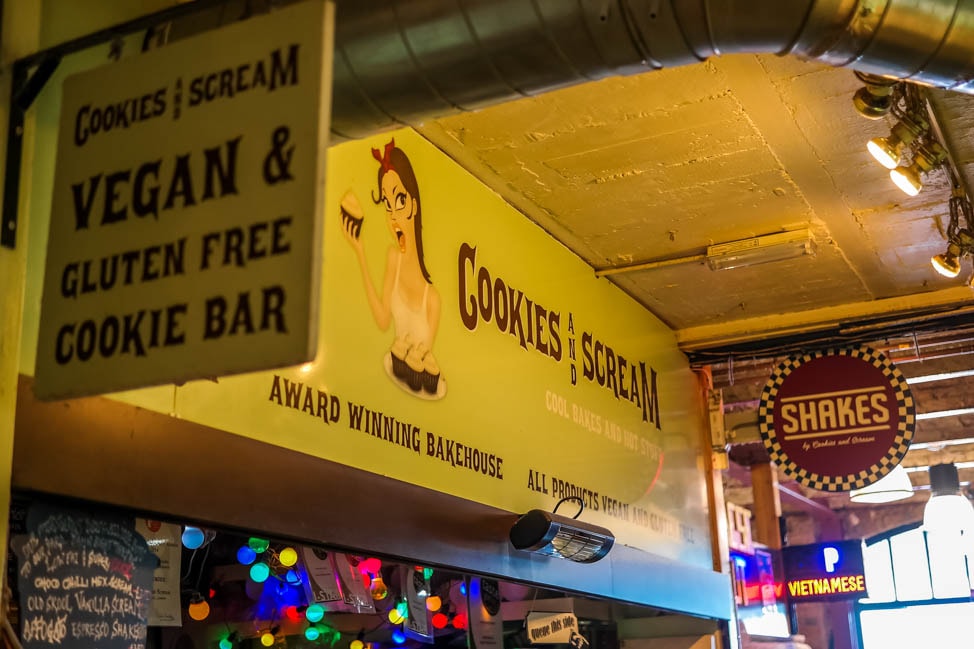 Camden Lock Market certainly does not have a shortage of dessert options, with tempting treats calling you around every corner. The funky and fun Cookies and Scream delivers gluten-free and vegan baked goods. While the cookies are good, the soy milk based ice cream is crazy creamy and delicious. Even better, sandwich a couple of cookies on some ice cream, and you have a real treat.
If you want to end your day with a nap, sample one of their huge milkshakes, with decadent items like one of their intense, dark chocolate brownies blended with ice cream.
I dare you to try to stay awake afterwards.
Camden is insane, packed with people constantly encroaching on your personal space as you navigate the streets. It's loud and in your face, which is exactly why I love it. It has a unique energy and vibe to the rest of London and delivers some remarkable dining options. Camden Lock Market showcases some of the best of Camden, with stalls for everyone.
It is not calm, but it certainly is delicious.
Have you been to Camden? We'd love to hear about your experience below.