I woke up in the morning, as the sun glared in through the hotel window, the streets below full of activity. I glanced over at the desk, and saw  the collection of empty wine bottles. It was a long night. I only had 12 hours before I had to head back home to London. It was time to get up and do it all over again.
Welcome to my 36 hours of eating in Rome.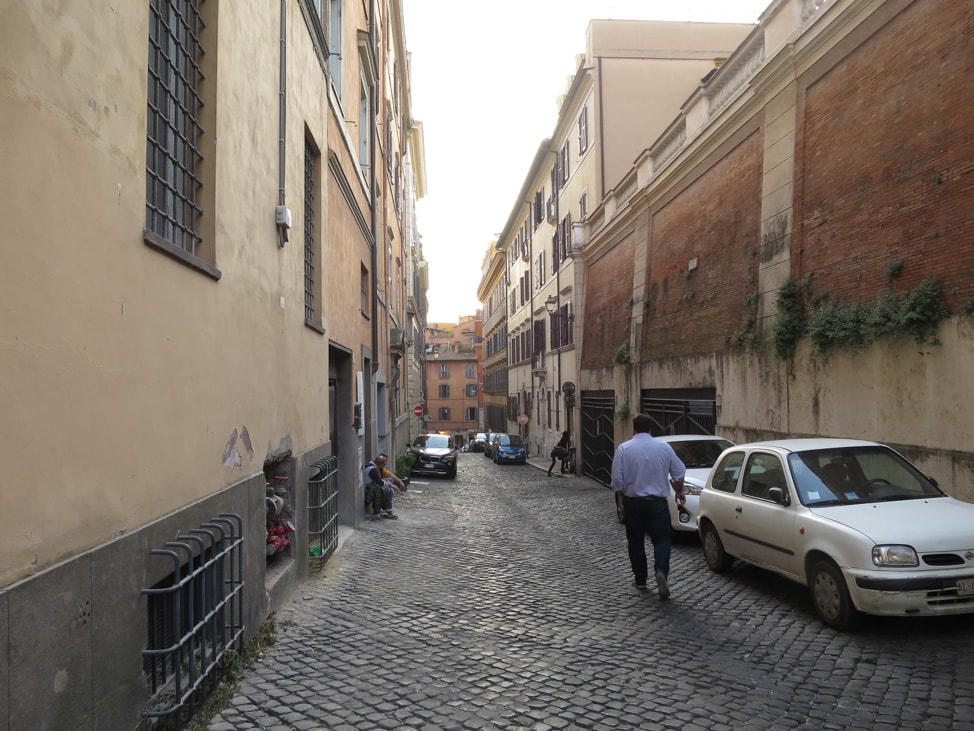 My return trip to Rome, after having spent my birthday in January exploring the Eternal City, came about suddenly. My old friend from Maine, Joe Ricchio, was on a solo tour through Tuscany and Rome. I jokingly sent him a few messages about not making London part of his itinerary.
"Dude, if you could come meet up with me in Italy, that would be amazing."
So that is exactly what I did. I booked a ticket last minute and arranged my flights to maximize my one night, arriving around lunchtime on a Tuesday and departing the following night. So I had 36 hours in Rome, with an old friend who is one of the few people I know more knowledgeable about food and wine than I am. I knew exactly what I was getting into: a lot of eating in Rome.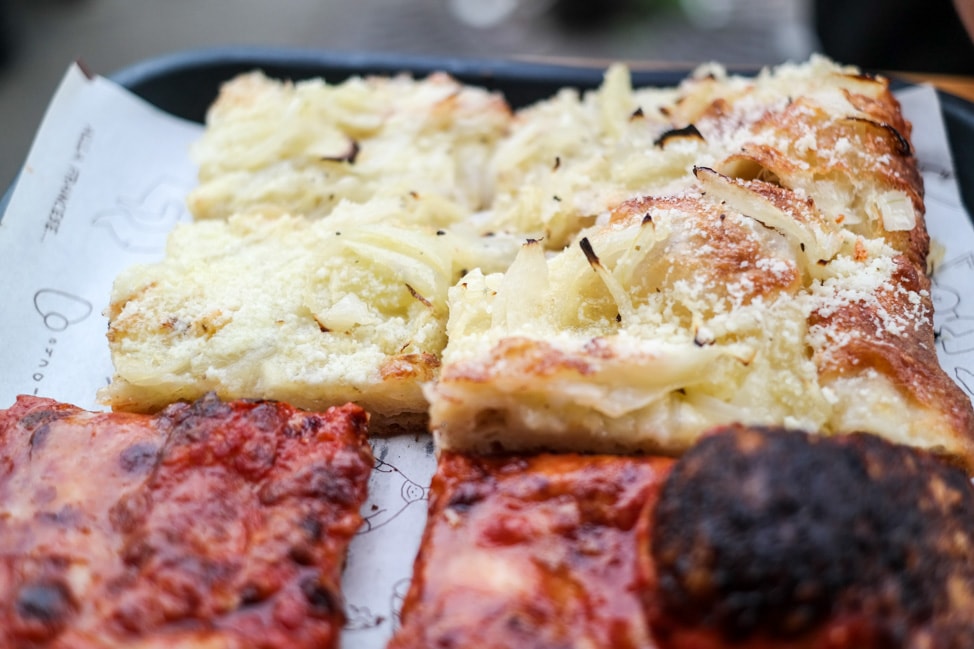 Wasting no time, we arranged to meet up at Bonci Pizzarium straight from the airport, a popular pizza spot about a ten-minute walk northwest of the Vatican. Chef Gabriele Bonci has become a bit of a celebrity in the Roman food scene, known for his unique take on the traditional Roman pizza.
Instead of the thin, cracker-like crust typical of the Roman style (check out Forno Campo de' Fiori for the classic version), the pies at Pizzarium were baked in large rectangular pans with a notably thicker crust, like a square, Sicilian-style slice. The difference though was that the dough was extremely light and airy, not nearly as dense as other thick crusts I've had.
The toppings were all over the place, from his classic potato and mozzarella pizza, with a layer of soft, slowly cooked, bright yellow potatoes under a blanket of melted cheese, to pizzas slathered with a white bean spread, fresh sage leaves, and a ridiculous pile of mortadella.
We tucked into a few trays worth of pizza, cut into small, rectangular slices with scissors by the staff (a unique feature in Rome), at one of the standup tables outside, as we watched the crowds gather to queue to place their orders. This place was certainly popular, even at 2pm on a Tuesday. We polished off our array of slices without much conversation, a sign that the pizza lived up to its billing. A perfect start to a decadent 36 hours.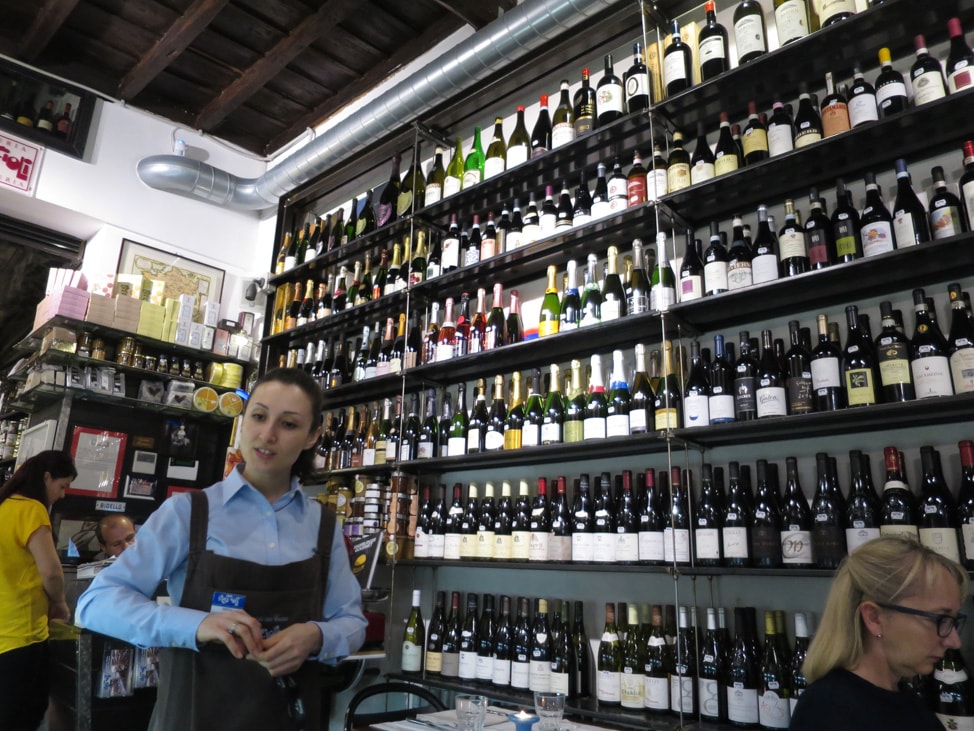 After retreating back to the hotel to freshen up and downing a few bottles of wine, we were off again, heading to Roscioli, a restaurant that tops most food-lovers list for best restaurants in Rome. We were seated in the front area, wedged between an impressive wall of wine and the deli counter, packed full with cheese and cured meats. It was a little overstimulating, from a food sense.
After opening a bottle of beautiful Sicilian red, we dived into starters of burrata with sun-dried tomatoes and mortadella with shaved Parmesan Reggiano.  I generally do not care for sun-dried tomatoes, but whatever Roscioli's did to these tomatoes was magical. The creamy burrata was super fresh and indulgent, and of course the pile of shaved mortadella was certainly no slouch. Studded with large chunks of fat, we used the crisp flatbreads as a deliver device to consume the fatty meat as quickly as possible.
Not exactly a heart-healthy way to begin a meal, but when in Rome.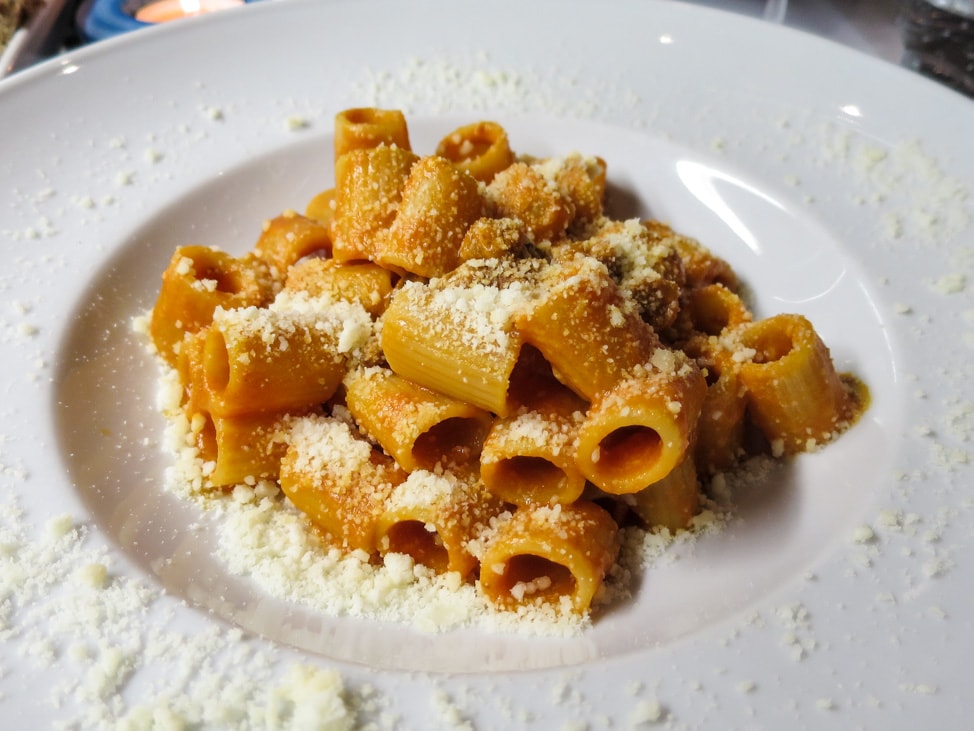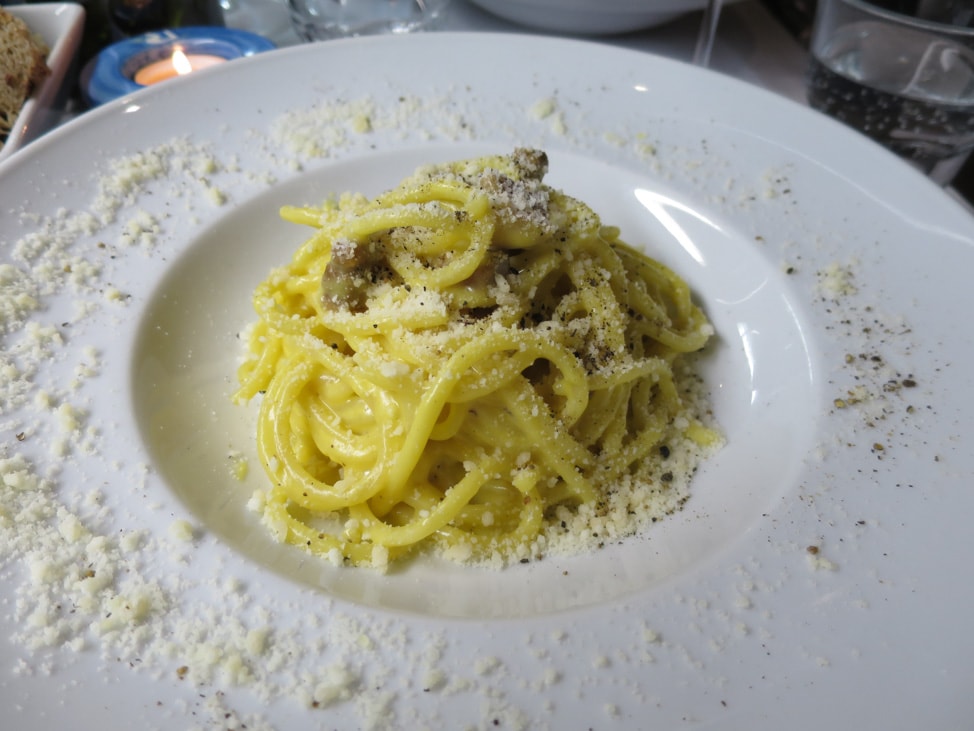 We both stuck with pasta as our main course, skipping the large, heavy, and rather expensive meat and fish dishes. We went with two of the classic Roman pastas: carbonara and amatriciana. The amatriciana, with those adorable tiny rigatoni, was one of the most outstanding pasta dishes I've had in quite a while. Just enough sauce to coat the noodles, it packed major flavor with the fatty guanciale, the salty Pecorino Romano, and a solid punch of heat from some added chiles.
Our carbonara was a disappointment on the other hand, as the pasta was on the crunchier-side of al dente. The combination of the Pecorino, guanciale, black pepper, and egg yolk was perfectly tasty, but it was hard to overlook the tragedy of undercooked pasta.
Oh, well, you can't win them all.
We had a great rapport with our server the whole night, which came to a crashing halt when, influenced by our increasing consumption of red wine, we made a passing joke about the music, which during our meal included tracks from the Backstreet Boys, Smash Mouth, and the Rembrandts (remember them, from the theme song of 'Friends'?). She seemed to take our teasing comment rather poorly, so we decided to quickly finish our wine, ask for the check, and get out of there as quickly as possible before we said anything else insulting.
Somehow, we managed to make room for a cup of gelato from Grom, as we passed by on our way back to the hotel. We shared a bowl of pistachio, which was possibly the creamiest and, for the lack of a better word, "pistachio-y" pistachio gelato I've ever had. Our judgement could have been altered from our copious wine consumption at dinner, but at the time, it was simply spectacular.
The next morning, we rolled out of bed, collected our wits, and surveyed the damage. Looking at the table in our hotel room, littered  with bottles of wine, it looked like we had fun. Time was of the essence though, so we hit the road in search of some breakfast. Joe had read about Pasticceria De Bellis, a tiny pastry shop in central Rome, near Roscioli. We stumbled in, desperately in need of caffeine. The pastry display case was too tempting, so after drinking a few cappuccinos, we shared two croissant frittos, a crispy croissant rolled in sugar, which created a crunchy exterior shell that gave way to a soft, airy, buttery interior. I could have eaten these like potato chips, but decided that was not the best idea for my well-being.
Joe had other thoughts, and ordered a pistachio cake with pistachio buttercream. The buttercream was pipped high and extremely rich, and the cake was buttery and full of pistachios, all topped off with a slice of candied orange. It was a heavy way to begin our day.
Deciding that we needed to walk it all off, we made the 30-40 minute walk south of city center to Mercato Testaccio, a large covered market, just a few blocks from the River Tiber. The market was only partially opened while we we there, but it still a buzz of activity, with fruit and vegetable vendors, butchers, fishmongers, and bread bakers preparing for a busy day.
We had heard about a famous brisket sandwich from Sergio Esposito at his stall at the market. It was essentially an Italian version of a French dip, as he took fresh, soft rolls, dunked them in some of the cooking liquid from the brisket, and then sliced the brisket to order. We added on the braised greens (we really wanted to eat a vegetable) to make it, you know, healthy.
The brisket was as tender as possible, the roll was soft with a crunchy crust, and the dip of the bread in the cooking liquid meant every bite was extremely meaty and savory. A true bargain too, at only €4.
After our pistachio gelato revelation the previous night, we decided to snag a few cups of gelato from Frigo before departing the market. Since this was Italy, of course it was delicious. Joe decided to mix it up, trying some chocolate chip. I kept it traditional, going for pistachio again. The gelato officially put us in a food coma as we slowly waddled out of the market and back towards central Rome.
I should mention too that the pastries, brisket sandwich, and gelato were all consumed within one hour, and all before noon. It was a weird morning.
After attempting to do tourist things, and seeing the epic lines at the Roman Forum and Colosseum, we decided to just walk around, taking in some sights and digest our epic morning meal. After only a few hours in the warm Roman sun, and with my departure time back to London rapidly approaching, we decided to snag a seat at a cafe for a nice bottle of cold white wine. Of course, once the server inquired about food, we decided to glance at the menu. Twenty minutes later, our two pizzas arrived. We just hung out, did some solid people-watching, sipped our glasses of wine, and enjoyed a break from the crowds.
I returned to the Rome airport, having felt like I was just there, which was not too far from the truth. It was a whirlwind, but getting to catch up with an old friend, swapping stories and memories from our past, and gorging on some of Rome's finest food together, it was certainly time well spent.
For more hijinks from my buddy Joe and some of his latest work for Downeast Magazine, check out his site here.
Too see our 36 hours in video, check out the YouTube video below, full of food and slightly intoxicated reflections.