This series of articles highlights some of our favorite culinary offerings around the world. For us, the joy of travel is inextricably linked to eating well, and we like to recreate our favorites at home. Join us as we share some of our best travel stories and then take our turn cooking the iconic dishes that make our travels so special. Check out some previous installments here, here, and here.
When Americans think of Thanksgiving, Bratislava is not usually a city that evokes that special, holiday feeling. Yet, when we relocated to London, we decided to spend our first Thanksgiving in Bratislava. Why, you ask? Frankly, it was almost completely due to the ridiculously low airfare that was available (about £40/person round trip). We were excited to begin exploring Europe, so we just picked the whatever destination was cheapest.
Not exactly romantic, but rather effective budget-wise!
We knew that there would be no turkey and no stuffing, no cranberry sauce or green bean casserole, but our sights were set on exploring a city that neither one of us had ever thought we would visit. Luckily, our timing was good, as the Christmas markets were in full swing already at the end of November, so we got our first taste of European Christmas markets, complete with hot, mulled wine, sausages, and tons of holiday knic-knacs.
There were no expectations around the cuisine, but I had done some research on a few restaurants serving Slovak food that I wanted to try. Our first taste was at Cafe Verne, a cute cafe with a rustic dining room, complete with low ceilings and exposed wood beams. We ordered the halušky, which appeared from the menu description to be some sort of potato dumpling.
What arrived was a dense, heavy dish, ideal for when it's cold and dark outside. A true winter food. The potato dumplings were tossed in a creamy cheese called bryndza, which was sharp and acidic. The pile of dumplings and cheese was topped with golden brown chunks of bacon, adding even more decadence. Spa food this was not.
After devouring the food, we fell into a major food coma. We slowly ambled back to our hotel, got into bed, and immediately fell asleep. The next morning, we coined a new phrase that we have kept in our repertoire ever since: getting halušky'ed. That feeling you get when you overindulge on rich food and are physically unable to be active in any way.
So in honor of one of our favorite European dishes that spawned a new catchphrase for us, here is a recipe that will ensure a mid-afternoon nap.
Halušky
3 large potatoes (1.5lbs or about 750g), peeled
1/2lb (about 250g) of smoked bacon, cut into thick strips
2 eggs
2 cups all-purpose flour
1 small white onion, chopped
1/3lb (just under 200g) feta cheese, roughly cubed
1/2 cup creme fraiche
3 tablespoons milk
1 small bunch of parsley, fined chopped
Notes:
You can substitute gluten-free flour for the all-purpose flour, which I did.
Try to find slab bacon and slice it yourself, so you can get big chunks of bacon.
If you live near a Eastern European market, they may carry bryndza. If so, you can swap out the feta, milk and creme fraiche for the bryndza entirely.
Cook the bacon over a medium heat, allowing the fat to render and the pieces to become browned and crunchy. It should take at least 10-15 minutes. Once cooked, you can drain the fat, reserving about 2 tablespoons of the bacon grease, and set the bacon aside.
To prepare the cheese, mix the cubed feta, creme fraiche, and milk to a small mixing bowl and whisk until combined. The cheese mixture will remain slightly lumpy and should be a pretty thick consistency, similar to cottage cheese.
For the dumplings, begin by finely grating the potatoes on a box grater. If you do not have a box grater with a fine grater (like me!), then you may need to process the shredded potatoes in a food processor to get a finely grated texture. Once grated, gather the potatoes into a tea towel and squeeze as much water as possible. This drying step makes the dough thicker and easier to work with.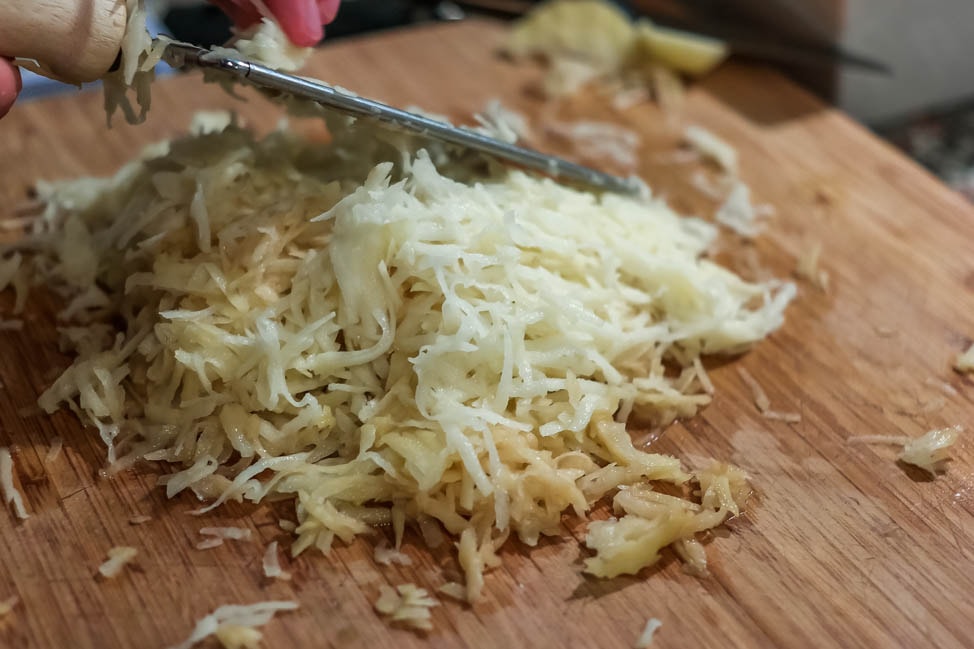 In a large bowl, add the 2 eggs, flour to the shredded potatoes and season with salt and pepper. Blend the mixture with a hand-mixer on medium for about 5 minutes, or simply use a wooden spoon, stirring the batter vigorously for about 8 minutes. The dough should be thick and not watery. If it looks thin and the batter does not hold during cooking, simply add more flour a few tablespoons at a time until it has thickened.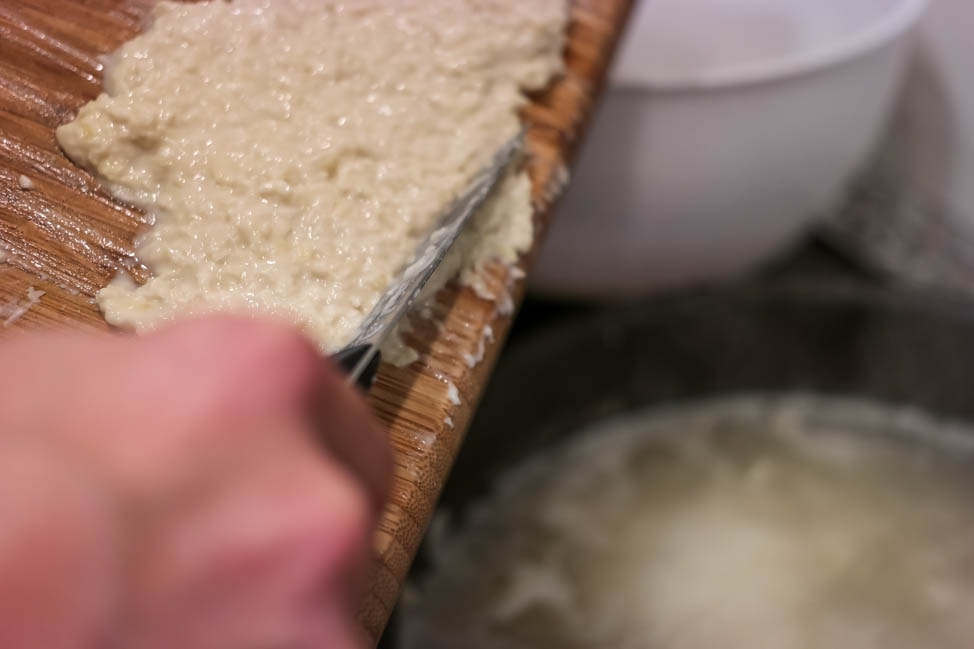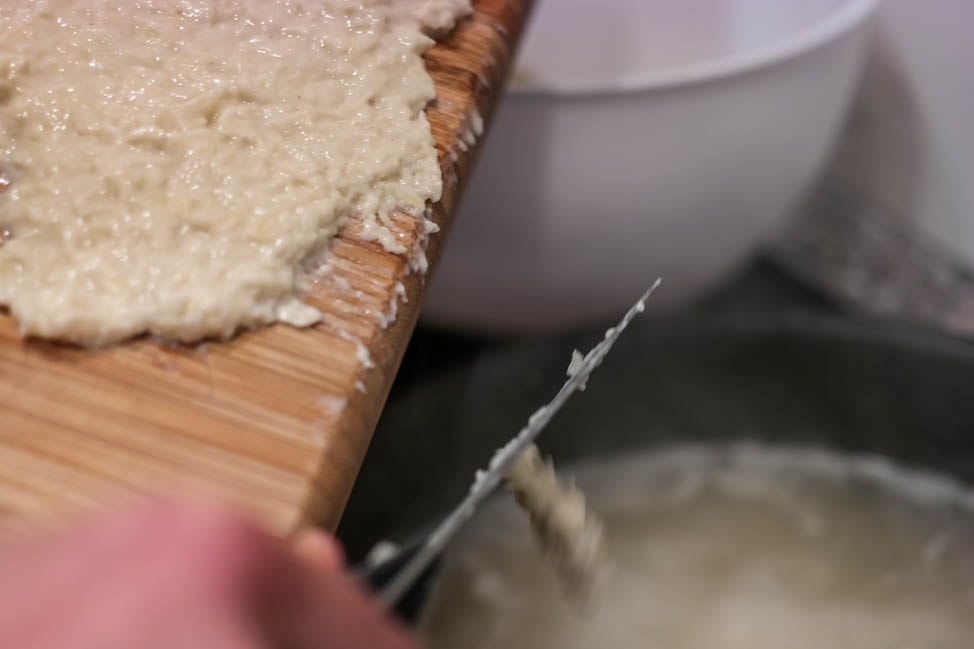 Bring water in a high sided pan or pot to a boil and add salt. To form the the dumpling, pour the dough onto a cutting board, and using a paring knife, scrape the dough from the board directly into the boiling water, making the dumplings thin and about 1 inch long. The dumplings will swell when cooked. You will need to process the dumplings in batches, being careful not to crowd your water.
The dumplings will float to the surface when they are cooked, which takes only 2-3 minutes. Using a slotted spoon, remove the cooked dumplings, drain any excess moisture on a paper towel and reserve them in a bowl. Continue with batches of dumplings until you have used all of the batter.
To assemble, put the bacon pan back on a medium high heat, adding the 2 tablespoons of reserved bacon grease and the chopped onion and bacon. Sauté the onion and bacon mixture until the onions have softly slightly, about 5 minutes. Add the warm, drained, dumplings to the pan, pour in the cheese mixture and parsley, and toss until everything is incorporated and the cheese has formed a creamy sauce. Serve the halušky in bowls and top with a little more bacon and parsley.
Enjoy! Don't say we didn't warn you about the impending food coma!