Brixton Market is a feast for the eyes.
Turn left out of the Brixton Tube station, and walk the few short steps to Electric Avenue (yes, the song is named after this street). Electric Avenue is the beginning of the craziness that is Brixton, teeming with halal butchers, fish mongers, Asian markets, and stalls selling everything from wigs to luggage.
While this stretch is certainly a feast for the eyes, is is best to head indoors to Brixton Village and Brixton Market Row, for amazing and diverse food.
Brixton Market Row (best entered from Electric Lane, just off Electric Avenue) is a vibrant indoor space. There are pizza joints, barbecue spots, coffee shops, and ethnic markets. Brixton Market Row emerges onto Atlantic Road and directly across the street is the entrance to Brixton Village, another indoor space packed with vendors and sure to be crowded, especially on the weekends. Brixton Village is even larger than Market Row, offering a dizzying array of delicious food choices, under the comfort of soaring sky lights.
Space is a commodity in Brixton Market, and you won't find expansive dining rooms and loads of elbow room. The stores are almost all tiny, especially in Brixton Village. Seating is cramped, but that just means you can easily strike up a conversation with your neighbors as you eye their food.
So, what should you eat? Well, not all stalls are created equal. Amid the huge collection of vendors, there are a few standout options that are reliable, delicious, and surprisingly affordable (at least by London standards).
Here is our guide to the best places to eat in Brixton Village and Market Row.
Mama Lan
Mama Lan in Brixton Village specializes in Beijing street food, an homage to owner Ning Ma's grandparents who sold dumplings back in Beijing. Clearly, the dumplings are a sure bet (and only about £5/order) but Ning Ma also offers amazing noodle bowls, like the spicy chicken ban mein, a chilled noodle salad.
Franco Manca
Franco Manca helped launch the Neapolitan pizza craze in London back in 2008, when they opened their first location here in Brixton Market Row. The years have been good to Franco Manca, as the number of stores has crept over twenty-five, but it is fun to visit the small, adorable original. They nail the super thin, soft crust, made from a slow-rising sourdough base. The best part is that most of the pizzas come in under £7, making it a quick and affordable lunch spot.
The Joint
The guys at The Joint have been slow roasting pork, beef, and chicken for the past few years in Brixton Village, and the food is only getting better. They source their meat from top rated butcher Ginger Pig, which means you can feel a little better about eating a huge plate of 16 hour slow cooked pulled pork with candied bacon and slaw.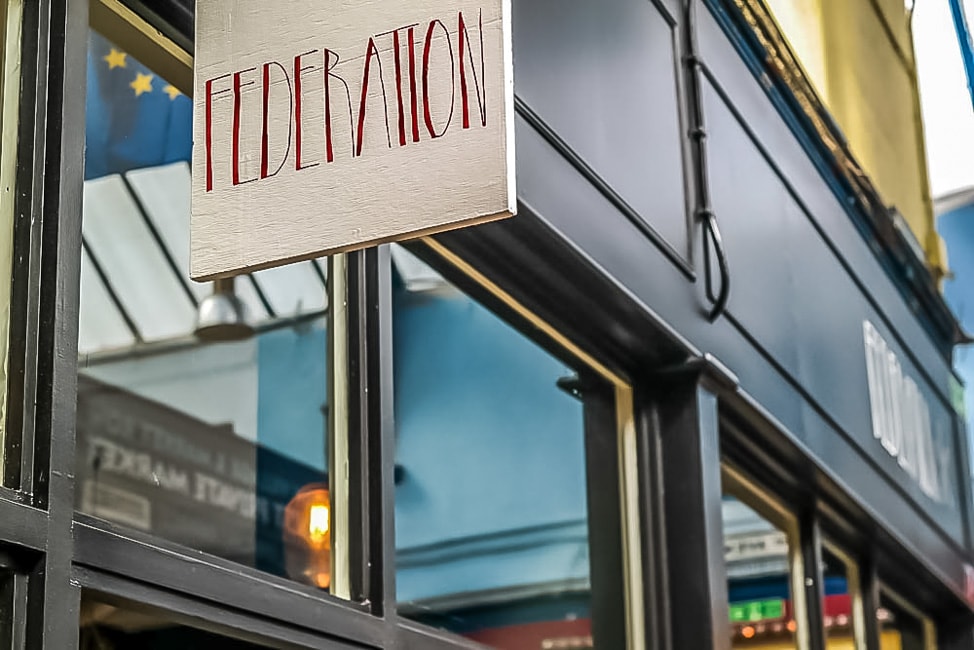 Federation Coffee
There is no contest for title of best coffee in Brixton Village. Federation Coffee serves beans from Campbell & Syme in North London, but also always have new, specially sourced coffee available as well. On top of a delicious espresso or latte, they offer a light brunch menu. Our strategy, to avoid the inevitable crowds, is to stop by Federation Coffee after our meal, for a takeaway coffee and one of their tempting, sugary treats on display. Bonus points for their strong selection of gluten-free options.
Senzala
If you wander around Brixton Village, it is hard to miss Senzala because it is perpetually packed. Seriously, I've been to Brixton many times and never seen this place less than completely full. They specialize in sweet and savory crepes, with more than 20 varieties featured. The fillings range from the traditional ham and cheese, to the more unusual, like king prawn cajun. The buckwheat crepes are also naturally gluten-free, and they have numerous vegan and vegetarian choices.
Fish Wings & Tings
This Jamaican joint in Brixton Village is all about Jamaican favorites, featuring roti, jerk, and curry goat. It is hard to overlook the reggae wings, huge, heavily spiced wings served with a pineapple and mango chutney. For a little extra heat, grab a bottle of the Jamaican hot sauce, packed with the fiery heat and fruity flavor of scotch bonnet peppers. The jerk chicken with tamarind barbecue sauce is a sizable meal, served with rice and peas and coleslaw, all for under £9.
Okan Okonomiyaki
Okay, let's get the easy question out of the way: what is okonomiyaki? Okonomiyaki is a classic Japanese street food which consists of a savory pancake, loaded with cabbage, meat or fish, and topped with bonito flakes, brown sauce, Japanese mayonnaise, and seaweed flakes. It is not exactly "heart healthy" eating, but delicious nevertheless. Okan, located in Brixton Village, serves up these huge pancakes for around £8 and usually offers lunch deals as well.
Salon
Salon Brixton in Market Row features a ground floor shop, called The Store Room, that sells grilled cheese sandwiches, beautiful hunks of British cheese and locally made charcuterie during the day. The upstairs opens at night, and features a more elegant, seasonal dining experience, a sharp contrast to many of the dining options around it in Brixton Market Row. The four-course tasting menu will set you back only £33, a bargain by London standards for interesting, seasonal, and locally sourced food. They also offer an a la carte option, with mains ranging from £9-14.
Have you been to Brixton Market? What are your favorite eats? Share in the comments below!