There are oyster people and non oyster people. We are oyster people.
Since the days we lived in Maine, where the freezing cold water produce some of the most delectable oysters around, we've been hooked…and picky. We look for impeccably shucked and cleaned oysters, with a fresh, briny flavor. A splash of mignonette on top suits us just fine.
When we visited Charleston, SC for the first time recently, we knew that we had to indulge in some raw bar delicacies, since this part of South Carolina is renowned for its love of shellfish. The tidal basins and marshes are the perfect breeding grounds for oysters, so we were excited to try a few of the local varieties.
Of course, oysters don't typically come cheap, so we mostly save them for special occasions. Luckily, Charleston has really embraced the happy hour concept and it is easy to hop around the city and sample the finest local oysters at a fraction of the regular cost, if you know when to go.
After some tough research on our part, we found the best Charleston happy hour deals for oysters.
The Ordinary
This King Street restaurant, the brainchild of James Beard award-winner Mike Lata (owner of Charleston fine dining staple FIG), is in an old bank, complete with lofty ceilings and massive windows. The Ordinary is an American brasserie highlighting the cuisine of the coastal Carolinas, and is usually jam packed with eager diners looking to try a whole roasted snapper or steamed grouper.
While they offer a wide range of innovative seafood dishes (and even boast luxury items like caviar service and shellfish towers), the raw bar is a staple. While the oysters normally start at around $2.50/each, during their oyster happy hour, the Ordinary offers them for just $1.50/each. The oyster happy hour runs Tuesday-Friday from 5-6:30pm (it's closed on Mondays), and it's best to arrive early, as seats fill quickly.
The oysters are paired with a mignonette, horseradish, lemon, and a small bottle of their homemade hot sauce, if you like things a little spicy!
Pearlz Oyster Bar
This "eclectic little oyster bar" (their words, not mine) has four locations in North and South Carolina, but the French Quarter site is the the most convenient for visitors to Charleston. The bright and airy space on East Bay Street is laid back and relaxed, with a dozen or so seats around the raw bar.
The Pearlz happy hour deal is one of the best, and runs from 4-7pm, Monday-Friday. And in addition to oysters, Pearlz happy hour menu includes drink specials and deals on snacks like corn fritters and southern fried oysters.
For the raw bar offerings, local lowcountry oysters are $9 for 1/2 dozen or $12 for a dozen, served with the traditional cocktail sauce and mignonette. Compared to the regular $16.95/dozen menu price, that's quite a deal.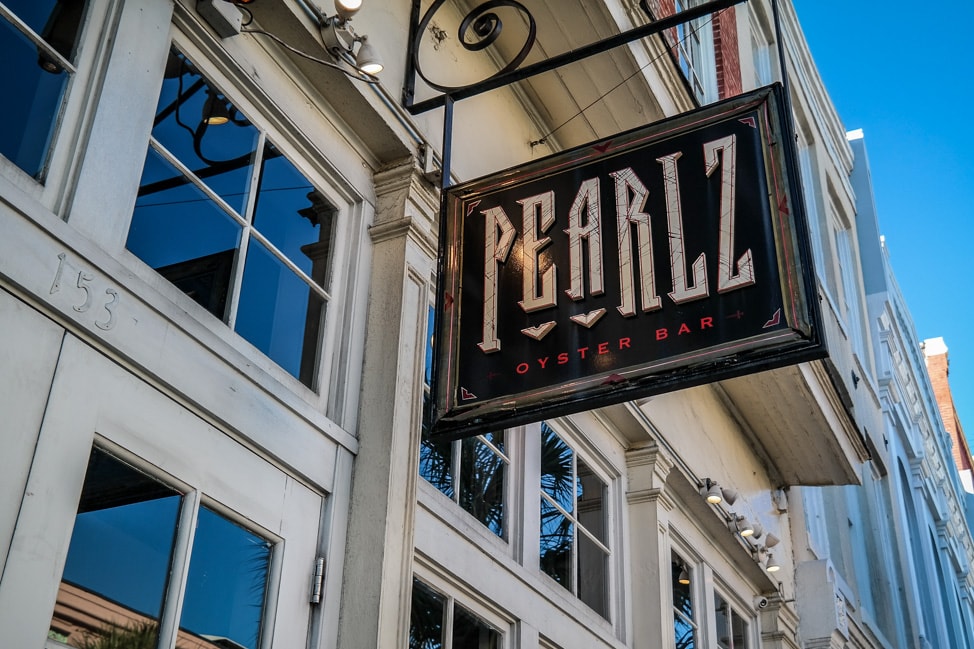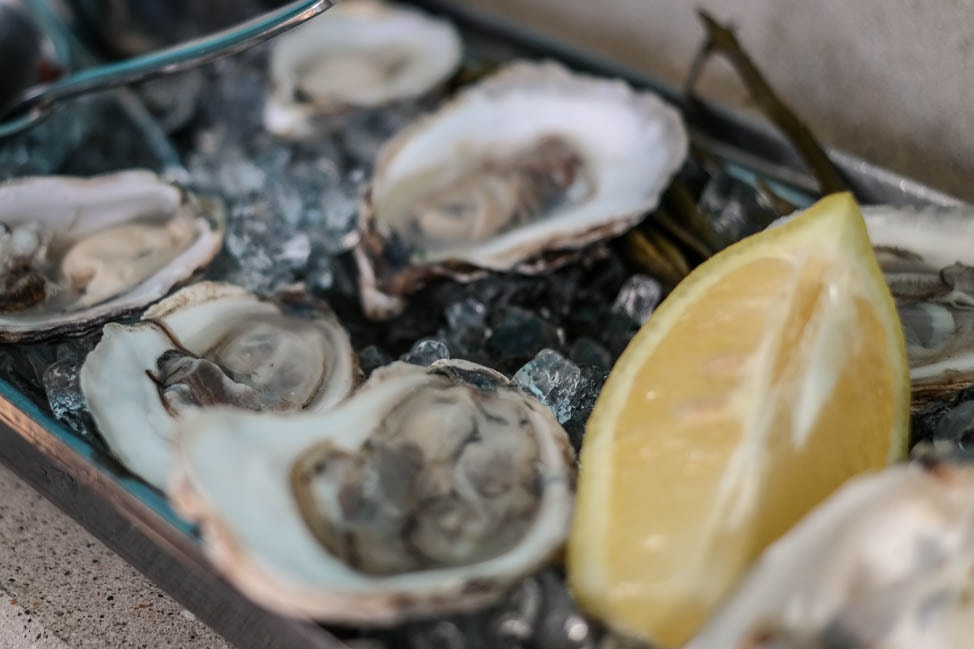 Amen Street Fish and Raw Bar
Just a few blocks north of Pearlz on East Bay Street is Amen Street, an inviting raw bar and seafood restaurant in a restored, historic, red-brick building originally built in 1851. Amen Street has one of the largest East Coast oyster selections in Charleston, with up to 20 varieties available each day.
Amen Street's happy hour deal is available Monday-Friday from 4-7pm, and also features drink specials and deals of "bar bites" like crispy calamari and jumbo lump crab cakes. They feature a house oyster each day, like Pamlico from North Carolina, for $6.95 for 1/2 dozen or $9.95 for a dozen. If you stop by after 7pm or on a weekend, the local oysters will set you back $18.95/dozen.
That makes it one of the best Charleston happy hour deals!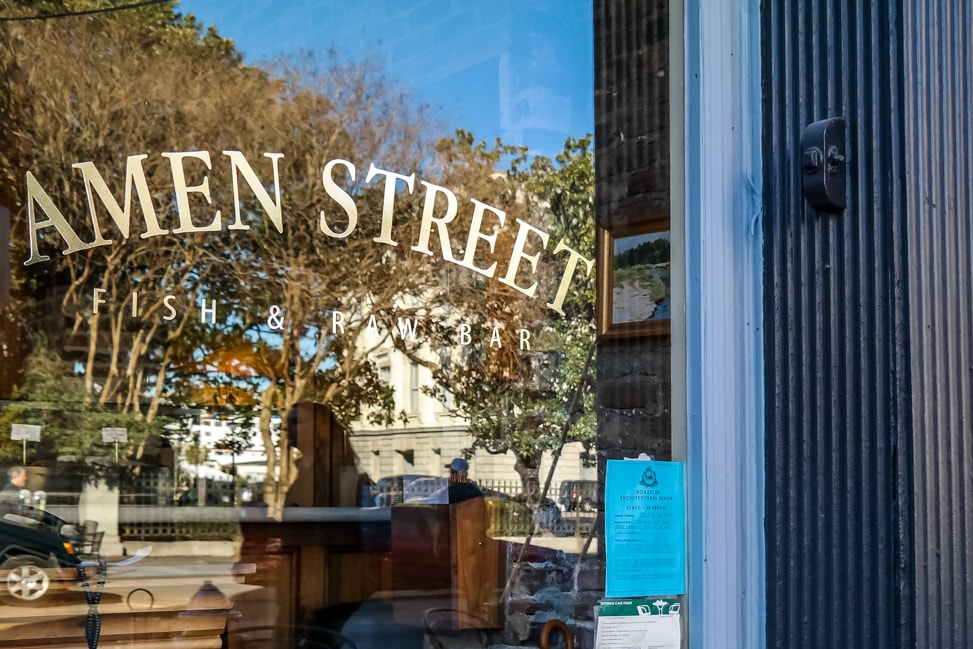 The Darling
This restaurant has one of the prettiest raw bars we've seen, set along the front window, overlooking historic King Street. The menu focuses on Carolina seafood, with traditional dishes getting a modern spin.
The Darling happy hour is offered every day, so you are in luck even on the weekends, unlike other Charleston happy hours. While they feature 4-6 types of oysters everyday, the local oyster (usually James River from Chesapeake, VA) is where you'll find the deal.
The $1/ea deal for the local oyster is $.50 off the regular price, making a dozen $6 less expensive during happy hour. You could pocket the savings, or spend it on their shrimp cocktail, dusted in Old Bay seasoning. Why don't more restaurants do this? Shrimp + Old Bay = amazing.
Happy hour runs from 4-7pm and also features $1 off draft cocktails and beers. And yes, you read that right: there are cocktails on draft!
Oyster House on Market
Oyster House was a welcome replacement to the defunct A.W. Shucks, which operated for more than 37 years on perpetually busy Market Street. The raw bar portion of the restaurant, called O-Bar, and can be entered through its own entrance on State Street.
The regular menu has a dedicated section for oysters, from oysters Rockefeller to oyster sliders with sriracha aioli. But Monday-Friday, from 4-7pm, the O-Bar happy hour has a deal on a handful of menu items and drinks, including oyster shooters, fried oyster tacos, and their 'praline puppies.'
From the raw bar, Gulf oysters are $10/dozen, served with cocktail sauce and mignonette. Paired with a $3 oyster shooter and $9 peel and eat shrimp, you'll be in raw bar heaven!
The next time you're scouring a menu, hungry for an oyster but shell shocked (haha) by the prices, be content knowing that the next Charleston happy hour is just a few hours away.