By now we've established a few basic facts about Julie and Drew, the travelers:
We are pretty terrible tourists, rarely visiting the 'must see' anything
We nearly always create detailed eating itineraries, frequently booking our meals prior to arrival
We've never been late to an airport, missed a flight, or made a massive travel blunder, because we're paranoid, obsessive triple-checkers

Except for that one time when Drew overslept an alarm and nearly missed his family's Christmas
That was 15 years ago
He's still traumatized by it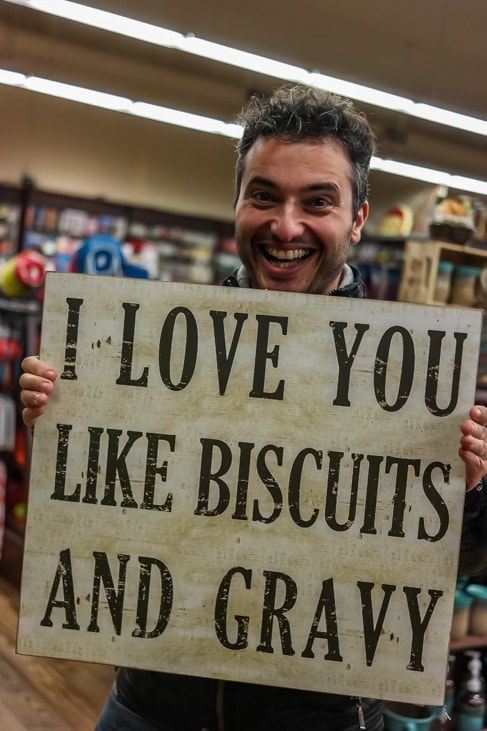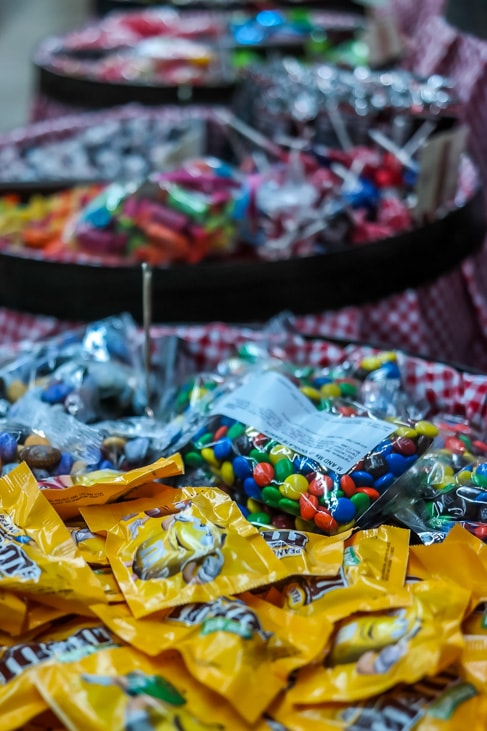 When we had a chance at another Asheville weekend (we were there last August for 24 hours) for a few days, we did our typical thing and just showed up. And by showed up, I mean that we booked a hotel the day before, didn't plan a single activity and also had a list of five or six restaurants that we were hoping to visit over one weekend.
Because that's how we roll.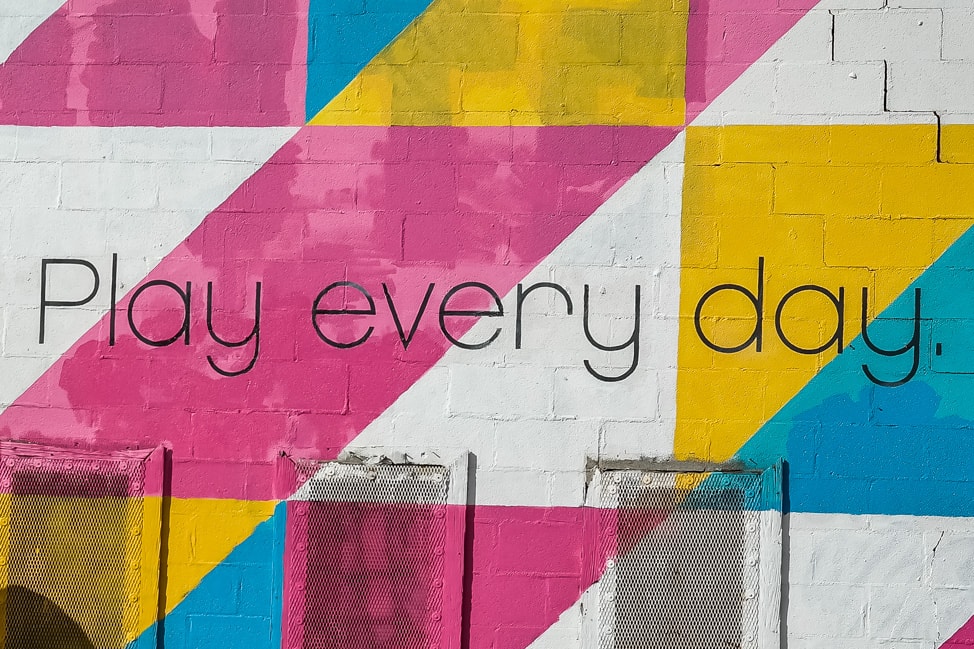 Here's what we did wrong: we assumed that Asheville in January would be quiet.
Asheville, North Carolina, the place with the reputation that everyone wants to move there, is never quiet. Never empty. Our first pick for dinner on Friday night (Cúrate), was jam packed. All of the reservations were taken all weekend. We were instructed to stop by 'around 4 or so' on Saturday afternoon to have any chance of getting seats at the bar.
We felt thrown off by Asheville's busy downtown, all of our other top restaurant choices either booked or full, so we ended up ducking out of the cold into a place we had neither researched nor read about.
Salsas, a Mexican/Caribbean fusion restaurant had an empty table and we snagged it. Turns out, not planning ahead obsessively sometimes works out and we loved our salsa trio and the steak mole fajitas. If you come here expecting old world, authentic flavors, you may be disappointed by some of the combinations but we were pleasantly surprised.
Frankly, the more pickled items I can get on one plate, the better.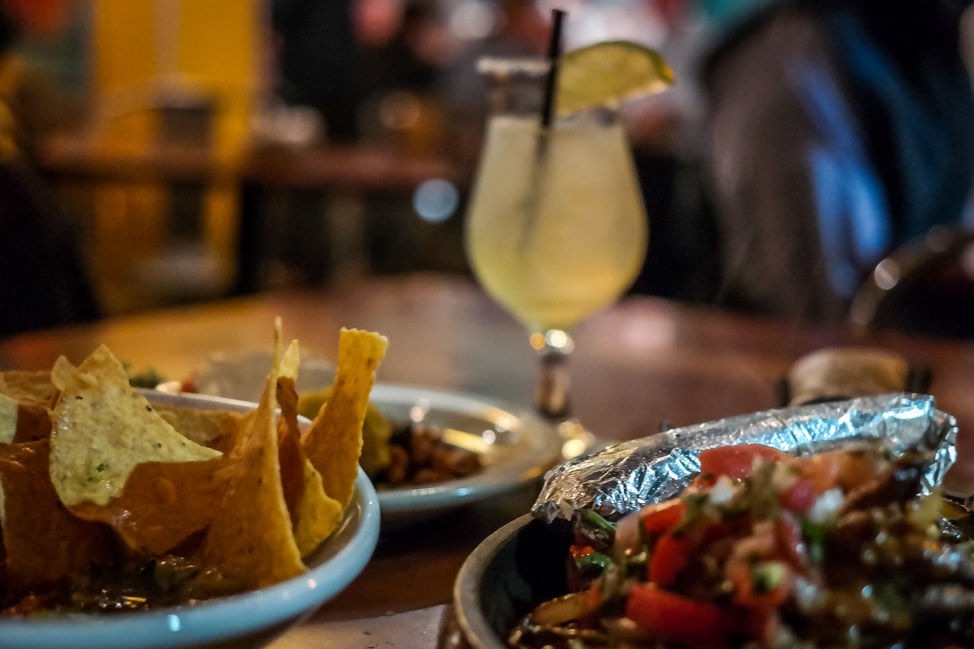 We also made a somewhat amateur move and booked our hotel last minute and without much research. We ended up at a recently renovated roadside motel (the kind with the outdoor facing doors and a central courtyard) that was fine, but not much more.
We joked that when the front desk person reminds you to respect the other patrons and not have a party in your room, well, they must have a lot of room parties to contend with. Sure enough, in the middle of the night, I awoke to our next door neighbors yelling something about ordering pizza and getting violently sick. At least, to my half awake brain, I think that's what I heard.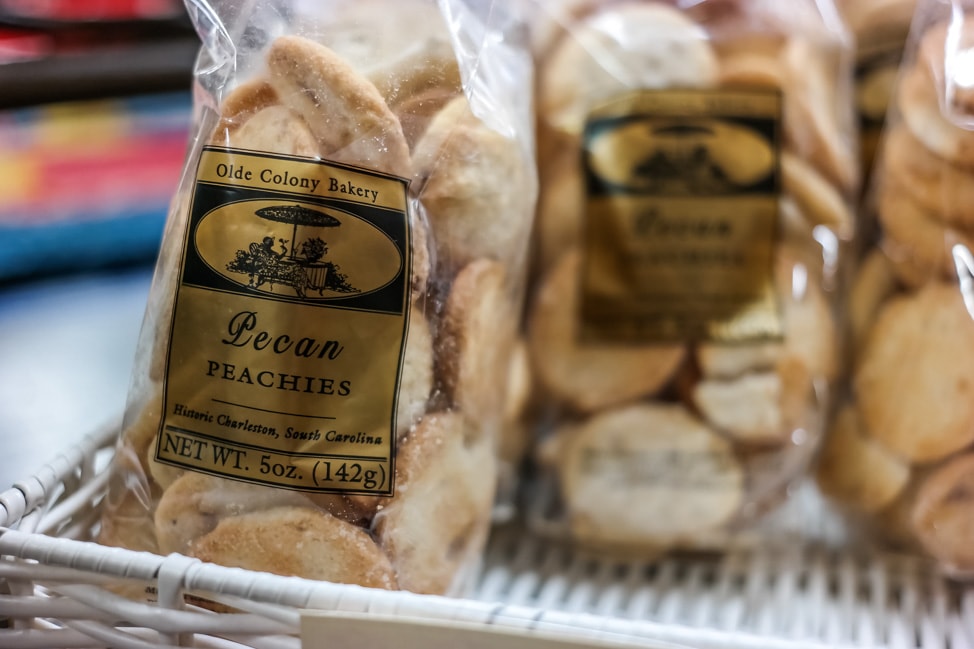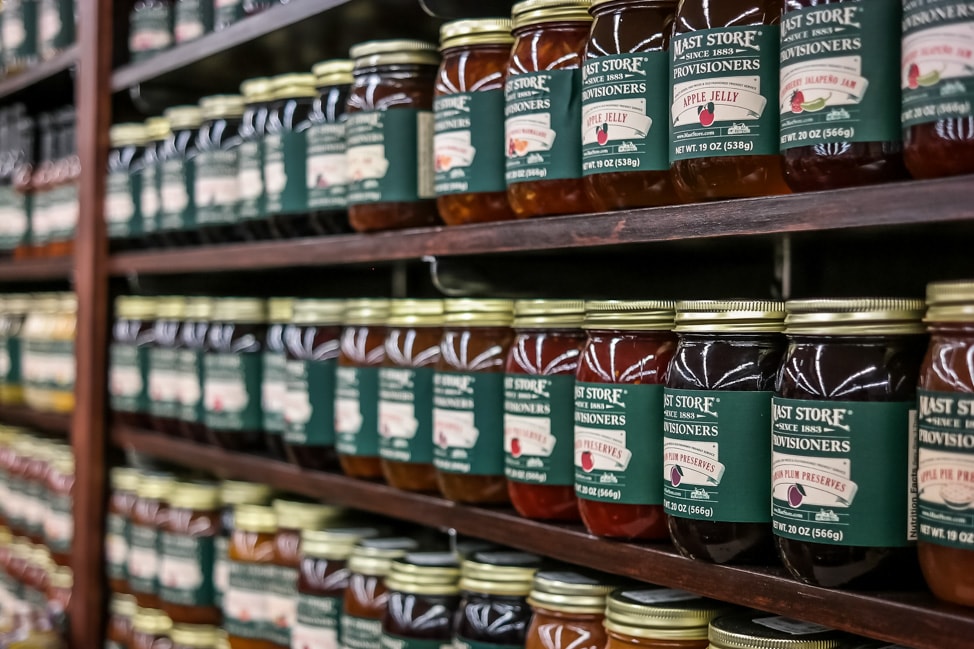 Probably our worse violation in Asheville this time around is that we didn't visit the Biltmore Estate. Again. I like touring big houses as much as the next person, and I distinctly remember watching the 1990s film Richie Rich thinking I'd like to go to that house someday. But I just can't seem to stomach the $50-75 each (depending on time of year and if you book in advance or not) to see a big house. Tourist fail.
Here's what we did right on our Asheville weekend: our lengthy list of restaurants came in very handy and we ended up eating our way around the flourishing neighborhood of West Asheville.
You can read about all of our best finds here.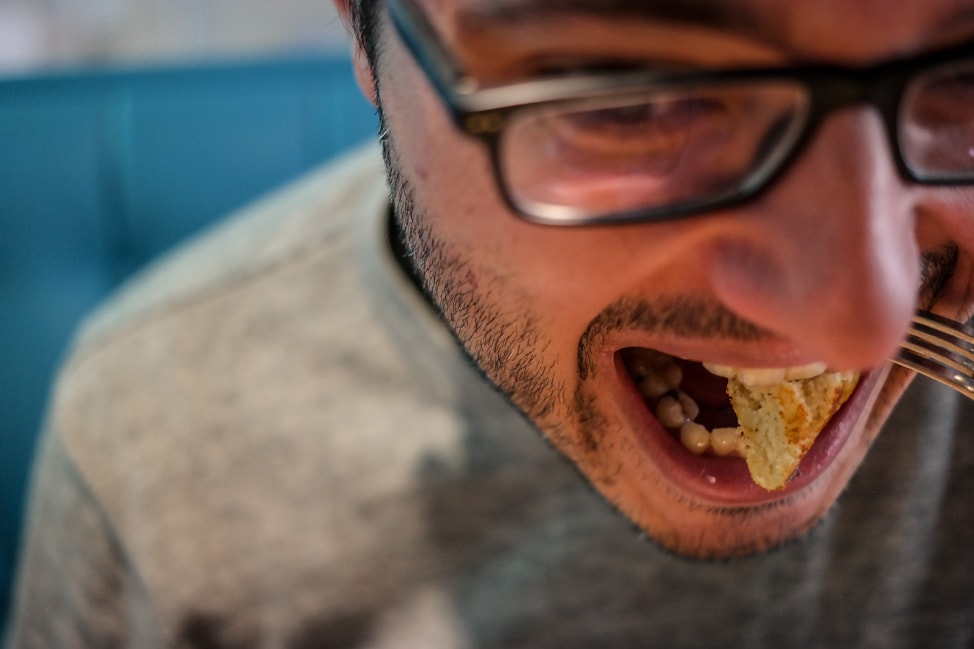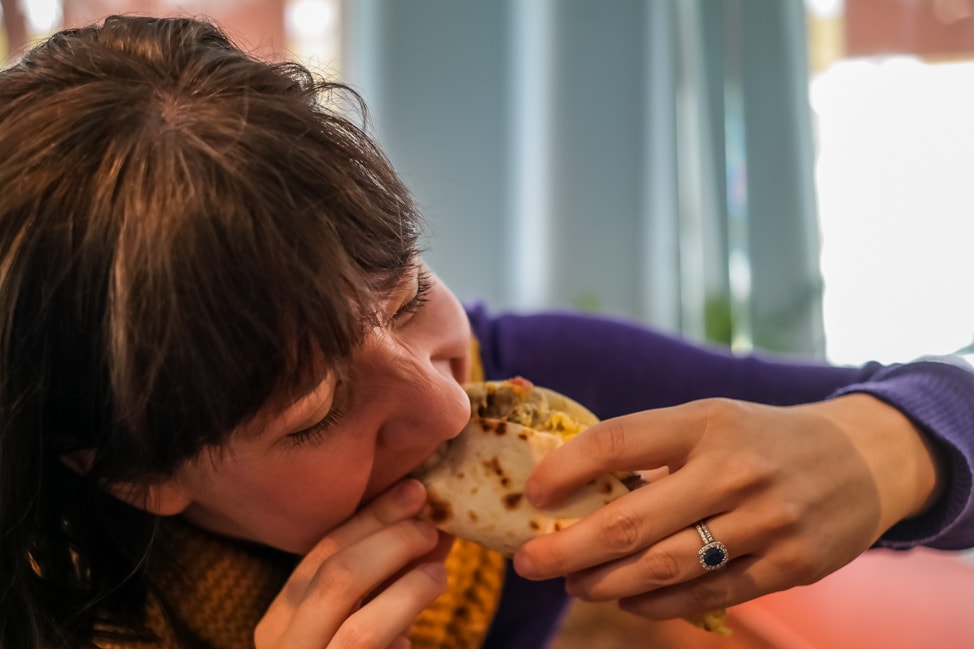 We also watched Arsenal (go Gunnars!) destroy Southampton 5-0 at Pete's Pies, an Asheville newcomer that serves up traditional British pies and opens early to show English Premier League matches. Drew, who has been missing traditional ciders, was happy to see that local cider powerhouse, Urban Orchard, has a wide range of funky flavors, and he happily drank the game away.
I am a sucker for a local bookstore, and Asheville has several downtown. We particularly enjoyed Battery Park Book Exchange & Champagne Bar, because hello! I've never before seen this magic combination of a labyrinth of used books paired seamlessly with a champagne (and wine and coffee) bar. We got lost in the stacks, relaxed on an antique couch with a glass of bubbly and made friends with several friendly canines.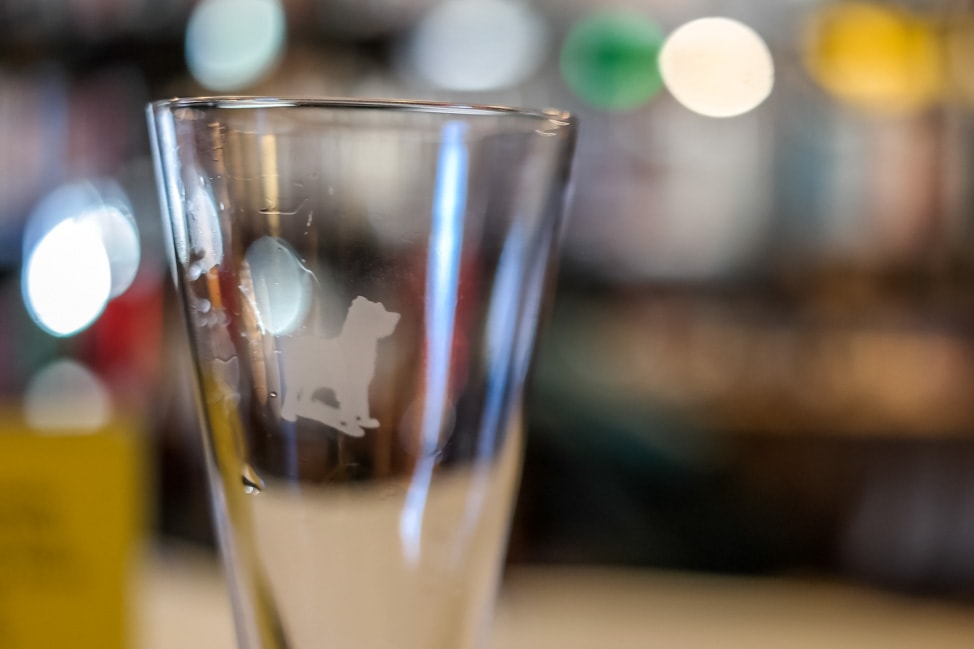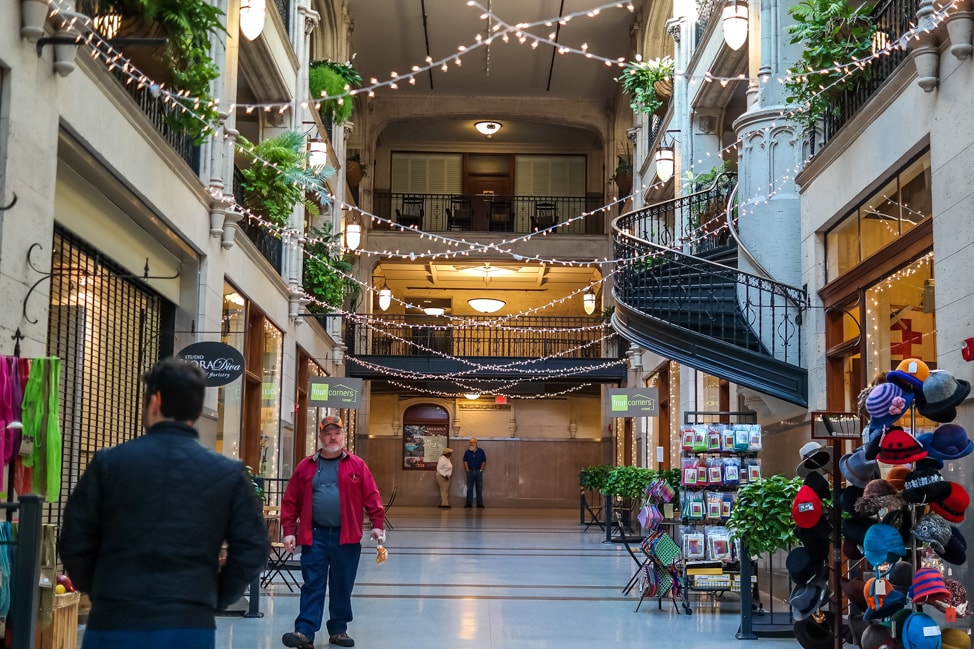 Oh, and that pesky restaurant that was so busy we were told to come back mid-afternoon for any hope of getting in? We did show up again and managed to get a seat at the bar on Saturday afternoon, and thank goodness we did. We were floored by the creative tapas preparations as well as the traditional at Cúrate, not to mention its open kitchen which is always fun to watch.
Patatas bravas are always a good idea.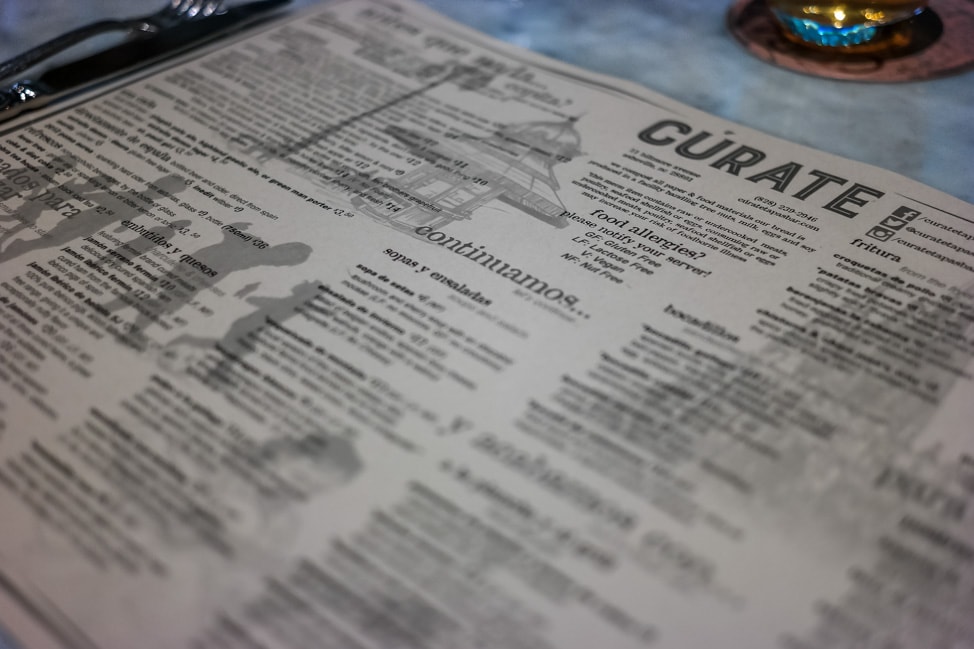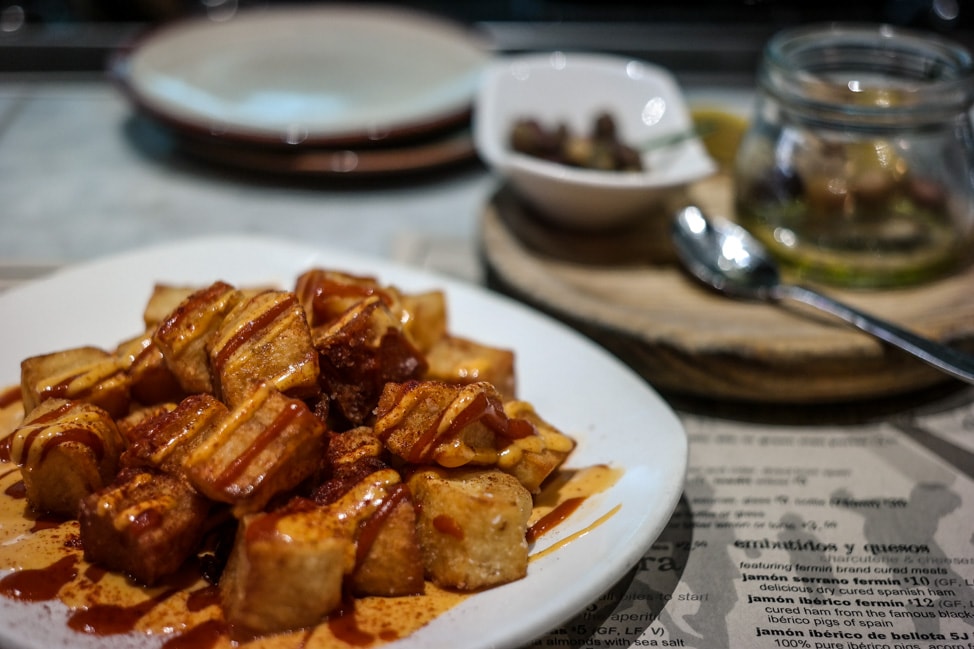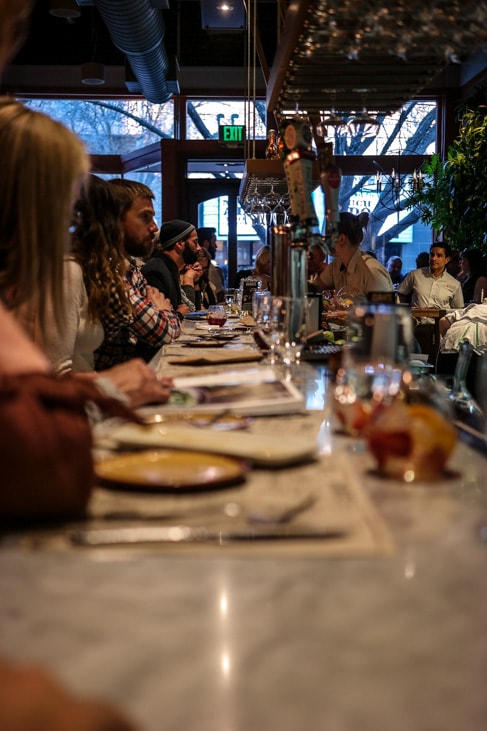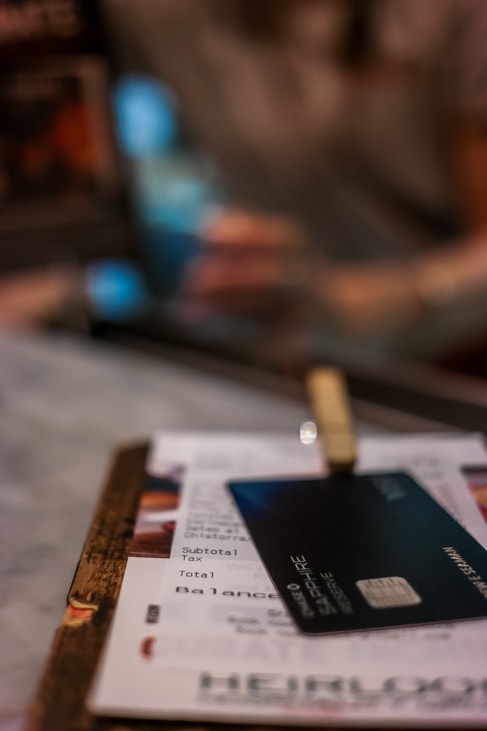 It turns out that Asheville is a good fit for Julie and Drew, the travelers:
There isn't a long list of tourist attractions, which makes avoiding them pretty easy (sorry Biltmore, maybe next time!).
Food is the star of the show in town, and we've been consistently impressed with the quality and creativity of the city's chefs.

Seriously, I just counted and we've been to something like 12 or 14 restaurants in Asheville during our two visits and cannot overstate how much we jive with the food.

Despite arriving mostly unprepared for Asheville (twice!) the city has been kind to us.

Plus, the magical bookstore/champagne bar is pretty much the best thing that's ever happened to me.
Except for the fact that I couldn't steal any of those adorable pups that kept saying hi to us.