I'm retroactively updating my Life Bucket List to include 'Watch a ballet at the Bolshoi Theater' because it's the kind of experience that should be on a bucket list. And it's the kind of thing that one should strive to tick off.
My recent journey to Russia was planned months in advance – this is needed given the visa application process – so my friends and I had plenty of time to think about how we would fill our precious long weekend.  One day a couple months out, Russian friend Vicky sent an urgent email – her mom had just been to the production of Gisele at the Bolshoi and it would still be playing when we were in town, and did we want to go? You can imagine the excited flurry of emails as we confirmed and bought tickets. Thus, our entire weekend was planned around this single event.
A night at the ballet.
I'm embarrassed to admit that I haven't had many nights at the ballet. As a child I saw a local production of The Nutcracker a few times. This was possible where I grew up – in a major university town that has an actual dance department. As an adult, I've never seen a real live professional ballet, so my exposure is limited to various documentaries.
Like many people, I'm a tad obsessed with the mystique of the ballet. The superhuman athletes who somehow look fragile and dainty despite their toughness. The culture around being raised as a ballerina, children in tights, gruelling schools, and a miniscule chance of making it professionally. I've been told I have good feet for dance – if only my parents had recognized the seed of greatness way back when, and insisted that I pursue the ballet.
Who am I kidding? A dancer, I am not.
Back in Moscow, our night at the ballet unfolded. The historic Bolshoi, which has undergone massive renovation in recent years, is astounding. It was closed for six years for a substantial face lift, which as tends to happen with this type of project, cost $200 million more than expected.
We all sucked in our breath as we entered the theater, the gold leaf blinding, offset by a swath of red velvet from the curtain and chairs. I'm not exaggerating in the least when I say that this is one of the most impressive interiors I have ever seen.
The theater is intimate, the kind of place where everyone has a good seat. We watched the crowds flow in, observing the various levels of fancy dress, from ball gowns down to one guy wearing jeans. Yes, for real.
Gisele is a beautiful ballet and one that I knew of but not the details. One sentence summaries are the best, so here's mine (spoiler alert, of course): A girl falls in love with a guy who turns out to be an engaged prince, she goes crazy and dies and then spends the entire second act as a ghost haunting the prince who loves her. The end.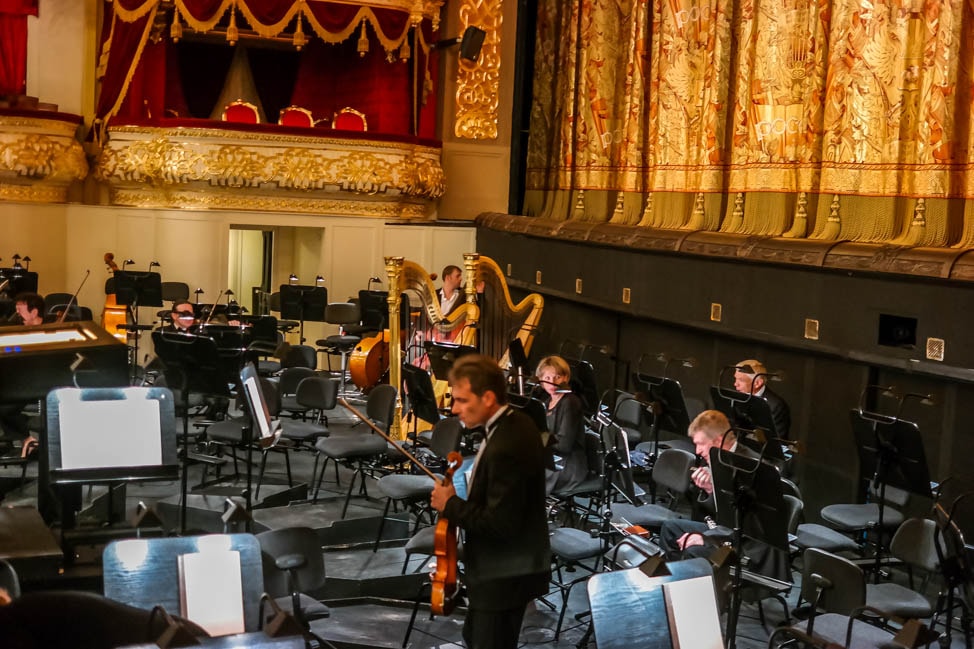 My friends and I preferred the second act (slightly) to the first, and loved the ghostly costumes of the spirit ballerinas. With a blue-green light and puffy white skirts, they were nearly floating. It was beautiful.
We ended our night of ballet in true posh Russian style – eating pickled herring and drinking vodka at 1am in an (almost) exclusively white and red restaurant overlooking the Kremlin.
За здоровье!
---
Details:
Visiting the Bolshoi Theater is one of the more expensive outings in Moscow. Using the recent favorable exchange rate, when we bought our to Gisele two months ago, they were £114 per person. Using today's exchange rate, they are £100. Isn't playing the currency game fun?
In addition to ballet, the theater also features plenty of opera, another grand pastime that would be worth your while.
There are also plenty of other theaters where ballet is available (and for cheaper!). Check out other resources for theaters here and here. A colleague of mine recommends the Kremlin Theater as well.