It's been over 5 years since we called Portland, Maine home, but it still holds a special place in our hearts, and we still go out of our way to make time to visit whenever possible.
Case in point, our most recent road trip.
Just the fact that we were heading to Pennsylvania made us think we should just continue driving to Maine, since it was "so close." In reality, it's not close at all, but just being in the general vicinity of the Northeast make us long for that beautiful Maine coast.
We go home to Maine because we have so many friends still living in Portland, and frankly, we miss the food scene. For a city of 75,000, Portland has a staggering number of high quality restaurants. There is top notch sushi, legitimate barbecue, excellent farm-to-table spots, perfect raw bars, and of course, an endless supply of lobsters and lobster rolls.
Sounds nice, right?
But with so many choices, it's a logistic nightmare to decide where we're going to eat while we're in town. We are frequent visitors but there are many places we haven't set foot in for 5+ years. And not because they fell out of favor or have gone downhill, but rather, the sheer numbers of new openings means some of our old haunts get lost in the shuffle.
We figured it was about time that we finally come clean about where to eat in Portland, Maine. We can't list every great restaurant, but simply the restaurants that we have loved for years, and the new hotspots that are worth praise.
Where to Eat in Portland, Maine 
Eventide
This is the best oyster bar in town, full stop and they were recently awarded for their efforts by the James Beard Foundation. Eventide serves at least a dozen or more oyster varieties every day, at least half coming from Maine and the rest from "away." The oysters are beautifully fresh and they offer inventive accompaniments other the standard cocktail sauce or mignonette. We love the pickled ginger ice and the horseradish ice which add a surprising note to the oyster experience.
Besides the oysters, Eventide also serves a collection of small plates. The buns are unbelievable, especially the fried chicken bun and their unusual take on a traditional lobster roll, which is served warm, tossed in brown butter. Order one more than you think you need.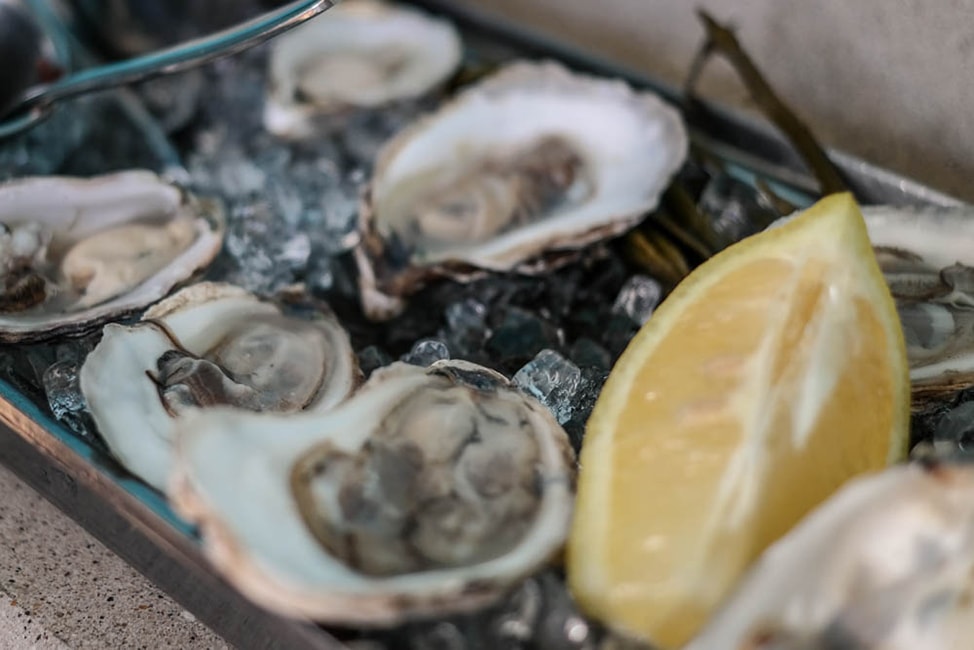 Honeypaw
Owned by the same crew behind Eventide and located right next door, this restaurant is focused mainly on house-made noodles with an Asian spin. Whether it is Thai, Japanese or Italian, it's all about the noodle. They serve up ramen, soba, rice noodles and even a lobster laksa, and they do it all well. If you aren't in the mood for noodles, you can also sample some of their small plates like the rare beef salad, or perhaps dive into a true feast with their whole fried chicken, served with coconut corn bread and coconut butter.
Drifters Wife
When Bon Appétit names an establishment one of the best new restaurants in America, you know it's good. Drifters Wife was bestowed this honor in 2016, a funky natural wine store by day, and a small plate, locally focused restaurant by night (are you sensing a theme here with all the small plates around town?). The wine list is obviously fantastic, full of unique selections from some of the best natural wine producers in the world, and the food certainly doesn't disappoint. It's small, intimate, and delicious.
Duckfat
Owned by the talented Rob Evans (former James Beard winner), Duckfat is home to the greatest french fries on Earth. As the name implies, they are thicker cut fries (Belgian style) fried in pure duck fat. This is certainly not health food, but worth the indulgence. The sauce options are fun too, and truffled ketchup is our preferred dip. If you are feeling particularly feisty, they do a version of poutine, the classic French-Canadian dish, made up of the duck fat fries topped with cheese curds, fresh chives and duck gravy. Guaranteed to result in a nap and maybe a heart attack.
The panini sandwiches are on point too and there are no slouches in the lineup. Just pick one and you will be happy. If it's possible, save room for "The Original" Duckfat milkshake, made with locally sourced vanilla gelato, Tahitian vanilla beans and creme anglaise. Decadent, but you only live once!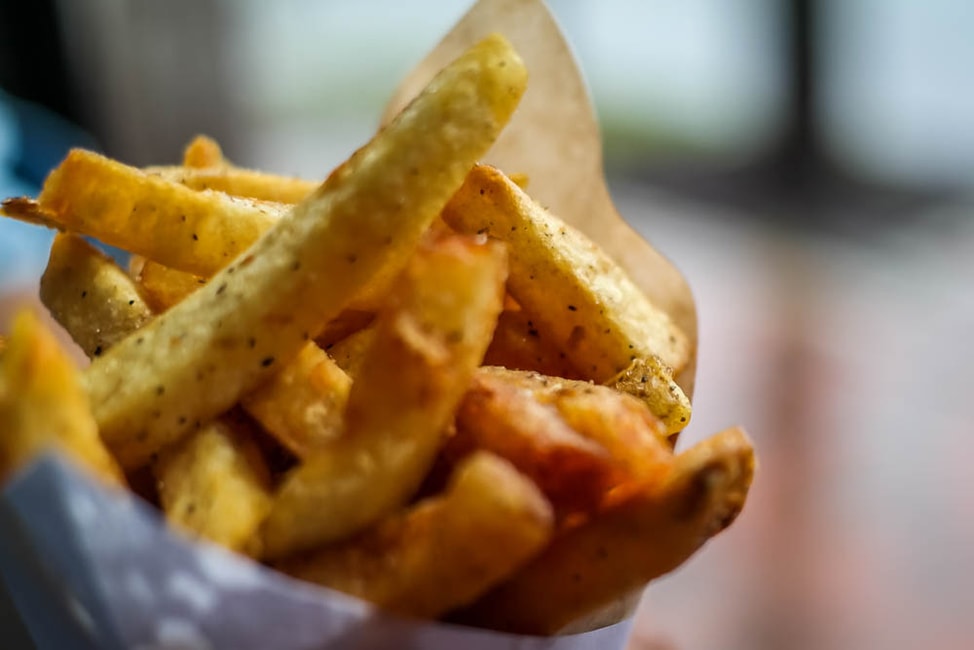 Central Provisions
This is my pick for the best restaurant in Portland right now. Central Provisions puts out plate after plate of ridiculous food with great flavor combinations. The place is packed every night, so the best bet is to grab a stool in the downstairs bar and order some dishes from their small plate driven menu. The wine list is amazing and they feature a ton of local Portland beer. The service is on point and the staff is super knowledgeable.
The menu changes frequently and consists of small plates divided up into raw, cold, and hot sections. Honestly, you could close your eyes and point randomly to the menu and come out quite happy. They usually serve some form of amazing ham, whether it's Benton's from the US, or luxurious imported serrano. The crudos from the raw section are also a hit, and if the suckling pig is on the menu, order it.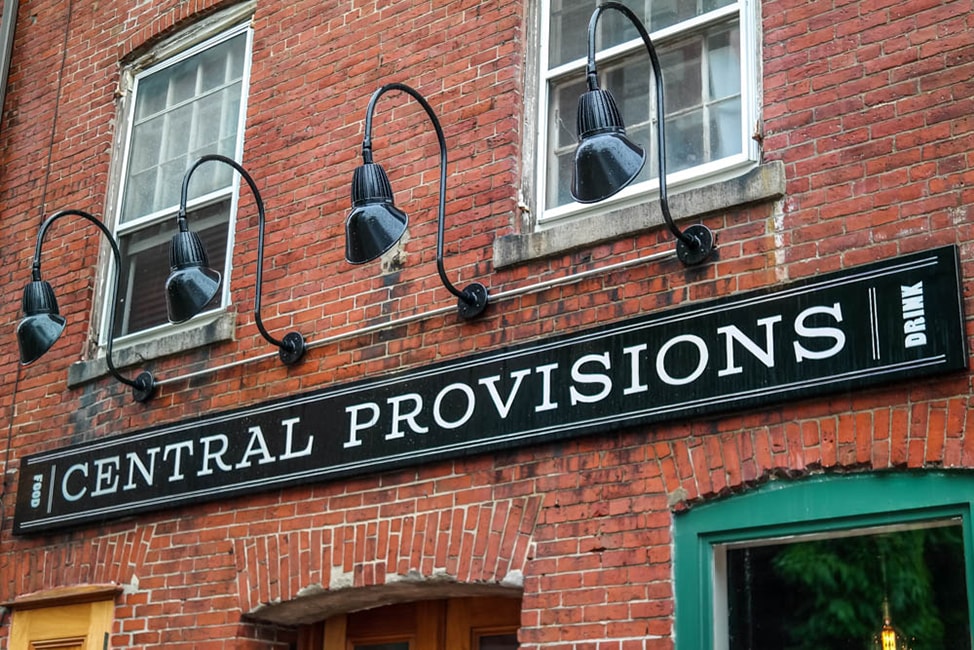 Tipo
This is the latest opening from the team behind Central Provisions. It's nice because it is a little off the radar for most visitors, as it sits in a residential area a few miles away from the hustle and bustle of downtown Portland. Tipo is all about Italian food, from handmade pasta to Neopolitan-style pizzas. Of course, the kitchen crew does a great job sourcing local ingredients and the best imported products. Oh, and they make a mean Aperol Spritz, which is the ideal way to being any meal.
Hot Suppa
This is our favorite breakfast place. Ever. Anywhere. In my estimation, we have been to Hot Suppa more than any other restaurant. My standard order is the French rolled omelette (perfectly fluffy every time, never dry and overcooked) with goat cheese, caramelized onions and sausage. Julie always orders a breakfast sandwich with hash browns. But the local bagel with smoked salmon and cream cheese is delicious as well. As is the corn beef hash and the biscuits and gravy. So basically, the entire menu.
They also do serve lunch and dinner (when we first started going there, they only did breakfast and lunch, which made the name especially confusing), and their fast-food inspired HS double cheeseburger is one of the best burgers in town. The fried green tomato BLT is ridiculous too. Can you tell we like this place?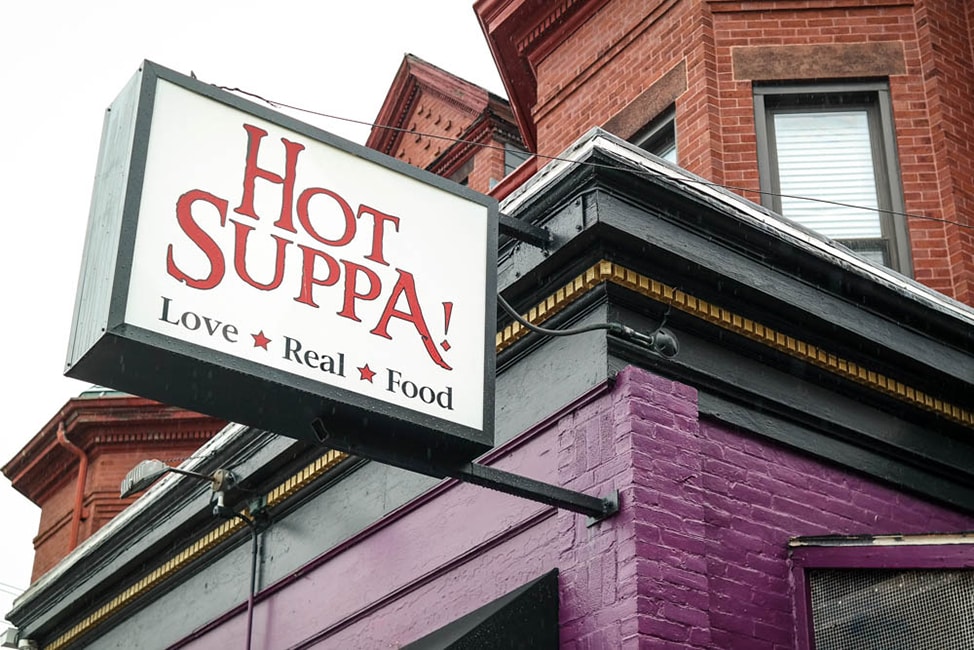 Izakaya Minato
This is one of the new kids on the block. What was once a pretty desolate stretch of Washington Avenue when we lived there has turned into restaurant row, with a handful of notable restaurant additions (including Drifters Wife!), a mead producer, craft brewer, and more on the way. Izakaya Minato is a tiny Japanese restaurant and bar, that mimics the famous izakayas of Tokyo. The menu has dishes like sashimi, Japanese fried chicken, and kimchi fried rice. These are the kind of things you want to eat with copious amounts of sake or beer. Plus, they offer an omakase menu, or chef's choice, and with 4 courses for $30, this is one of the best deals in town.
Tandem Coffee
Located in a converted auto garage, this place is a coffee destination. They have their own 'roastery' nearby and serve slow drip as well as hyper-trendy aeropress coffee. The bakery goods are amazing as well and it's a great place to grab a snack and a latte if you are on the go. If you need a little caffeine boost during the day, this is your best bet.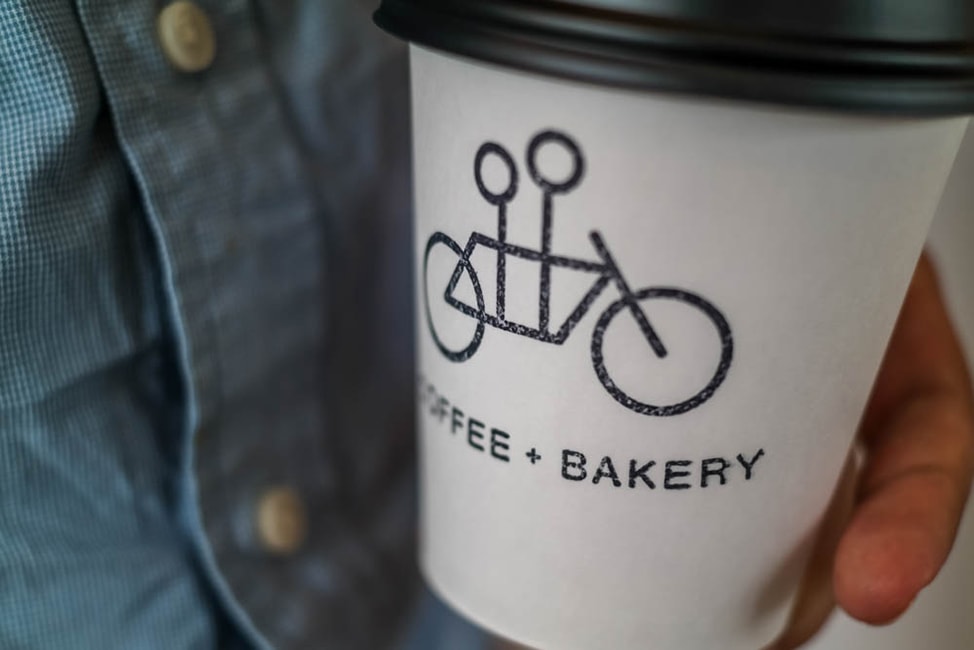 The Holy Donut
This donut store took the city by storm a few years ago, and its popularity is only increasing. They make donuts with a base of mashed Maine potatoes, adding great moisture to the donuts so they just melt in your mouth. The queues at the Old Port location run all morning, and they often sell out of donuts prior to the their stated closing time, so get there early. They have a bunch of fun varieties, like maple bacon, pomegranate, chai glazed, and Allen's Coffee Brandy (an old school cheap liquor popular with many Mainers). They also make vegan and gluten free versions, so everyone can enjoy a morning treat.
Bonus Pick: Harraseeket Lunch and Lobster
Okay, so this is not in Portland, but it is our favorite Lobster Shack, tucked along the water in South Freeport, about 20 minutes north of town, and everyone visiting Maine needs at least one proper lobster meal served from a dock on the water.
This is the place to come and relax and eat delicious lobster rolls, steamed lobsters, and perhaps a whoopie pie. Plus, they have "onion middles", which are lightly dusted middle sections of onions that they can't use for their onion rings. They are big fried nuggets of onion joy and a total hidden gem on the menu. This is our favorite lobster destination because it's not nearly as crazy as more popular places like Two Lights Lobster Shack, and the setting in a small, active marina, along the rocky coast, is idyllic.
Have you been to Portland, Maine? Where do you like to eat? Share your thoughts below!