Dear Basil,Today you turn 10. In people years. As we pass this milestone, it seems a good time to reflect back on our adventures together.
Having a puppy was one of the hardest things I've done.
I hated it. You were tiny and cute but I definitely underestimated the amount of work and care that a puppy requires. You were a tiny, dependent baby who couldn't walk up stairs and who peed freely and without warning. You chewed up the heel of my favorite shoes. On my first attempt to take you on a road trip, you cried without stopping for two hours and I turned around and came home. I remember complaining to Drew that I wasn't sure how we would all survive a year together.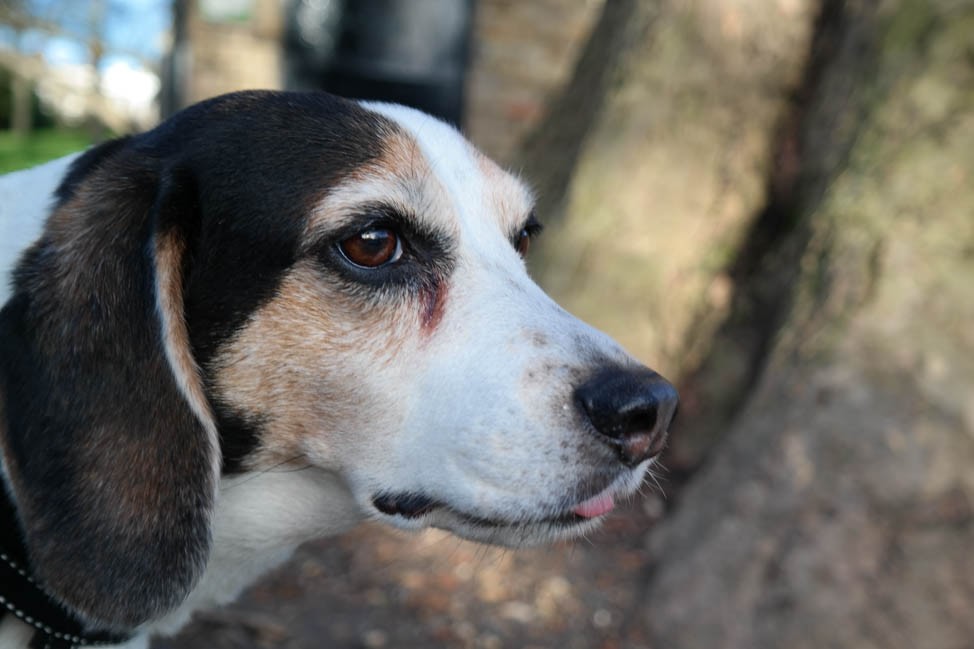 Fortunately for all of us, puppyhood fades and after a rough first few months, the next several years flew by. We lived near a huge dog park in Maine at the time, and every day we would take you there with the single goal of tiring you out. A tired dog is a happy dog. As a young dog you also got into a fair bit of trouble. During your second winter, a skid along a frozen patch of ice resulted in several stitches. Once, you dug a whole chicken carcass out of the trash and we were fearful for days that you would need surgery.
Once you reached five years old, you finally achieved a level of calm that I had been waiting for all those years.
You ran a little slower, you slept a little more, you howled a little less. I felt like we were finally on the same page, you and I. We took frequent walks in the Maine woods followed by hours of relaxing on the couch, me watching reality TV, you keeping an eye out the front window from your vantage point on the back of the sofa. You alerted me to every passing cat and squirrel.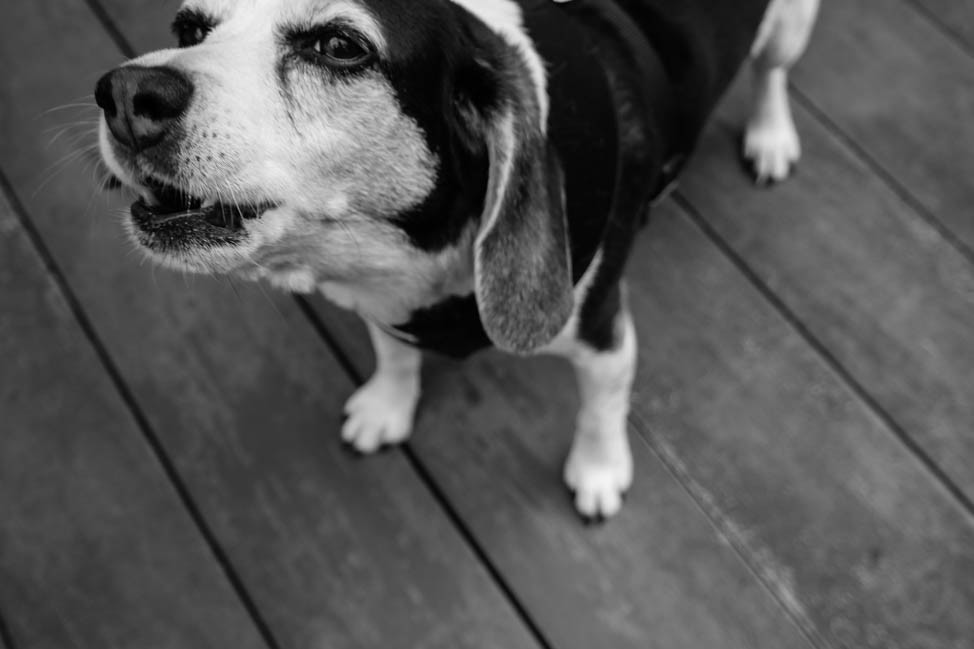 During the rough Maine winters, we dug you a race track in the snow so you wouldn't sink. While you've always been an excited but nervous traveler, we also tried to expand your horizons, taking you on a boat for the first time, and spending a weekend with you back to your birthplace of New Hampshire. I think we all agree that you were always happy for the adventure, despite the hours spent shivering in the car as we drove.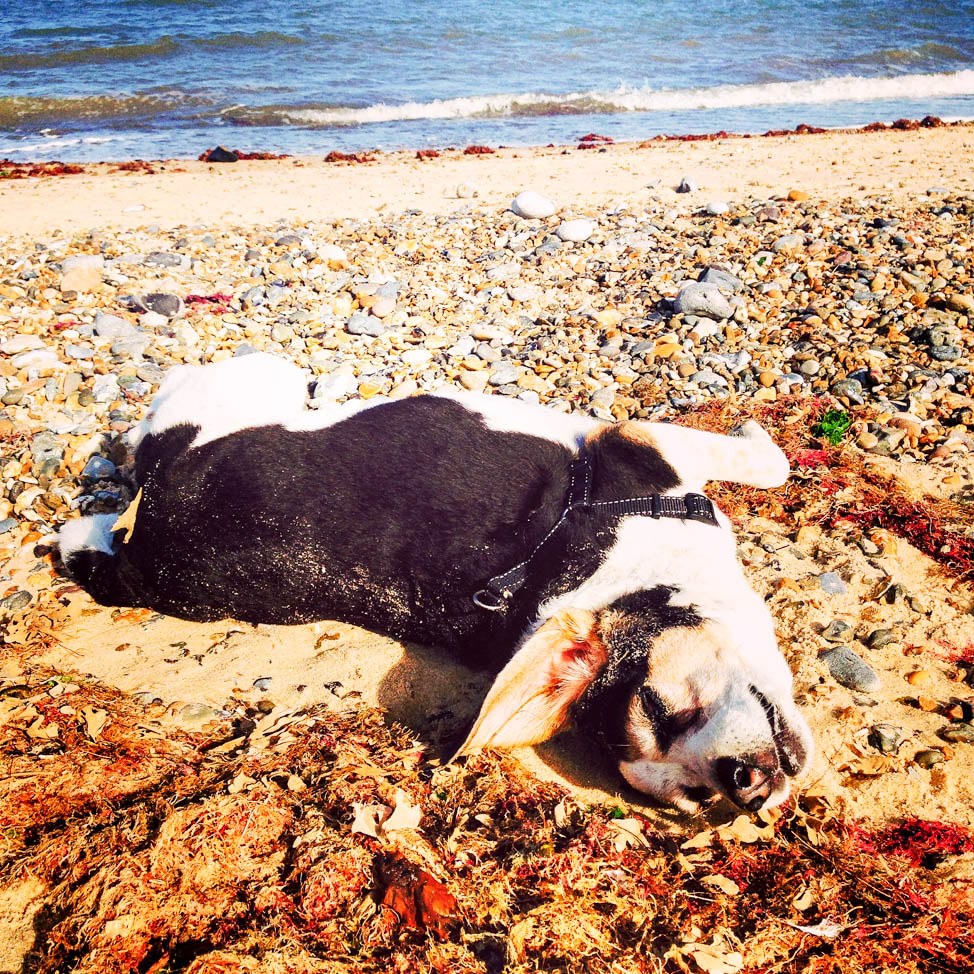 The past few years of your life have been the craziest of them all. First, we left our quiet Maine life for the chaos of New York City. Do you remember that long drive down in the U-Haul? You were such a good sport, remaining calm even when Drew and I started losing our cool stuck in traffic in the Bronx.
Your first ride in an elevator was hilarious as your head tilted from side to side, ears perked, wondering why the door closed on one view and opened on another.
Never a lover of traffic, sirens or skateboards, you were now faced with them all. But you handled the changes like a gentleman and grew to love your walks along the river. I know you appreciated the huge increase in discarded food that littered the streets, and you often scarfed up pizza crusts and stray French fries as we walked.
Finally, we made the biggest move of all, to London. We thought you would like London for its cool weather and abundant green spaces. But I was devastated to have to put you on a plane, your first, for the flight. I couldn't even watch as you were taken away by the nice people who escorted you to the airport and onto the plane. During the whole flight my heart was with you and I ached to know if you were okay, scared, calm or asleep. I'll never know for sure but when we finally reunited at Heathrow, you ran over to us for a quick hello smell and left to sniff the rest of the waiting room. I knew then that you were fine.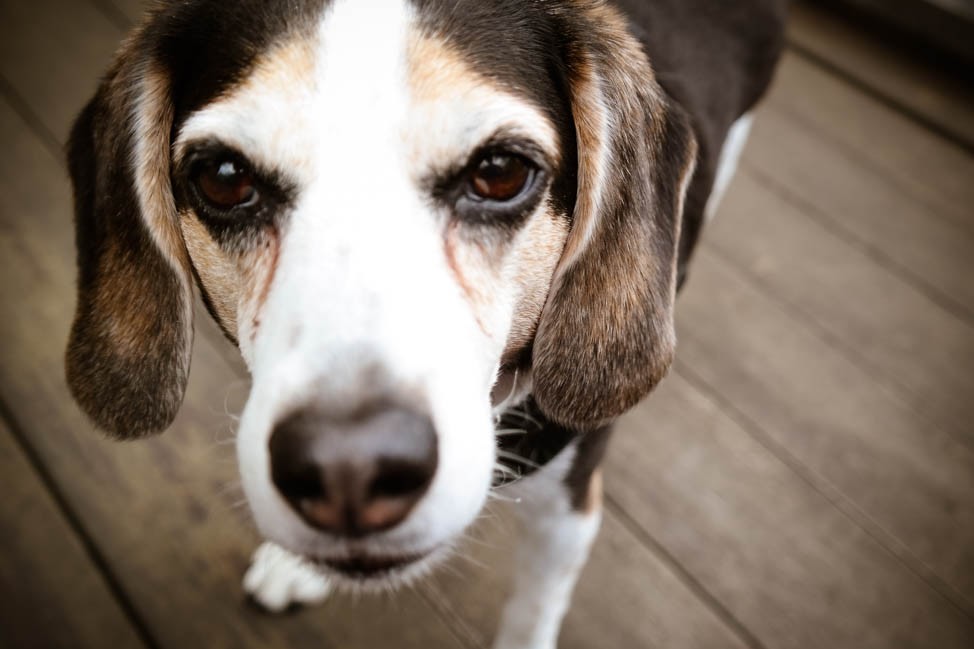 And now you're 10. Your days are filled with naps and walks in the rose garden. This morning you peed on the wheel of a Ferrari on our morning walk and I silently cheered at your irreverence. Thanks to our frequent trips to the English countryside, you have now seen sheep, llamas, goats, cows, horses and plenty of foxes. Frankly, you don't seem impressed by any of them.You have a new perch on the couch, one with a clear view of the cats in the square. You sit there most of the day, alert to their movements, excelling at the only job you've ever had. When I'm working at the dining table, you stare at me from the couch perch, as if willing me to suggest a walk outside. Or maybe you're just keeping an eye on me. It's funny, it's weird, and I like to think that it's love.
From you, Basil, I learned responsibility. I learned how to live with a home that will never be spotless. I learned how to put your needs above my own. I learned that I have a fiercely protective mama bear part of me, the part of me that came out when you were sick and the vet wanted you to stay overnight. I just KNEW that you would be better with us at home. And you were.As we head into your elderly years, I hope you have peace and comfort. I hope you feel safe and loved. Peace, comfort, safety, love. What else can any of us hope for as we age?I love you buddy and I hope for many more adventures to come.Your roommate, friend and the softie who gives you too many treats,
Julie