Scotch and I have mostly been like distant cousins.  I know it exists, but I rarely have any interaction with it.  With my brother visiting from Chicago for two weeks, including a planned four day trip through Scotland, I knew my relationship with scotch was going to get much more involved.  I was not wrong.
Within hours of stepping foot in Scotland, we were doing scotch tastings.  It was a long few days for my dear liver, but if you are going to do some damage to your liver, there are few better places than Scotland.A quick run down on Scotch, or specifically for the purpose of this post, Single Malt Scotch.  Single Malts are made from only three ingredients: barley, yeast, water.
Scotch that is called Single Malt can only be from one distillery, hence the "single" part, unlike blended Scotch, where Scotch from different distilleries are blended, like Johnnie Walker or Dewars. The barley in Single Malt is "malted", hence the other part of the name, by soaking it in water and then drying it, a process that allows the grain to germinate, unlocking its sugars so they can be converted to delicious, delicious alcohol during fermentation.  Yeast is added to the party, which eats the sugar and creates carbon dioxide and alcohol as by-products.
The amazing thing about fermentation like this is that the base spirit is essentially grain alcohol.  It is clear and extremely high in alcohol, more closely resembling vodka than Scotch.  In fact, it cannot legally be called Single Malt Scotch until it has been aged for three years in oak, where the flavor comes in.  Single Malt Scotch is typically aged in used bourbon barrels (go USA!), though distilleries do play around with using Sherry, Madeira or Port barrels as well.  In barrel, the Scotch matures, developing flavors and aromas from the oak, while also absorbing color.
The final product is watered down to an alcohol level of around 40%, or 80 proof, though some distilleries sell "cask strength" Scotch, which is typically in the 55-60% alcohol range and has been known to put hair on your chest.
A unique process in Scotland is the use of peat, essentially partially decomposed vegetal matter that is common around Scotland.  The peat is added to kilns, used to dry the barley during malting.  The smoke that the peat creates gives a unique flavor to the barley that eventually translates to the final product.  If you have every smelled or tasted a Scotch that is smokey, that is the peat doing its thing. Some areas of Scotland use it more than others.
Of the four major Single Malt regions (Lowlands, Highlands, Speyside, Islay), the small island of Islay is most known for its peatiness.  Single Malts such as Ardbeg, Lagavulin, Laphroaig and Smokehead are a little too smokey for most.  I thought I disliked the use of peat, but after consuming Single Malts from all four regions, I developed a taste for the smoke, but only if it was subtle.  The idea of drinking a booze with 40% alcohol that taste like downing a bottle of liquid smoke is still not too appealing.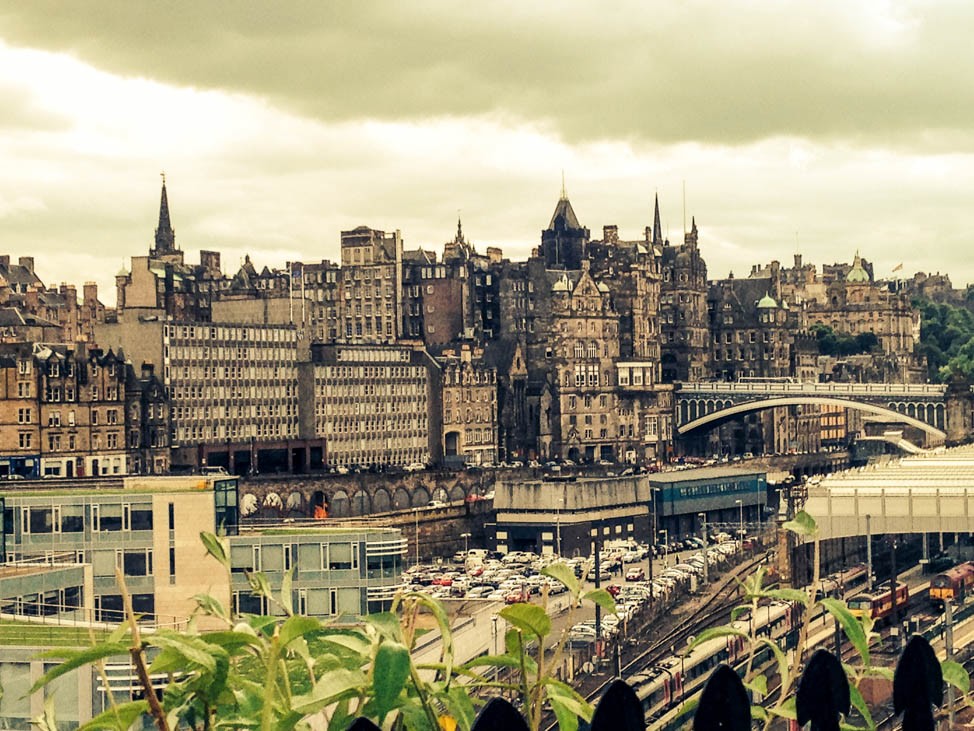 My brother and I began our adventure wandering through Edinburgh's Old City after arriving at Waverly Station, taking photos and taking in the Gothic architecture and the severe surrounding landscape.
We quickly stumbled upon the the Scotch Whiskey Experience, situated directly next to the Edinburgh Castle.  It has an unbelievable gift shop, unless you do not like Scotch, in which case it is a terrible gift shop filled with Single Malts and blended Scotch and all the necessary accessories.  The main attraction of the Scotch Whiskey Experience however is the tour, lasting anywhere from 45-90 minutes and costing at least $18.
After discussing our options, we did notice that in the basement was Amber Whiskey Bar and Restaurant.  After a quick peak at the bar, we decided to do our own "self-guided" whiskey tour at the bar.  After consulting the Scotch menu, which had literally hundreds of Scotches and was well over twenty pages, we settled on their regional tasting boards, each containing four pours of Single Malt from a particular region.
The staff at Amber was unbelievably knowledgeable and included a tasting sheet with the board.  Brad did a regional tasting, with one Single Malt from the four major areas of Highland, Lowlands, Speyside and Islay and showcased Glenkitchie Distillers Edition, Glenmorangie 18yr Extremely Rare, Macallan Ruby and Lagavulin Distillers Edition.
I chose the Speyside Tasting, which featured Glen Grant 10yr, BenRiach 20yr, Glenlivet 21yr and Balvenie 21yr Port Wood.  I personally think I picked the winning board, and the Balvenie 21yr was the best, full of aromatic dried fruit and toffee and a slight sweet finish due to the use of Port barrels instead of Bourbon barrels for maturation.  Needless to say, after consuming four decent pours of scotch by 4pm, we were feeling no pain as we headed out for the rest of the night.
After consuming more pints and scotch in Edinburgh, we drove the next morning to Oban, driving through Loch Lomond National Park and narrow, winding, two lane roads.  Once in Oban, we went directly to the distillery, only to find out we missed the last tasting of the day.  Not to be discouraged, we went to a local whiskey store and did a tasting there.  Take that Oban Distillery!
We sampled Oban 14 and two local single malts from the Isle of Mull, Tobermory 10yr and Ledaig 10yr, a short boat ride from Oban.  After a quick stop for some delicious Scottish seafood, devouring some languostines with garlic butter, we wandered over to a Scotch bar, located about 50 feet from our guest house, which had 100 Scotches available.
We watched the USA World Cup game, sampling Scotch after Scotch, including Talisker, Macallen, Glenkinchie and a few other long Scottish sounding distilleries, which after drinking so much, become very difficult to pronounce, much less remember.  When Ronaldo equalized the game in extra time, we drank more Scotch recklessly, to you know, deal with the disappointment.
The next morning we made it to the Oban Distillery for a 10am tour, which is both a great and terrible way to start the day, considering I was feeling slightly less than fresh after the previous nights' activities.  The tour was well done and informative, and ended with a tasting from the barrel of a cask strength Oban and then a taste of the Oban 14yr.  Both were delicious, with a distinctive orange peel and honey aroma, but the cask strength one is a straight punch to the face with an intense alcohol burn.  Definitely not for the faint of heart.
Our last night in Oban concluded with me deciding that Talisker, located in the far northwest corner of Scotland on the Isle of Skye, was my new Scotch.  Its moderate smoke and saltiness tasted smoother and smoother the more I had.  Of course I woke in the morning to the sense that I hated Talisker and that it was a liquid made from pure evil.
We finished our Scottish adventure with a final night in Edinburgh and a last stop at the Amber Whiskey Bar.   My body, or specifically liver, had pretty much failed to operate effectively at this point, so I went with single tastings, while Brad jumped right back on the horse, doing the full Highland Tasting, featuring the Ben Nevis 10yr, Edradour Ibisco Decanter, Dalmore 15yr and the Tullibardine 25yr.  I must say, props to Brad for his perseverance on this trip.  He wanted to drink all the Scotch, which I think he did.  Well done brother.
Overall, we had a great experience in Scotland.  Even if you do not like Scotch, the process and the culture behind it is fascinating and is worth at least sampling during your journey.  If you do love Scotch, it is basically the motherland.  Even small, local pubs had 40-50 Single Malts available and everyone seemed very knowledgeable about the products, engaging with us, discussing their personal favorites and why they prefer Highlands to Speyside.
If you bring a few Advils and some space in your luggage for a few bottles, Scotland will be sure to show you a good time.