One of the most quintessential experiences for any London resident is a visit to Wimbledon.  The grand slam tournament takes place in early summer, and is well known because all of the players wear white, and any serious visitor does their part and eats strawberries and drinks Pimm's cup cocktails.  Oh, and then there's also a bunch of tennis.
We got tickets this year through Drew's local tennis league which holds an annual lottery for its members.  If you win tickets, you pay face value, rather than the seriously inflated prices available on third party websites.  There is always one huge risk with any outdoor event in London – the weather. Fortunately, Mother Nature came through for us, and we had a wonderful sunny day.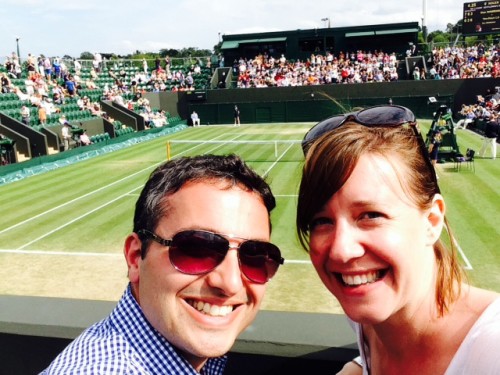 We saw a lot of people play – none of whose names I remember.  Our assigned seats were amazing and the best part was hearing the players mutter under their breath between points.  One American player kept reminding himself to get the ball in the court, in the court.My real fascination during the day were the ball kids.
The business of moving balls around the court and holding towels for the players is serious business in a tournament like this.  There are auditions and a couple weeks of training before the tournament.   Only experienced ball kids get to 'work' the big matches.  They stand perfectly still during any play, only hustling around the court to retrieve balls between points.
One of my favourite kids during the day was this girl with a long blond ponytail who was very, very serious and hauled her butt around the court  like she was being chased.  She showed up in two of the matches we watched (they rotate the ball kids during matches, every set or so).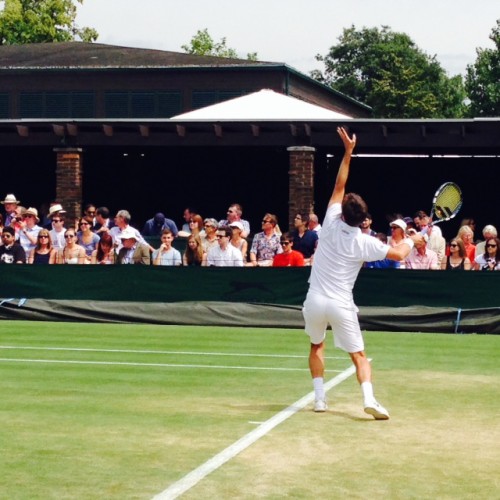 Visiting a grand slam in the early days of the tournament is much more fun than later in the tournament because there are so many matches and all of the smaller outer courts are active.  In the picture above, we were standing right next to the court, and there were at least ten matches to watch just wandering around at any given time without going into one of the larger courts that require a ticket with an assigned seat.
We ate our obligatory strawberries and cream on Murray Hill, which is a steep grassy hill where people hang out and watch the Centre Court match on a big screen.  The strawberries were perfectly sweet but I am still not a huge fan of the bath of unsweetened cream.  It doesn't add much flavour in my opinion and I just wanted a big tub of frozen Cool-Whip.As a tennis novice, the fun of tennis matches for me is all of the hoopla.
Wimbledon has a formality about it that is missing at the US Open – every official, volunteer, and security guard is dressed smartly with their signature Ralph Lauren blazers buttoned just so.  Players are escorted around the facilities to and from courts and it's great watching kids with huge tennis balls running after them hoping for an autograph.  The people watching is fabulous, with a diverse mix of dressed up women in hats and heels, Pimm's Cup lushes hanging out on the hill all day, and a nice mix of people who are clearly there for the tennis and those who are clearly not!
LOGISTICS OF WIMBLEDON
Tickets
If you belong to any local league or club, many get a bunch of tickets to give away through lottery.  There are also many online choices (StubHub, etc.) but the tickets are mostly sold for well over face value, and the key matches can go for £5,000 or more!  There is also a famous queue for people who don't have tickets but are willing to camp out or stand in one of the longest lines I've ever seen to get a grounds pass either for the day or evening.  Apparently it's all part of the fun to stand in the queue, but I was happy to skip it.
Getting There
From Central London, the village of Wimbledon is roughly 45-60 minutes away, depending on traffic.  During the tournament, there is a frequent shuttle bus from Kings' Cross station to the park.  There were many makeshift parking lots for those who drive, with spaces costing up to £30/day.  We just took the tube, which was a long ride, but cost us all of £2.50 each way.  The closest tube stop, Southfields, was about a 15 minute walk from the entrance.
To Bring
Each person is allowed to bring in beverages and food, including alcohol in limited amounts.  Certain items are obviously not permitted, and every bag is checked thoroughly up entering.  We bought sandwiches and small bottles of sparkling wine at the grocery store we passed on our walk, and saved ourselves a lot of money by not buying much food once inside the grounds.  Oh, and my sunburned shoulders remind you to bring sunscreen.