Greece is one of the most beautiful countries in all of Europe. Is that too bold a statement? The internet tells me no.
It has that magic blend of history, culture, and natural beauty that makes it an ideal locale for a holiday. But where should you go? And should you combine land and sea, or stick to one? Greece has the historical sites of Athens (obviously), beautiful coastlines, the idyllic Greek Islands, and the rugged beauty of the interior of Greece. You can hide away at a resort, or enjoy one of the many homes for rent in Greece to live a little like a local.
Let's make that whole *planning a trip to Greece* thing a little easier with some handy tips. Side note: wouldn't a surprise vacation to Greece be an amazing Christmas gift? Baller.
ATHENS
For most people traveling from outside of Europe, Athens is the most common city to fly into from afar. It is a relatively compact city, so it's possible to see the major attractions in just a few days. For history buffs though, Athens requires a little more time for proper sightseeing. While the 5th BC Acropolis gets top billing, there is more to see in Athens than the Acropolis.
Don't forget a visit to the Acropolis Museum, which opened in 2009 and features over 4,000 artifacts. There's also the National Archaeological Museum which contains over 10,000 objects from Ancient Greece. If you're less museum inclined, you can see plenty of history for free at some of Athens' metro stops, which display some of the objects found during the construction of the subway system.
If you want to take a break from ancient Athens and enjoy the modern city, head just below the Acropolis to the Plaka neighborhood, one of the most walkable areas of Athens. It is a tangle of streets, featuring cafes and art stores, selling locally made pottery and crafts. The area can get busy (and a bit touristy) so escape to the neighboring area of Psirri for more Greek charm, Athenian coffee shops, and fun bars.
We love free walking tours to get a good overview of a city. There are several companies, like This is Athens, that offer free tours.
CORFU
The main attraction along the western coast of Greece is the island of Corfu.
It is the most northerly of the Ionian Islands, and near the Greek/Albanian border. You can fly directly to Corfu, or take one of the numerous ferries from coastal Greek cities like Igoumenitsa and Patra. It has been a tourist hotspot for over a century, and it is easy to see why.
The Old Town of Corfu has old churches, palaces, and the Old Fortress, built by the Venetians in the 16th century. You can also enjoy a little nightlife at a tsipouradika, a tradition Greek bar where the local spirit ouzo flows freely and rempetika music provides the ambiance.
Outside the city center, the island has an abundance of beaches, from more rocky shorelines in the north to the sandier beaches in the south. The beach is by far the main attraction for most visitors. Many of the most popular beaches are near the larger resort areas, like Sidari. Depending on the crowd level or time of year, you may want to rent a bike to explore the smaller, off-the-grid villages and beaches, like Rovinia near the town of Liapedes.
THE INTERIOR
While history and beach life seem to be the driving forces behind Greece's popularity, the country's interior is also shockingly beautiful and a nice break from the more popular coastal destinations. These areas a little more remote, so a car is really needed to properly explore.
In the far north, near the border with Albania, there is Prespes National Park. It is a quiet retreat, where you are more likely to run into a herd of goats than other tourists while on a hike up in the hills. It is also home to some shockingly large freshwater pelicans.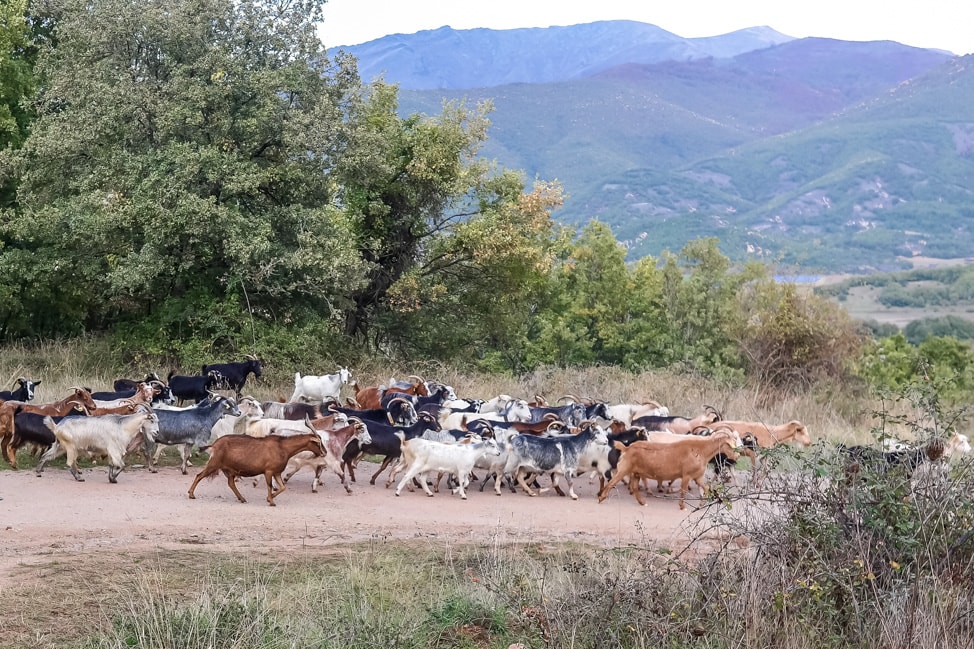 A few hours inland from the coastal port city of Igoumenitsa is the town of Papigo, located within the Vikos–Aoös National Park. This adorable village is set high up in the hills and is full of slate-shingled homes and cobblestone streets. Here you'll be surrounded by mountains, and many of the activities revolve around climbing or doing water sports in the river running through the valley.
Papigo is well off major motorways and accessed by elaborate switchback roads, so just take your Dramamine and prepare yourself to be enchanted.
Due south of Vikos-Aoös National Park is the UNESCO World Heritage site, Meteora. This impressive collection of mountaintop monasteries have been around since the 14th century. For centuries, monks have used a system of ladder and pulleys to bring supplies – and worshippers – to these structures. The site stunning and has been featured in numerous movies and TV shows, including Game of Thrones.
THE GREEK ISLANDS
For most people, planning a trip to Greece is all about the islands. And it is not hard to see why. There are dozens upon dozens of islands that offer a little something for everyone. Access is usually the biggest logistical hurdle and may determine what islands you visit on a trip. Many of the more popular destinations, like Santorini, are well connected by ferries to Athens and other cities on the mainland. Larger islands like Crete are easily reached by regular flights from Athens. Of course, the more remote and less traveled a place, the harder it may be to reach.
And Greek ferry schedules are known to change without much notice, which is something to keep in mind.
The Cycladic Islands might not be a household name, but this string of islands contains the famous Mykonos and Santorini, two of the most visited Greek Islands. Located between Athens and Crete, Mykonos and Santorini have the classic white-washed houses, with colorful roofs and windowsills that you've seen in a million photos, clinging to the side of the steep cliffs. Mykonos is known more for its nightlife, while Santorini is a bit more romantic and luxurious, though during the high season (June-August), be prepared to be surrounded by many international tourists on both islands.
A little further afield is the Dodecanese Islands, which, due to its proximity to Turkey and its historical ties to Venice, has a unique Turkish-Venetian influence not seen on other Greek islands. Rhodes is the most famous of these islands, home to a beautifully preserved medieval walled city and an ancient Greek Acropolis.
Crete is the largest island by far, and is almost like its own country, with a distinct culture from the rest of Greece. It lies perfectly between Africa and Greece in the Mediterranean Sea and is easily accessed by not one but two airports. The island gets its fair share of tourists, thanks to the ample supply of cheap vacation packages, but there are also ruins, old Venetian towns, and the incredible pink sand beaches of Elafonissi.
Greece is the kind of place that inspires dream holidays for many people, and we've just scratched the surface.
In fact, when we've planned holidays in Greece, the biggest challenge is choosing a region to visit. Fortunately, you really can't go wrong. We have met some of the most hospitable people on our travels in Greece, people who love to share a laugh and perhaps some ouzo. When you add that to the picturesque coastline, pristine beaches, and rugged landscape, it is easy to see why Greece is always a hot tourist destination.
Have you been to Greece? What is your favorite spot? Where are you dying to go?