The last stop on our voyage around Japan was to the country's second-biggest city, Osaka. And we only had two full days.
In the weeks leading up to the trip, various colleagues and acquaintances mentioned how much they love Osaka as a destination. But maybe because I grew up in the US, a much less convenient jumping-off point, I'll admit my lifetime knowledge of the 'best places to visit in Japan' was limited to Tokyo, and maybe Mt. Fuji. A book or two from my elementary school reading clued me into geishas, but that's pretty much it.
Now fast forward many years and many miles traveled, and I packed for our vacation feeling pretty confident about what we were getting into. I was all prepped on the famed ancient city of Kyoto and my stomach was grumbling prematurely for the assortment of Japanese food. We were flying home from Osaka, so it was firmly on our itinerary, but other than go to an international airport, I'll admit my knowledge of what to do in Osaka was nil.
If you do a little searching on The Google or The Trip Advisor, Osaka is touted as a bustling modern metropolis, home to beautiful architecture, nightlife and street food. Doing a little image search of the city gets you many beautiful shots of Osaka Castle and the always manic Dotonbori Street. Oh, and for you theme park loving folks, Osaka is home to Universal Studios and a massive aquarium.
Thanks to the very clear guidance from the Internet, we stuck mostly to the well-trod tourist path. We also snuck in a few Western treats, which inevitably happens to us after a long trip outside of our comfort zones.
Our Osaka Itinerary
On our first full day in town, we spent the entire day in the central area around Dotonbori Street. This entire neighborhood is a busy labyrinth of shopping streets, some featuring large chain department stores and others housing tiny tourist shops or restaurants or market stalls selling fresh food.
Initially, we had the idea that we would sample street food for lunch (not unlike how we spent our time in Tokyo), do some walking, eat some more, repeat. We started out strong with a visit to the local fish market, where we feasted on buttery grilled scallops. But then we saw a queue in front of a restaurant called Fukutaro that didn't appear to even be open for the day. Without any internet access to figure out where we were or what this place was, we literally shrugged to each other and just stood in line.
Those British tendencies really haven't left us.
Spontaneous Okonomiyaki Experience
We waited for over 30 minutes, and over that time we were able to work out that the restaurant served okonomiyaki, this cabbage pancake that in my mind is synonymous with hangover food. Stacks of cabbage, pork, and squid is cooked on a griddle with ladles of thin pancake batter poured over top until the whole mixture holds together. It is then doused in various savory sauces (a thick hoisin and mayo-based something) that instantly starts to ooze down the sides. They are delicious. Ugly, but delicious.
It's so rare that we will leave a meal up to chance like this, just standing in some line and hoping for the best. But seats at the U-shaped counter turned over quickly and before we knew it, we were gesturing wildly to the very patient waiter. It was a treat to watch a seasoned troop of chefs in action, the short-order diner cooks of the Japanese variety.
Looking back, I can't actually tell you if the specific okonomiyaki we tried was objectively better than other places in town. But the experience of it all – not researching it ahead of time, trusting the crowds to get it right, and ultimately happily chowing down – left us feeling like we won the culinary lottery.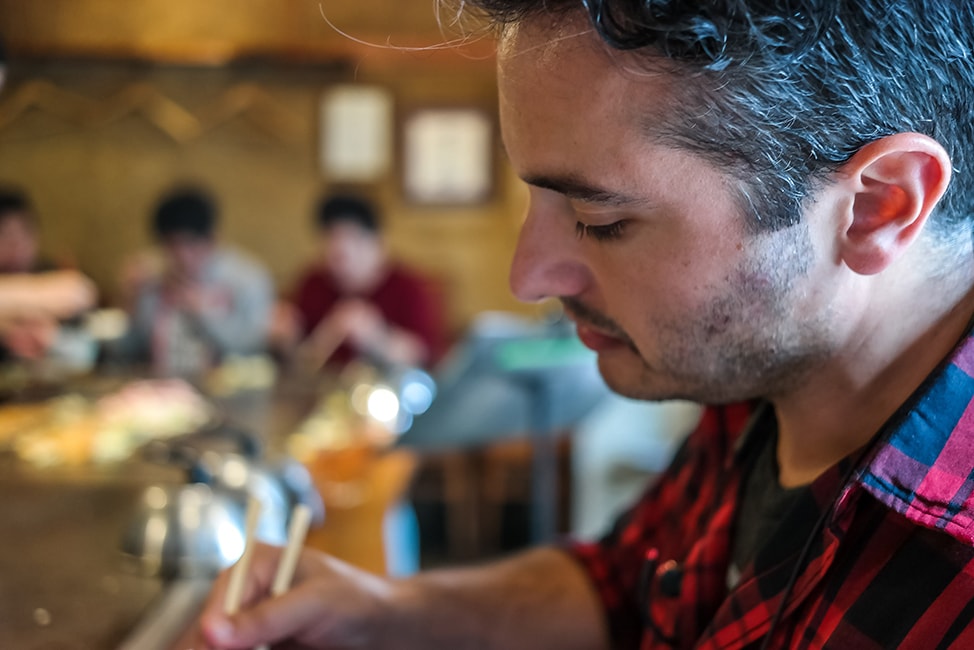 The rest of the day was spent in a less spontaneous way, as we braved the crowds around Dotonbori Street. We joined in taking photos of the massive plastic animals that grace many-a-restaurant (crab served here!!!). We snacked on takoyaki, the famous Osaka octopus ball snack food.  We spent over an hour wandering around Toyku Hands, a quirky department store that sells everything from plastic sushi key chains to beautiful stationary. When we got tired, we ducked into an izakaya (small pub) for a drink, and snacked some more.
When it got dark we called it quits, retreated away from the crowds, back to our Airbnb rental.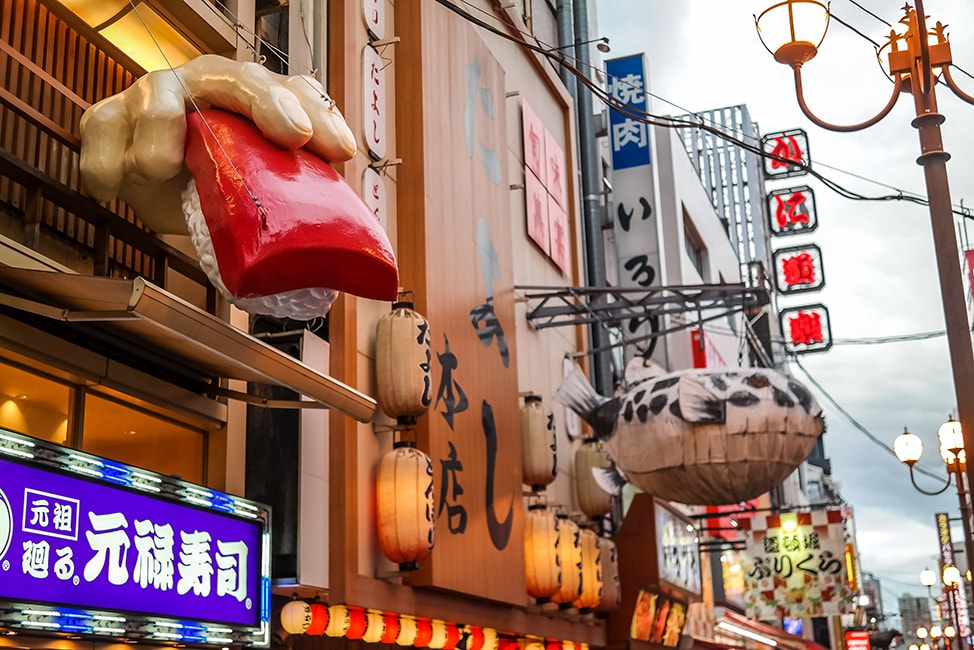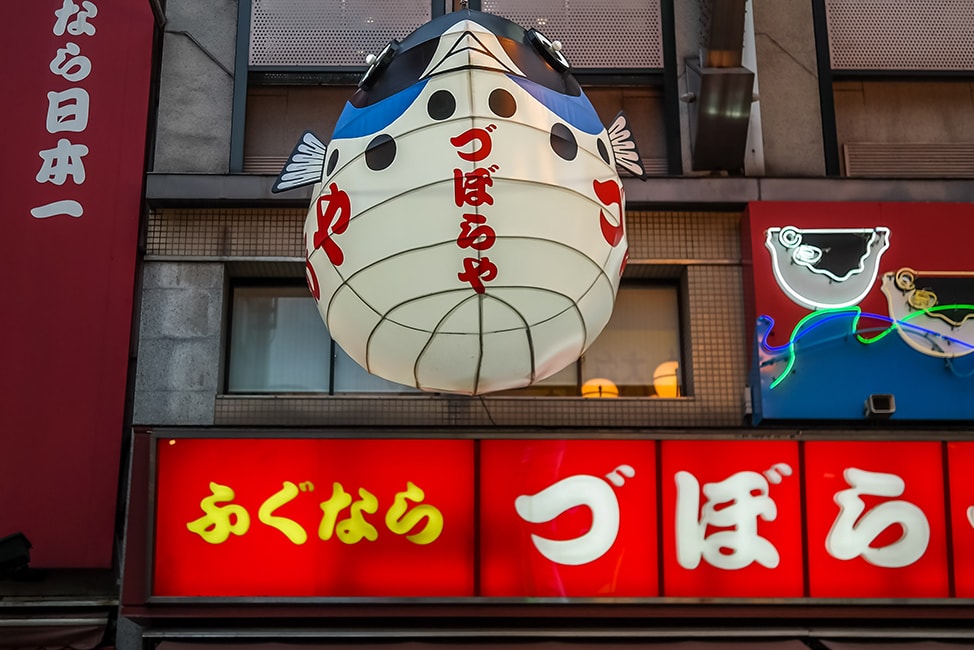 Osaka Castle and Expensive Cocktails
The next day, our last full day of our Osaka itinerary, dawned sunny and pleasantly warm. We had made two plans for the day depending on the weather, so we went with Mother Nature, and headed over to Osaka Castle.
The actual castle portion of Osaka Castle is a real live castle, one that's undergone many transitions and rebuildings over its long history. The entrance ticket is pretty inexpensive, but now that we've been in the castle museum, I'd say skip it. The internal multi-level was a museum, one so poorly laid out I literally didn't learn anything. The views at the very top are great, maybe worth the price of admission if you visit on a less busy day than we did.
The grounds of Osaka castle, on the other hand, are amazing. A sprawling, wooded park, we tucked down a random path for a picnic lunch (thank you, amazing 7-11!) and were treated to two young women playing duets on a violin and viola. An outdoor concert pavilion was hosting something musical, so the tunes floated around us as we walked by. Plenty of friends and families were out and about, walking or sitting.
It was a lovely little Sunday, as we like to say.
We thought we'd spend our last night in Osaka at some kind of 'bar with a view.' It is a favorite pastime of ours. We couldn't find anything nearby that was appealing so we went instead to The Ritz Carlton, always a safe bet for an expensive cocktail, even if this particular location has no view of, so to speak.
We also smoked a cigar. Why? I'm not sure actually. Maybe because it just felt right, sitting in dark, oak panelled bar at the Ritz, a fitting end to our Japan adventures.
For our last meal in Japan, we went to the top of a shopping mall. Forget whatever idea of mall food courts you have in your mind – in Japan, the malls are not off-limits for notable restaurants. The top of Osaka Station has something for everyone (I started counting the restaurants in the directory but stopped at 50). We were going to eat something traditional and Japanese, but Western food beckoned, so we ate our weight in french fries and burgers instead at Wolfgang's Steakhouse. Not our proudest moment, but we like to think we did Japanese cuisine proud over the many days of our visit.
Our last night in Osaka was spent the way last nights of vacations are spent all over – packing, trying to figure out how to get to the airport, triple-checking that nothing was left in the bathroom, sitting on a somehow more full suitcase. You know the drill.
When we were first planning this trip, we changed our minds a LOT about how many days to spend each in Tokyo, Kyoto, and Osaka. Each online resource seemed to offer a different suggestion (3 days in Osaka is enough! Don't go unless you have a week!). Now that we've been to all three, I can say it would have been perfect if we had had just one more day on our Osaka itinerary (and no, I don't always say that).
Three full days is the minimum time to spend in Osaka. And you could easily spend more.
With an extra day, we would have gone to the Osaka Aquarium (one of the biggest in the world) or explored a more outlying neighborhood, perhaps even stop by the CUPNOODLES Museum. We would have eaten a final meal of Japanese food instead of caving to our burger craving. We would have bought plastic sushi for everyone we know.
I'm sure we'll get back to Osaka in the future for another day, because we've got the Japan bug now, and it's an itch we'll need to scratch again soon.
Have you been to Osaka? What are your thoughts about the ideal Osaka itinerary? Share your thoughts and comments below!