In New York City, I worked in the restaurant management biz at Strip House in Greenwich Village, one of the best steakhouses in Manhattan. They do steaks right. Super hot broiler with only salt, pepper and butter on the meat for a deliciously caramelized exterior. The benefit of working in management was that I had access to steak constantly. I ate delicious, melt in your mouth USDA Prime beef at least twice a week.
Not exactly heart healthy, but still a wonderful thing. I miss those days.
The reason why your steak at home doesn't taste as good as when served in a restaurant is for one simple reason: ordinary kitchens don't have broilers that goes above 1000F like the commercial equipment at restaurants. While a backyard grill is nice alternative, the fight for a consistent temperature can yield varying results. Plus, it takes a lot of time to build the fire if you are using charcoal. My advice? Use a pan. On the stove. In your kitchen. But do not do it the way that every recipe online will tell you. Do it my way.  Here is how to cook a steak properly.
The single most important factor in a good steak is good meat, so you must find a high quality butcher. For the very best, the local grocery just won't do. My local shop, Turner & George, is, in my humble opinion, the best butcher in London. The product is amazing, the staff fantastic. They sell the best chickens I have ever tasted, their barbecue sauce is divine and the pork is super fatty and tender. They also sell these pork skin cracklins' that are seriously addictive.
Of course, they do not slack in the beef department either.  They always carry a variety of beef from different breeds, which yields different fat and marbling content. (Bonus tip: T&G also carry what is called an 'onglet steak' which is not super popular and costs about a fiver per steak. It is our go to choice on any normal day)
Sometimes you need to splurge, so I ran down to Turner & George a few days ago and picked up a 750g bone-in Angus ribeye, aged for 25 days (see photo above…hello, sexy). It was almost £20, but fed the two of us easily. As I'm sure you can imagine, back in New York, we served steaks almost that large at Strip House as individual portions. But we Americans can't get enough of huge portions, which may explain our expanding waistlines.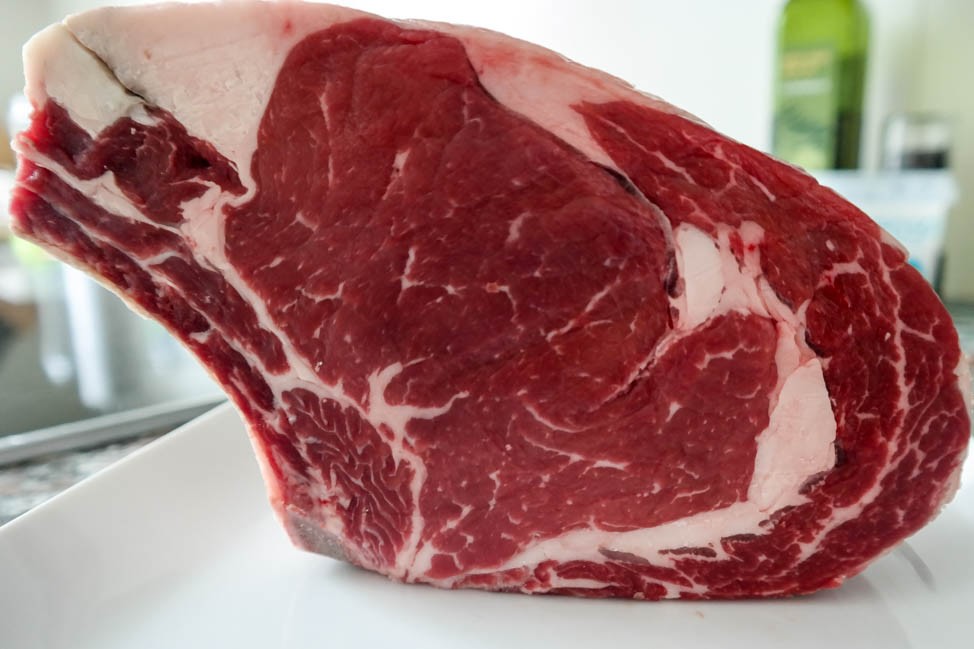 Once you have procured a beautiful steak, the main objective is to not mess it up. A great steak does not need sauce or a marinade. Do not waste your time. Simply pull the steak out of the fridge a minimum of an hour prior to cooking. It needs to be close to room temperature for the best results. Why? Cold meat straight from the fridge is harder to cook. The outside will overcook while the inside will take longer than normal to warm up. Well done around the edges, raw in the middle. Not a great combination.
Next, rub the meat liberally with olive oil, salt and pepper. It should be a solid coating of salt and fresh ground pepper on both sides. Visible to the naked eye. Try to use kosher or sea salt if you can. They are bigger grains and cling to the meat in a way that is incredibly tasty. And don't get me started on the saltiness of different salts. It's a real thing. Email me if you want more details.
Add a little oil to a saute pan and crank the heat to high. The oil should be visibly smoking when you start to cook the steak. A cold pan will give you grey, sad looking steaks. No one wants a sad steak.
Now, here is the secret: flip the meat a lot.
Most recipes will instruct you to leave the meat to sear in the pan for five minutes or so to develop a crust and flip once. Said recipes will even say 'don't touch the steak. Let it do it's thing. Touching the meat is bad for everyone.' The problem with this method is that the steak will cook unevenly. One side will inevitably be cooked for longer and have a better sear.
Flip your steak every minute.
By flipping every sixty seconds, you maintain even cooking on both sides and it will slowly develop a crust on both sides.  So after a first minute, the steak looks like this: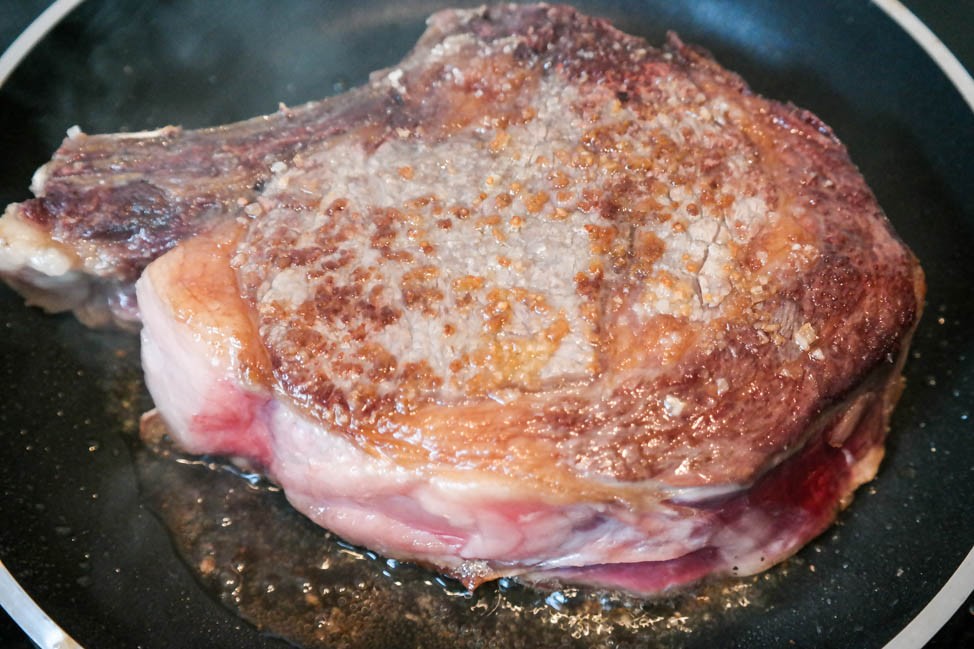 Not bad, but we're just getting started. After about fifteen minutes of flipping for this massive cut of beef, it looks like this: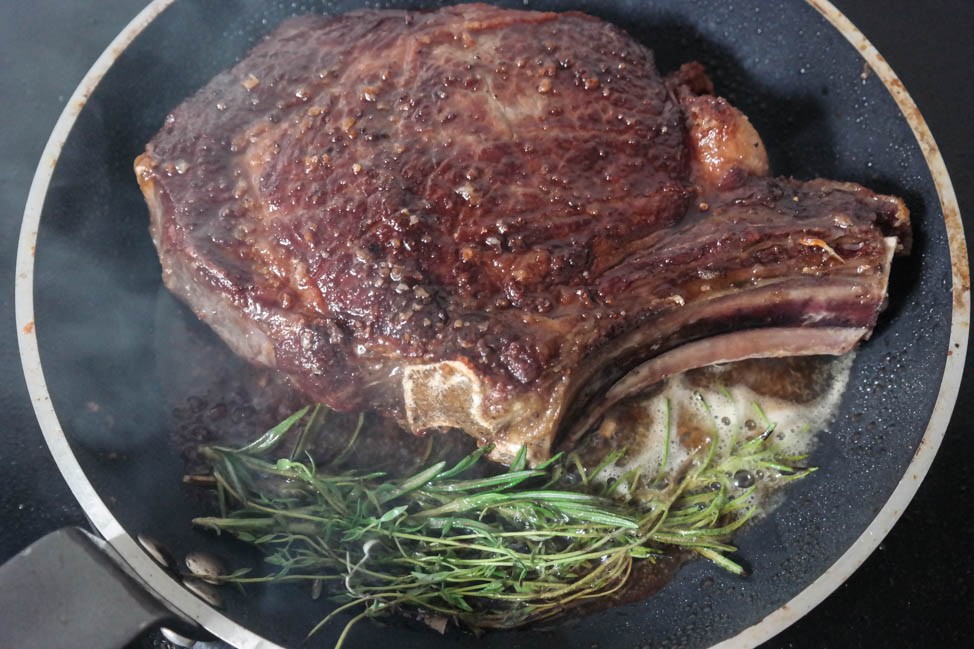 A perfectly seared, caramelized exterior like you would find at a great steakhouse. For a final cooking flourish, I like to add a knob of butter (about one tablespoon) and some fresh herbs, like thyme and rosemary, around the 12 minute mark. Starting when I add the butter, every time I flip the steak, I tilt the pan toward me and baste the top of the steak with the fat from the steak, butter and herbs. I repeat that for the last few minutes of cooking.
I can tell how done a steak is just by touching it, but if you are unsure, get a meat thermometer and check the doneness. Rare will be about 115F (46C), medium rare about 125F (51C), medium 135F (57C) and well done is 160F (71C). If you happen to like well done meat, make sure to buy a steak with high fat content. A lean steak, such as filet, will be basically inedible. It will be closer to leather than a steak.
The final factor for a perfect steak is the resting period. Steak should never be served piping hot. It should be slightly warm. By resting the steak, you allow the juices inside the steak settle from the agitation of the pan searing process. Ever sliced a steak and had your cutting board covered in juices? Yeah, you didn't rest it long enough. Wait at least ten minutes, though 15-20 minutes is preferable, before slicing. You will find a lot less liquid on your cutting board, which means it is still inside the steak, which is where you want it.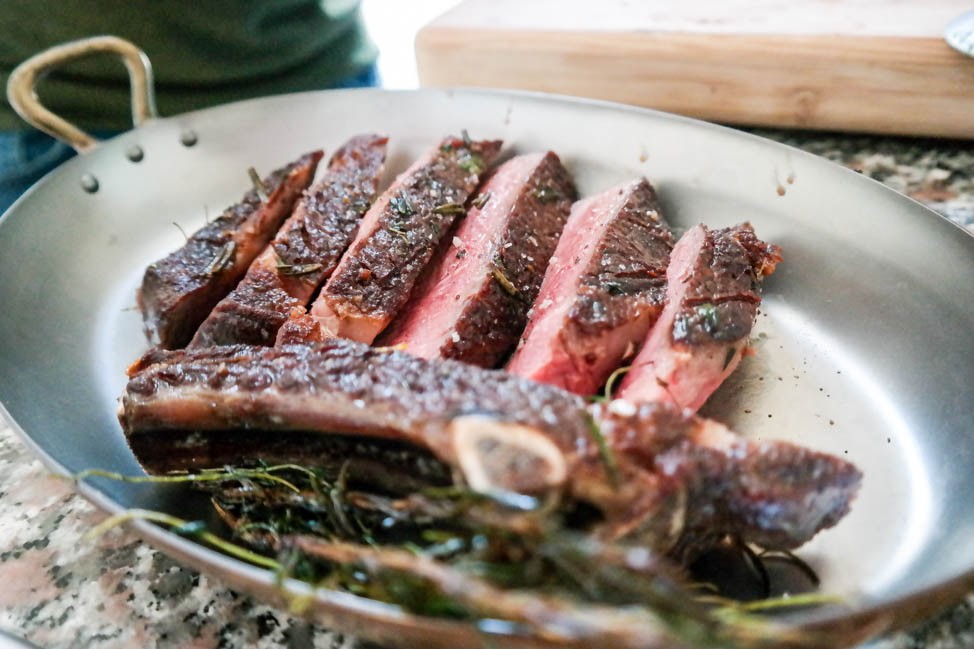 Finally, slice it, serve and enjoy. I like roasted mushrooms and creamed spinach, as well as some crispy potatoes for side dishes. A steak dinner is not meant to be diet food. Bring on the calories and enjoy!
How do you cook your steaks? Have you tried this method? Give it a shot and let me know your thoughts!