What would you do if you won the lottery? We play the lottery game frequently and right up there with a yacht (and crew of course) to sail the world  and a beach treehouse in Thailand, a houseboat in Amsterdam is always high on our long list of things to buy. It would be a nice break from the permanent beach lifestyle we would be living, and a place to have as a home base for our European summers. For our recent trip to Amsterdam, we decided to practice our lottery lifestyle by staying on one of most quintessential Amsterdam houseboats we could find.
There are several websites with houseboats to rent and we selected Amsterdam Book Now where a quaint one bedroom was available in the bed and breakfast Amsterdam style.  On what is now affectionately 'our boat,' our room is roughly one third of the boat, and the houseboat owner lives in the other two thirds.  On the wider canals, boats are typically double parked, so our houseboat is accessed by walking across another boat and then hopping onto our temporary home.  We anticipated some concessions in terms of creature comforts, something anyone who has spent time on "normal" boats would understand (very limited hot water, cramped quarters).  Luckily, most houseboats in Amsterdam are hooked into the city water, sewer and gas supply, so there is plenty of hot water for showers, drinkable tap water and it is well heated, which was especially important due to the near freezing temperatures over the weekend.
Our boat has a nice hatch entrance, which both of us find adorable. Steep stairs lead down to a room the size of a large studio apartment, with a double bed tucked under the stern, a full kitchen with barstools and a counter for eating, a couch and nicely tiled bathroom.  The kitchen is surprisingly modern, with all of the necessary amenities for cooking and my favorite kitchen amenity, an induction burner range.  Induction burners are the future, friends. Mark my words!
The boat was billed as being in Amsterdam's best location, which is always a dubious description when you've never visited and therefore have literally no points of reference. In this case, the famous Skinny Bridge is the view from our little outdoor sitting area on the back of the boat.  The neighborhood is quiet, but not too far from the tram stop and a fantastic Indonesian restaurant we went to on Saturday.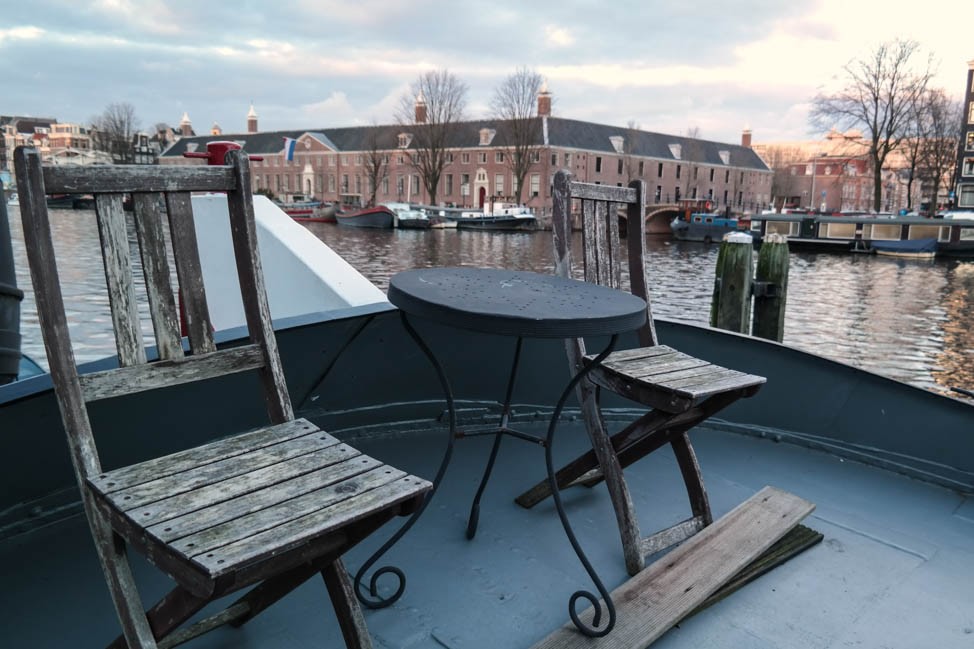 Despite the freezing cold winter weather (did you see the snow on top of the houseboat?) our cozy stay on the canal was a perfect weekend getaway.  For us, finding this vacation rental in Amsterdam was ideal. As far as our lottery list goes, Amsterdam remains at the top of European cities in which we would live out part of our luxurious years. Although now we're considering one of those fabulous tilting row houses, precariously balanced on underground wooden pilings. When money is no object, a tilted house is a quaint feature, not an insurance nightmare waiting to happen!