What do you get when you throw a bunch of college friends and tame llamas into the Blue Ridge Mountains, pile everyone into cabins with unlimited booze and add in a lake just begging for late night swimming?
A wedding at the High Hampton Inn, of course.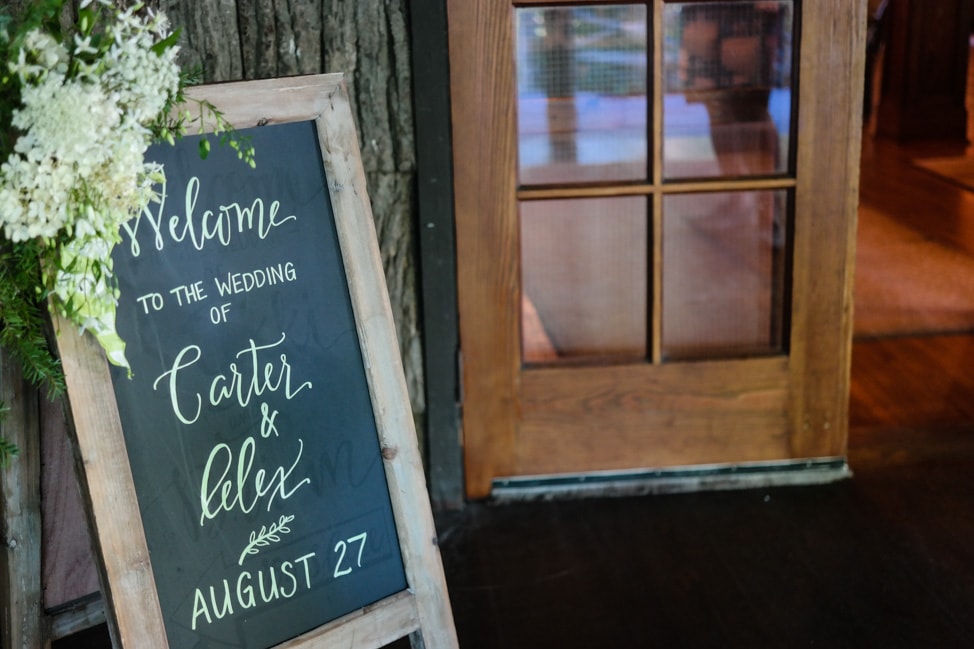 August 27th loomed large. On the calendar for nearly a year, the wedding of good friend Alex (referred to from here on out as 'Simpson') to the lovely Southern belle Carter, was a non-negotiable event.  Hell, we planned our entire move out of the UK around being in North Carolina during this specific late summer weekend.
Despite a dreaded premonition about what awaited us back in London  (a red eye flight on Sunday night, unpacking, laundry, repacking for our two month road trip, finishing packing up the house, welcoming the movers on Tuesday morning, all with a healthy dose of jet lag), we threw caution to the wind.
Just like our 22 year old selves would have done.
We wanted to hang out, party, and dance with our old friends, ignoring the decade that has passed. We wanted to listen to late 1990s hip hop on repeat and remember the best and worst of times during our years spent as fraternity brothers. We wanted to pretend that we could still handle hangovers like champions. We wanted to be neighbors again, just across the hall, or around the corner from our best pals, the first and last people we saw each day.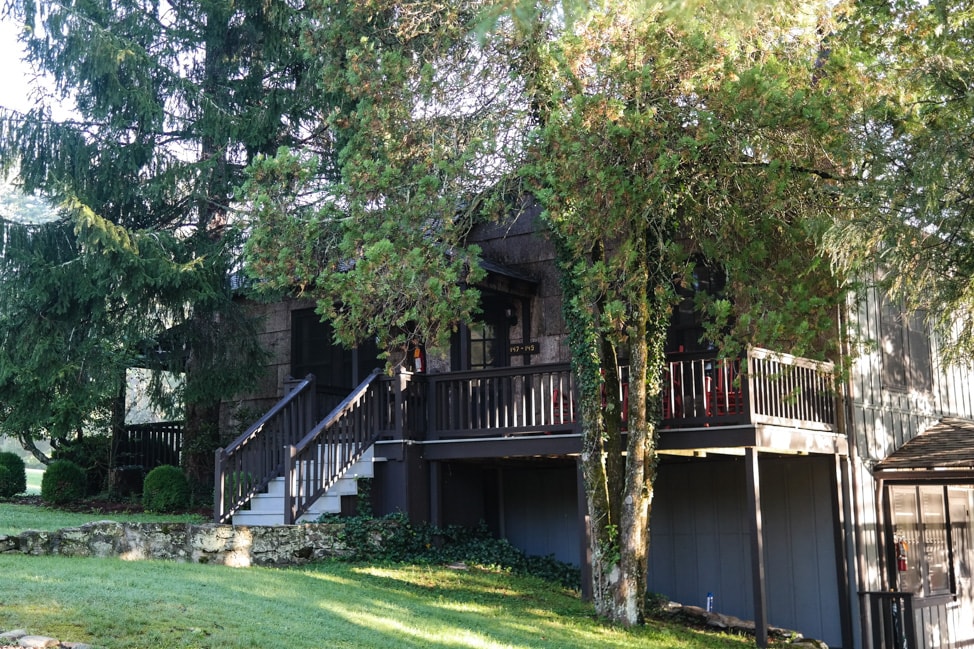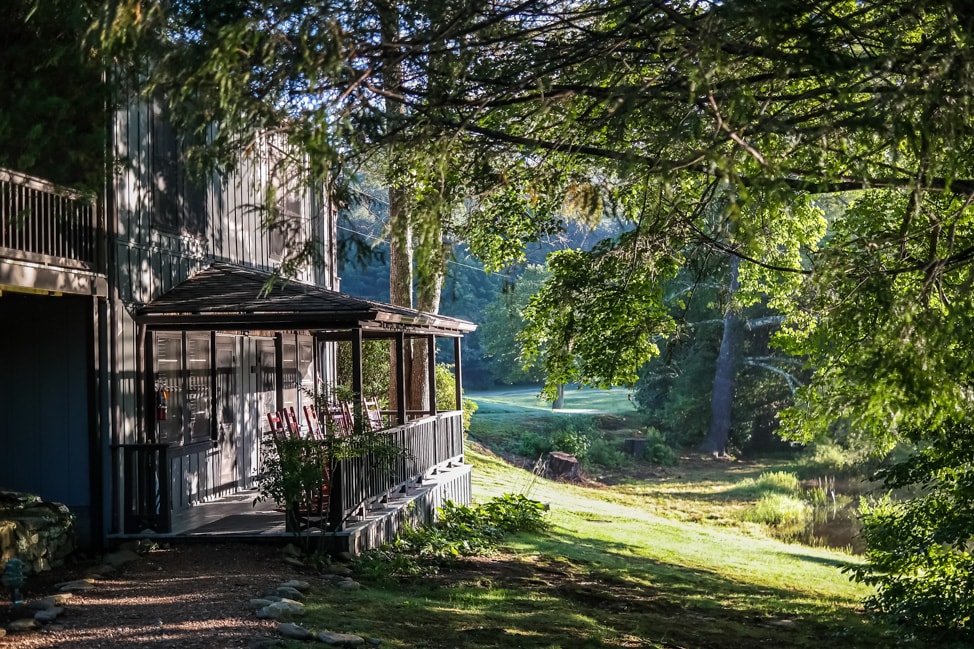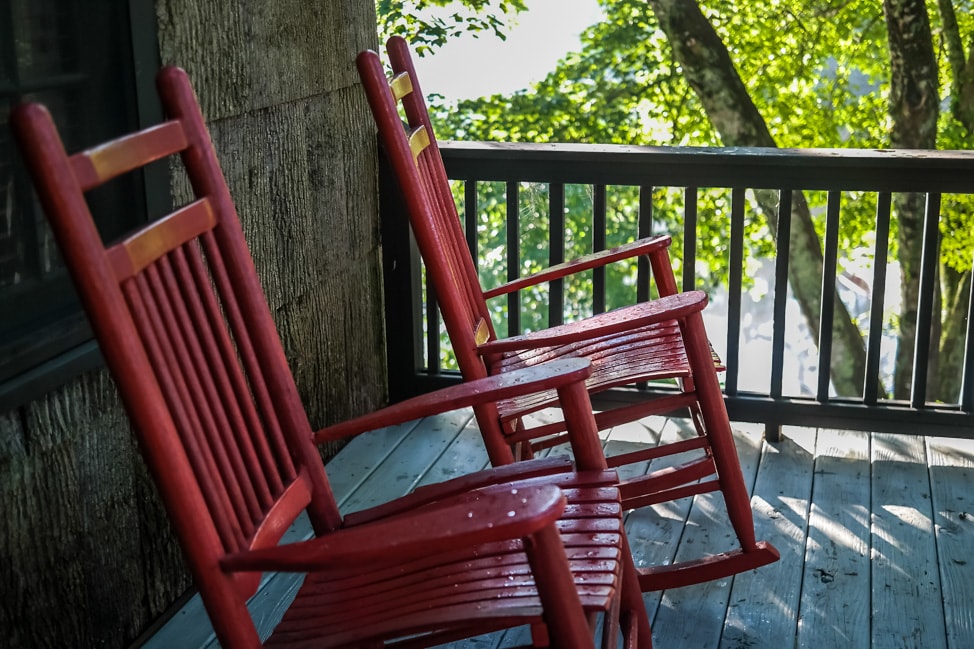 We arrived at Destination: Hangover in tiny Cashiers, North Carolina (population 152) and drove into the High Hampton Inn and Country Club, a sprawling 1,600 acre mountain retreat, tucked into a valley, surrounded by the Blue Ridge Mountains. Framing the large, timber-framed main lodge are dozens of cabins dotted around the resort, a lake with kayaks and paddle boards, an 18-hole golf course, tennis courts, and even a pack of llamas and two mini-donkeys.
We stayed in Lewis Cottage, a 6-bedroom cabin with a shared common room. It felt exactly like camp, except each bedroom was an en-suite with a comfortable king-size bed overflowing with pillows. Nestled alongside the lake, our private screened-in porch with a daybed overlooked the water and the golf course.
It's the kind of cabin our parents would be comfortable in. Or the dorm room of our dreams.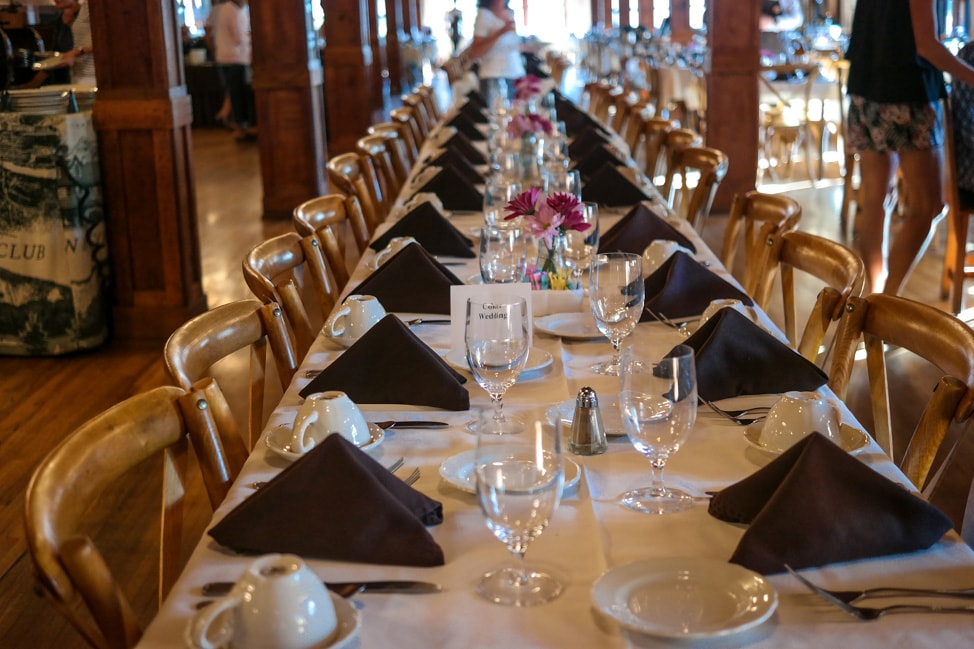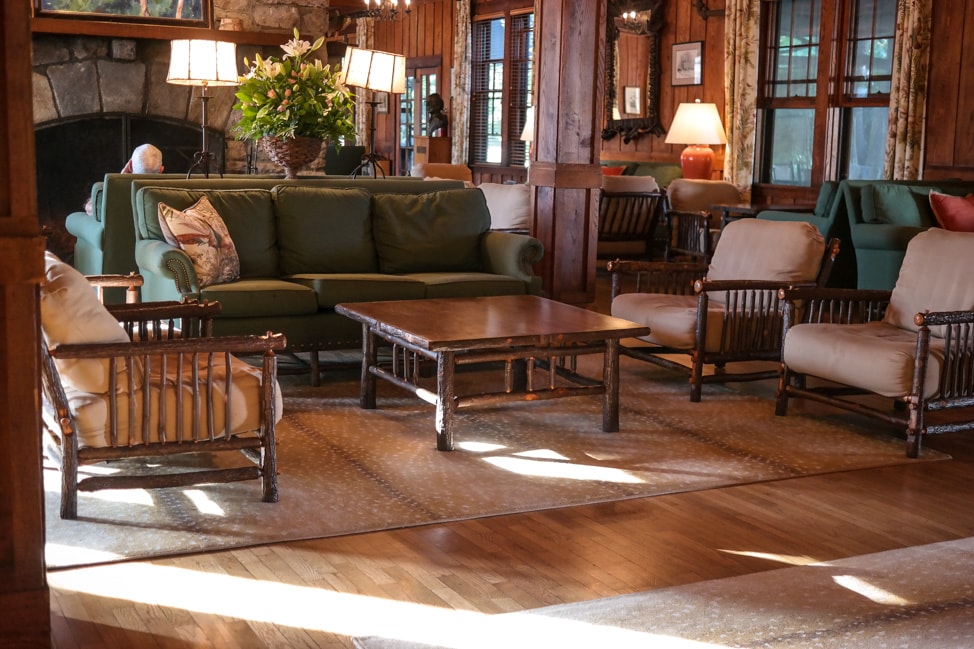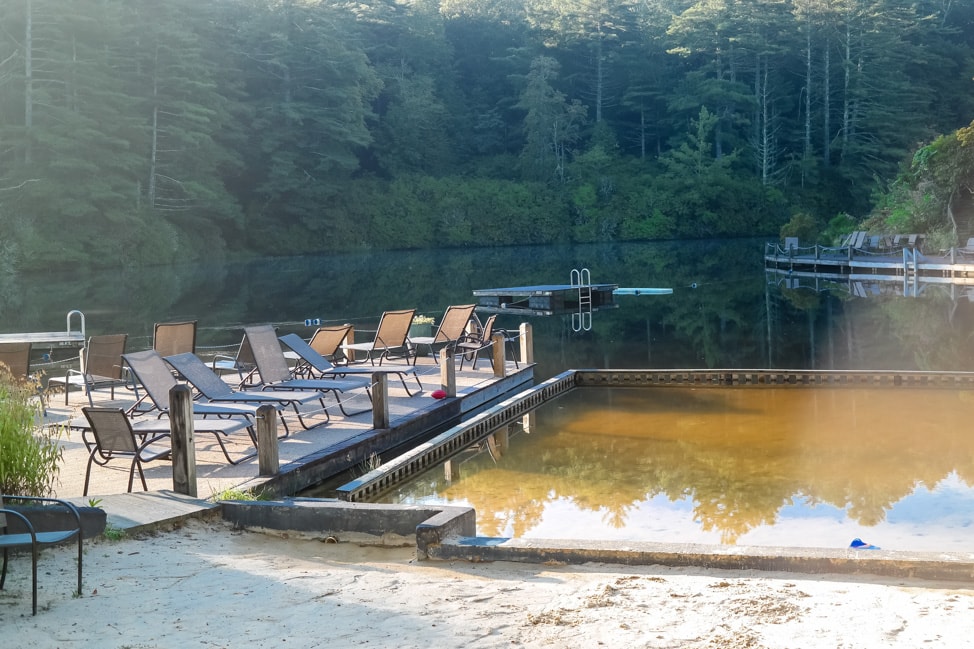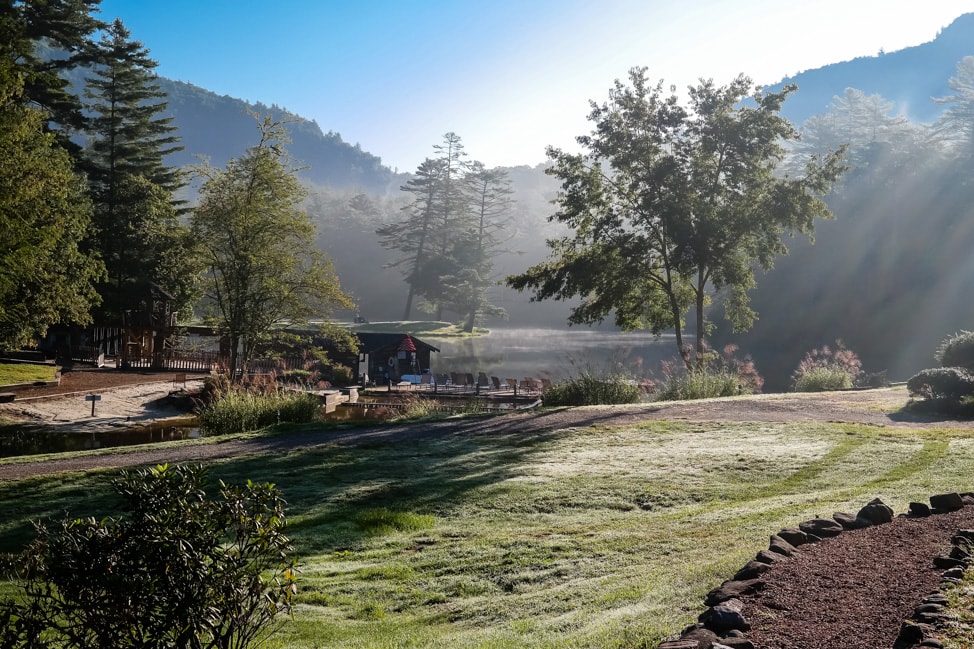 In trying to describe High Hampton Inn, Julie thought it would be like staying at the resort in the Catskills that was the setting of the movie Dirty Dancing. Little did we know that a TV musical remake of Dirty Dancing is actually happening this year, and that the filming took place at the High Hampton.
So basically, it's exactly like Dirty Dancing.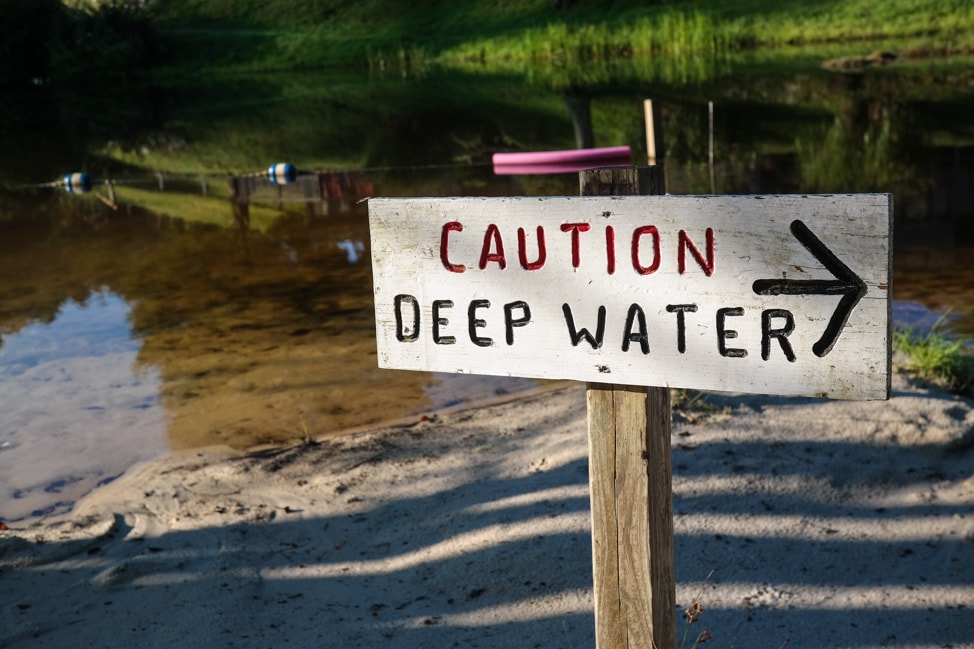 During the weekend, our roommates in the cottage were all buddies from college, so it really did feel like being back at school. Except we had no classes. And we are of legal drinking age. Our whole crew was there, over a dozen people who all met in another rural location, the cornfields of Ohio.
The festivities kicked off on Thursday night, with various family members hosting events for the many out-of-town guests. First up was a casual barbecue on Thursday night at a nearby country club, complete with pulled pork, fried catfish, and an open bar that stayed busy the whole night. Special shout out to the banana cream pie that evening, complete with 'Nilla wafers.
On Friday, us guys got together for a round of frisbee golf, a throwback to how we spent our university weekends. That evening was the rehearsal dinner, held at another nearby country club, situated alongside the most beautiful landscaped croquet lawn I've ever seen. To be fair, I haven't seen many, but I had a sudden urge to run barefoot across it. With guests looking on, and me in a nice suit, I decided against the maneuver.
But just barely.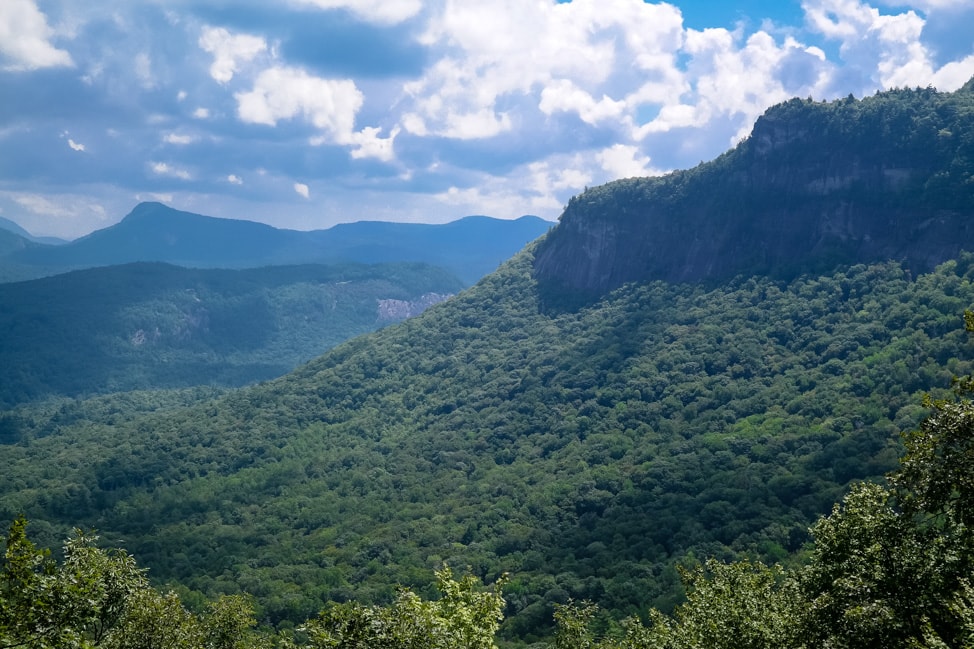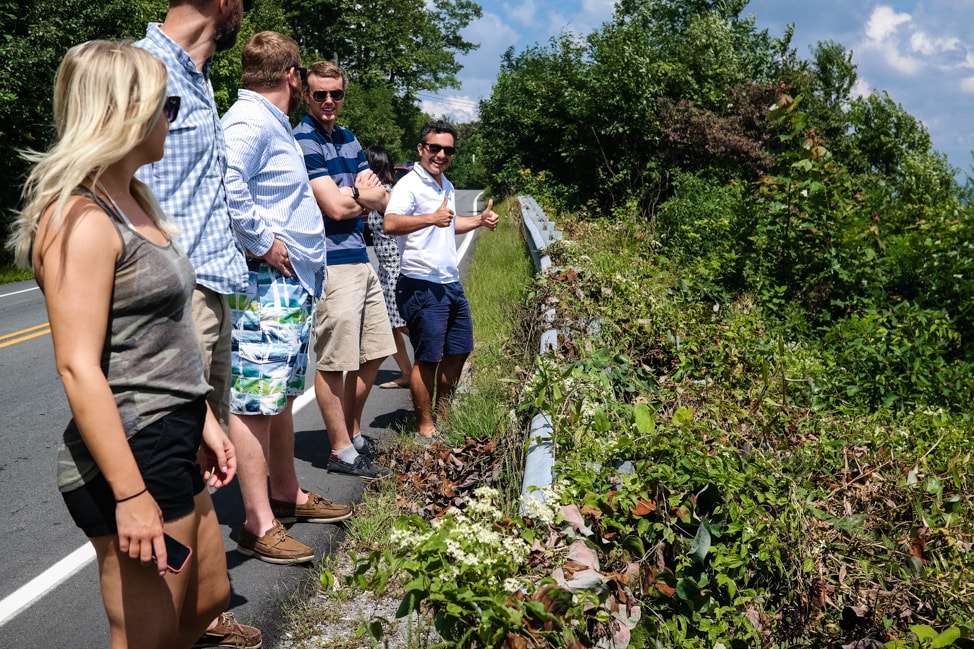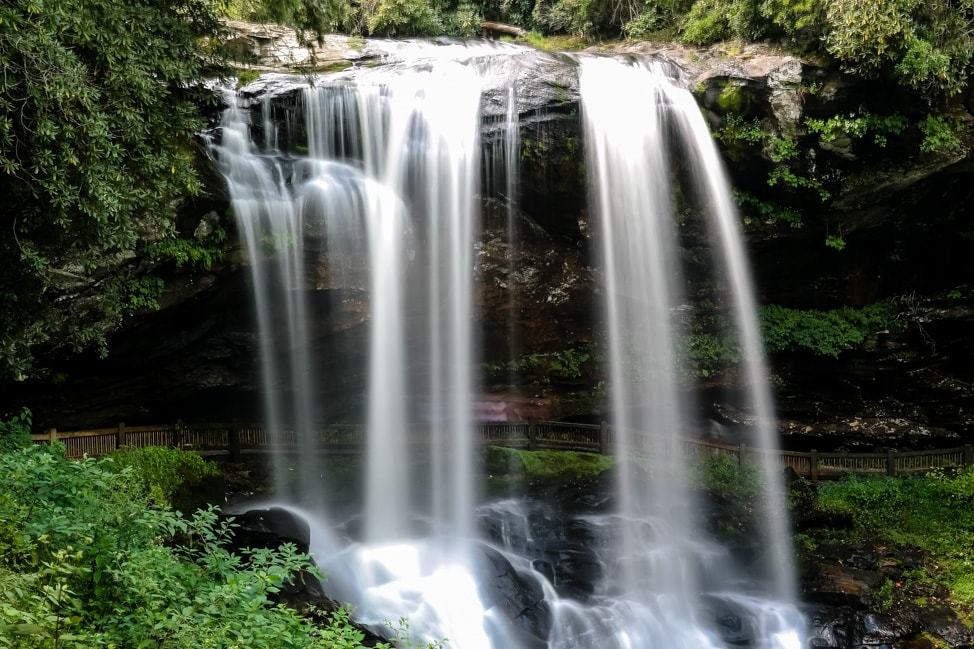 After so many events leading up to the big day, Saturday dawned peaceful. A group of us decided to get off the resort property, planning to check out a few waterfalls in the area. One, a mere trickle, was a hilarious disappointment, but down the road, a 'real' waterfall awaited. Our theory is that the national park service probably pull the charade on purpose, setting our expectations low with the first falls and over delivering on the second.
Or maybe we're just cynical.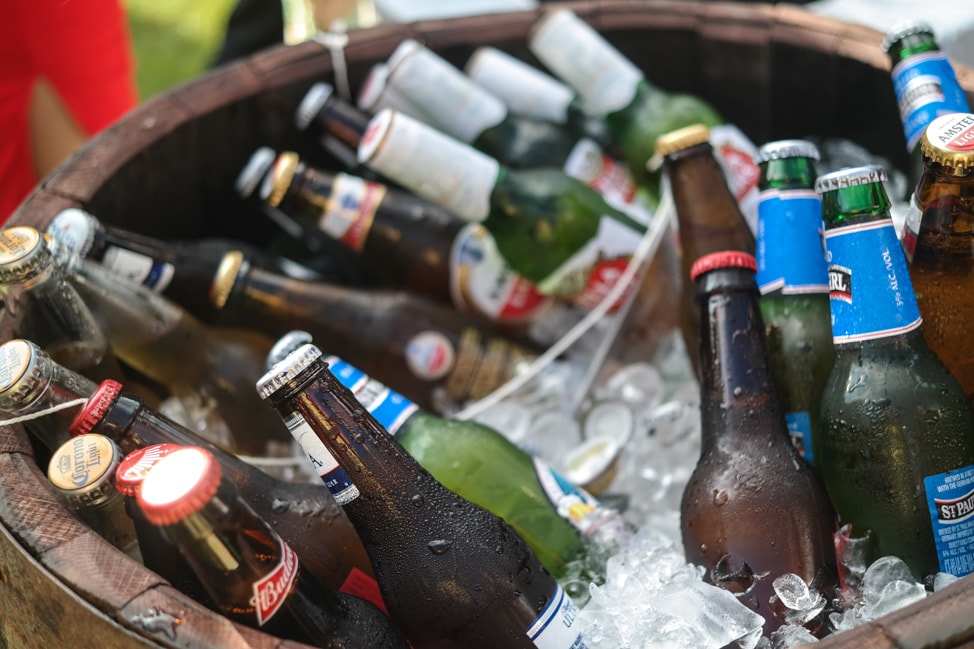 Saturday night was the big night, and over 250 guests attended Simpson and Carter's wedding ceremony and reception. A sudden downpour an hour before the outdoor ceremony had a few of us worried, but as the 5pm hour neared, the skies cleared, and all was well for the vows. The ceremony took place on an open lawn, overlooking the lake and the mountain cliff beyond.
The llamas, who just the evening before were hanging out in the very spot, found another place to relax during the festivities.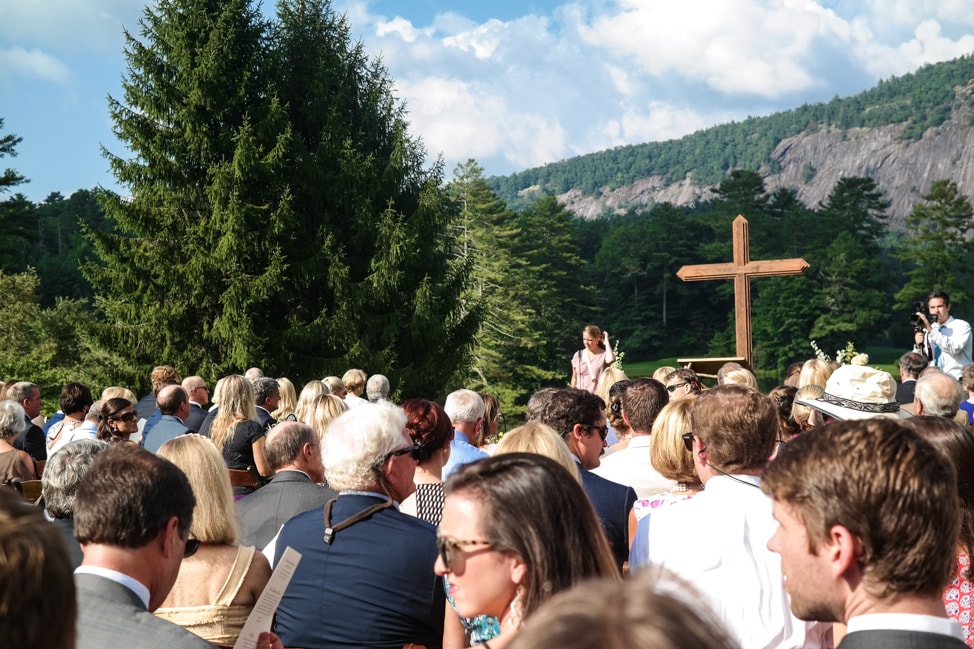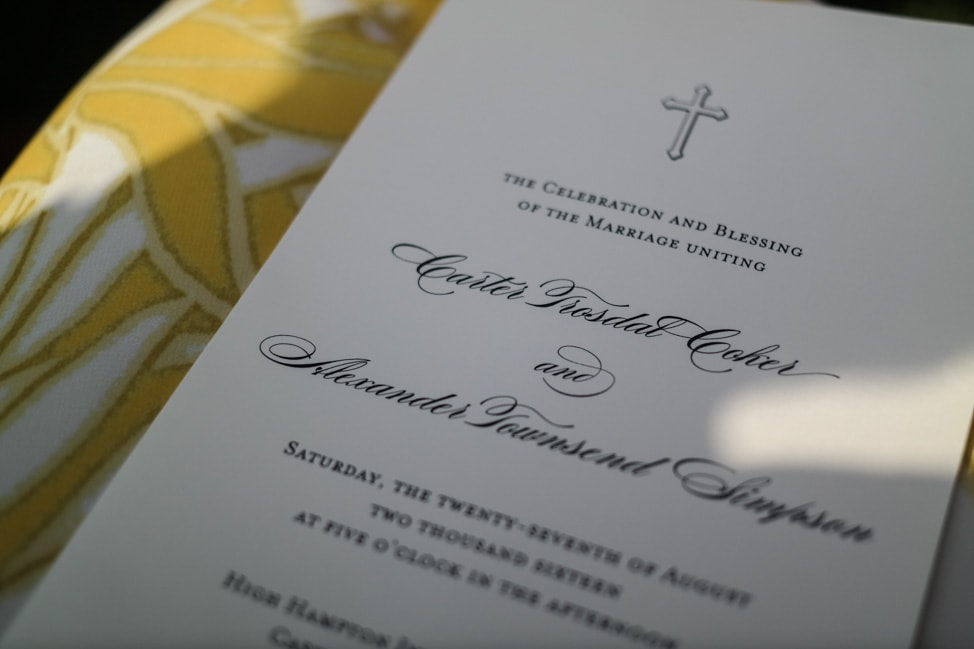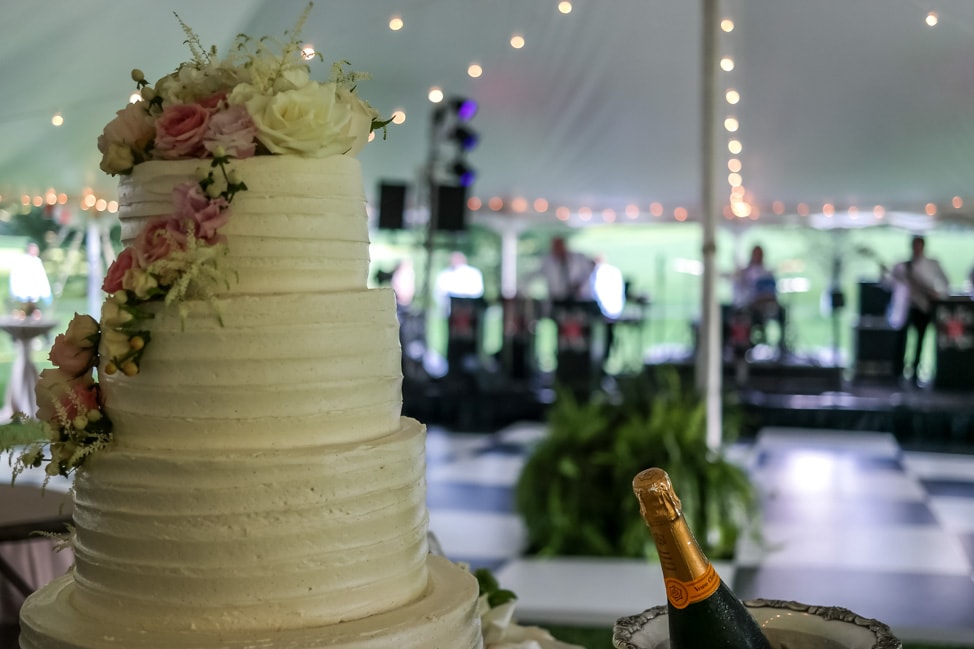 The reception night was spent reminiscing about our past, catching up with friends we hadn't seen in ages, and making cracks at Simpson without his knowledge. Shots were ordered (never a good idea), champagne bottles popped. We tore up the dance floor to all of our old hits until Simpson announced the party was officially over, but that the after party was about to begin.
Ignoring our better judgement, we decided to change clothes and sneak through the golf course to the site of the after party. Yes, the exact cliche scene from every camp movie, but in real life. And without any authority figures lurking in the bushes.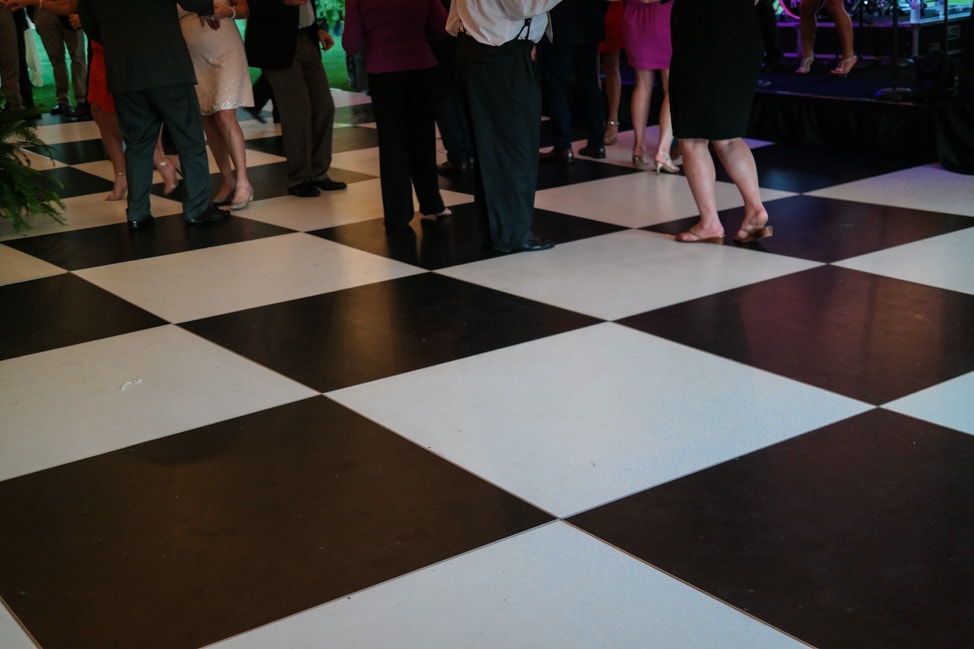 The next morning, groggy with lack of sleep and too many beverages, I struggled to piece together the details of the night. I vaguely remember involved drinking a bottle of wine on the golf course and possibly a late night naked jump into the lake on a dare.
After three late nights of partying like I was 22, the 35-year old me decided I had reached my limit.
Over breakfast, we did what we've always done on fuzzy Sunday mornings: piece together the night before, the shenanigans and the drama that unfolded. While I may not be 22 anymore, in that moment, it felt like no time has passed.
And I'm just fine with that.

For those visiting the Blue Ridge mountains of North Carolina, a few thoughts to consider:
High Hampton Inn is a family establishment, and we met numerous families who have not been coming to the High Hampton for years, but rather, generations. It is a simple place, no televisions in the room, no fancy shampoos in the bathroom, no air conditioning, and an actual key for your room, not a card. Have no fear, there is WiFi, and it works nearly everywhere.
The resort has tons of activities for both kids and adults. I showed off my skills stand-up paddle boarding around the lake, while Julie and some friends went on an intense, three hour hike up Rock Mountain.
Despite its camp-like atmosphere, the hotel still retains its Southern formality. The dress code is extensive, and has its own dedicated page on the website. Let's just say that as we are inclined to sweats and baseball caps, we packed carefully. It felt old school and old fashioned, but in the best possible way. My dad would have been proud that I left the hat in the room as I made my way to the early morning breakfast buffet in a collared shirt and closed-toed shoes.
There are other similar resorts in the area, but from my basic research, many of the properties have the same overall feeling as the High Hampton. This is the place to come when city life has taken its toll, or you just need to be reminded of being in camp as a kid. Or you want to see a llama.