We like a good drink. Who doesn't?
We certainly have done our fair share of "research" into drinking in London. And while we love gin and tonics and a good pint as much as the next person, we sometimes want something a little different, a little creative. That's when we hit the streets of London in search of a fun and funky cocktail bar to soothe our fancy cocktail cravings.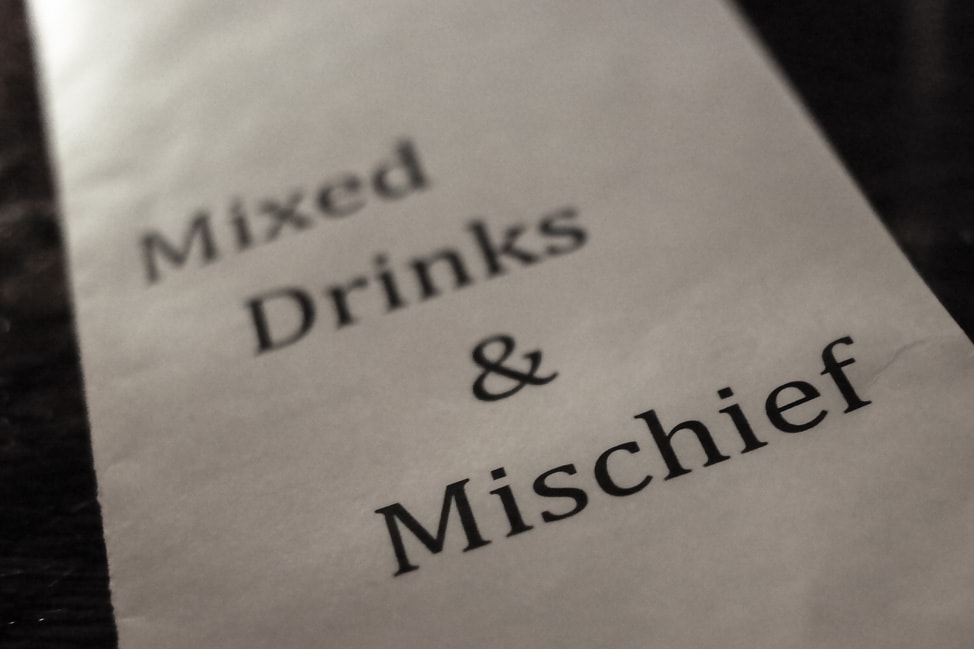 These crazy cocktail bars are places that have skilled mixologists crafting drinks with unusual ingredients like gunpowder tea tincture, Iranian date syrup, and burnt toast. Your drink may arrive in a copper pot still, or a Peruvian puzzle jug, or maybe even an oversized sea shell (not joking). You may even have to make a reservation, just to grab a drink.
But if you're up for the adventure, we've done our best to narrow down the best places in town for a fancy, witty drink.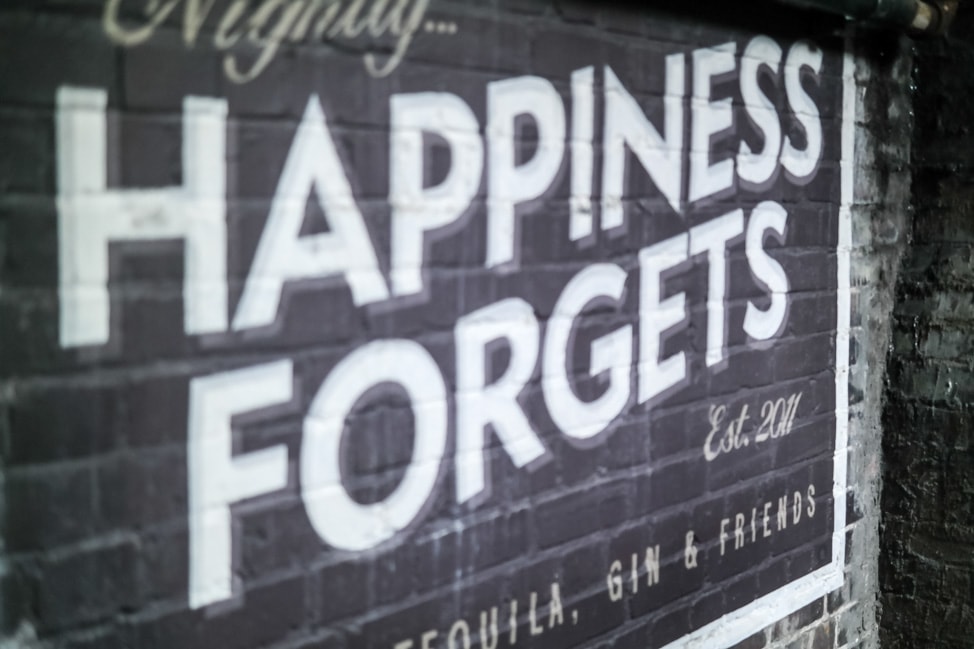 Happiness Forgets, Hoxton
Happiness Forgets (with a great tagline: "High End Cocktails Low Rent Basement") is situated in a cozy basement in Hoxton Square that is accessed by a set of stairs in front of the Petit Pois Bistro (same owners). That is helpful information, as there is no visible signage for Happiness Forgets from the sidewalk. We tend to go right when they open at 5pm to avoid any queues, but if you want to get a cocktail at 8pm on a Friday (or almost any night really), then a booking is essential.
Like many serious cocktail bars, Happiness Forgets does not allow standing. This means that even when it is full, the atmosphere is still pretty relaxed, and the dark space and comfortable booths encourage prolonged drinking. Cocktails range from around £10-12, and the menu changes frequently, featuring around twelve cocktails at a time. The staff is super friendly, so if you can't decide between the Gold Mine or the Tokyo Collins, just ask for a recommendation.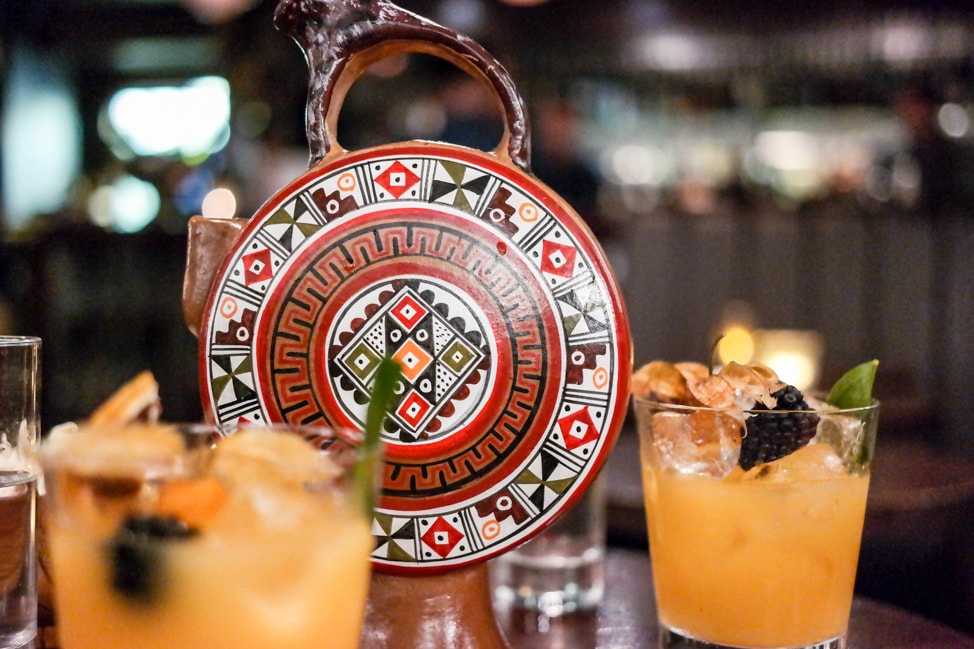 Nightjar, Hoxton
Nightjar is yet another sort of hidden bar along a rather busy stretch of City Road, between a blue collar cafe and a fried chicken shop. The only signage is a small silver placard on the door with a drawing of a nightjar bird. Very subtle. Unless you go early, booking is essential to gain access to the basement bar. The cocktail menu at Nightjar is impressive, containing dozens of crazy concoctions, like a barrel-aged Hong Kong cocktail and Beyond the Sea, which is served in (and sipped from) an actual seashell.
The sharing cocktail section is fun for any group, with eight options, serving anywhere from 2-6 people. We liked the Hug a Wildcat, containing cachaca, tequila, pisco, gooseberry jam, kumquat juice, and Tokaji sweet wine. That mixture, if you're curious, tastes kind of like a sweet and sour orange juice. It's also served from a wooden Peruvian puzzle jug.
Artesian, Marylebone
Artesian is located just off the main lobby of the posh Langham Hotel, so no secret signage or hard to find location here. The space is bright and airy, and feels a little more polished than most of the bars we frequent, with grand chandeliers and spacious tables. Don't let the hotel location deter you – from 2012-2016, Artesian has been listed #1 on the World's 50 Best Bars list. The large cocktail menu is divided into Artesian's Classics and Surrealism, a new section that focuses on avant-garde cocktail creation, served in crazy, imaginative vessels.
The only downside of Artesian is that it is one of the priciest cocktail bars we've been to with most drinks costing around £17. On the plus side, the staff are some of the friendliest in all of London (not common at bars in luxury hotels), and will happily describe any drink or provide recommendations based on your preferences.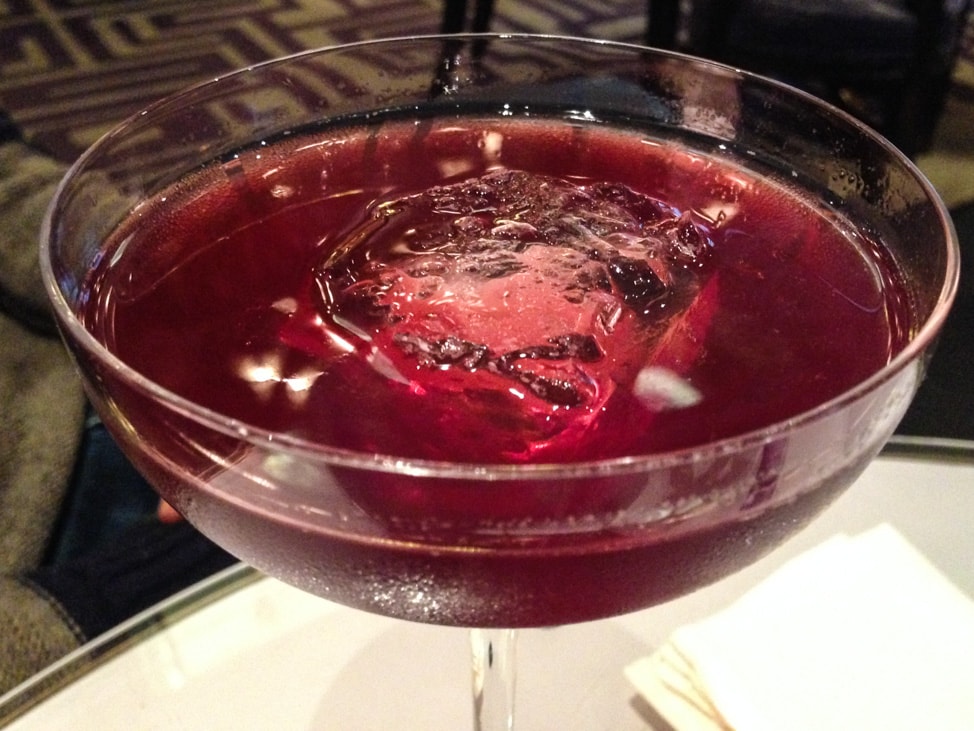 69 Colebrooke Row, Angel
This tiny cocktail bar near the Angel Tube Station is hard to find, but luckily, the name is also the address (is that cool, or just plain lazy? You decide). Behind the door, this rather cramped bar has been packed since it opened in 2009. Booking is definitely necessary.
The cocktail list is brief, containing twelve cocktails, all priced at £10.50. The Prairie Oyster (£7.50) is the exception, consisting of a tomato yolk, horseradish vodka, micro herbs, sherry, shallots and pepper sauce, though it is consumed in one gulp from an oyster shell. Very fun indeed. The one big caveat for this bar is that despite having seats for all customers, the tables are quite snug, so you'll definitely get to know your neighbors.
Ladies and Gents, Kentish Town
Ladies and Gents is one of our favorite cocktail establishments, because of its incredible location. The entrance is in the middle of an intersection in Kentish Town, in a converted, underground Victorian-era public restroom. How cool is that!? The cocktail list is small but fun, and most drinks are under £10, a deal by London standards. The Gentlemen's Old Fashioned is one of my favorites, garnished with a piece of Werther's Original candy. Around the holidays they also serve a hot buttered rum which is beyond words. Ladies and Gents, the best use of a public restroom we've ever seen.
Peg + Patriot, Bethnal Green
Located inside the Town Hall Hotel, Peg + Patriot is a perfect place to grab a drink before heading across the hall for dinner at the excellent restaurant, Typing Room. The menu is seasonal, and every few months the bar staff come up with drink ideas in six categories: Long, Sour, Strong, Savoury, Shot, and Non-Alcoholic. They taste them all, and then vote for their top 3 in each category, which then get placed on the menu. Very democratic.
The drinks here are all pretty funky, and involve tons of ingredients and garnishes. The Bangkok Penicillin, packed with aromatic Thai spices (it is not often that 'crustaceans' is listed as an allergen on a drink menu) is delicious and bizarre, tasting like a Thai curry in liquid form. The Redneck Caviar, a rye-based cocktail spiked with dry peanuts and smoke, is unusual but hard to put down.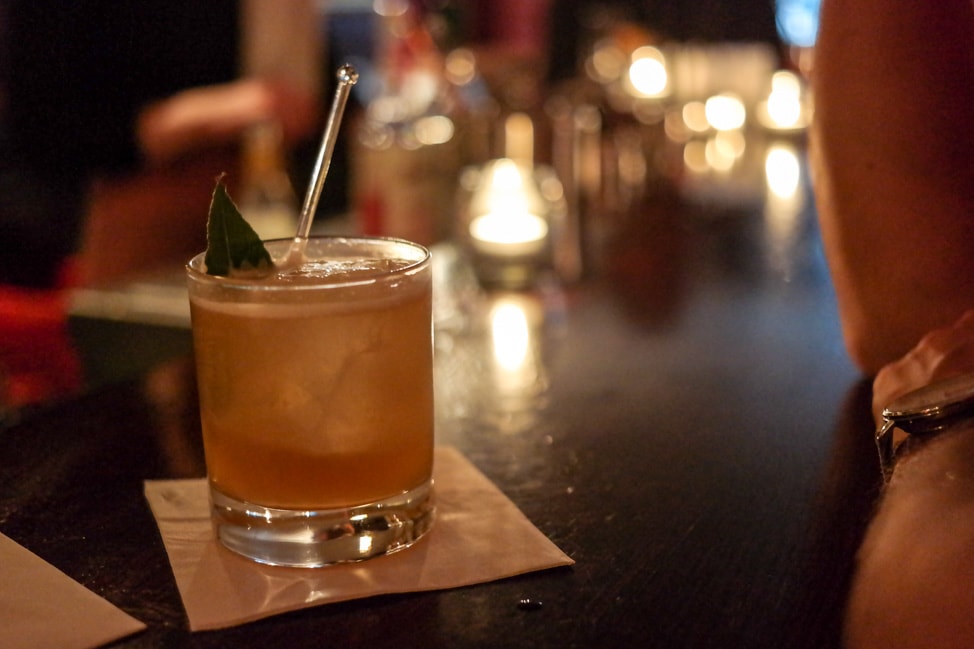 Zetter Townhouse, Clerkenwell
Set in a converted townhouse, the Zetter Townhouse Cocktail Lounge is like hanging out in someone's Victorian-era home. Each room is decorated a little differently, but all in period pieces, including heavy drapery, vintage leather sofas, and original hardwood floors. The cocktail list is compact, containing 12-14 drinks. They focus on the distilling history of the neighborhood, using vintage spirits, bitters, herbal remedies, infusions, and cordials. Drinks are enhanced with things like dandelion and burdock bitters, or plum shrub and tarragon tincture. I don't know what any of those things are, but I do know that they taste good!
What are some of your favorite cocktail bars in London? Leave your thoughts in the comments below!