Our group of twelve tourists and eager guide stand at one of London's busier East End crosswalks. The smell of freshly fried fish and chips wafts from nearby Poppies, the next destination on our eating marathon known as Eating London. We wonder aloud how we can possibly stand one more bite of food. Minutes later, newspaper-wrapped steaming fish lands in our hands. We glance around the group and take a tentative first bite. The light batter crunches, the vinegar-soaked chips give a biting cut to the oil and fat and we dive in with renewed enthusiasm.
We find a bit more room in our stomachs and the marathon continues.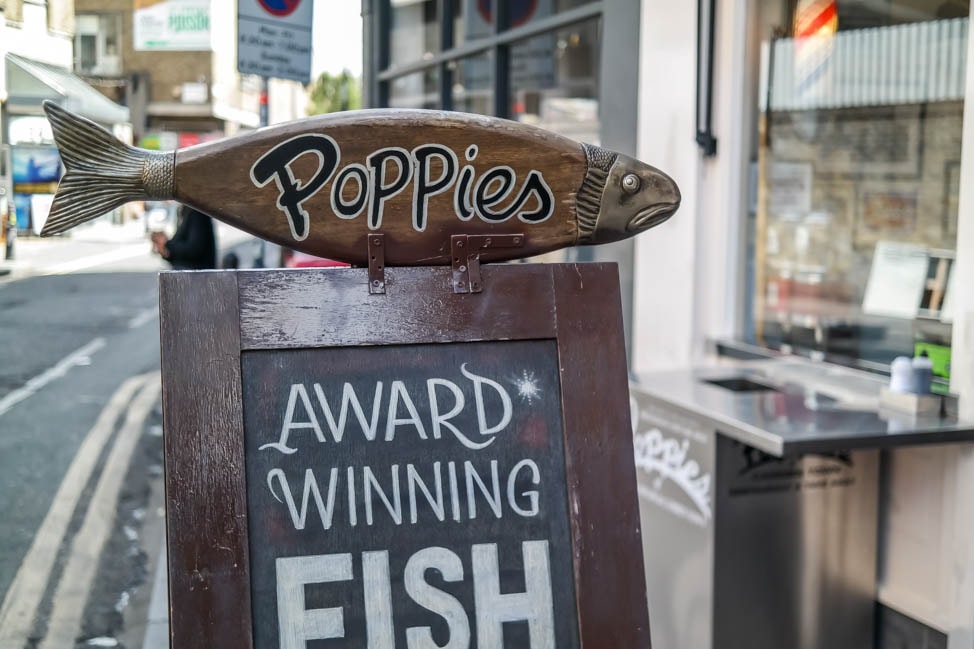 Eating London Tours offers an eating tour of the East End that I have had my eye on for years. I try to experience London as a tourist whenever possible, and pairing a walk in one of my favourite neighbourhoods with a sampling of some of the best dishes around, is pretty much my idea of heaven. Also, despite our claims to be well-informed food aficionados, I realize that I have yet to try several of East London's most famous dishes. This is mostly due to my repellent reaction to a long queue, a crowded counter and a throng of eager eaters. But enough is enough.
It's time to really eat London.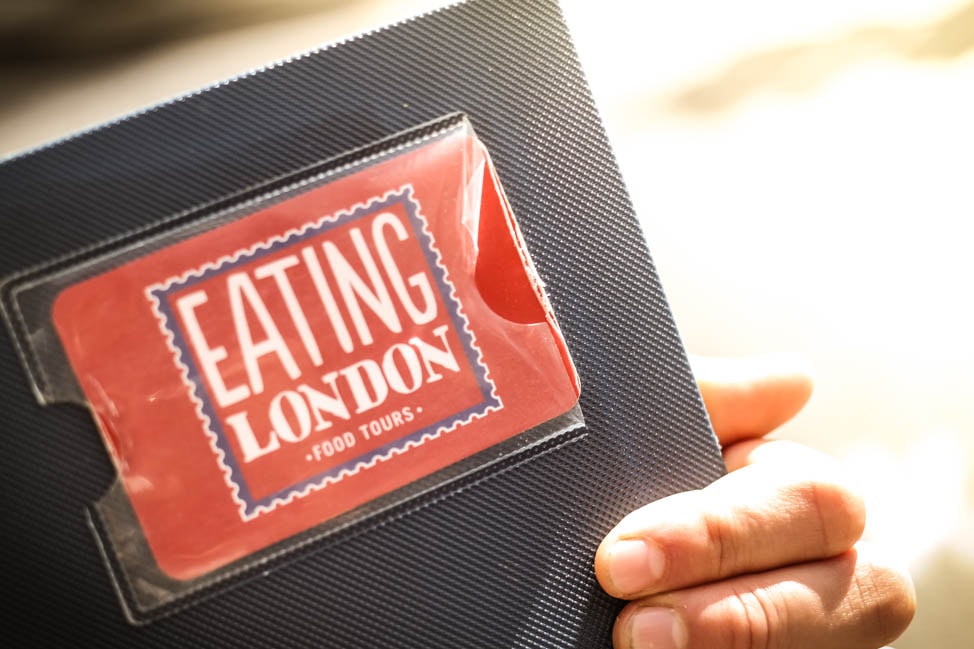 East London is one of the city's most diverse areas, with little pockets of nations layered upon centuries of history. Situated outside the original London wall, the East End was the place where the downtrodden came to build a new life. While today many streets are dotted with artisan coffee shops and high-end boutiques, the history remains.
The best way to sample said history is, as always, through the food.
We start our day at St. John's Bread & Wine, known best for its bacon sandwich. Simple wood tables fill the space, a serious bread display in one corner, an open concept kitchen in the other. This particular bacon sandwich uses in-house bread, thick hammy bacon from a rare breed pig (Old Spot), and homemade ketchup. It's salty, charred and seriously delicious.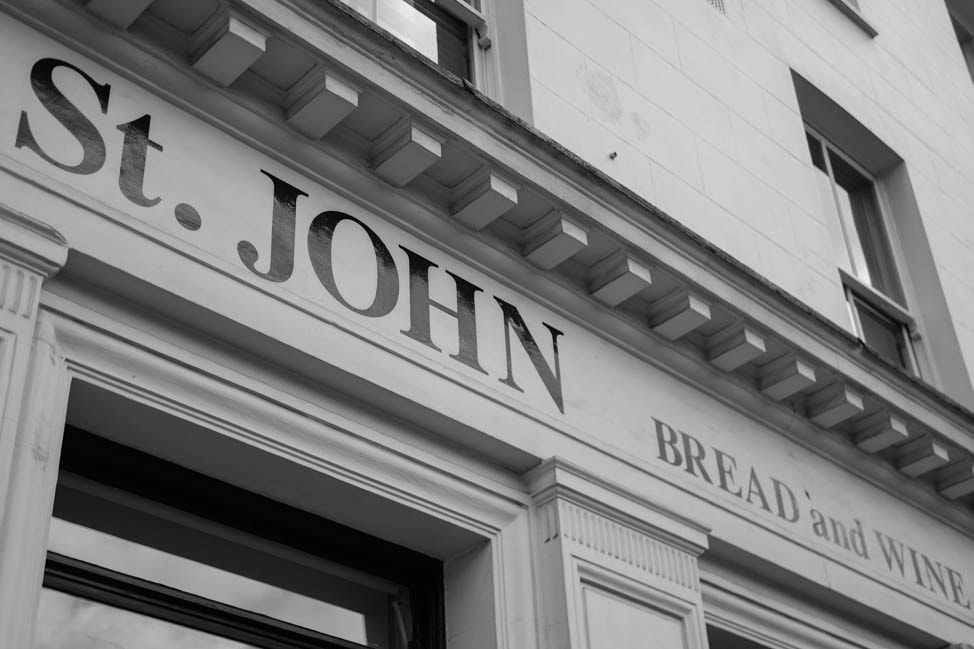 Our taste buds awakened, we move on to The English Restaurant, a typical looking corner pub with heavy, wooden tables, an ancient wood slat floor and fully stocked bar. Londoners read the paper and drink coffee while our group gathers for one of the great British desserts – bread & butter pudding. An eggy, bready, custardy bomb soaked in a pool of vanilla sauce, this is seriously decadent food. It reminds me of some indulgent American breakfasts, so the fact that we're getting the sugar hit early in the day makes sense to my sweet tastes.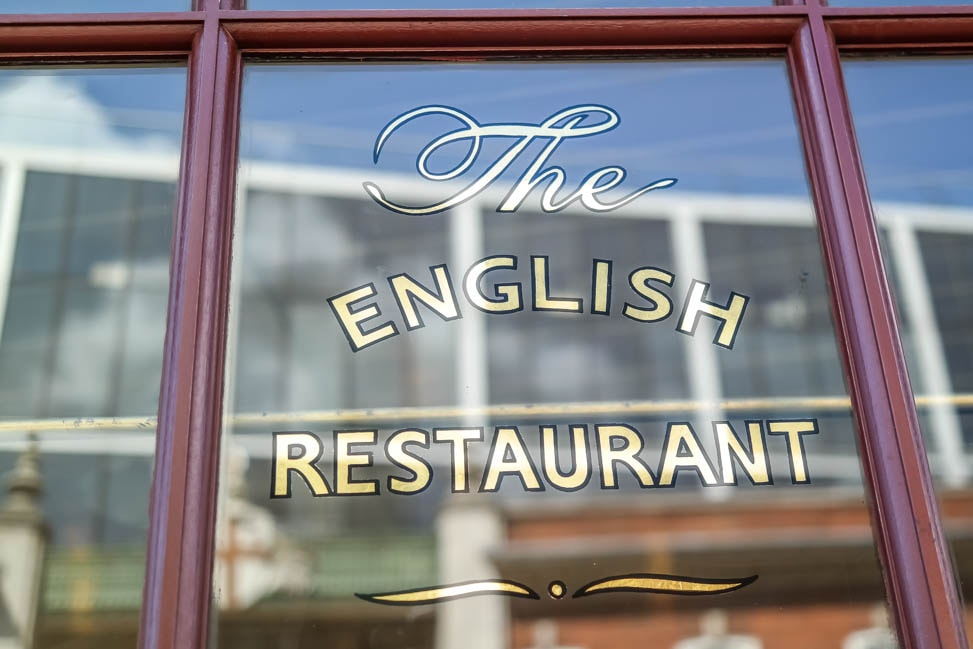 Androuet Cheese Shop is a relatively new addition to the Spitalfields Market area, a success story of a Parisian cheese maker who started a cheese stall in London and has now moved to permanent digs. We sample real Cheddar, the kind that can only come from the town of Cheddar in Somerset. We also try British Stilton, an aromatic blue cheese. I find it mild and creamy, though the five year old on our tour still thinks it tastes like stinky cheese. With only two small tastes of cheese, this stop on the tour is definitely a break for our stomachs, but we've only just begun.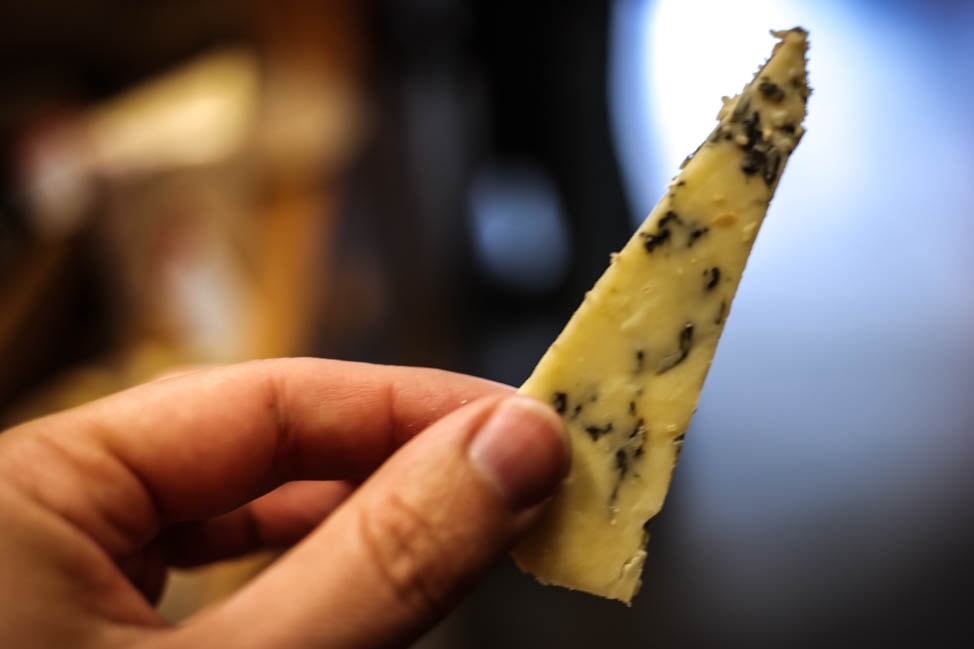 First lunch is at Poppies, the famous chippy that has been around town for over 50 years. We eat those fabulous fish & chips outside, relaxing on benches and in the bright noon sun. When fish & chips were originally invented in this area, they were wrapped in newspaper cones, to help absorb grease and reuse abundant paper. Now, it's illegal to wrap food in actual newspaper so Poppies gets theirs specially printed with edible ink.
The kids on our tour also learn the important distinction between chips and French fries and crisps – knowledge I'm certain will prove invaluable over the course of a lifetime.
After our nearly full-size sample of fish & chips, we take a short eating break at The Pride of Spitalfields, a classic pub tucked away off of Brick Lane. Its famous cat, Lenny, lounges in the corner while our group tastes an ale and a cider, both staples of the British diet. The kids get to try a typical soft drink, lemonade mixed with orange juice, called St. Clemens. We sink into the red velvet-covered couches while I wonder how this much upholstery costs to clean after a long night of drunk customers destroy the place.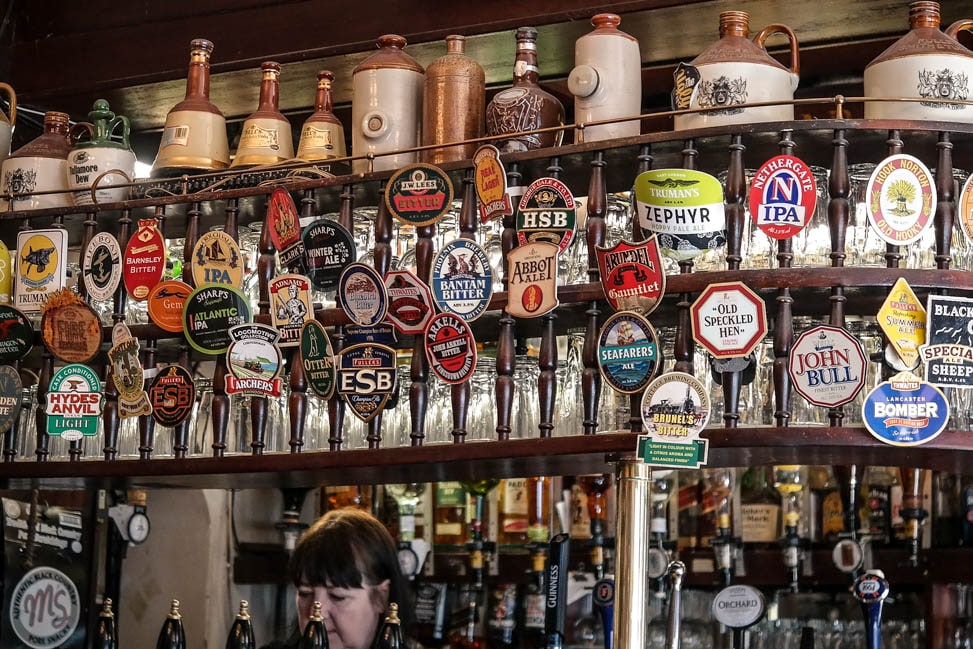 Our second lunch is hosted down Brick Lane by one of London's many curry houses, Aladin's. There we are served a full spread three different curries that are popular among Brits and plates of naan bread to soak it all up. The portions are generous and the dishes are so flavourful that I can't help myself by taking spoonful after spoonful of curry.
I'm not exaggerating when I say that I literally waddle out of Aladin's hoping no one notices.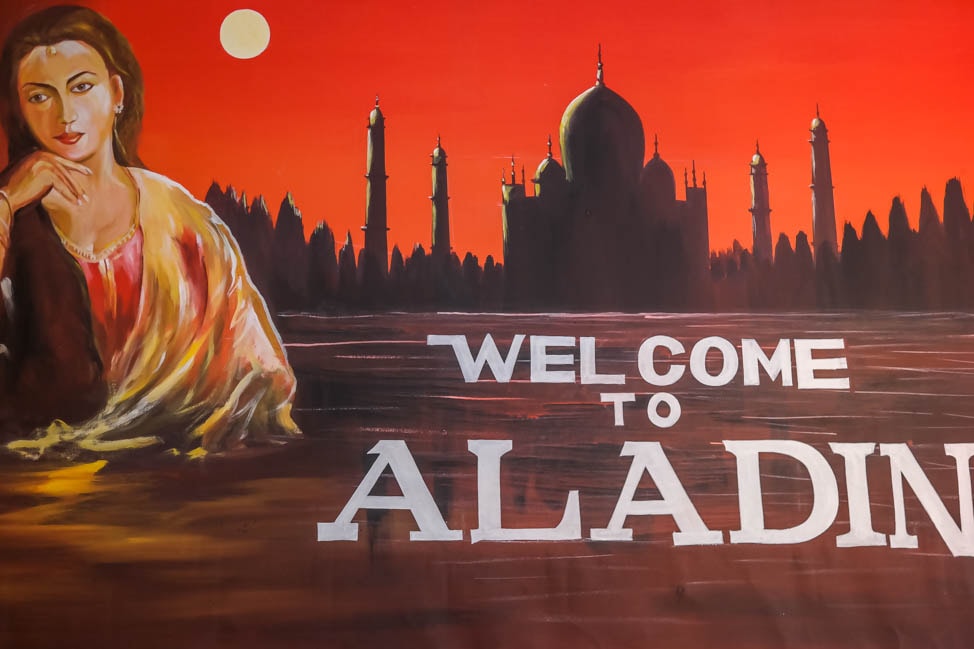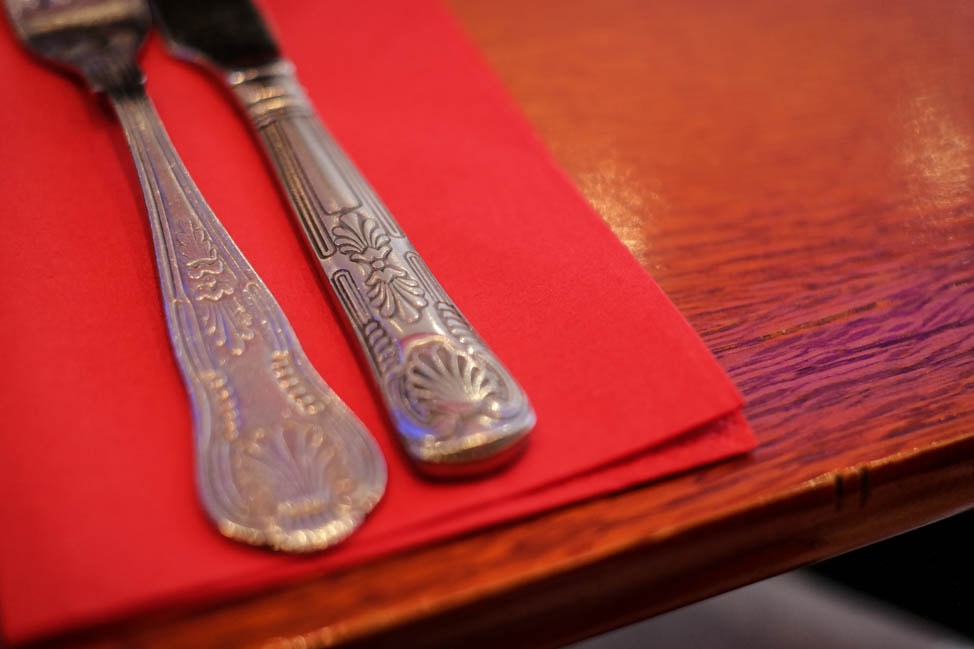 Eating London Tours has done this tour enough times that they are quite adept at recognizing the signs of food fatigue. Just when you think you can't possibly eat another bite, the tour guide whisks the group off on a walk down a side street, a look at some street art or historic houses. And just when you feel your stomach settling, wondering what the next bite will be, the group descends on a new restaurant, perfectly timed. It's impressive and Eating London clearly has years of experience managing a variety of appetites and tastes.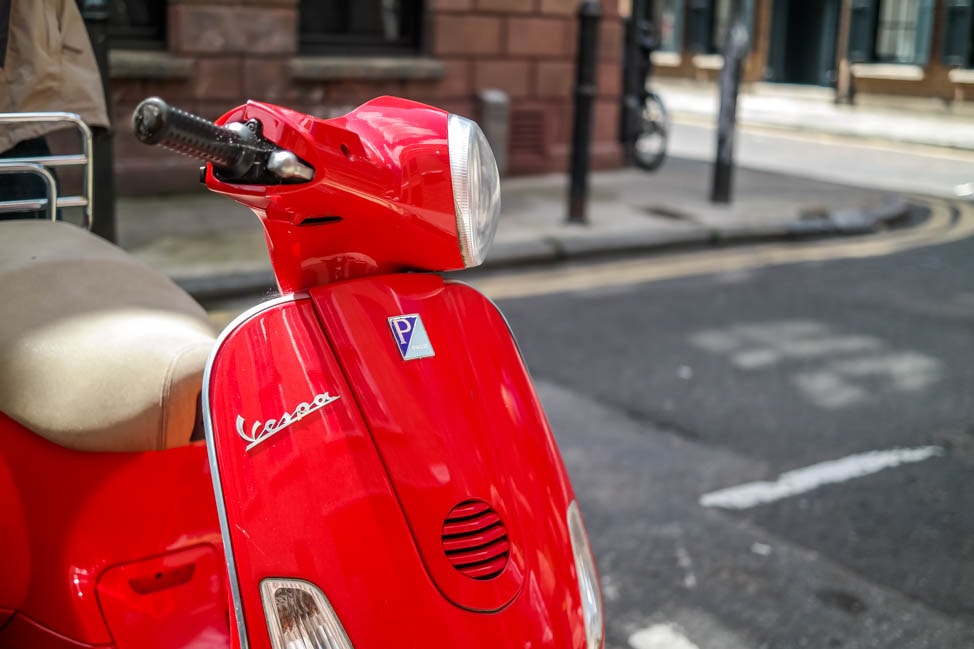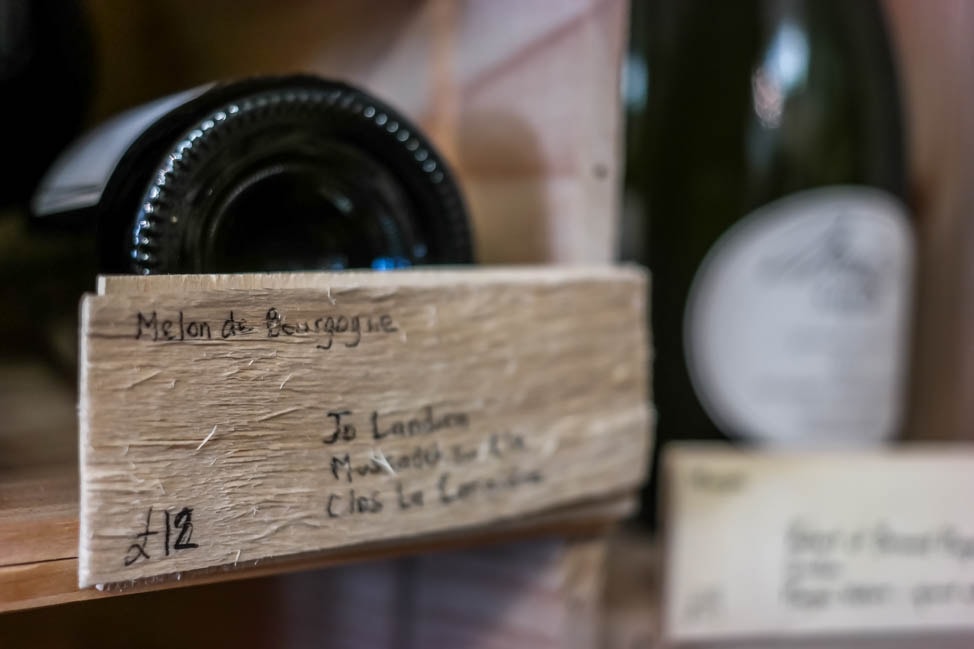 After the filling of curry, we meander down Brick Lane, stopping to take a look at The Old Truman Brewery, 11 acres of buildings and open spaces that is home to great street art, creative agencies and lots of fabulous people watching.Our final stop for a savoury bite is at Beigel Bake, a London bagel institution. Its salt beef bagel is the stuff of legend but I've never had the patience to wait for it. Now, as part of a group tour, the food is brought out to us promptly and we're quickly digging into the luscious combination of salty beef (like corned beef for the American readers), spicy English mustard, crisp dill pickle and a pleasantly soft bagel. The rest of the crowd queueing down the block wonders how we got our food so quickly and I'm smug in the fact that I've once again avoided the dreaded queuing.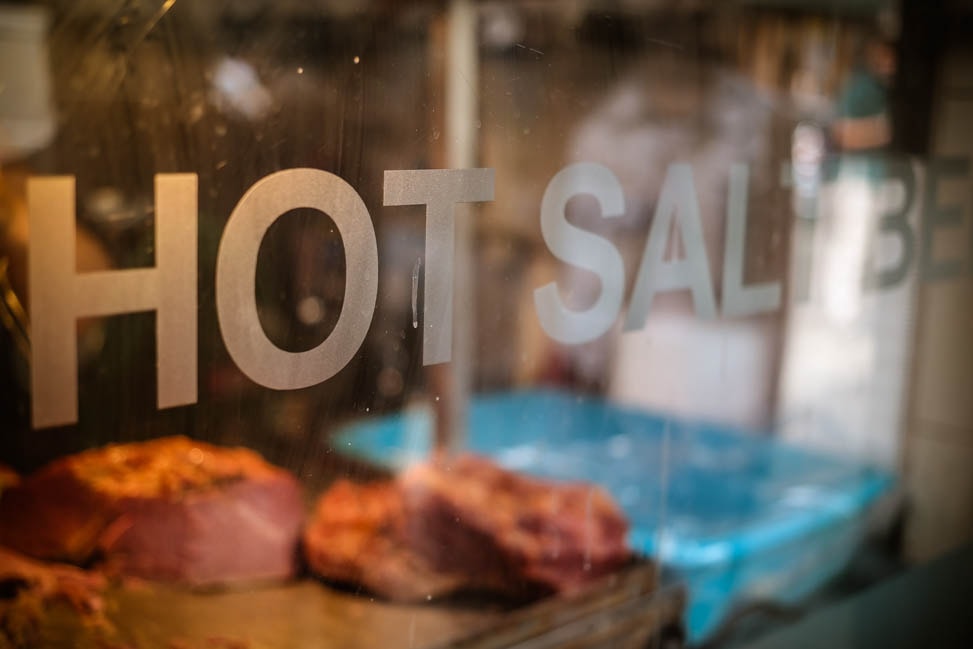 The four hours of eating and walking finally wrap up at Pizza East, in Shoreditch. This restaurant is such an institution that people give directions in relation to it – down the street from Pizza East, around the corner from Pizza East. I've been there before for their namesake pizza, but that's not why we're here. After having our fill of carbs, we are happy to settle into a long table for a cup of tea and a small sliver of rich salted caramel and chocolate tart. Ok, it's not the lightest way to end things but at this point, who's counting?
The group discusses the favourite foods from the tour (the bacon sandwich and salt beef bagel win by a hair), and Hannah, our tour guide answers last minute questions and says her goodbyes. After wishing the other visitors a nice time in London, I slowly make my way home, trying to hide the waddle in my walk, but not quite succeeding.
Have you ever been on a food tour? How did you like it? Did you ever eat again?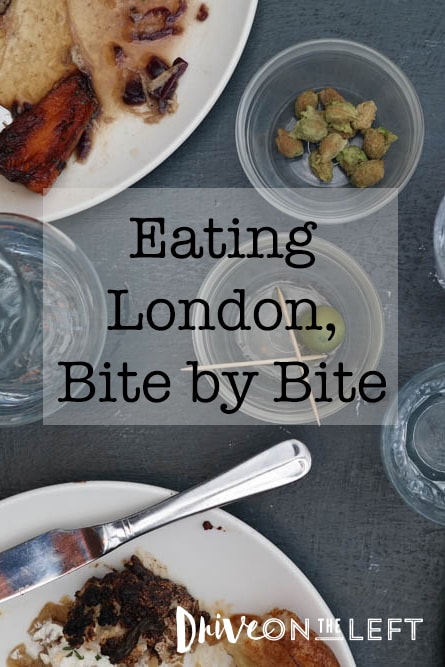 Thanks to Viator and Eating London Tours for making this tour possible. No worries, you get our honest opinions no matter who picks up the bill, even when my pants don't fit anymore.