As it is the favourite topic for us to wax about poetically on this here corner of the Internet, we thought it would be nice to wrap up the 2014 restaurant season with a few superlatives. Many of these mentions are from London, but we did our best to throw in a few from away.  Here's our mid-year list of favourites – we are trying not to double up too much!
Best Street Food: Banh Mi 11, Broadway Market, London
After scouring London's various markets, there is one stand we go back to every single time. In fact, if we get a craving for Vietnamese (potentially our favourite cuisine of all time), we will make our way across town just to sample one of the lovely sandwiches or bowls of pho from Banh Mi 11.  Words like spectacular, amazing, and 'melt in your mouth' just don't do this banh mi sandwich justice. It's heaven. Spicy, squishy, freshly cooked and built to order, we venture to bet that since Drew's conversion to the gluten free world, this sandwich could be the thing he misses most.  Fortunately the pho is gluten free and just about perfect.  Trust us – when you see a queue like this at a market, you best just get in line. There's gotta be something great at the end.
Best Pub Lunch: The Wilmington, Clerkenwell, London
Here's how The Wilmington ticks the boxes for Sunday roasts. Location – we adore Clerkenwell, it's near the lovely Exmouth Market, and we can walk there in a leisurely 25 minutes.  Drinks – Bloody Marys are potent and large, beers are plentiful, wine selection is wide and varied. Setting – nice proper dining room which has the cleanliness and organization of a restaurant but the warmth and cosiness of an old pub. The glass atrium ceiling doesn't hurt to remind you that it's still daylight outside. Food – Come hungry, leave happy. The 25 minute walk home never looked so good after fluffy Yorkshire pudding, varying root vegetables, and a selection of veg, chicken, pork belly or 28-day aged sirloin. Oh, and the whole lot is £16 or less.  And there are plenty of other options if you just doing feel like a roast for some strange reason.  It won't be long until Time Out finds out that this is a hidden gem among all Sunday roasts and we can no longer get in. Until then, you'll find us here on Sundays.
Biggest Disappointment: Hedone, Chiswick, London
Hedone is one of London's newly anointed 1-Michelin star restaurants. It's fancy, expensive, and perfect for a blow-out dinner, a special occasion, or a dinner with friends who also appreciate this sort of thing. But here's the thing. The long testing menu (there are two from which to choose, one called Tasting Menu and the other, Carte Blanche) takes nearly five hours to get through. Even for the most seasoned eaters, this is no joke. And the portions are too large for the number of courses. They're the perfect size for a 5-course menu, just under 'normal' size starters and mains. But after eight or nine courses of sizable dishes, it's just plain uncomfortable. Finally, thanks to a food sensitivity that Julie has developed to either undercooked eggs or huge ass meals (we're still trying to figure it out), this is the one restaurant all year where her body rebelled and the better part of her £95 meal went down the drain. We ended up leaving early as she feared getting sick again. We definitely don't blame Hedone for that fun part of the story, but if the meal had lasted a normal length of time, we would have been safely home by the time her stomach cried 'Uncle.' All in all, just not one of the best evenings we've ever spent out, and in a fun twist, also one of the most expensive of the year.
Top Places to Recommend to Friends in London: Foxlow, Lima Floral, and Lyle's
We wanted to mention these three restaurants because we keep talking about them to anyone that will listen. None in the list was such a standout as to be our top pick for the year, but all were totally solid, and we would gladly go back to any of them. Foxlow has had a lot of press this year but we were particularly impressed with their fried chicken, which was literally the best we've ever had (and which can definitely be split between two people, just £14 per order).
Lima Floral in Covent Garden was Julie's pick for her birthday dinner, and we ordered every single version of ceviche on the menu. Split among four people, this was a light and fun dinner out. Plus their cocktail list was perfect for a birthday, with something for everyone.
Finally, Lyle's is a small, fixed menu joint in Shoreditch, but we were really pleased with the simplicity of the menu, the emphasis on vegetables, and the perfect portion sizes which left us feeling satisfied and yet, not waddling home.  It is also a decent value for money in this expensive city and a trendy neighbourhood (5 courses for £39).
Best Fancy Restaurant Not in the UK: Vincent's, Riga, Latvia
Riga is not known as being a culinary hotspot, but we had a fantastic meal at the high end Vincent's.  The food was whimsical but not without substance, the service was great and they even baked Drew some gluten-free bread, which was much appreciated.  We wrote about Vincent's already (see post here), so we won't go into too much detail, but the quality of the meal was a pleasant surprise.  It was a great dinner for anywhere in Europe, not just a great meal in Riga.  We had solid meals in other cities (Chef and Sommelier in Helsinki especially), but the quality and creativity of the food but Vincent's over the top for our selection.
Best Cheap Eats: L'As du Fallafel, Paris, France (no website)
We both love falafel, and this is the best spot to dig into a truly exceptional sandwich.  Located in the quaint La Marais neighborhood, L'As du Fallfel battles with the rival directly across the narrow street.  Having eaten at both, we can tell you that L'As du Fallafel is the best.  There is usually a queue, so the fallafels are fresh and hot, the toppings are top notch and the chili sauce is no joke, all delivered in a handy, portal pita vessel for under €6.  We ate there for the first time back in 2007 with Julie's whole family, as it is her dad's favourite falafel, and we can assure you it is still just as delicious today.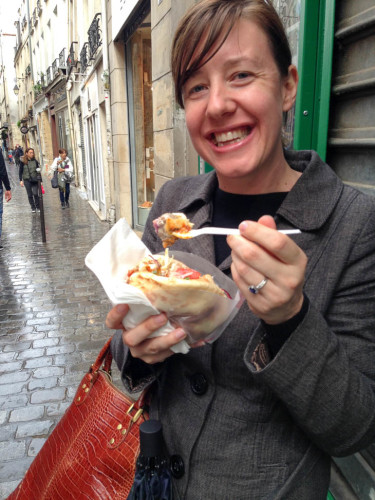 Meal of the Year: Kitchen Table at Bubbledog, London
This was an easy choice for us.  The 12-course, counter seating set up at Kitchen Table is intimate yet fun.  Located at the back of the perpetually packed Bubbledog (Champagne and hot dogs, go figure), the 19 seats situated around the active kitchen are in high demand, especially since that they now possess a Michelin star, an award they received a few months after we dined there.  The skill and focus of the staff is clear and while they are busy putting out a lot of intricate plates each night, the chefs appear calm and controlled, a necessity when the kitchen and the dining room are the same space.  You can see some of the highlights here, but the chicken course of crisp chicken skin topped with mascarpone and bacon jam might have been the bite of the year.  It was also cheaper than Hedone (though cheaper is a relative term in this case) and Julie did not get sick in their bathroom, so win-win there too.