When we spent 6 weeks in Southeast Asia back in 2011 we had a fun game we played when leaving each country. In addition to the daily 'high-low' game which I'm sure is familiar to many, we did an expanded 'high-low' of each country. For our recent vacation in Central Europe, we thought we'd give it the same royal treatment. Without further ado:
1. Arriving in Prague
Aren't the first moments of arriving in a new place the best? We came out of the subway, walked an easy 5 minutes to our hotel, dropped our bags and quickly left to make our late dinner reservation at a local pub, itself called Lokal. We patted ourselves on the back for the foresight to have made the reservation (it was packed!) and we got our first proper Czech meal of lard, dumplings and beer. The week stretched ahead of us and we were excited to get started.
2. Loisium Spa
We spent a brief 24 hours outside of Vienna at the Loisium Wine Spa. It's nestled in the middle of Austrian wine country and is a great escape from civilisation. In particular, we enjoyed a couple hours in the spa area, swimming in the heated outdoor pool, trying out the four different saunas (all different types and heat/humidity levels) and relaxing in the huge indoor lounge, eating snacks and drinking tea.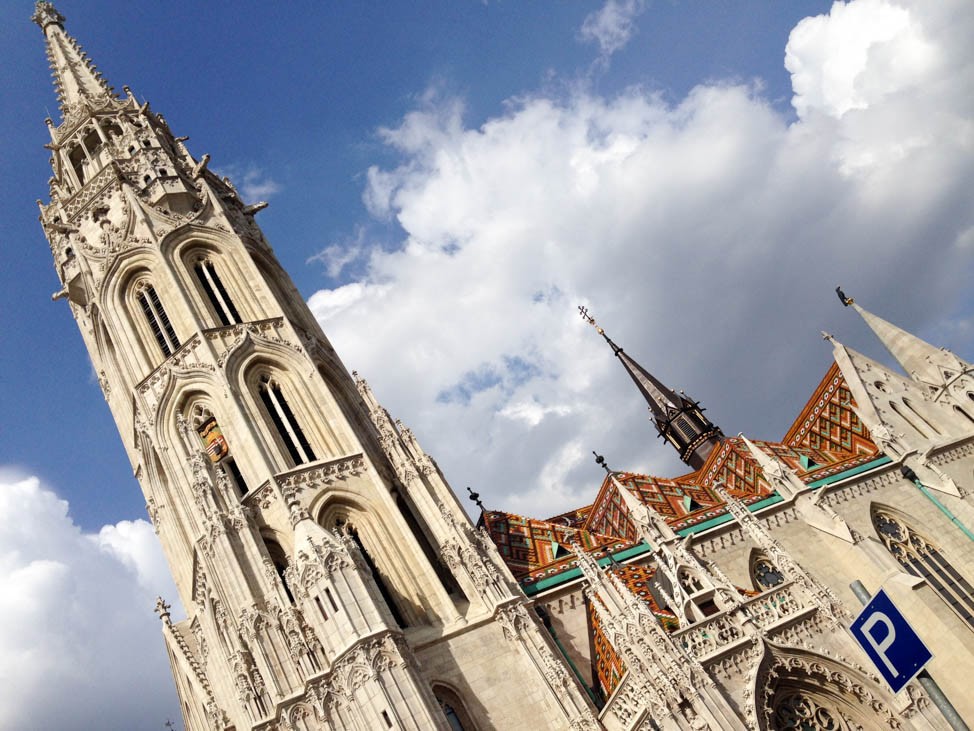 3. Guns in Budapest
If you can believe it, the real splurge of this vacation was a visit to a local gun range where, under close supervision, you can shoot crazy guns at targets. Due to lots of sensible laws, this type of gun range is not allowed in the US or the UK, but in Central Europe, it seems to be fair game. Drew particularly enjoyed the M4 (huge semi-automatic rifle with a laser sight thing) and the PPK (apparently this is James Bond's gun but that means nothing to me).
I liked the handguns the best because the rifles had huge and painful kickback which left a bruise.4. Walking Tours – We've recently been on a kick of starting a visit in a new place with one of the well-advertised free walking tours. Of course, you're still expected to tip your guide but the tour provides some orientation and historical context, always appreciated. On this trip we particularly liked the tour in Prague (the outfitter is called Sandeman's and this company does similar tours in many cities in Europe). Tours are only as good as the guide, and ours was great. Even though we were in cold drizzle the whole time, it was totally worth it.
5. Budapest Baths
Hungary has a rather painful history of being conquered over and over again. They have had their independence really only since the fall of Communism. One of the upsides (?) to all of this invasion is the historical relics left by the conquerors. The Romans and Turks, both huge fans of public bathing, took advantage of the geothermal hot springs in the area and created elaborate palace-like bathhouses. We visited the most famous of the bunch, the Szechenyi Baths.
In addition to a grand a sweeping design, the complex has about 20 pools of varying sizes and temperatures. There are also saunas and steam rooms sprinkled around. Technically there is an official way to go through the baths, a combination of hot and cold, sauna then shower, spending 10 minutes or so at each step. We just went from pool to pool, without real purpose or knowledge of the 'right' way to do it. Two hours flies by and many people like to stay for the afternoon. Our wrinkly fingers told us when it was time to go.
And now, a couple of not so awesome parts of our trip:
1. Rain
The first two days were full of cold and annoying rain. We plowed through Prague anyway, but after hours of braving the weather, my fingers would be nearly numb and my shoulders would hurt from being clinched around my ears. We also didn't get to laze around in the Old Town Square, which I would have liked to do!
2. Minor Gun Drama
Right before leaving for the gun range, we decided to check the website to confirm we didn't need to bring our passports (for proof of age or that we weren't terrorists or something). While on the site we noticed something about how we should bring a copy of a confirmation email – which we didn't receive. Given the popularity of this activity we had reserved our spot a month in advance and paid a deposit. A few frantic calls and emails went out. Within an hour we had received our confirmation but it was a stressful few minutes as Drew warned me that his vacation would essentially be ruined if this hadn't worked out.
We had such a fun time on our swing around Europe, and we finally did our original honeymoon trip, seven years later (when we went to book this vacation in 2007 we got sucked into going to Barcelona instead because of a super cheap flight). We can't wait to do another one soon.