I am not what I call a "spa guy." I enjoy a nice massage every once in a while, but have never really experienced a spa retreat nor have I ever sought out such a thing. Looking for something different in the Austrian wine country, I stumbled upon the
Loisium Wine and Spa Resort
in Langenlois, Austria. It looked like an ultra modern resort in the heart of the wine region of Kamptal Valley, about 60km west of Vienna. Double win for me.
We booked one night to break up our Prague to Budapest trek and splurged on a four course wine dinner package. Hey, it was our seventh wedding anniversary. We needed to celebrate in style.Getting to the resort was a little tricky from Vienna. Opting out of the expensive taxi pickup at Vienna Meidling train station, we decided to venture out to Langenlois ourselves.
We arrived in Vienna late morning via a five hour train ride from Prague. From there, we had to take the U6 (Vienna metro) to Vienna Spittelau station to catch our train out to wine country. We took a commuter train an hour out to Hadersdorf/Kamp, then transferred yet again (fourth time if you are counting at home) to the smallest train I have ever seen out to Langenlois, which gladly only took eight minutes. The train was literally one carriage long. It was adorable.
Stepping off the itty bitty train in the quaint village of Langenlois (you step directly off the train onto the track – no platform to be seen), we walked the last mile to the resort, making the total travel time from Prague to the Loisium an astounding eight hours door to door. We came around the last corner in the village and saw the hotel for the first time. Set amongst this old, small town was this ultra modern facility built in the middle of a vineyard. The juxtaposition was a bit jarring and did not really make sense, but I loved it.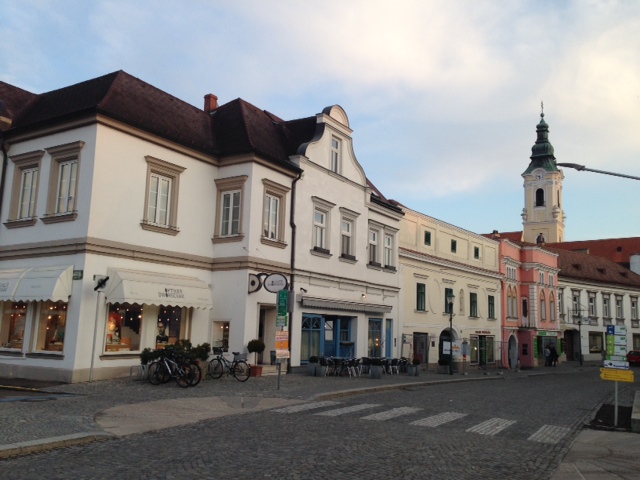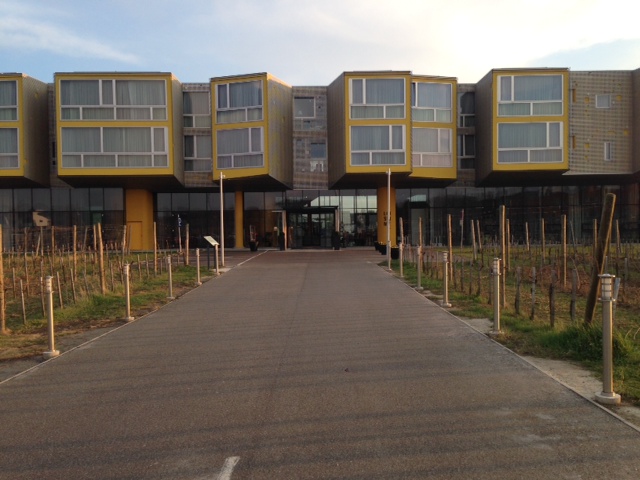 The hotel was very quiet, as it was still the slow season. There were no more than a dozen other couples staying that night in the 84 room resort.  We also appeared to be the only English speaking guests.  A lot of signs in the hotel were in German only, including the spa menu, but the staff spoke very good English.  
These days you only truly know you are off the normal tourist path when the presence of English is very limited.  It was nice. We dropped off our bags, changed into our bathing suits and provided spa robes and sandals, and dove head first into spa culture. The Loisium boasts a 3000sq ft Aveda Spa over three levels. We bypassed any additional spa treatments, as they were fully booked for the next two days, but they do offer a full range of massages, scrubs and facials, as well as some wine-themed treatments.
I planned on doing my own version of a wine treatment later by getting drunk and spilling wine all over myself. I figured that was comparable.The bottom level of the Aveda Spa is the sauna area, with a steam room, two different saunas at different temperatures and humidities, an infrared sauna room and showers. We spent some time in the steam room and all three saunas, taking a cold or lukewarm shower in between. Nothing makes you feel more alive than getting out of a 150 degree sauna and then taking a cold shower. I am not sure if that added years to my life or took a few away, but I felt very alive at that moment. Everyone else knew I was alive too because I'm pretty sure my heart palpitations were clearly visible.
Being unaccustomed to a spa, we both wore bathing suits in the sauna area. There is something clearly ingrained in Americans, or at least most Americans, that being naked amongst strangers is wrong. However, in these parts, that cultural norm has not been fully embraced, and everyone else was happily nude. The other visitors bounced, literally and figuratively, from sauna to sauna.
Eventually we just kept our heads down, tried not to stare and continued sweating in the extreme heat of the saunas.  We relaxed in the spa lounge area after our sauna adventure for a while, draped in our provided robes and fluffy sandals (in the other areas of the spa, robes were the norm…). The Loisium spa also has a free snack area, with juice, water, tea, coffee and healthy snacks like almonds and dried fruit. They also offered three types of fruit strudel, so any calories you may have burned in the spa were quickly replaced. Adjoining the lounge is the door to the amazing outdoor heated pool.
Despite the slightly chilly weather, we floated by ourselves in nearly 90F water while we enjoyed the view of the vineyards no more than twenty feet from the pools' edge. We both practised doing handstands in the water, since we are mature adults.
We hit the dining room around 8:00 for our four course wine dinner. The onsite restaurant offered two meal options, one vegetarian, called "Lifestyle", which I found amusing, and a more standard meat and fish laden menu. We opted for one of each so we could sample most of the available dishes.
The meal itself was quite good and well executed. The highlights included a beautiful carrot soup finished with edible flowers and a seared tuna with wild garlic pasta. The wine pairings were solid as well, which featured only wines from the Kamptal Valley. The pairings were mostly white, highlighting the popular local varietals, including Gruner Veltliner, a high acid, mineral driven white, Traminer, typically more fruit and floral notes and Sauvigon Blanc, which was similar to a California style rather than the really expressive New Zealand style.
The meal finished with a serve-yourself cheese bar, featuring more than ten Austrian cheeses and a dozen condiments. Without supervision, I took a massive plate of cheese. As we were wrapping up our meal, I realized that the other guests in the dining room were all in the spa earlier in the day. That meant I had seen everyone in the dining room naked mere hours earlier. It was a bizarre realization.
We slept well in the comfortable bed, aided by the copious amount of wine. Our room was small, but well designed and had a small balcony. It was what I would call an "industrial" look, with whitewashed cement walls, but also had splashes of black and bright yellow on the bedding and couch, so it did not feel cold. The next morning, we headed back down to the dining room for breakfast, which is also included for all guests. They have a very nice spread, with a yogurt bar, about two dozen types of bread and pastries along with assorted condiments and jams, smoked seafood, cured meats, cheese and an omelette station. They even offered sparkling wine in case you wanted to start the drinking early.
We polished off two cups of coffee and about three plates of food before heading back upstairs to pack and check out. We were not leaving the Loisium quite yet though. We had tickets for a tour and tasting (again included in our package) at the Loisium Wine Experience.
The Loisium Wine Experience is conveniently located about a two minute walk from the hotel in a crazy, modern, steel cube designed by American architect Steven Holl. We followed a group to the entrance of the tour, where we took an elevator underground to the old Loisium family wine cellars. We watched a strange five minute show of a water feature shooting water set against trippy music and light show. We then entered the actual cellar and given an audio guide for a self guided tour. The underground cellar system is massive, and takes nearly an hour to walk through. The tour focuses on the history of the Loisium family cellar and wanders next door into the still active Steininger Winery, a fantastic producer of sparkling wine, or sekt (back in the day, families shared the labyrinth of cellar space regardless of whose property was located above ground).
After finishing the tour, we ended up in the Loisium wine tasting room, and were allowed four tastings per person based on the tickets we received from the hotel.  They had twenty plus bottles open for tasting, all from Kamptal Valley, with an obvious focus on white varietals.  The pours were definitely not tasting pours, but half a glass instead.  We sampled some Rieslings, Gruners and red blends and were feeling quite happy by the time we left.  Of course, it was not even noon yet at this point, so this was some solid morning drinking.  The wines were fantastic though, and we went home with two bottles of Steininger Cabernet Sekt.
The Loisium was a fantastic break during our vacation and I would not hesitate to recommend the hotel. The staff is very friendly and welcoming and despite the modern, high end design, there is no pretension.  Guests freely walked through the lobby in spa robes and no shoes and there was no dress code for the dining room.  I would not recommend doing cannonballs into the pool though.  I think that would be crossing the line of inappropriate behaviour.  The setting was also amazing, and next time I would dedicate more time so we could explore more of the valley.  It truly felt removed from Vienna, or any city for that matter.  It was nice to be in a rural setting and get to enjoy some peace and quiet. I can not say I am now a "spa guy," but there is something nice about hitting a steam room or sauna and getting a chance to relax, unwind and sweat profusely.