Awards are funny things. As much as they attract press and new customers, for die-hard loyalists, an award can send their once beloved cafe or restaurant or bar into the realm of 'attraction' thereby immediately losing its luster. This happened once to me in Portland, Maine – my favorite breakfast spot was featured in the New York Times. After that, it was packed ALL THE TIME, and my leisurely Sunday morning of unlimited coffee and the best breakfast sandwich in town was less cozy and more crazy. In the summer, forget about it.  If I had to see one more visiting city folk stride up with their madras shorts and wrap sunglasses, I would scream.My point is, I get it. I've seen it happen. In London we do our best to visit places before the awards start coming in – visiting a restaurant before the Michelin star, before the huge review, before the multi-week wait for a reservation. But sometimes these things cannot be avoided.
The Artesian, for example, is three years into its illustrious reign as 'World's Best Bar.' Of the zillion or so bars in the world, that is quite an achievement.  As the spokesperson for the award commented in her 2013 award presentation,'[The Artesian is a bar] with more ticks than there are boxes.' They specialize in elegant cocktails, with a huge range of ingredients (leather, red pepper), and are also renowned for their excellent customer service. They don't expect you to have a clue as to what to order, so they ask you to name a few flavors or drinks you like and the point you in a direction that may be appealing.  This is a feature not uncommon in this tier of bar, but apparently the Artesian is a cut above the rest.
So, with all that in mind, we just had to check it out.
The Artesian is in the Langham Hotel, in Central London. The decor is less than understated, but the World's Best gotta be spectacular, right?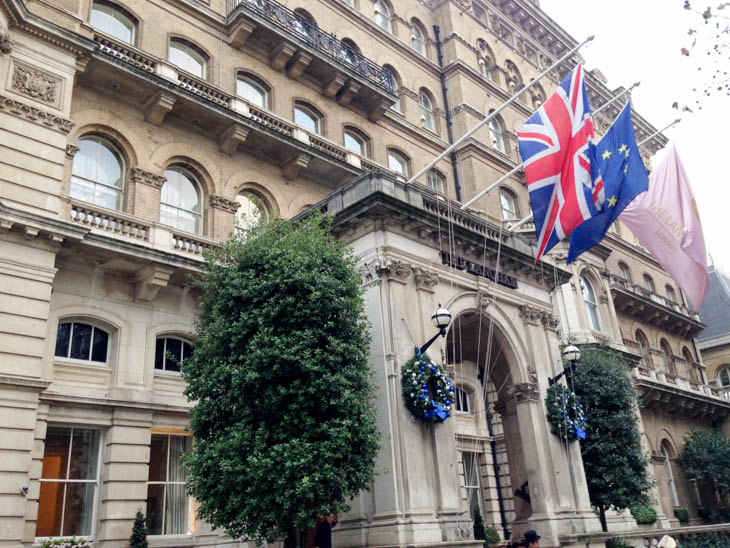 As we expected, the menu was totally indecipherable. Actually, there is a little code on the menu, small lines next to each item. Some drinks have one line, some two, some three. But there is no key to the code. When I asked the waiter, he said, 'Oh, you haven't figured it out?'  Apparently, single lines indicate lighter drinks, and the three line items are heavier. Guava drink gets one line, leather drink gets three.Each drink costs a whopping 17 pounds ($27?), which is totally ridiculous and insane. And which is why you get just one. Preferably one that comes in a bronze pineapple (and yes, these were abundant in the room, but I couldn't figure out which drink on the menu corresponded to the pineapple, as no menu item actually listed it as an ingredient).
The Artesian is definitely 'an attraction' at this point. There were plenty of people in the bar who were obviously hotel guests, just taking a break from their shopping or touring for lunch or a drink.  But there were also lots of visitors like us, there to see what the World's Best Bar is all about. And the drinks were better than great. They were amazing, almost worth the $27. The fact that they disappear so fast make the value go down a little in my book.  But next time, I'll be sure to get the one in the bronze pineapple.