The mission? Rent a car for 24 hours and head somewhere we hadn't been in the UK.
Now, with a plan of only staying for a night, our choices were limited. We didn't want to spend four hours heading north or south, only to do it again the next morning. We've toured Kent, driven across the pristine hills of the Cotswolds, and seen the white chalk cliffs of Eastbourne. The only glaring omission from our trips around the southeast of England was Brighton, the seaside town due south of London, famous for its pier and quirky personality.
So we booked a car, packed the car (an adorable Fiat 500x), typed 'Brighton' into Google Maps, and headed south to find out what's on in Brighton.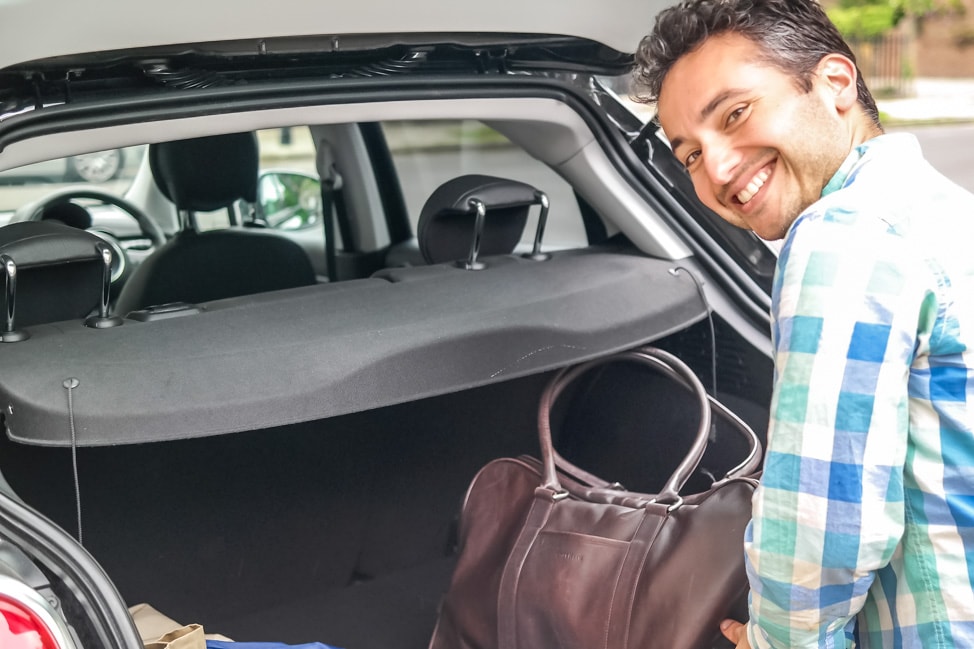 After an hour or so, finally clearing the traffic of the outskirts of London, we decided to make a pit stop for a rustic English lunch at a pub. As you do. We neared the village of Bolney and spotted on our map a pub named the Bolney Stage. Knowing nothing about it besides being conveniently located off the motorway, we ducked in (literally), and settled in for a meal.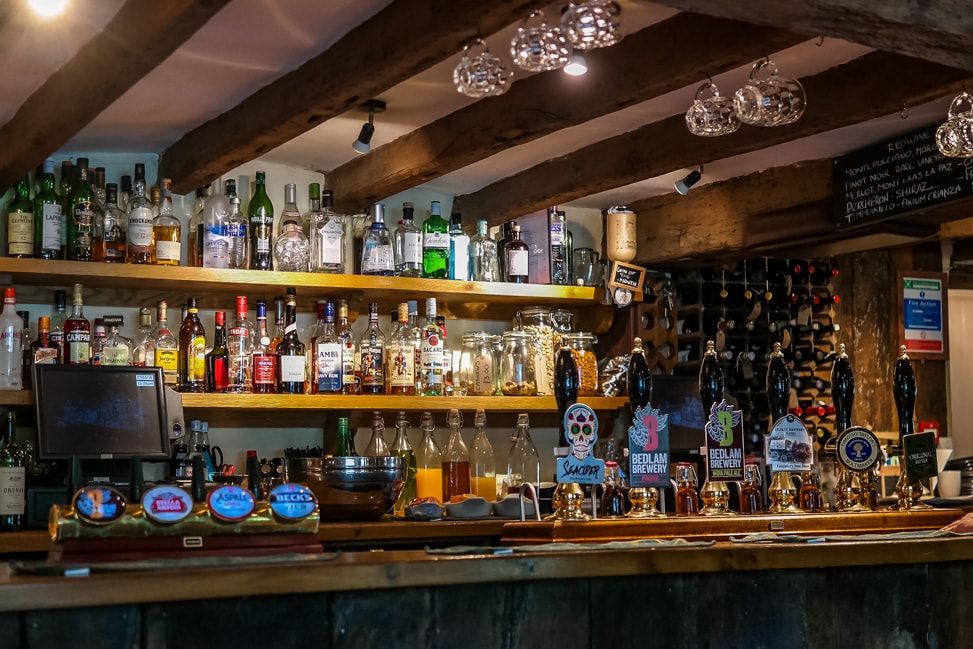 The Bolney Stage is exactly how every country pub should aspire to be. The building, dated back to the 16th century, is comprised of tiny, cramped rooms with low ceilings, uneven floors and exposed beams. A roaring fire was going near the bar, and we saw at least three dogs enjoying some pub time with their owners.
With a pile of thick-cut chips and a pint of room-temperature ale, lunch at a humble country pub is one of the best ways we know how to spend an afternoon in England. You literally pull off a motorway for a quick lunch, and instead of a rest stop lined with fast food restaurants, you discover a perfect pub in a building that has five hundred years of history!
Before heading into Brighton, we stopped off in Balcombe to drop our bags off at our accommodations for the night, the stately Highley Manor. It, too, has a storied history, having been an entertainment venue for the exiled King of Portugal in the 1920s, and used as a base by the Canadian Army during WWII.
Highley Manor is tucked away down a long, narrow lane, which in classic rural English fashion, is the width of one car yet considered to be a two-way road. After a few years of driving around the UK, I have become accustom to these types of country roads, yet for first time drivers, I could imagine the fear of seeing an oncoming vehicle and trying to figure out how to pass safely. The joys of country driving!
After downing a cup of tea for a quick caffeine boost, we were on the road again, heading thirty minutes south to the city of Brighton.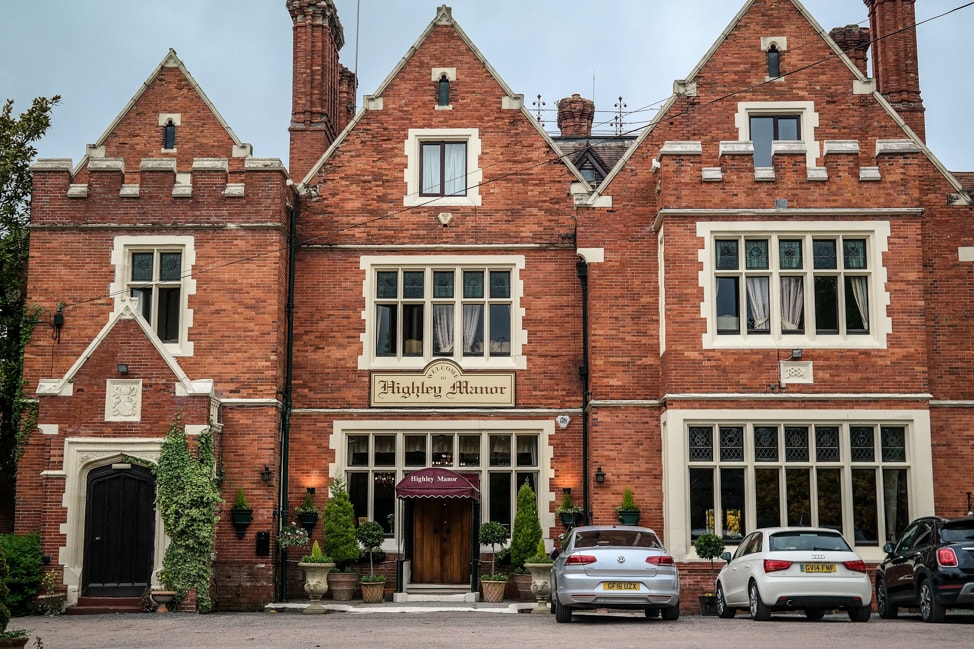 Brighton was a mystery to us as we pulled into town. We did a pathetic amount of research before arriving, only looking up the best parking garages as we drove up, so we landed in Brighton with no expectations or plans for the afternoon. Car parked, we headed off on foot to find out what's on in Brighton.
Thankful, we quickly discovered that a lot was on in Brighton. We found ourselves in The Lanes, a collection of streets that run through the heart of Brighton, narrow alleys full of quirky shops and cafes. Despite the spitting rain, the streets were packed with locals and tourists, all browsing in art galleries and vintage stores along The Lanes.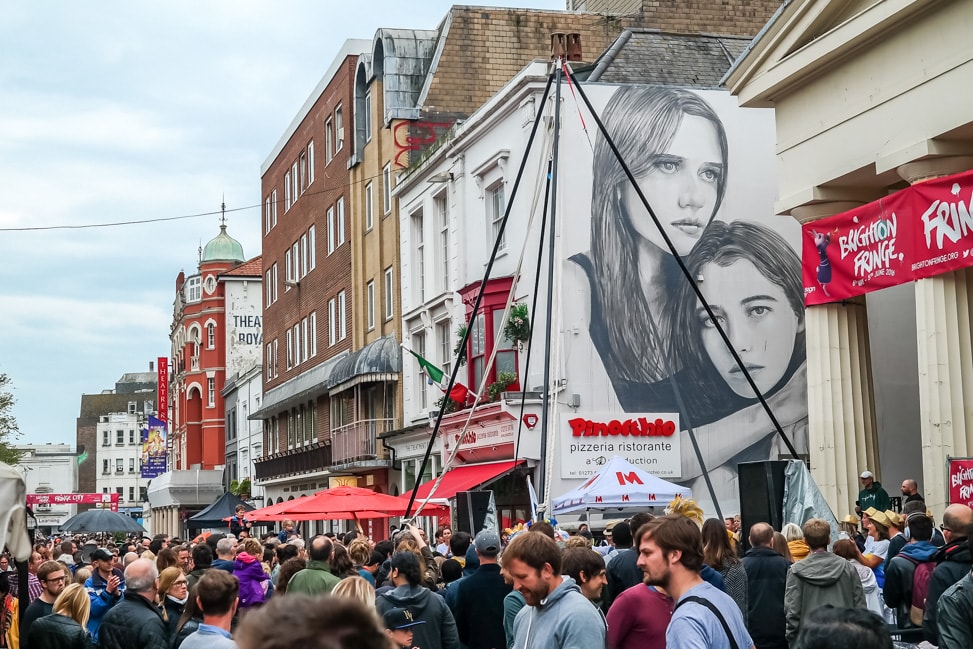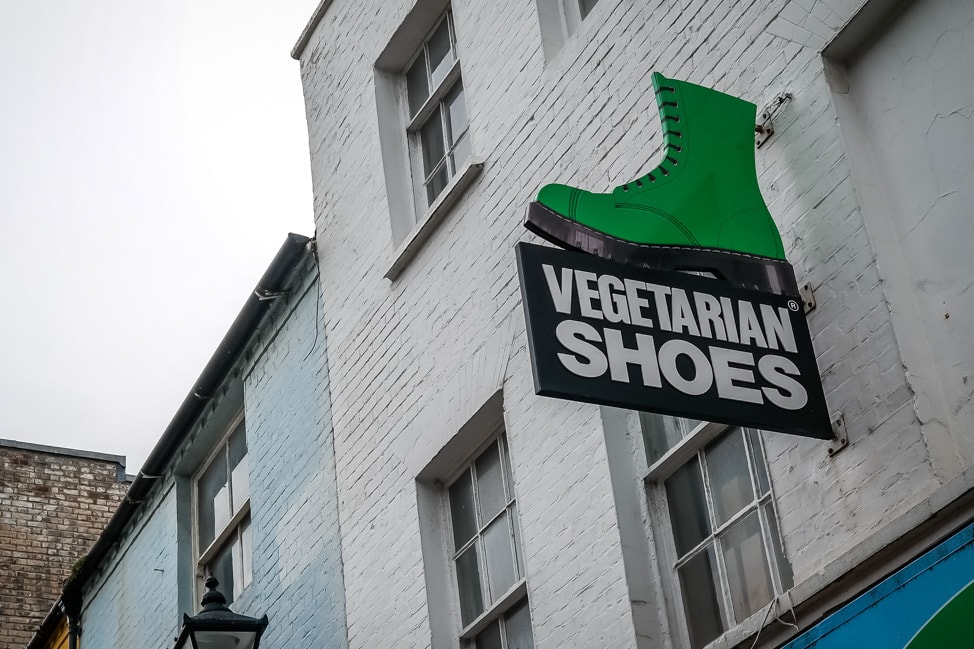 The Lanes gave way to the sea, as we exited out on the "beach" of Brighton and its famous pier. The beach itself is more a pile of rocks than a true beach, but you can't win them all. We walked out onto the Brighton Pier, past the tempting doughnut stalls, ice cream stands, and candy shops. The one thing I couldn't look past was the arcades, my favorite pastime from childhood summers spent on the Jersey shore in the US.
Julie put up with my exuberance in playing video games, which I appreciate.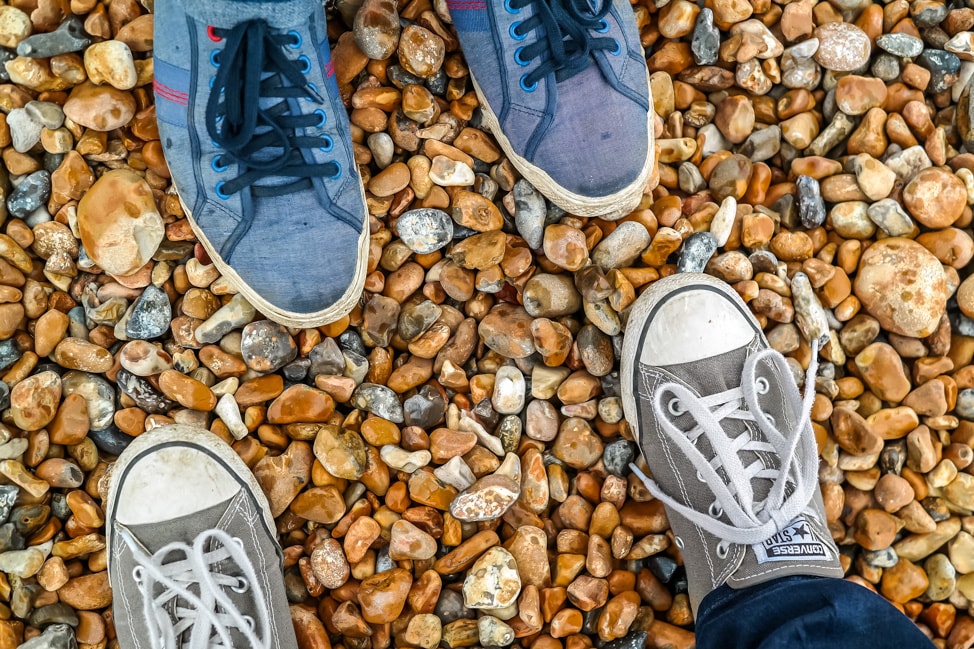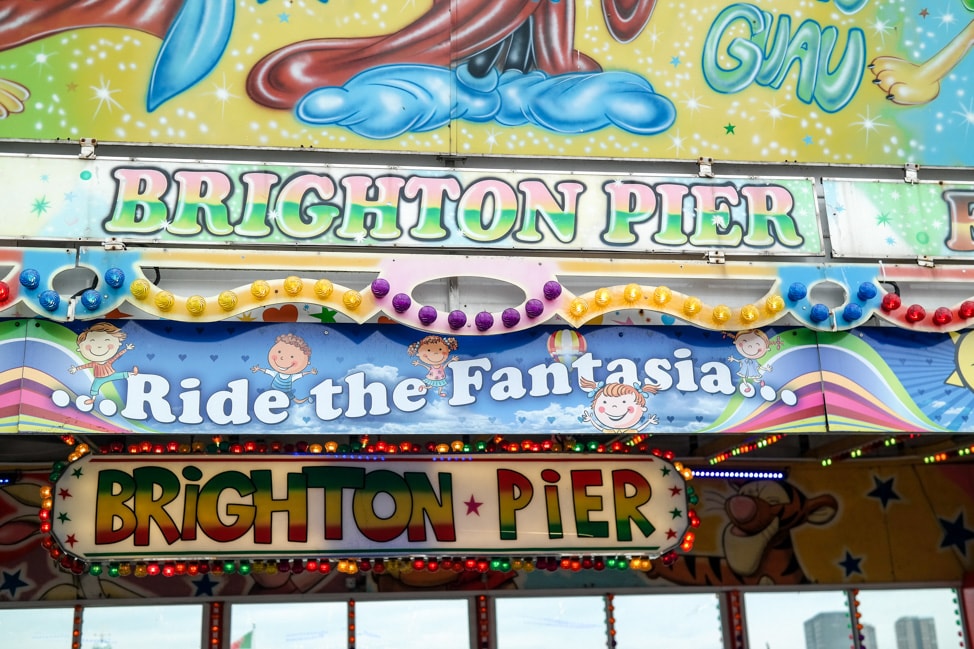 After getting my fill of fun on the pier, we decided to try to figure out what to do for our only night in Brighton. As we wandered back into The Lanes, we came across the hub for the Brighton Fringe Festival and the Brighton Festival, two events taking place simultaneously from early May to early June. With over a combined 1,000 events between the two festivals (yes, 1,000 events!) we actually had a load of options, despite our lack of planning.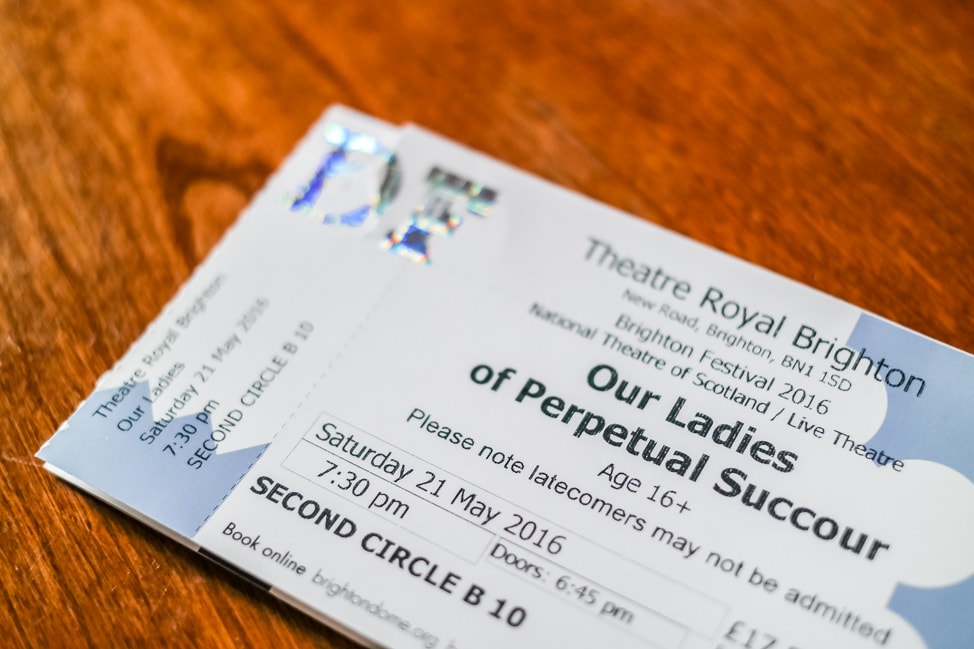 We decided to purchase two tickets to the beautiful Theatre Royal Brighton for "Our Ladies of Perpetual Succour" which turned out to be a fabulous decision. The name of the musical sounds like it would be some serious, poignant production, but, in reality, it was the complete opposite. The play focuses on a Catholic girl's school from Oban, Scotland, traveling to Edinburgh for a choir competition. The group spends their entire single night in Edinburgh before the concert getting drunk, meeting boys, and doing drugs. It was quite dirty and full of foul language. I loved it!
Having topped up the 'culture' meter for the weekend, we happily got back on the road to journey to our manor for the night.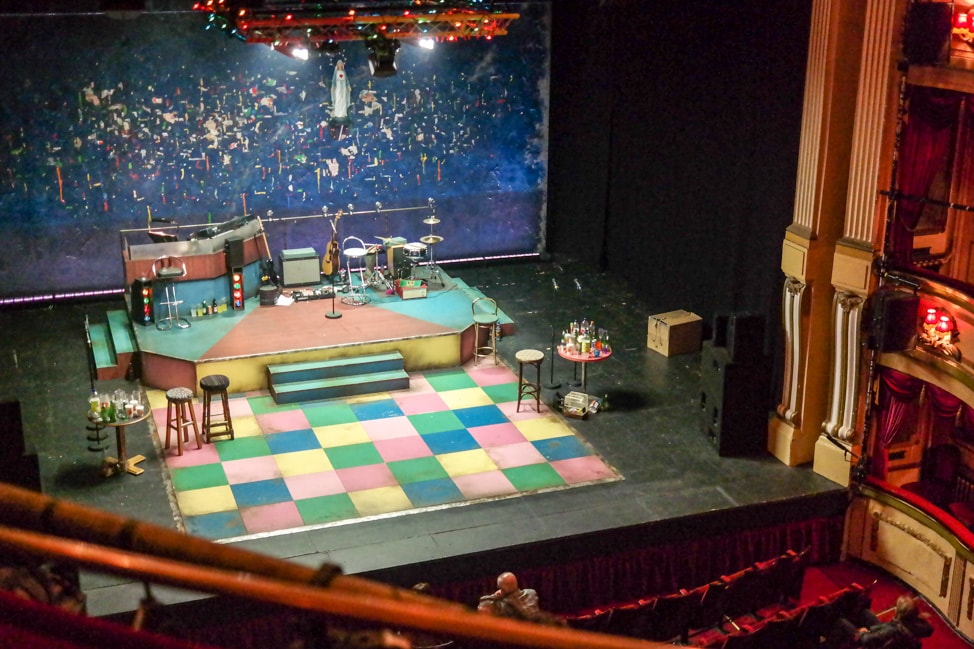 After a filling English breakfast the next morning at the Highley Manor, we were back in the car, heading north,  home to London.
We had a blast exploring Brighton, a town that we have talked about visiting for the past three years, but for whatever reason, it never materialized. We are lucky to live in such a fun, unique, and historic country, and while London is all of those things too, it is nice to get some fresh area and just head out into the unknown.
This post was part of the campaign, 24 Hours with TravelSupermarket, about exploring the UK by car.
To see more, check out our video of our 24 Hours in Brighton below!