If you have a beard and only own skinny jeans and ironic tee shirts, Dalston is perfect London locale for you.  It is the London version of Brooklyn.  The high street, Kingsland Road, is a long stretch of late night bars and casual restaurants, perfect for boozing and snacking, sampling the newest craft beers and the best seasonal products.
Someone had the smart idea of opening a London version of Smorasburg, the famous Brooklyn food market, in Dalston back in 2012 called Street Feast Dalston to showcase the London food scene.  It runs for twenty straight weekends and only on Friday and Saturday night from 5pm-12am.  Dare I say it, but I think Street Feast might be better than its Brooklyn brethren.  Score one for London.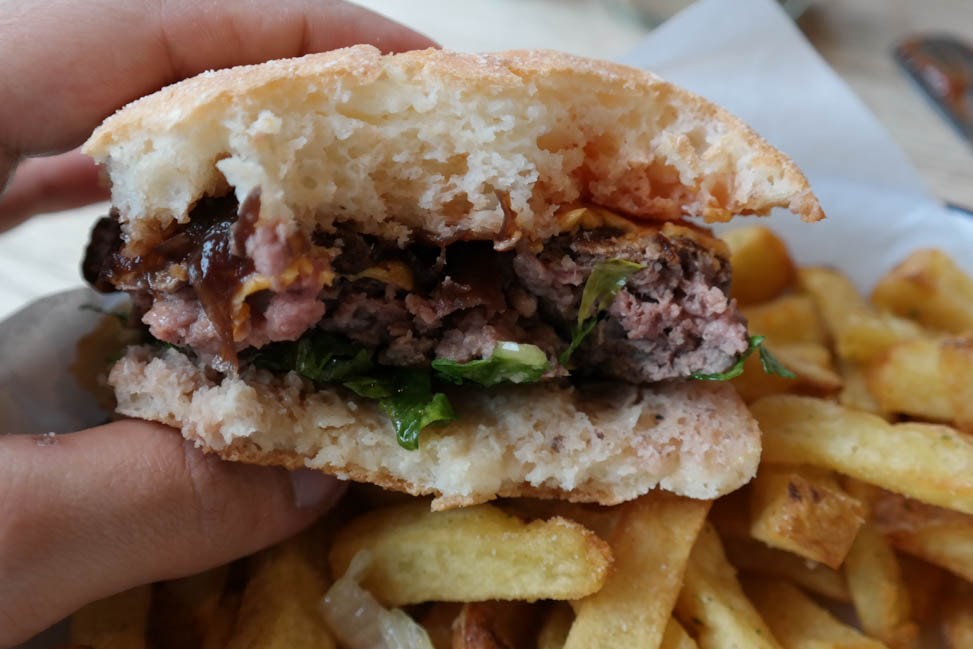 Street Feast is located across from the Dalston Junction Overground Station and a short bus ride from our flat in Islington.  While food markets like Smorasburg tend to be in large open areas, Street Feast has cobbled together box containers, chain link fencing, oil barrel bonfires and some dilapidated warehouse space to create a pretty unique atmosphere.  It features a changing variety of about fifteen food vendors and a full bar.
The space is surprisingly large, especially since you enter it from what is essentially an alleyway.  Most of the vendors are from other markets around London, so some of the names are familiar and the quality of the food is quite high.  It is best to arrive early though, as the place gets pretty packed and they charge £3 after 7pm for admission.  It does provide quite a bit of seating scattered around the space, along with some covered areas, so even if it rains, the party does not hit the pause button.
Of course, this being London, you can still spend a lot of money, but that is something you just have to accept eventually.  Yes, they sell a £30 bottle of Prosecco (almost 50 USD!) and most food is in the 6-10 pound range.  But, fuck it, it's tasty.The Le Bun stall sells a ridiculous Duck Confit bun, a brioche roll stuffed with duck confit, shoestring fries, bernaise sauce and slaw.  Decadent would be an understatement.  Rola Wala does amazing Indian fusion, producing a great Paneer Channa Dal slider, filled with pineapple chutney and beetroot channa.  French and Grace does great Lamb Kofte wraps with lamb patties griddled to order and delicious salmon and quinoa ceviche from a Peruvian stall.
You can have pizza from the Pizza Pilgrims, burgers from Mother Flipper or Taiwanese steamed buns from Yum Buns.  The variety is fantastic.  There are even a few sweets stalls, selling bite size brownies, cookies, cakes, tarts and whoopie pies.  The chocolate peanut butter whoopee pies are amazing.
The setting is what really sets Street Feast apart.  It is a big space to accommodate a lot of people, they have projectors to show movies on the crumbling concrete walls, and old oil barrels are prepped with wood for late night bonfires.  While the hipster thing can get a little annoying, a venue such as this would simply never exist in central London.  It would be too expensive to run, the local councils would probably not allow it and it would draw mostly tourists.
Dalston is just far enough away to limit outsiders while still being accessible to most of the residents of London.  The fact that this exists on Friday and Saturday nights for twenty straight weekends is fantastic, showing it is not just a flash in the pan.  The vendors do change throughout the run too, so even on repeat visits, there will be new stalls to try.  It is events like this that keep London exciting.  At the very least, you can always do some great people watching and catch a few laughs at the newest fashion trends on display.  That never gets old.