After a wonderful holiday with the Smith family in London, we took a quick New Year trip to Cologne, Germany to ring in 2014 in style.  We chose Cologne because it was quick and inexpensive (frankly, with so many places we want to visit around Europe, we're still picking the low-hanging fruit so to speak!).  When the most expensive part of a holiday is literally getting to and from the airport, you just go.  Don't ask any questions.  Get to that plane.
What we planned to do in Cologne:
1. See a couple museums, in particular two that are dedicated to WWII, and if there is time, squeeze in a visit to the Chocolate Museum.
2. Visit the Dom – Cologne's bigger than life cathedral (Germany's most visited landmark, according to Wikipedia) that took 600 years to complete.
3. Drink Kolsch beer – unique to the Cologne region and served in tiny 0.2 liter glasses that get refilled until you say 'halt'!
4. Watch the fireworks.  Cologne is renowned for its fireworks display on NYE.  We thought that this meant that the city put on a great show over the Danube river (think of New York City's 4th of July spectacular show).  We were wrong.  In fact, because fireworks are legal in the city, every single person buys some and sets them off on the street or off balconies or thrown out of car windows.  All night long.  It's a 360 degree panorama of crazy.
What we DID do in Cologne:
Turns out, every normal tourist attraction in Cologne is closed for the New Year.  Sneaky bastards.  We kept ourselves busy but in slightly different ways then expected.
1. Visit the Dom.  Twice.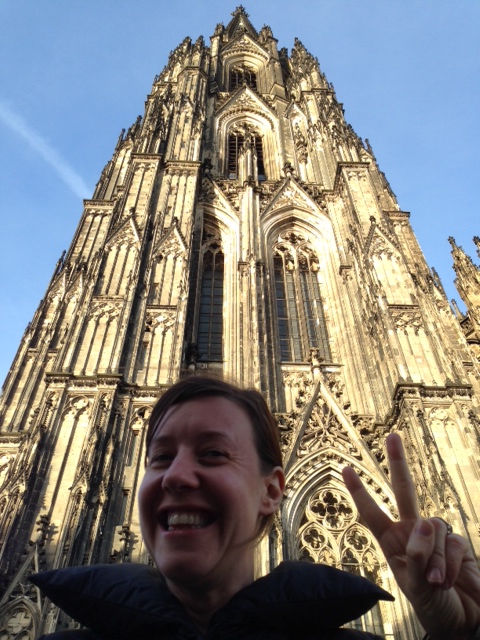 2. Experience a sauna in our hotel.  Every respectable hotel has a sauna and the 'true' sauna procedure is posted via laminated signs in the fitness area.  Sit in million degree sauna for 10-15 minutes.  Get in freezing cold shower to 'stop the sweating'.  Lay down on the beach recliner-type chaise lounges until you're ready for another round.  Repeat.3. Drink beer.  Eat pork.  As expected.  BUT, honestly, we only had one authentic heavy pork-laden meal.  We also sprinkled in there Vietnamese pho, Italian pizza and Turkish doner.  Maybe our bodies had had their fill of pork for the year.
4. Witness the firework chaos.  We watched from the roof of our hotel.  The highlight was a group of people setting off huge fireworks so that they hit the underside of an extended floor of an office building, exploding on contact.  Classy.5. Visit the Christmas market.  Now, we thought most Christmas markets would be over by now (and we actually have friends who visited this exact market early in December).  However, they sneakily call THIS market the Wintermarket, so they can keep the thing running into January.  We were happy to join in the fun, drinking hot chocolate and watching the skaters.
6. Walk like fools.  Most of the city center is pedestrian-only, and our hotel was about a 15-20 minute walk from the Dom.  We like to explore new places on foot, and it also helps us hate ourselves less when we eat meals like the one above.