First, some bad news. Thanks to some mysterious import/transfer error, all of our pictures from this amazing meal were deleted off of the camera. We're trying to take this news for what it is – an unfortunate accident and only 20 or so pictures gone, rather than blow it out of proportion. Some people lose all of their vacation photos and that didn't happen, so we're good.  Fortunately, the internet is a big place, so the photos below exist in the world and we've included photo credits at the bottom.
Now, some good news. We had a absolutely fantastic experience at
Hibiscus
and would definitely recommend it as an excellent option for a special occasion meal.  For our evening we were specifically looking for restaurants in London that have some kind of private dining room/chef's table. Our good friends are moving back to the US, and we wanted to do a proper send off.  While there are 10 or so well known high end private dining experiences, many of them have specific head count requirements due to the size of the room.  At Hibiscus, the chef's kitchen fits four guests comfortably so that played a factor in our choice (the other places that could have worked with a group of our size were Dinner and Fera).The chef's kitchen is just that – a small kitchen downstairs from the main dining room that contains all of the equipment to cook the full Hibiscus tasting menu. The main cook top is also a counter, where the guests sit, relax, alternating between watching the meal preparation, talking to each other and in our case, having a great time with the chef, sommelier and wait staff.  From what we understand the meal and wine pairings offered in the chef's kitchen are identical to the main dining room – booking the private room has no extra cost, but does require booking well in advance (6+ weeks in our case)!
And now – the food! (The Little Observationist had a very similar menu as us and are the source of many of these great photos!)
The meal started with a series of amuses.  A highlight were these adorable foie gras ice cream cones, with a citrus marmalade in the cone to help cut the richness of the foie.  The cheesy puffs were filled with a version of french onion soup. You know how the best part of onion soup is the giant crouton and massive amounts of cheese sealing in the spectacularly hot soup? Yeah, this is that, but in bite size.  We were also presented with a egg carton, filled with two eggs hollowed out and filled with a "mushroom royal," a coconut foam and a hit of curry powder.  Funky and tasty.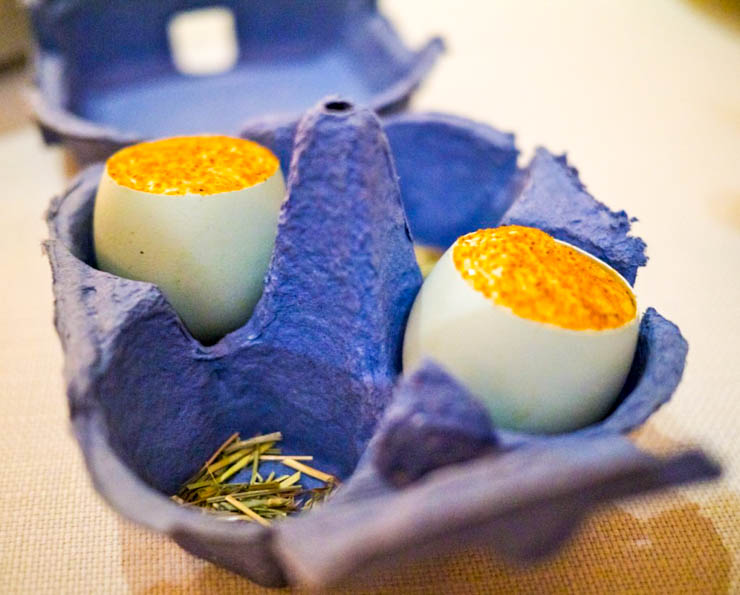 The six official courses started with a king crab starter, which was stunning.  Norwegian king crab, with a base of a thick bisque made from smoked haddock topped with thick pieces of sweet king crab, apple jelly, pieces of apple and wild sea leaves.  The dish was delicious, with a deep, rich seafood flavor, sweetness from the crab and apple and little spikes of brininess from the sea leaves.  The jelly added an interesting texture, which I imagine some could find slightly off-putting (like Julie did).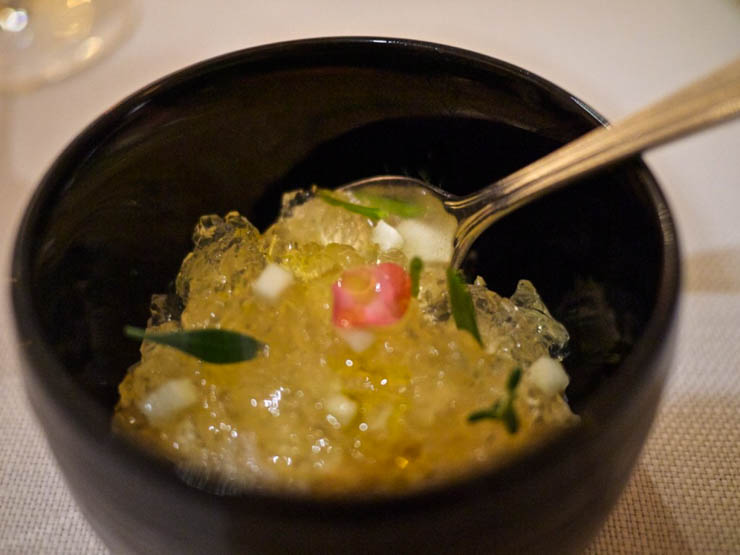 The next course was a delicate onion and oxtail consommé with a cinnamon dumpling, which was perfectly executed, but nowhere near as good as the following courses of cod, sweetbreads and venison.  The cod was a modernist version of fish and chips, with a delicately cooked piece of Cornish cod, with a bread foam (dark bread steeped in milk and frothed) on a bed of potatoes that were slow cooked for a long, long time in an ocean of butter.  The texture of the cod was silky, the potatoes decadent and the bread foam added a punch of flavor without added richness, since the potatoes had enough richness for an entire meal.
The sweetbreads were seared in front of us on the high-tech plancha, basted with butter until perfectly cooked.  The accompaniments of nashi pear and licorice was a perfect match for the sweetbreads, probably my favorite offal.  The licorice was subtle as well, which was surprising, as we anticipated it might overpower the dish.  Chef Darren explained they used actual licorice root, which has a much milder flavor than the rather terrible black licorice candy and even grabbed some from the kitchen to show us.  As we finished up the sweetbreads, Darren removed the venison loin from the water bath and seared it on the plancha.  It was served with butter poached sliver of pumpkin, coated in seeds, added a great crunch to the smooth, silky interior.  The venison was perfectly cooked and had a mild gameness that was perfect.Our meal wrapped up with the Hibiscus "Tarte au Chocolate" which was a fairly standard, albeit rich, chocolate tart with basil ice cream.  As a gluten free option, I received a coconut and pineapple dessert, finished with fruity olive oil and a strong hit of kaffir lime.  The tart was good, but the coconut dessert was much more inventive and rather refreshing after a long meal.  We also received some petite fours, which included three flavors of madeleine and pieces of what appeared to be airy sponge cake, but were actually aerated chocolate, so it had the texture of a piece of chocolate, but without the density.  They melted in your mouth.
Overall, the meal was stellar.  There was a combination of very classic French cooking, with lots of butter, proper roasting of meats and more butter, but there were touches of modern cuisine which kept things interesting.  Jellies, foams and gelees added to the dishes, not placed there just to be "inventive."  Our hat goes off to the staff as well, which were outstanding.  Chef Darren was gracious, accommodating and talented.  We had a good time conversing throughout the meal.  Our sommelier, Sebastian, was obviously knowledgeable and has built a funky wine program, highlighting mostly natural and biodynamic wines from throughout the world.  We chose the wine pairings which were a collection of some fantastic under-the-radar wines and unexpected pairings that pushed the boundaries.
The vibe of the whole evening was rather laid back.  The pace was relaxed, the staff professional but not rigid or stoic (see our selfie we took with our friends and Chef Darren).  They did a great job with my gluten intolerance as well, subbing in different elements, rather than just subtracting. Obviously the bill was rather large, but we walked away from the night satisfied and without needing to waddle down the street.  While there are a lot of restaurants to spend a lot of money in London, the Chef's Table at Hibiscus could be one of the best ways to make you wallet lighter.
Photo credits: Nordic Nibbler, Little Observationist, Spears