Brussels does not get a lot of love. Boring, uninspired. I understand that being the home of the European Union probably does not help a city's reputation. Most will agree that there is nothing sexy about EU politics. However, on our short weekend visit, we found Brussels to have good food, ridiculous beer and a fun, laid back vibe.The best part of Brussels for us was its proximity to London and the ease of travel on the Eurostar. We arrived at St. Pancras Station about forty minutes before the train departed, after a short fifteen minute bus ride from our flat in Islington. We passed through security and passport control in about five minutes. In the time it normally takes us just to reach an airport from Islington, we left our flat, boarded the train and were on our way to Brussels. The added bonus of the train is that St. Pancras is stunning. How is this a train station?
The Eurostar was amazing. Fast, quiet, comfortable seats. Booking in advance is key though, as last minute travel is prohibitively expensive. We reserved about six weeks out, and used the Eurostar site to book a train/hotel package. Two return tickets and two nights hotel accommodations for £232! We normally never book package deals since we find that we can book separately for cheaper due to our crazy research skills. The Eurostar package saved about £50 though. Well played Eurostar. You won this round.
In two short hours we arrived at Brussels Midi Station, just south of city center. We walked to the Maravoux Hotel, a very nice and centrally located business hotel, dropped off our luggage and set out to explore Brussels..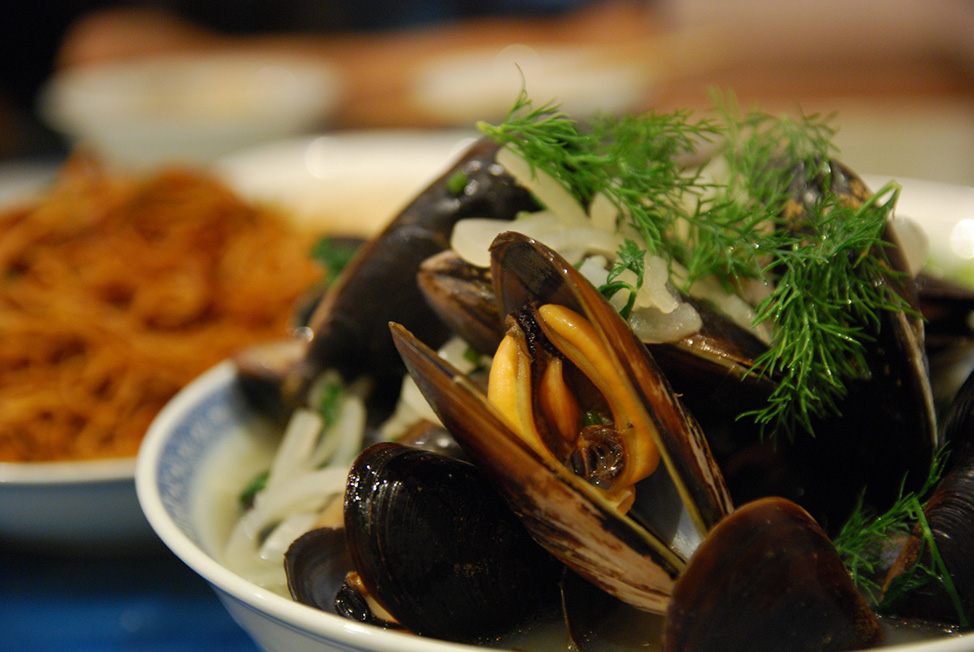 Food
We tend to focus of travel around food and restaurants, often reserving restaurants before hotels and travel. We splurged on one nice meal, at Brassiere Jaloa on our first night. Its location in Pl. Ste Catherine was ideal and this area became our go to for most meals. I wanted to consume a copious amount of shellfish, so I ordered this:
Overall the meal was very good, with fantastic shellfish, full of oysters, clams, shrimp, whelks and periwinkles, along with a cured salmon starter and a few glasses of Cava, though Julie's steak main course was sad, with more chewy, inedible fat than meat. This restaurant received rave reviews, but considering its price point, I found it a touch overrated.
The following day, we found ourselves back on Ste Catherine, eating at an outdoor seafood stand. Le Mer du Nord was unbelievably busy, especially considering you had to stand and eat outside on a cold and windy day. The food was amazing though, once we had navigated the crowd and figured out how to order food. We had small plates of sole a la plancha, a fishcake sandwich, fried whitefish and a bowl of rustic fish soup, all served with copious amounts of herb-spiked mayonnaise and washed down with a few glasses of crisp white wine. Delicious and all for €25.
Our mission for dinner was moules frites, the classic Belgian dish and the inspiration for this blog title. You get a massive pot of mussels, with a full kilo of mollusks, and a side of french fries with mayonnaise (of course). We settled on a small cafe near Ste Catherine (picking up on a theme here?) and settled into some mussels with white wine, onions and celery with Julie digging into beef braised in Belgian sour cherry beer. Both dishes were simple but well done. I do not think I have ever eaten that many mussels in one sitting. It was not an issue..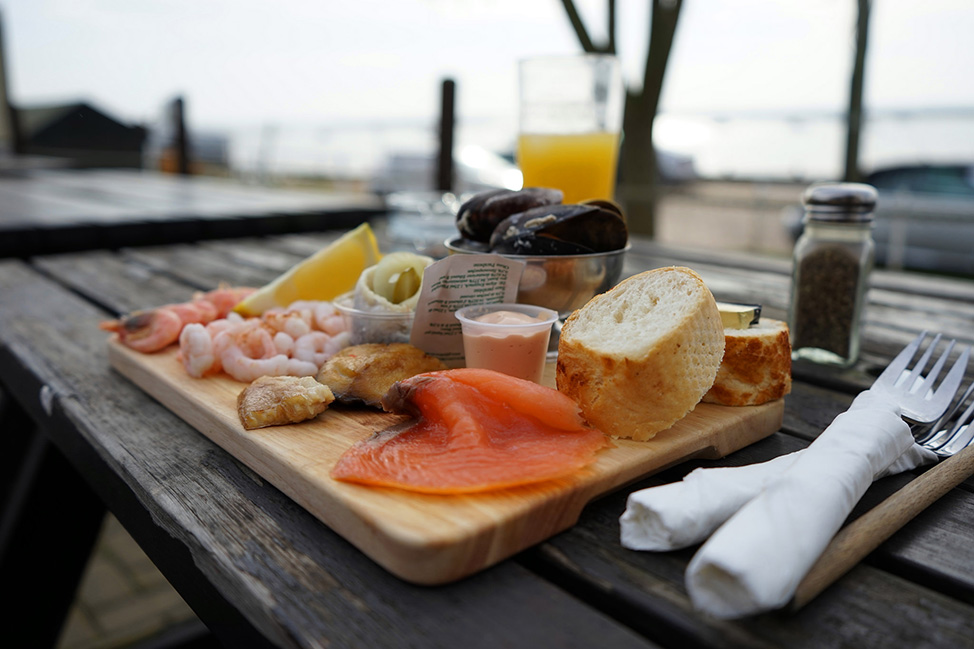 Sights
We both like to spend a lot of time walking around cities, but not at a frenzied pace. Traveling to a city for a short weekend requires a certain amount of editing. You cannot see and do everything in two days. Fortunately for us, Brussels does not have a laundry list of amazing museums. There are a lot of course, but most get poor feedback and are not curated well. We settled on two, going to the Musical Instrument Museum and an exhibit of artist Nathan Sawaya, who does sculptures in LEGOs. Like most of the museums, admission was in the €13-15 range, a difficult pill to swallow after living in London with dozens of amazing free museums. I have to learn that London museums are the exception, not the rule. The audio guide at the Musical Instrument Museum was interesting, playing music samples from some of its over six thousand instruments, the largest collection in the world. Who knew there were so many variations of accordions?
The LEGO exhibit was unexpectedly fun. The artist did some amazing things with LEGOs, from small, intricate designs to amazing portraits like three of Jimi Hendrix, Janis Joplin and Bob Dylan.
We explored some of the European Quarter, home of the EU, some pretty parks and pedestrian zones and spent a lot of time around the Grand Place, the main square of Brussels. The architecture in these square in particular was striking, with incredible details. The Town Hall here definitely beats your town hall, no matter where you live.
Brussels is known for being laid back, and this is reflected in their love of comics. The famous Tin Tin comic strip originated in Brussels, and even The Smurfs were a Brussels creation, though hopefully they were not associated with The Smurfs movie. That looked terrible.
Artists have painted dozens of comic strip scenes on building throughout the city center, bringing some fun and sense of humour to traditional street art:
The Beer
Normally a beverage would not be a whole talking point (or is it writing point?), but Belgium is world renowned for its beer culture. Many of the worlds best beers are brewed there and have been for centuries. Beer is taken seriously and is the preferred alcoholic beverage of choice. Each brewery even has its own styled glassware, so a bar might need upwards of fifty different beer glasses. Generic pint glasses do not exist in Belgium.
I have enjoyed the beer while in the UK, but find it to be a touch generic. The flavour profile of most UK ales is very similar and most craft breweries have stuck to the standard crowd-pleasing lineup of ales and pilsners. Belgium breweries have been doing things differently for over a hundred years, including the Lambic style, a Belgian creation.
We visited Cantillon, the oldest brewery in Brussels, which only makes the sour Lambic beer. The self guided tour was fun (and something not legally possible in the States) rand we had two samples included for €7 per person. In a funny small world story, I ran into Rob Tod, founder of Allagash Brewery in Portland, Maine, one of the best Belgian-style breweries in the US. I have known him for years from my time in Maine and was a pleasant surprise to see a Mainer in Brussels.
We hit a few beer bars as well, including the fantastic Moeder Lambic, with forty Belgian beers on tap and a few spots in Ste Catherine. We sampled about a dozen different breweries (all in the €4-7 range) including my personal favourite Rodenbach Grand Cru. Drinker beware though. Alcohol levels can reach upwards of 11%, especially with any Tripel style beer. That can result in a slightly foggy morning after.
Final Conclusions
We had a fun, relaxed weekend in Brussels. I can understand why people do not hype up the city as much as other destinations. It is not as pretty as Vienna, not a culinary destination as much as Paris, nor as cosmopolitan of as London. Plus, people tend to hate the EU, so that hurts. I however would argue that it does not get much better than walking through the picturesque Grand Place to eat a pot full of mussels while drinking a fantastic Lambic. But that's just me.