You know that saying that you should dress for the job you want, rather than the job you have? We take it to heart and have a closet full of elegant clothes to prove it.  But in the 18 months we've been running Drive on the Left, we've found that we've outgrown our little homespun design, and our aspirations for the site and for our futures just don't match the clothes our website had on.
We blame it on the trifecta of: total and utter lack of design skills, our judgement that HTML looks vaguely like Finnish, and our preference for booking plane tickets over fighting with WordPress.
At the end of 2014, a few things happened that snowballed into this amazing site we're now calling home. First, a friend of ours was completing a site redesign with a duo called Further Bound that she claimed were design gurus and her vibrant site, Wild Child Travels, proves it. Second, we started noticing that some of our other favourite sites were ALSO using the same team for their site redesigns and updates, with similarly amazing results. For more examples of their work, see:
We knew who held the shiny golden ticket but yet we hesitated to take the plunge… why?
It was straight up fear. Fear that our site would make us look much more accomplished and professional than we are. Fear that no one would visit it. Fear that everyone would visit it and hate it and send us mean emails. Fear that we would become a dominant force in the travel blogging community and eventually we'd have to make hard choices about our life and our future. Fear that we wouldn't.
We finally worked up the courage and emailed Hannah and Lee a casual little email about a tiny little design project and before you know it, we were head first in the most exciting, eye-opening and horizon-broadening undertaking we've ever been a part of.  We articulated our vision, organized our many disparate thoughts, got serious about our writing and our photography, upgraded some of our tools, and joined some essential groups and associations.
We started dressing for the job we want.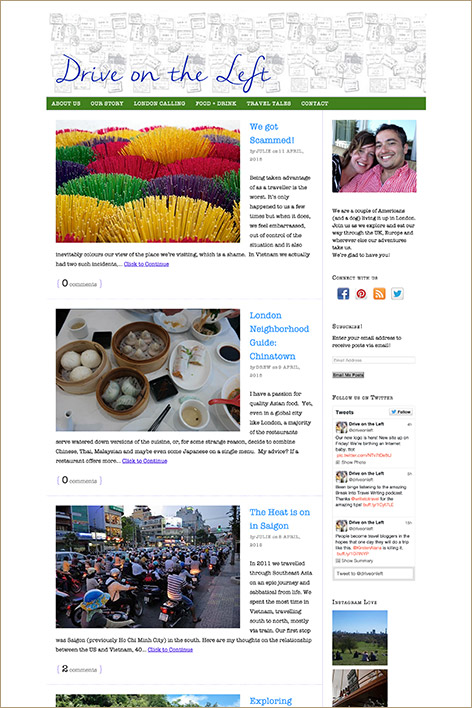 WHAT'S NEW AT DRIVE ON THE LEFT
One of our toughest challenges since we began our site is getting clear about what we write about. And, almost more importantly, what we DON'T write about. We used to sprinkle travel stories among random pictures of our dog (who is a cutie, don't you think?). We wrote about the challenges of relocating as expats in one breath and in the next, we were extolling the virtues of a great cupcake. After lots of thinking and evaluating and soul searching, we have found clarity, which you will hopefully see in the simple, intuitive design.
Despite the glossy exterior, we're just a normal couple living our lives under somewhat unique circumstances.  Drew has written openly and honestly about being a trailing spouse in a new country. Julie struggles with forcing her tyrannical travel philosophy on Drew. We're human. We're learning. And we're happy to share.
Drew was in the restaurant biz for 10+ years and has all sorts of fancy wine certifications. We once booked a trip to Denmark after we had our restaurant reservations. We're definitely those people. Here's where you'll find our restaurant reviews, tours of local markets and the occasional home kitchen adventure.
Becoming expats in the corporate sense was totally crazy. We fought for literally weeks with our new utility companies. We were wrecked with the nervousness of moving a pet overseas. We had to make new friends. We've written a lot about these challenges and put all of our opinions and resources here.
We live in London, one of our favourite world cities and the inspiration for the mood and style of this website. We get a ton of questions about the tips and tricks for visiting London, so here you'll find the sure-fire way to get tickets to an English Premier League game. Or read up on our thoughts about the most overrated London attractions. We've got opinions and we're not afraid to share them.
A by-product of our frequent weekend travels is our need to get clear on the highlights of a place. We like to summarize the best ways to spend precious time in our favourite European cities. We also enjoy exploring new London neighbourhoods, and our series on some of the best will hopefully be a great resource for you!
Finally, the heart of Drive on the Left, our love letter to the many unforgettable adventures we've had on the road. We write about Europe extensively, but you'll also see highlights from Southeast Asia, the Middle East, and our visits back home to the good 'ole US of A.  Drive on the Left exists because of our passion for travel and at the end of the day, it's the compass that directs our lives.
TEA FOR TWO
The design process for a new website is pretty radical, and when you multiply that by two sets of opinions, tastes and expectations, you can imagine all the opportunities we've had to practice our compromising skills over the past few months. At the end of the day, we see ourselves all over this project – not just in the many photos (!) but in the colours and personality of the site. The highest compliment would be for our nearest and dearest to say that the site is so 'us' that it couldn't have turned out any other way.  That's crucial because, ultimately, Drive on the Left is about us.
Julie's favourite parts of the design are the deep blue colour you see sprinkled around the whole site and the main photo on the homepage, which was taken in our neighbourhood (and she loves the yellow scarf).
Drew is particularly excited about the new Work With Us section, which is the home to our cool new media kit, and also gives the site the professionalism that it was sadly lacking.
By the way, mad props to the amazing photographer, Jack Hoyle, who is responsible for helping us look presentable despite the rain, and according to our parents "urban" and "sophisticated."  We're so fancy.
FINAL THOUGHTS
We'd love to connect with you in all the other places on the internet where we hang out. Recently, Julie has been on a kick of adding pictures of miniature food on Pinterest, and taking awesome photos over on Instagram. Drew prefers to patrol Facebook and Twitter, and we recently gave our profiles a facelift there too!
If you're up for it, sign up for our newsletter via the form below. Instead of getting an email every time we write something (ugh, so many emails!), we'll compile everything you need into one weekly little burst of fun, from us to you. We promise to include at least one totally ridiculous puppy video per newsletter, because we spend hours watching them on YouTube. No shame here.
Finally, please tell us what you think! We cannot wait to hear your feedback, so we welcome your thoughts in the comment section below. Take a look around, kick the tires, let us know if anything feels off or if we have categorized something in the wrong spot. We're human, it happens.
We hope you'll continue to share in our story, and we are beyond excited to have you here.
Cheers!
Drew and Julie