I really miss sandwiches.  As I mentioned in my post recently (read
here
) about my new gluten-free lifestyle, grabbing a sandwich on the go has been my one of my biggest grievances.  Of all the sandwiches that I have
not
eaten since the start of my diet, the hamburger is my most sorely missed.  I have indulged in burgers since then, but I consumed them naked (no bun) or protein style (wrapped in lettuce), which frankly, is just sad.  Eating a burger with a knife and fork should be illegal in all countries and eating a beef patty wrapped in a massive iceberg leaf is far from a fair comparison.  The experience of picking up a juicy, greasy, cheesy burger and devouring it is lost without the bun.  The bun is an integral part of proper hamburger construction.  Frustration turned to joy however when I realized that local burger chain
Honest Burgers
 offers gluten free buns.  I ran over to the closest branch (near Kings Cross) and braced myself, eager to eat my first real burger sans gluten.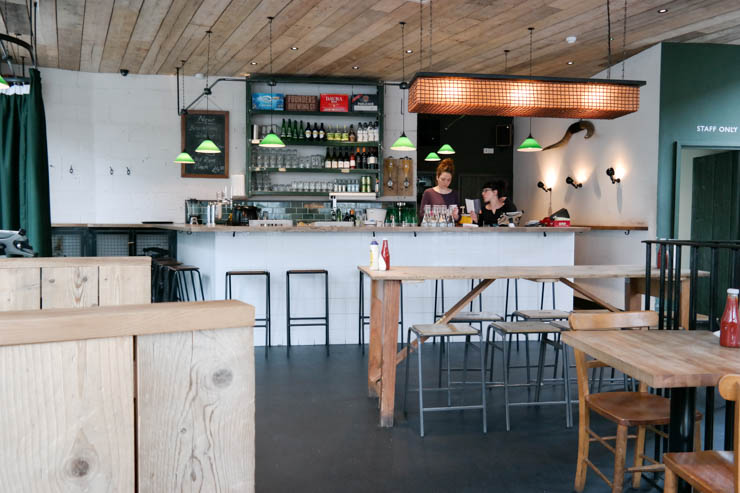 Honest Burgers is a small burger chain here in London, with eight locations scattered around the city.  It got its start in
Brixton Village
, one of my favorite food markets in London.  They use high quality British beef, with a good meat to fat ratio of 80:20, ideal for a juicy, flavorful burger.  The menu was simple and strait forward, with a handful of basic burger combinations like cheese and bacon (though they had a seasonal special of bacon, deep fried camembert cheese and cranberry sauce.  Yikes) as well as a chicken breast sandwich and a vegetable fritter option.  Amazingly, the sides dishes, such as onion rings, slaw and side salad, were all gluten-free!
I ordered a standard cheese burger, which came with lettuce, red onion relish and American cheese, hands down the best burger cheese.  Why use expensive mature cheddar, when you can have a cheap, delicious cheese that melts into a liquid cheese sauce when heated?  The burger itself was solid, still slightly pink and served with rosemary chips.  It was nice to not see a completely cooked through burger, since my limited UK burger experience has shown me that they are normally cooked well done unless specified, which is tragic.  There was a slight char on the outside and the red onion relish was a nice touch compared to sliced raw onion.  The chips were good, but the burger was the star.  
The bun itself has a slightly different texture than a regular gluten-filled bun, but the difference was negligible.  They also offered gluten free beer, Daura Damm Lager, which is certainly not the best beer in the world, but better than some gluten-free options and perfectly tasty with a burgerOverall, I was really impressed with my Honest Burger Co. experience.  The staff was pleasant, the decor fun, and the gluten-free options made me feel like a normal, gluten-loving human being.  With a beer, lunch was £14, which is pretty comparable to most of the other burger concepts like Gourmet, Five Guys and Byron in London.  I would highly recommend Honest Burger not just for gluten-free folks, but anyone looking for a quick lunch or dinner that won't break the bank.