I can't believe it took this long to indulge in the Fortnum and Mason afternoon tea.
There are a few things that are almost required for London visitors. Near the top of the list is an afternoon tea at one of the city's famously decadent tea parlors. Ladies wear tiny hats, men dust off their blazers, and they sit primly in a formal room, eating scones and finger sandwiches, drinking tea, and paying an arm and a leg for the pleasure.
My dripping sarcasm probably helps you understand why such an experience has never been high on my list of things to do.
I've enjoyed a handful of afternoon teas around the city over the years, and I completely see the appeal. Scones here are delicious, totally unlike those bricks that pass for scones in the States. Small, exquisite, treats are also lovely and who can resist a sandwich with no crust? But I've avoided the super high-end teas mostly because I can't imagine that they're much, if any, better than the version I can get in my not-so-secret favorite spot for under £20.
With friends and family raving about their over-the-top afternoon teas at the Ritz London and the Savoy, I started thinking that maybe I was wrong. Could it be that the city's legendary tea services are famous because they are just that good? Could those warm, buttery scones be even more warm and buttery if consumed in the company of waiters in tuxedos and women in tiny hats?
With just a few months left in London, I decided that a fancy Fortnum and Mason afternoon tea should grace my summer bucket list. My unsuspecting companion was one of my oldest friends, who, before her whirlwind vacation to London, had been besieged by friends not to miss one of London's famous afternoon teas, surely to be the highlight of her trip.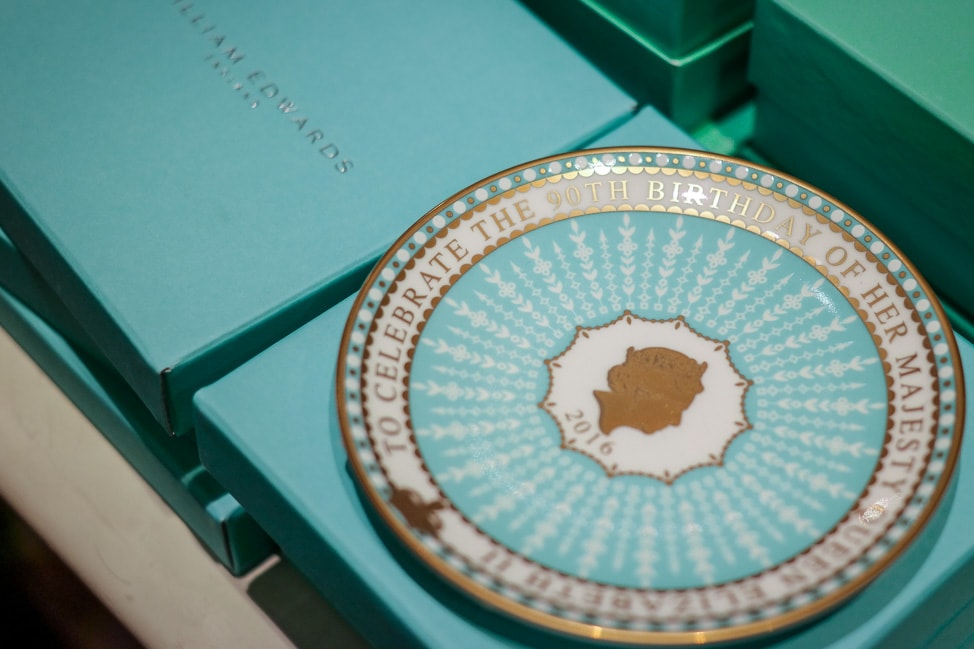 This tea salon is on the top floor of one of London's oldest department stores. It was opened by the Queen herself (who knows how that happened exactly?), and has been serving afternoon tea to the masses ever since.
There are a few touches that put the Fortnum and Mason afternoon tea in the elite tea experiences in the city. First, they offer several versions of the standard tea service. In many places, tea means a very specific prescription of scones, sandwiches, and small desserts. At Fortnum & Mason, there are four options: Traditional, Savory, Vegetarian and High Tea, all containing some variation on the basic spread. This is a nice alternative for picky eaters or those who don't have much of a sweet tooth.
Another really convenient feature of this tea salon is its hours. Afternoon tea is typically served between, roughly, 2-4pm. It can be tough to get reservations in some dining rooms, and I find it annoying to try to be hungry at the correct time for the indulgence required for tea. In the Diamond Jubilee Tea Salon, tea runs nearly all day, from 12-7p. We went around 5pm and essentially had dinner in the form of loads of sugar and jam.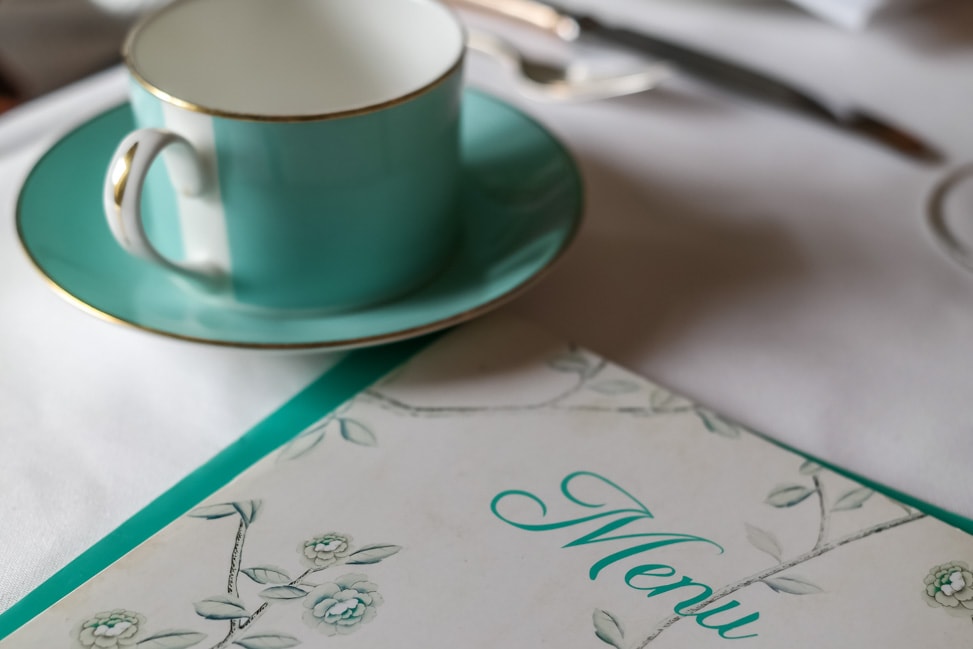 However, even given those perks, I can say for certain that this high end afternoon tea (at nearly £50 per person) did not offer anything far above the quality that I have happily consumed around the city. I could almost feel the churn of the service, the urgency to quickly flip tables, bring in the next group of unsuspecting tourists, and ply them with upgrades in the form of champagne or special small production tea options.
Our server was attentive, but he seemed visibly disappointed when we didn't order bottled water, sticking with tap. The tea service – we ordered one Traditional and one Savory – arrived within a few minutes of our order, and were missing the essential finger sandwich component, which was quickly rectified when I mentioned it. The quick service signaled to me that all of the sandwiches, treats and scones were being assembled in the kitchen, prepared hours in advance. Scones that are not baked to order, or at least served piping hot, are a massive oversight, but one that the average visitor wouldn't know to question.
The best morsel of the day was a small strawberry tart (the photo at the very top of this article). It was completely delicious and I could have eaten three more. That addition of gold leaf is always unnecessary but is frequently featured in venues like this, so I can overlook the gimmick.
I will note that even though I was underwhelmed by the tea at Fortnum & Mason, my friend was smitten. She got a kick out of the whole pomp and circumstance of the afternoon and the dainty china, towers of treats and tiny sandwiches was exactly what she was expecting. The menu of teas, all blended specifically for various royal celebrations, were perfectly on point for her, and the meal felt incredibly, well, English.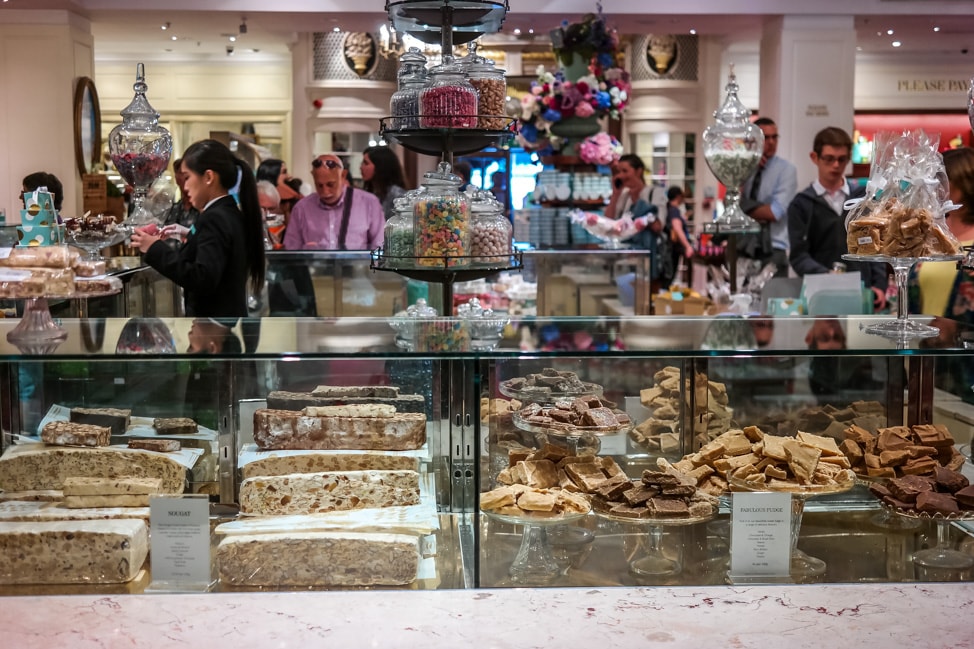 Leaving Fortnum & Mason through its opulent ground floor showroom of gift hampers and treats, I realized that they know exactly what they're doing in the Diamond Jubilee Tea Salon. There is an ever-rotating wave of clientele who want to indulge, savor tiny bites of stylized sweets, drink tea out of a personal teapot, smear a scone with clotted cream and jam and bask in the feeling of royalty and graciousness that tea parlors do so well.
And for this, I can't fault them. They succeeded in winning over one eager visitor, before my very eyes.
And that, was a treat in itself.