Last weekend, we went to Dublin for a quick trip.  On Saturday, we visited the Guinness factory, basically the single most visited place by tourists in all of Dublin.  It is quite a spectacle.  The visitor 'experience' is basically an 8-story museum exhibit in the old factory building.  There are videos and interactive areas, and a whole floor dedicated to old Guinness advertising.  At the end of the self-guided tour, you get a pint of Guinness on the enclosed roof deck.  It's nice.  We enjoyed our pint, and the views and agreed that the whole thing was very well curated.
We also got to thinking – we have had a LOT to drink in Europe.
Over the past year or so, we have spent the better part of seven days drinking as a tourist.  These experiences have ranged from big and small brewery tours to big and small wineries.  We ran into people we know from Maine at a small brewery in Belgium, and we took our three month old friend into many, many wine caves in France.  Second to the food, which we always will travel for, we have found ourselves using beer or wine or some local brew as a way to focus our travels in Europe.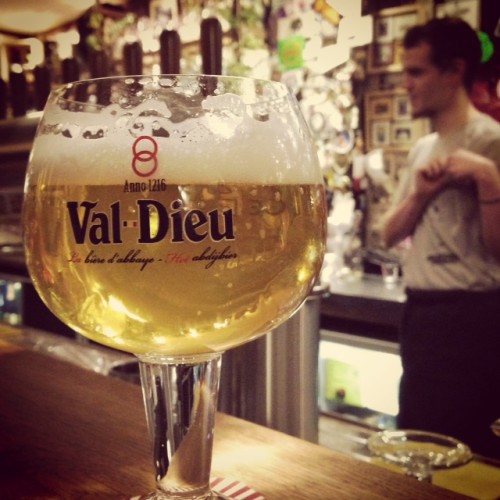 And it's no big surprise.
Beer, and spirits have been produced forever, and as we've been reminded multiple times, monks were the first to make wine all over Europe in the 1000s.  The fact is, alcohol production puts many places on the map. There is something special about drinking pilsner beer mere hours outside of the town it was named after (Pils, Czech Republic).  Equally symbolic is drinking wine from the plot of land right over there which was deemed in the year 1250 to be a special place to grow grapes.  Instead of guilt tripping ourselves for that 11am beer at Guinness, it's much more fun to view these experiences as a real offering of the region, the reason to go to a place as much as any other.
As we gear up for our last trip in Europe in 2014 – Spain & Andorra, where we're trying to figure out how to squeeze in a visit to a winery that makes Spanish sparkling wine – we share a few of our favourite ways to incorporate booze into your next European holiday!
Breweries – some of our favourites are:
Wine –