On a blustery weekend in February we decided that it was time to head out of town. Basil had the droopy ear look that said, 'I need to run free' so we jumped in a rental car and drove to the region known as Dorset.
Before I continue, don't get me started on how confusing I find the regional names in England. Some are easy-ish (Oxfordshire is near Oxford) but others (Devon, Dorset) sound similar and are kind of close to each other, which means in my mind the entire system is a hot mess. So, according to an article I just looked up, we were in Dorset.
With some heavy Google searching, we found The Grosvenor Arms, a dog-friendly hotel located smack dab in the centre of what turned out to be an adorable town called Shaftesbury. According to the bartender at the local pub (The Mitre), the town is mainly known for this hill called Gold Hill where famed movie director Ridley Scott once filmed an advertisement.  Not kidding. Here's the ad.
And the hill today is pictured above. It has changed exactly 0%.
I will also note that Shaftesbury is also no more than thirty minutes from Stonehenge, which we drove by on our way. And the famous town of Bath is nearby as well, so many people park themselves in Shaftesbury as a central point to explore the area.
We came to Shaftesbury for its dog-friendly accommodations and were not disappointed. The staff welcomed Basil with a huge squishy dog bed, and he enjoyed sniffing around the property. The Grosvenor Arms isn't radically dog-friendly which means that Basil wasn't allowed to roam free, nor did the hotel offer any specific dog amenities. But he was a welcome guest and that's all that matters to us ultimately. We did take him to dinner at the pub in town, but we left him napping in our room when we went for a drink in the downstairs lounge. It just seemed too nice to bring a dog to, and we didn't see any canine friends there either.
One special mention is the breakfast served in the downstairs restaurant. We were pleasantly surprised by the number of options (10 or so) and the availability of one of Drew's favorites, smoked salmon and eggs. Always a nice treat when the breakfast is on point.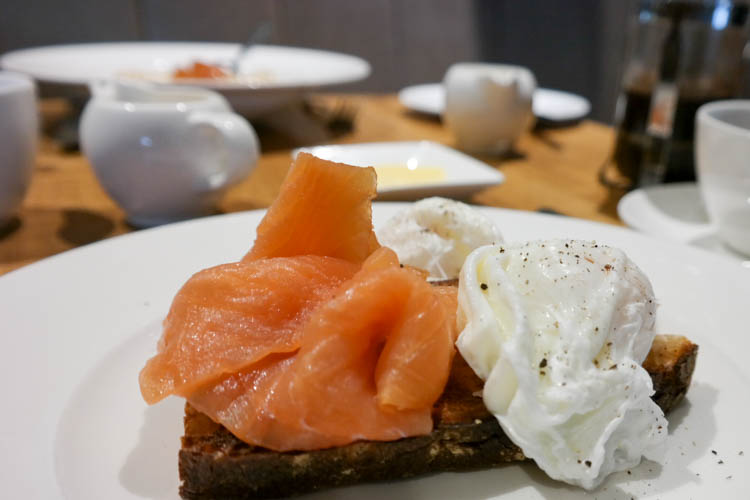 The only downside to bringing a furkid to The Grosvenor Arms is the abundance of clean white everything. The carpet is on the light side, the bedding is all stark white, and every towel is practically glowing with whiteness.  This means that even if we keep Basil in check and off the furniture (difficult, especially the easy chair which was nice and close to the ground), he's bound to brush up against it, leaving a rainy, muddy mess in his wake. So, thanks to The Grosvenor Arms for offering a rare dog-friendly hotel in the area, and sorry again for any obvious smudges or muddy paw prints we accidentally left behind!