Classic tapas pitted against the much maligned modern Spanish cuisine, all within a span of a few hours in one evening. That was our Friday night and it offered two very different perspectives of the dining scene in Barcelona. The city is literally bursting with culinary talent and has become a true hotbed for fancy food lovers, who can dine at Michelin started restaurants for lunch and dinner for a week and still not run out of options. But are they missing the boat when it comes to Spanish food?
Our evening began humbly at a small tapas bar in the Gothic Quarter, around the corner from our rented flat. The space was like a dark wood cave, with a small bar displaying some tapas in the front and some picnic style wooden tables in the back. The menu had what has become the norm for tapas around the world – lots of cured meats, machengo cheese, chorizo, prawns, croquettes. The two glasses of red wine we ordered came in one small glass jug accompanied by two small water glasses. The Chorizo de Diablo literally came out on fire and the flame held for a disturbingly long time. The large plate of peppers were simply blistered and topped with salt. Crispy patatas bravas were smothered in a ridiculous amount of garlic aioli that was so pungent it should have been illegal. The food was delicious, the space was cozy, and the cheap red wine was good.
We moved on from our "light" tapas and headed north to the Example district, a high-rent area with lots of high end fashion stores and hotels. We had booked a table at Hisop, a one Michelin star restaurant that has been open for over ten years.  We opted for the a la carte option over the tasting menu, as I feared a potential mid-meal nap would be unavoidable after the fourth or fifth course. I ordered a bottle of Pierre Gimmonet Champagne (a delicious grower champagne, much better and much cheaper than Vevue Cliquot) and the amuses arrived shortly after, a flurry of small bites. Black pudding topped with apple gelee, cockles with mushrooms and turnip carpaccio. The bread course was presented with two different olive oils from different regions of Spain. Kudos to Hisop as well for making gluten free bread for me. Well played Hisop.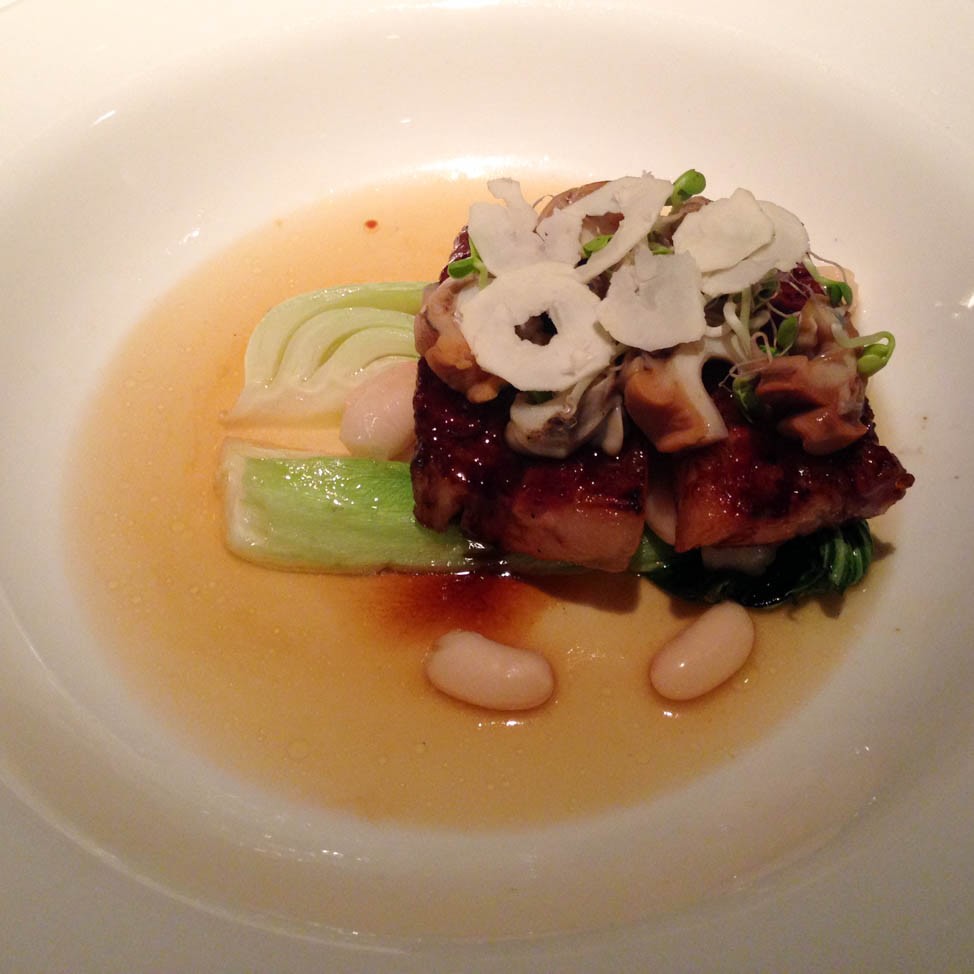 Julie enjoyed an octopus starter with basil breadcrumbs and mushrooms and grilled brill for a main course, while I doubled down on pork, devouring a fatty pork chin starter with sea snails and then suckling pig with apples and cardamon. For me, it was certainly not a light meal. Finishing both courses felt a little like finishing an Iron Man, only I gained weight during my competition. Oh, and do not roll your eyes at the pork chin. It was basically like braised pork belly. If you do not care for pork belly, then, well, I do not care for you.
We topped off the evening with a soufflé-like pistachio dessert and some petite fours which consisted of chocolate truffles, ribbons of raw carrot around creme fraiche and paper-thin apple around basil and mint. Unfortunately, the evening also ended with a rather large bill, which was to be expected. We left full and happy, if not slightly inebriated and made the long trek back to our flat.
The next morning we discussed the previous night. Our highlight? The patatas bravas at the tapas restaurant. Our bill was eight times larger at Hisop, yet our favourite plate was one we have both had at dozens of Spanish restaurants before. Why? Our meal at Hisop was certainly not disappointing. The space was cool, the food was solid. There was no obvious missteps in service. But expectations at that price point are much higher and we expected great but instead got just good. The tapas bar on the other hand was comfortable, quaint and full of character and we had no expectations.
The traditional dishes are where the true heart of Spanish cuisine lies. The tapas and pinxos bars are the basis of its food culture and they need to be sampled to truly understand Spanish food. Places like Hisop and the many other high-end options in Barcelona are great restaurants, serving the highest qualities ingredients with large wine programs and refined service, and are essentially the future of Spanish food. The press especially eats up the new openings, as most articles I have read on Barcelona tend to focus on the new, typically high end destinations. Truth be told, I get drawn to these types of restaurants too.
Only focusing on the high-end, highly reviewed and publicized spots while visiting is like going to the Louvre and only seeing the Mona Lisa. You are missing a whole lot. The most simple dishes are the basis of many high-end restaurants menus, with many places doing riffs on the traditional tapas.  It is hard to truly appreciate the refined recreations if you have never dined on the originals. So the next time you find yourself in Spain at a tapas bar while waiting for a table a the new hot spot up the street, consider cancelling the booking and order another jug of wine. And definitely more patatas bravas. You can thank me later.