The Basque Country, in the northeastern corner of Spain, is well known as a culinary destination. The epicenter is the city of San Sebastian, which is overflowing with tempting pintxos bars (the Basque version of tapas) and a handful of modern, Michelin-starred restaurants. In fact, San Sebastian is only bested by Kyoto, Japan for most Michelin stars per kilometer, well ahead of cities like Paris and London.
While many people get caught up in the Michelin stars and the pintxos bars, a truly unique Basque experience is hidden just outside of San Sebastian, nestled among the rolling hills: the Basque cider house.
Basque has been producing cider (or sidra as it is called locally) from its apple orchards since the 11th century. For those used to the large commercial brands available in the US or UK, Basque cider has a totally different taste – completely devoid of that sickly sweet apple flavor, it's extremely sour, cloudy, and very lightly carbonated.
Once the cider has been fermented after the fall harvest, the numerous cider houses outside of San Sebastian open their doors to the public every January through April for indulgent feasts and copious cider consumption. These dinners are not small, intimate meals, but rather, huge gatherings, with some cider houses holding almost 700 diners at a time!
While my June visit was not ideally timed for the cider house experience, a few houses, like Petritegi Sideria, remain  open year round, allowing visitors and locals alike the have the Basque cider house experience at any time of the year.
A typical experience at a Basque cider house involves a four course meal, accompanied by unlimited, self-service cider. That's right, all you can drink cider that you pour yourself. All for under €30/person.
The menus are almost all identical, serving the same traditional courses, varying little between the cider houses. The dishes are all served for two and meant to be shared. Petritegi Sideria actually had a few, minor variations on the menu (like substituting cod with tail of hake for a small surcharge), but we went with the "traditional" option.
Of course, before you eat, you must drink some cider! Thanks to self-service, whenever you want a drink, you walk into the cider house, packed with 12,000-20,000 liter cider barrels, and help yourself.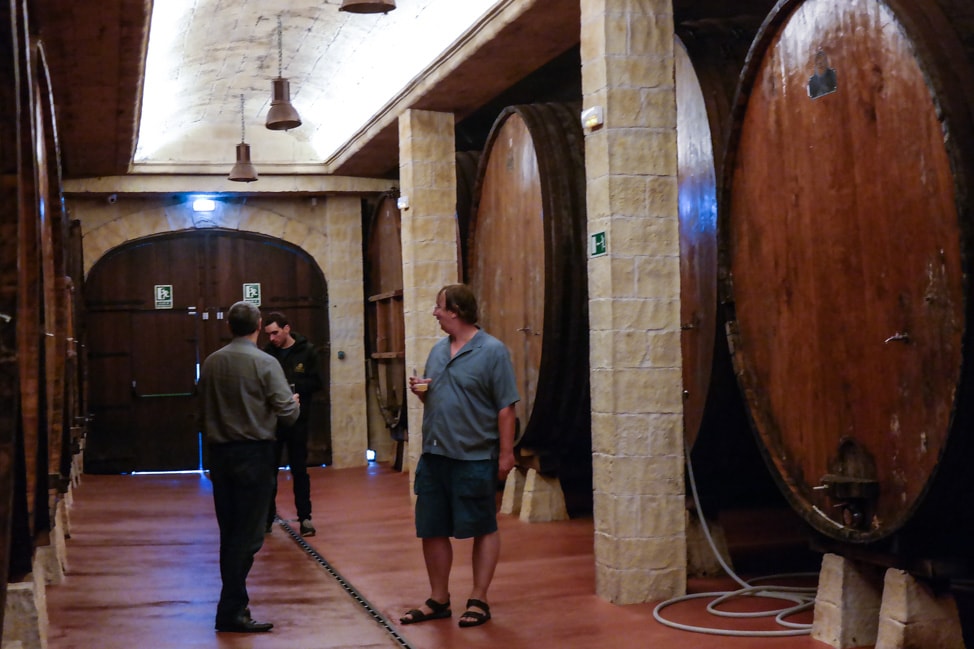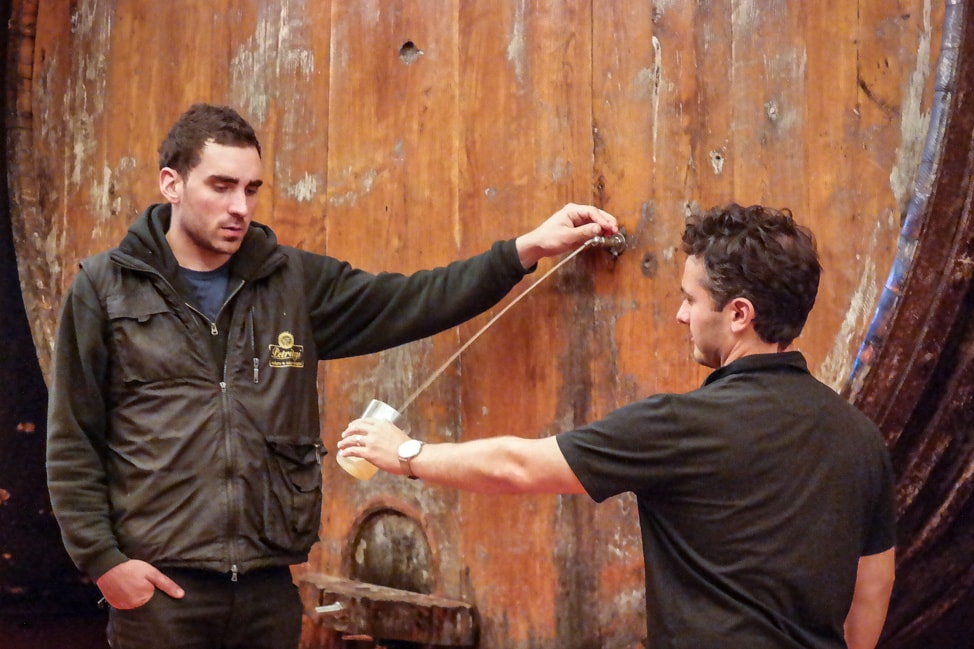 There are a few rules about drinking cider in Basque Country that are worth noting. The barrels have a spigot that you simply turn to pour the cider. Rather than a more normal pouring speed, the cider shoots out at insanely high pressure. In order to not make a huge mess, you hold your glass as far away as possible, catching the cider in your glass.
Since Basque cider has very little natural carbonation, the action of the cider hitting your glass creates bubbles and fizz, making it easier to drink. You also never fill the large, wide glasses to the top, but only about a quarter of the way. This allows the cider to stay cold and maintains the fizz from the pouring process. But this self-imposed quality control means you make frequent trips from your dining table to the cider barrels – like 10-20 (or more) trips per person. It's definitely part of the experience.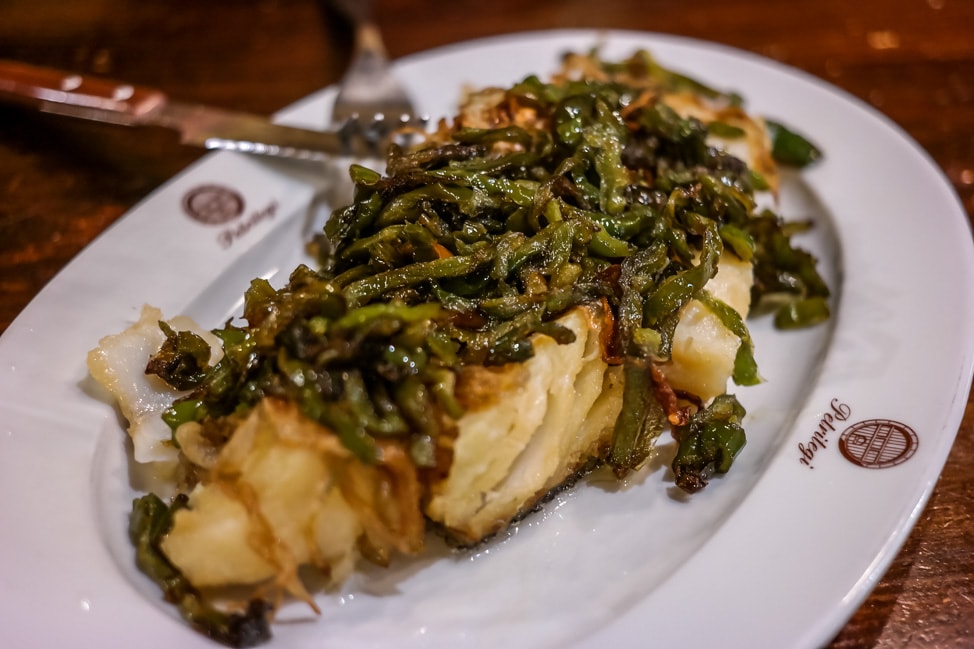 The traditional cider house meal begins with a salt cod omelet packed with diced pieces of salt cod, a staple food for most of coastal Spain. The next course is fried salt cod "pil-pil style", a Basque way of slow cooking salt cod in olive oil, topped with fried green peppers and onions. Again, at Petritegi, the portion of cod was quite generous, as my brother and I struggled to finish even half of the dish.
And then we got to the filling part of the meal.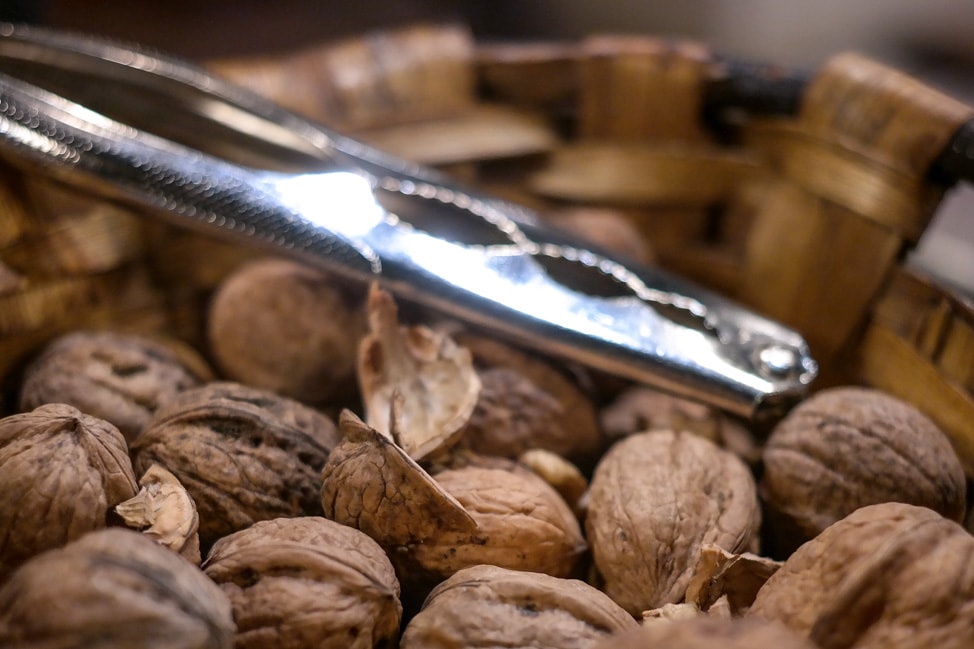 The main event is the 700g (25oz) bone-in ribeye. They don't ask you for a preferred temperature, as it is normally served rare, simply sliced and topped with salt. No garnishes, no sauces, no side dishes. The beef is the star of the meal.
The meal wraps up with local cheese, quince or apple paste, a bowl of walnuts, and almond cookies. After devouring a massive quantity of food, let's just say the walnuts didn't get much love.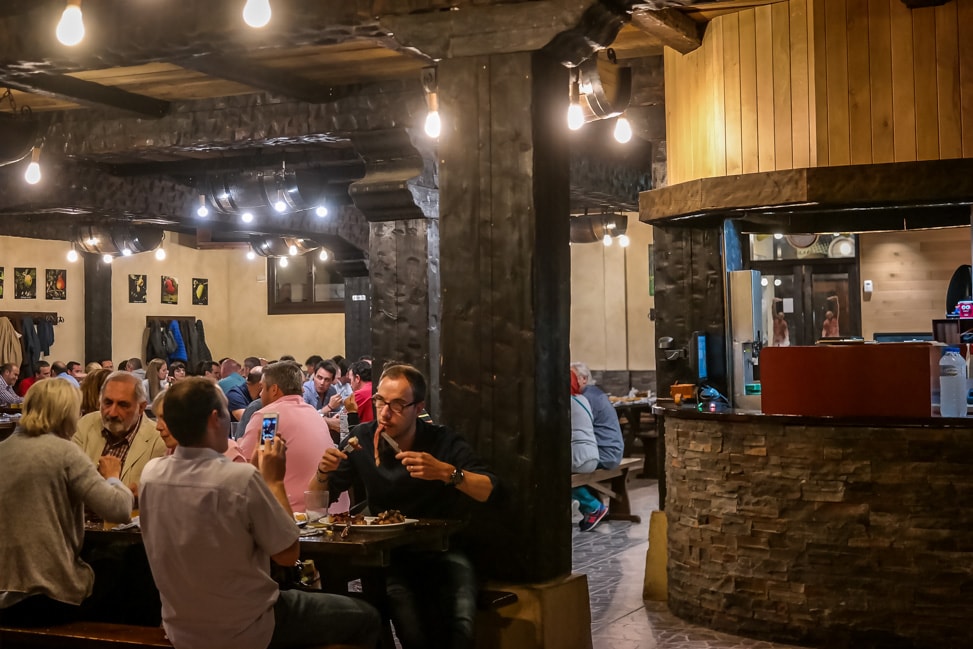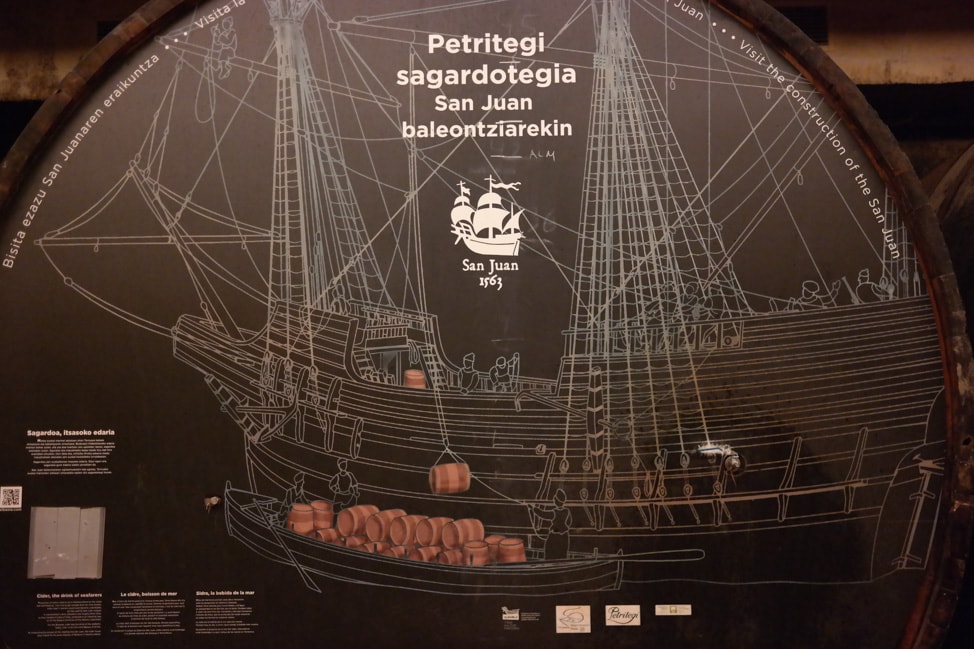 For food lovers visiting San Sebastian, an excursion for dinner at a Basque cider house is simply required.
This meal and this cider can only be found in a tiny corner of Spain during a short time during the year. It simply cannot be replicated outside of Basque country. The atmosphere and sense of community is a treat, as people meet and talk while pouring cider for each other and walking around in the expansive dining room. I never felt more at home in Spain than at a massive table laid heavy with food, cider in hand, new friends all around.
Have you been to a Basque cider house? What were your thoughts? Share your thoughts below!