Japan, and Tokyo in particular, has been a major hole in my eating resume. I've eaten the best French cheeses in Paris, dug into bowls of pasta in Rome, and slurped the best soup dumplings in Shanghai, but never sampled a single thing within Japan (except once, in the airport during a layover but that definitely doesn't count).
Last week, Julie and I stepped off a plane at Tokyo's Narita Airport, ready for our eating adventure to begin.
The first thing on our agenda was a Tokyo food tour with Japan Wonder Travel. Instead of heading to the heart of Tokyo, with its towering skyscrapers and sensory overload, we headed east, to the more quiet, residential side of the city. This Tokyo food tour was all about getting off the well-worn tourist path of the city.
We met our guide Yeonmi at the Kinshicho Station, eager to explore Sunamachi and its market street.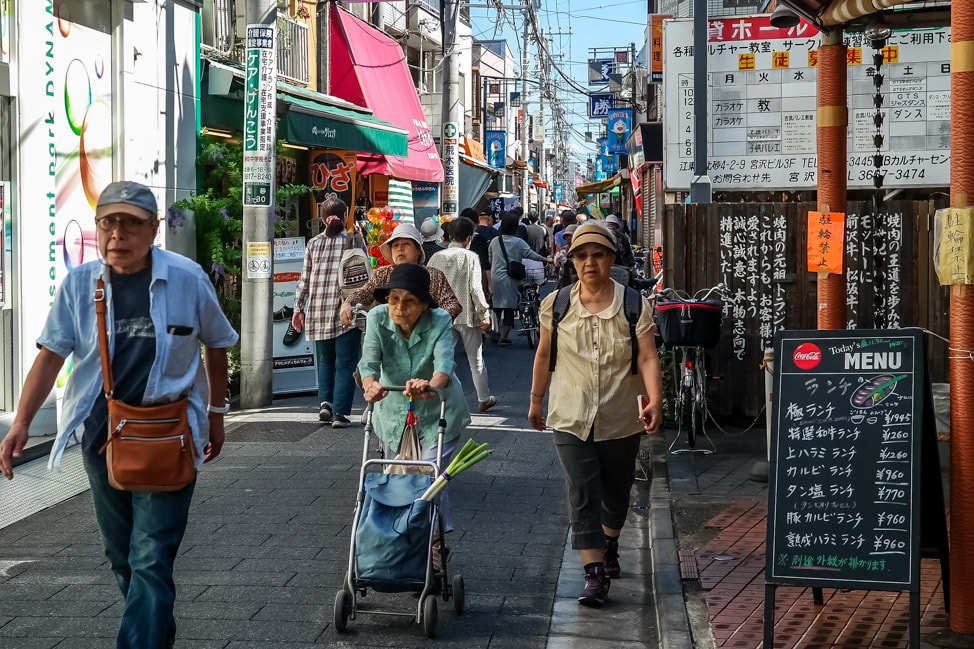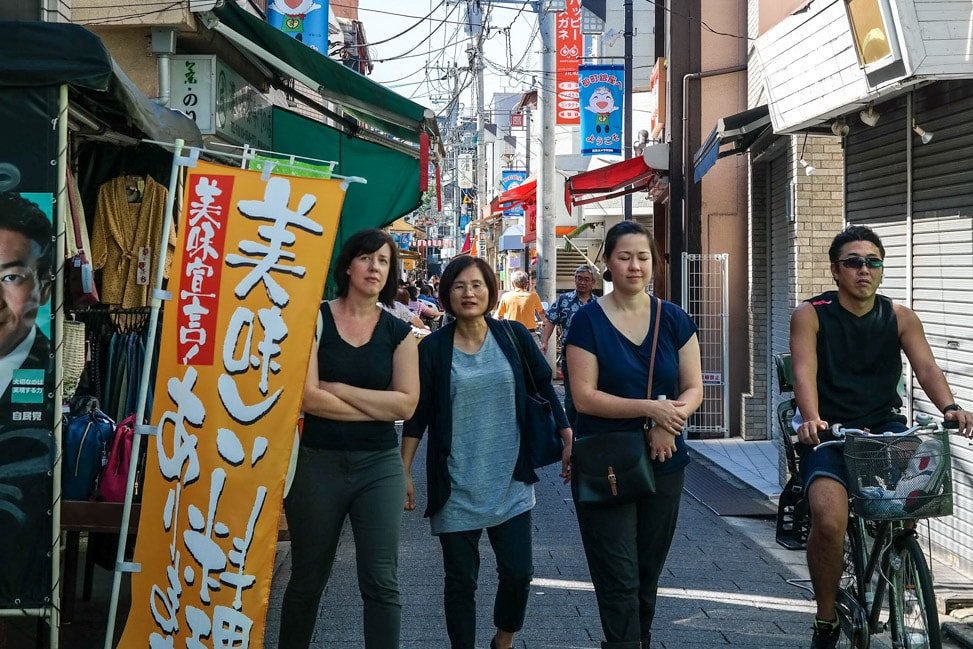 Tokyo Food Tour
Yeonmi escorted us and one fellow visitor, a baker from Melbourne, to Sunamachi Ginza shopping district. Here, a narrow lane extends for almost half a mile, lined with small stalls selling food and goods to the community. Chain markets and Michelin stars find their homes elsewhere in Tokyo. Here, local family-run businesses feed the neighborhood like they have for generations.
Our first destination on the Tokyo food tour was a tempura stand, with three generations of family all present and working hard. The stand displayed its full array of freshly fried treats, from seafood to vegetables. The grandmother handled the money, using an abacus to add up the cost. Another older woman was busy sitting on a small stool at the frying station, methodically dipping vegetables into the tempera batter (check out this Serious Eats article for a great tempura recipe) and frying them to perfection.
Yeonmi handed us plates with diced shrimp and onion cakes. The batter was crispy and not oily at all. Tempura perfection.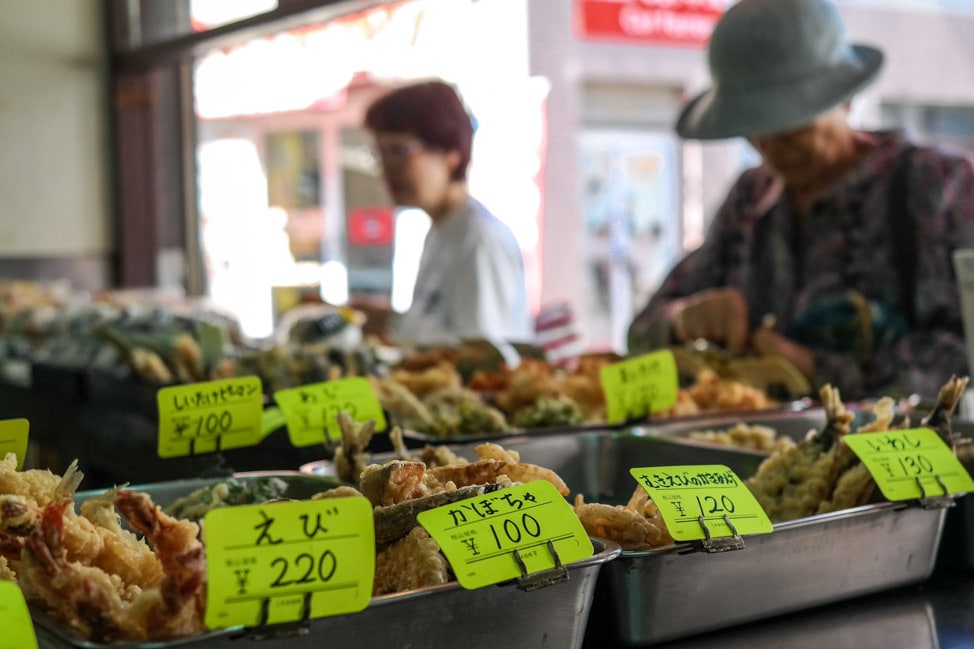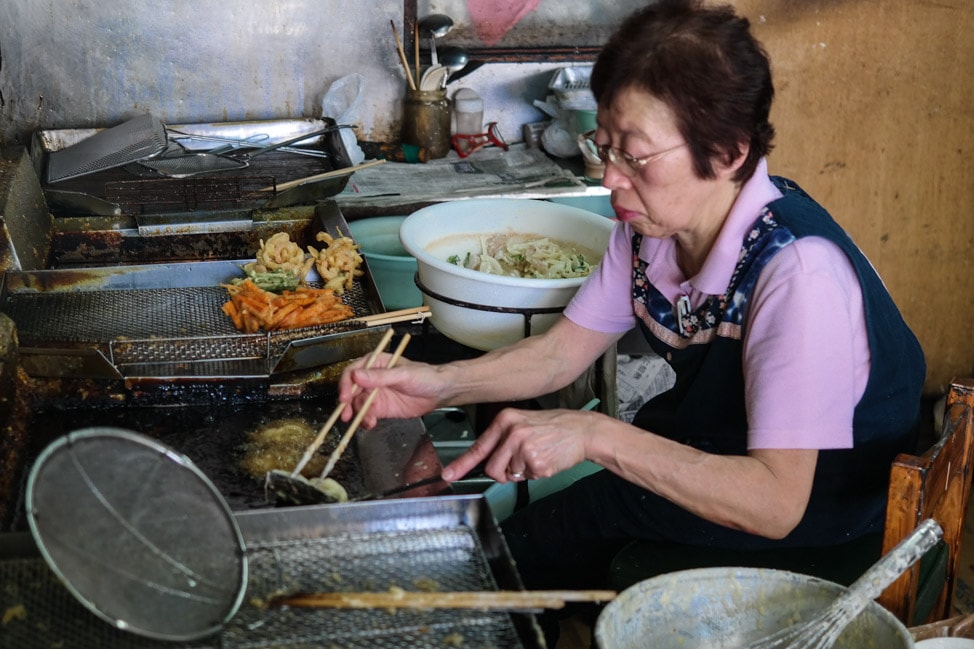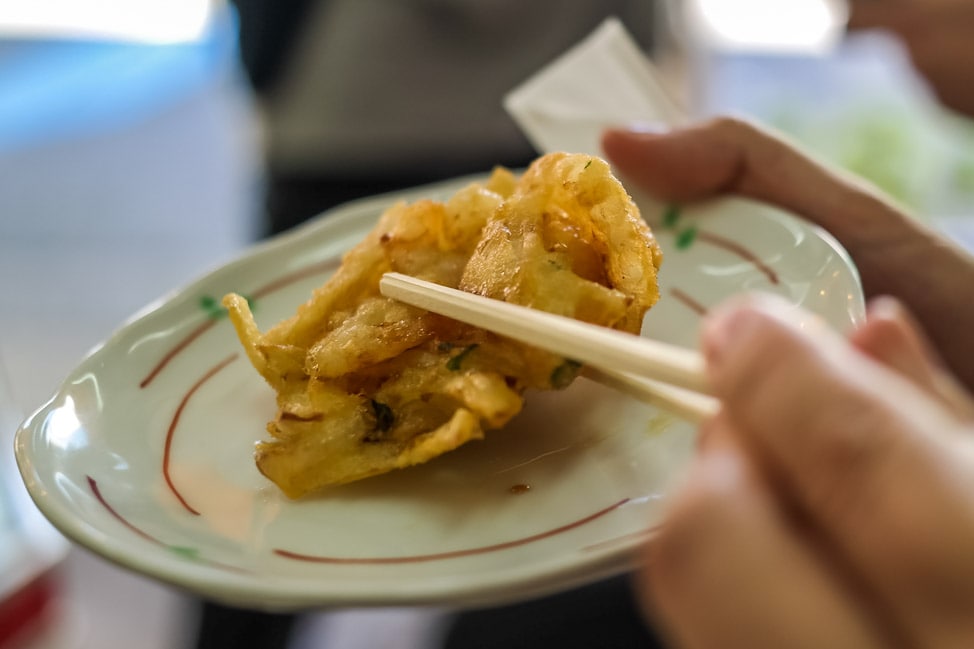 Next, we ducked into a small cafe specializing in inari sushi. We sat down in the tiny dining room and Yeonmi explained how this type of sushi is deep-fried tofu skin stuffed it with seasoned sushi rice. It is a perfect bite, with plenty of acidity and a hint of sweetness.
Imari makes for a great snack, and I took to eating it for breakfast for the rest of our time in Tokyo.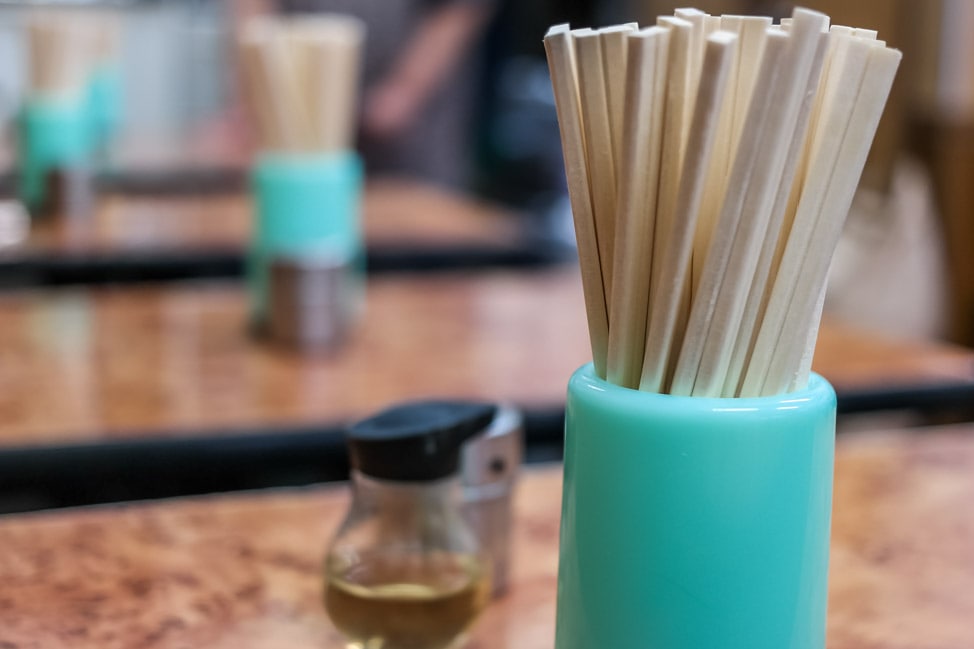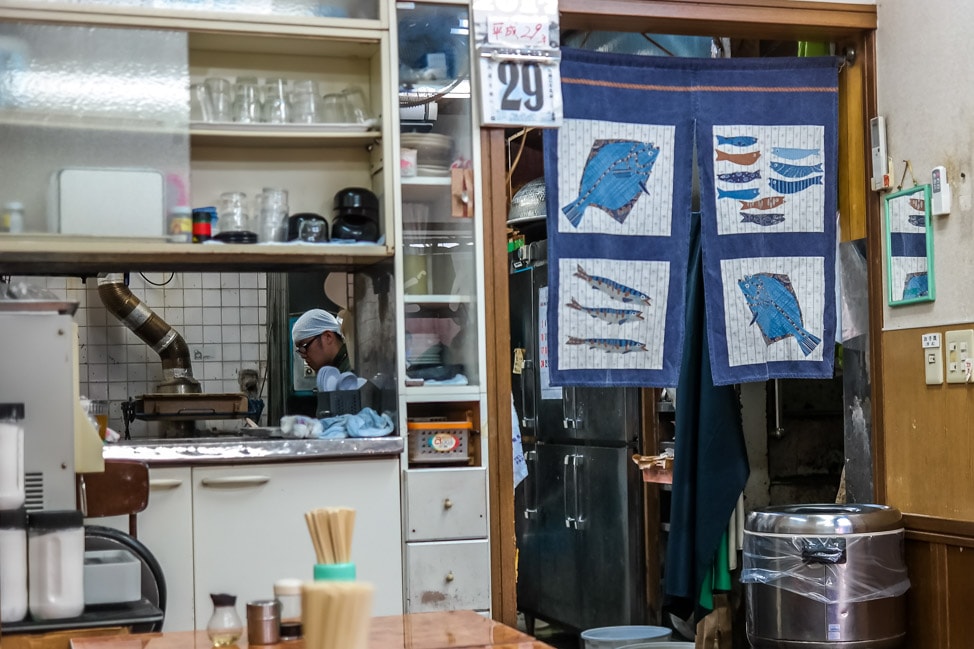 Oden is a street food version of a hotpot, where a variety of fishcakes and vegetables are simmered in a dashi broth and eaten as a snack or as part of a larger meal. This particular dish has yet to make it into Japanese restaurants I've been to outside of Japan, so I was excited to try something new. I went for the daikon radish and the fishcake, which this stand makes fresh everyday.
Our bowls were topped off with a little of the umami-rich broth. The radish and fishcake took on the flavor of the broth, and were delicious.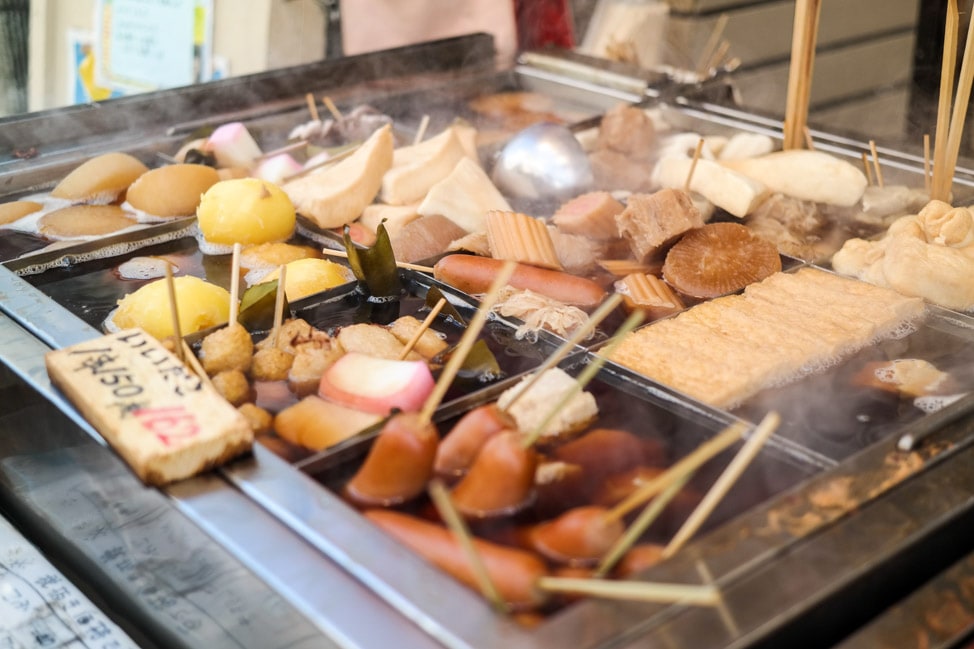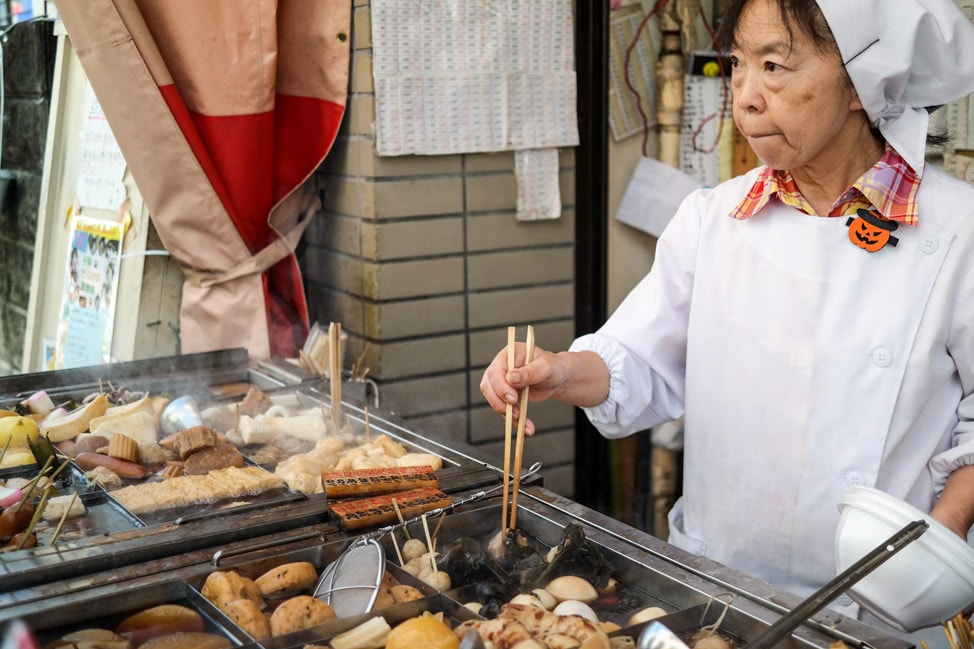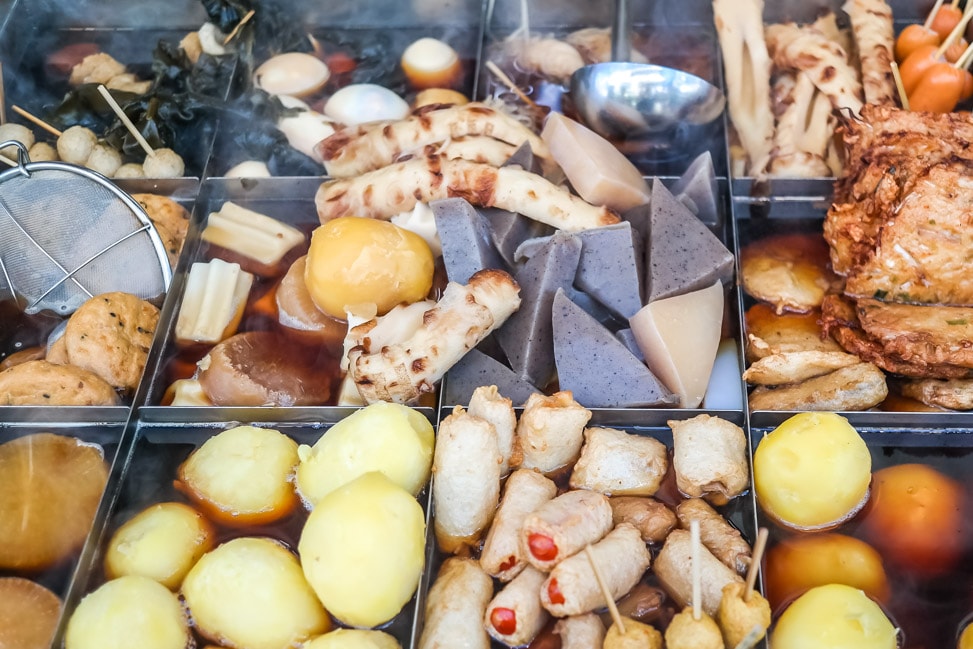 After our oden, we were distracted by a candy and junk food store, selling nothing but Japanese snacks. From the dozens of flavors of Kit Kats (I'm a huge Kit Kat fan and had to buy a bag of the green tea variety) to the unusual potato chip flavors (and yes, we had to buy a bag of pepperoni pizza chips too), it was a blast seeing what is popular among the Japanese.
I was especially surprised when a group of young school kids came in and skipped right past the candy bars, instead begging their parents to buy fruit jellies (kinda like a Jell-O cup). Definitely wouldn't have been my first pick as a kid.
Yeonmi declared that it was time for a drink, so after she showed us how to properly pay our respects at a Shinto shrine (donate money, ring the bell, step back, bow twice deeply, make your prayer, clap twice, and bow one more time) we hit a sake and liquor store, conveniently located across from the shrine.
I prayed for the existence of 5L plastic bottles of whiskey. I was rewarded.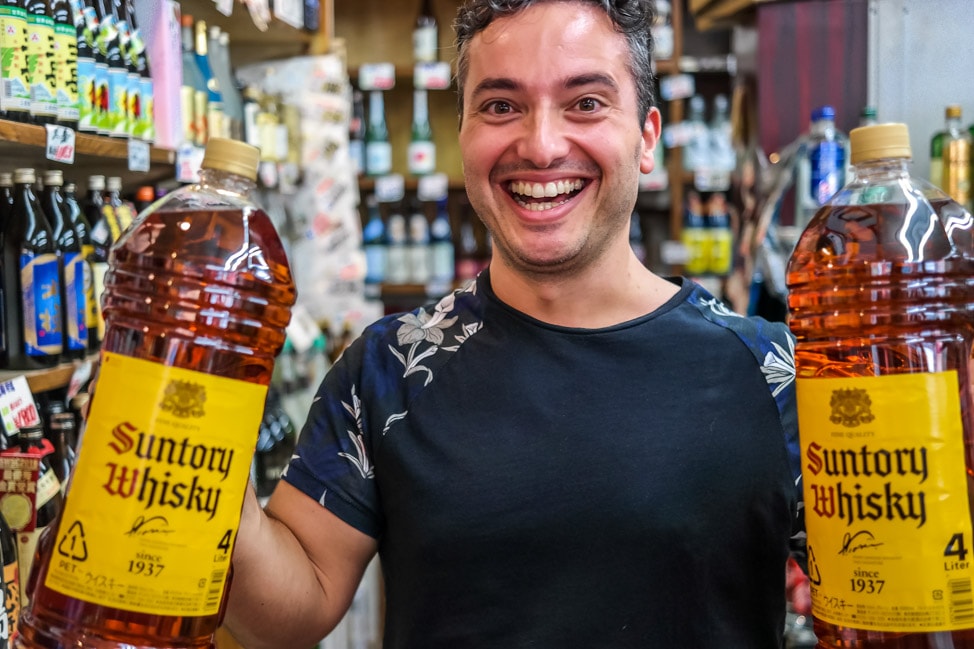 The small bottle of sake we purchased perfectly paired with our next snack, fried cutlets. The Japanese really excel at frying food, which sounds simpler than it is. Whereas fried food usually carries with it a heaviness, the Japanese have unlocked the key to keeping fried food light and tight. Which means you don't feel gross after eating it multiple times per day. Which means my jeans get tight quickly.
For this stop, Julie went straight for the crispy beef cutlet, while I choose the shrimp patty. Both were excellent, light and fresh. The sweetened soy sauce was the perfect component to sauce up each bite.
And eaten with a few sips of sake? Best bar food ever.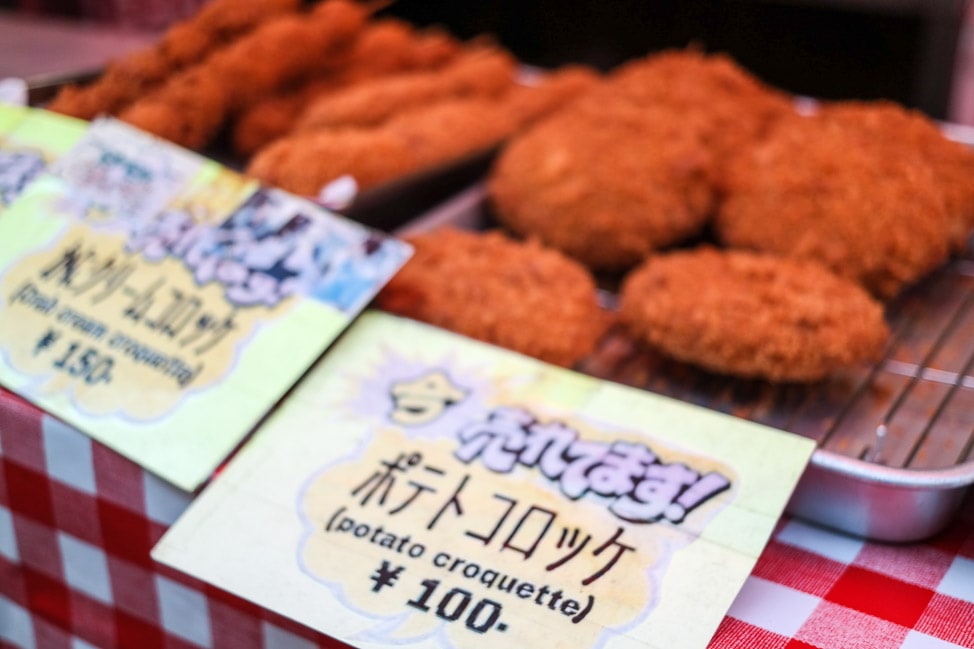 Next we moved onto yakitori, grilled meat, fish, or vegetables on a skewer. These are great late night snacks, or as one component of dinner. I chose the chicken thigh and onion skewer, along with the chicken skin skewer.
The idea of eating chicken skin may sound unappealing to some, but for me, the skin has always been the best part of any roast chicken. When you take the skin, skewer it up, throw it on a searingly hot grill, let it get crispy, then bathe it in a soy sauce glaze? Trust me, it is hard to resist.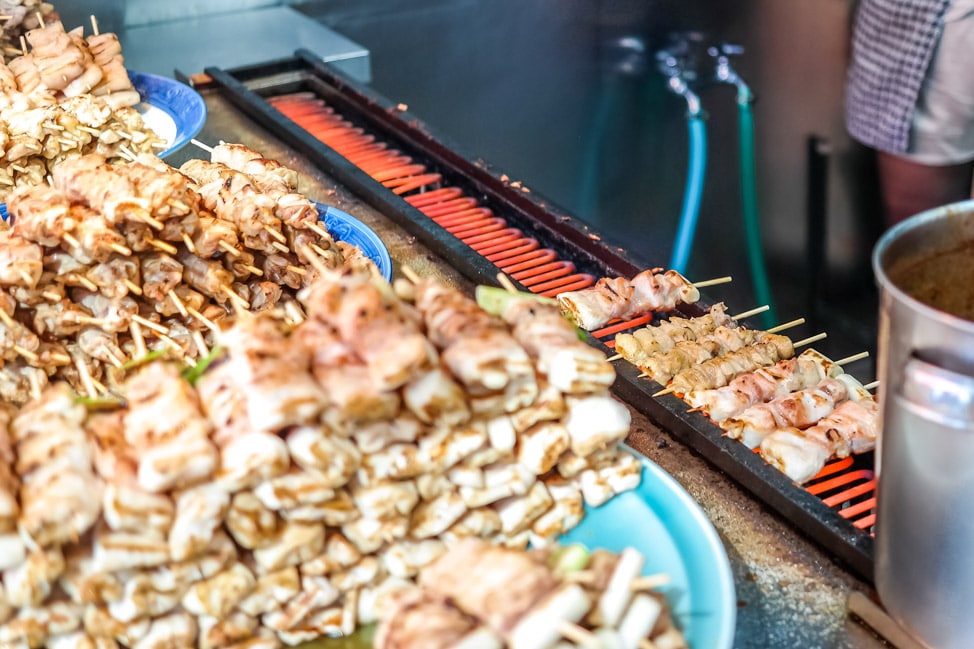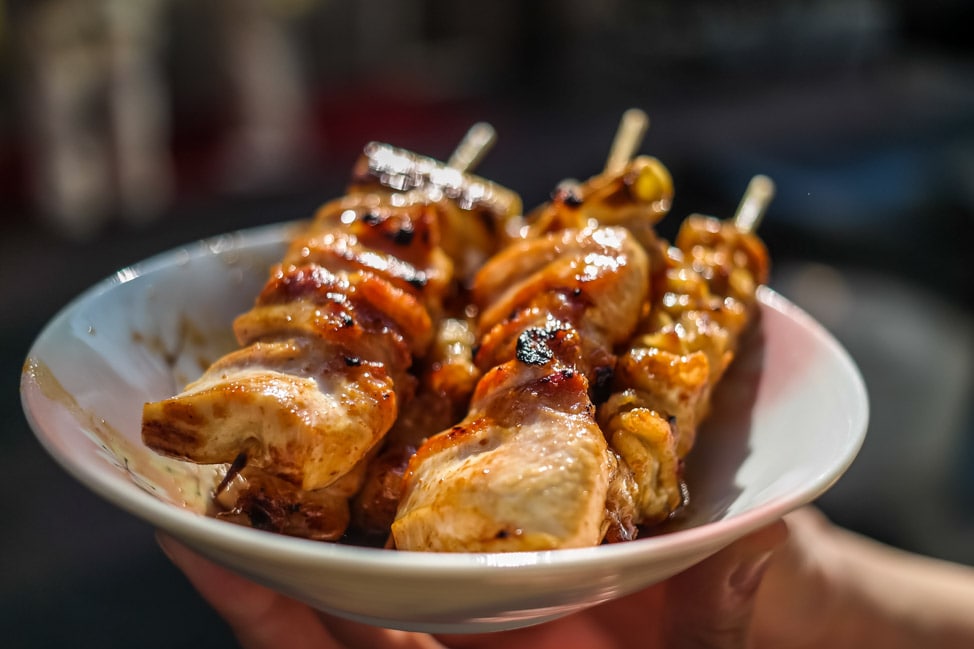 After all of this savory food, we rounded out the day with a few traditional sweets.
First, we sampled rice balls. These dense, chewy skewed balls are made from glutinous rice, but by the time they make it to dessert stage, there are no rice kernels left. The balls are shaped and dipped in a variety of sauces to sweetened them up, like black sesame paste or sweetened soy. For most Westerners, Japanese desserts like this are a little challenging because of the very chewy texture.
Our final stop a tea shop that specializes in green tea and matcha. The owner showed us the precise (with a timer) way to make the perfect pot of matcha tea. The water should be below boiling temperature or else the tea will taste bitter and it should soak in the warm water for only thirty seconds. Only then is it poured.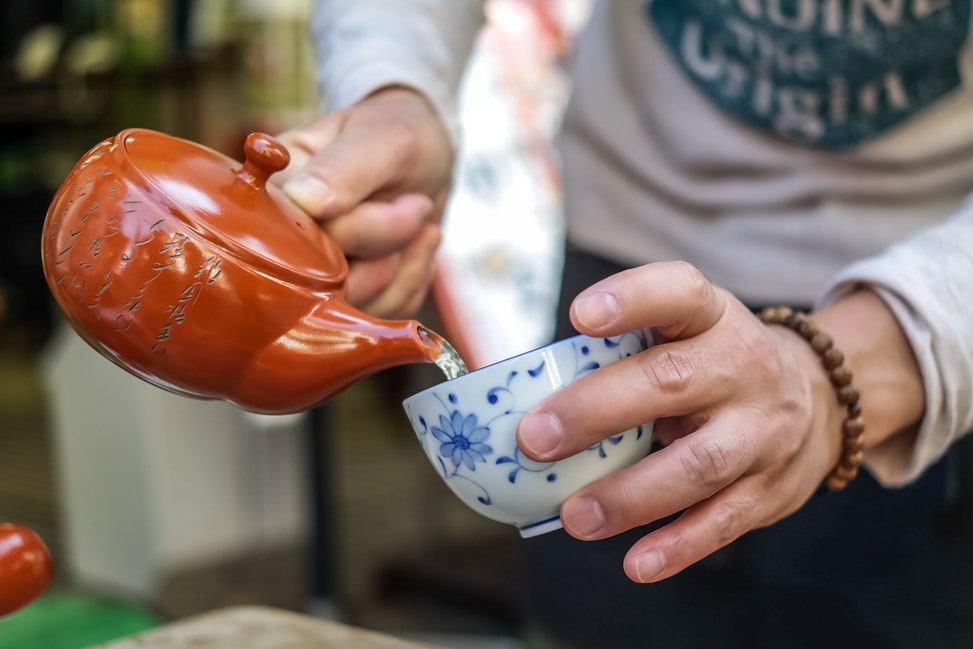 The Sunamachi tour was an excellent introduction into Japanese food and a great Tokyo food tour. We got to sample some of the Japanese classics, while learning about Japanese food culture. I love exploring an area like Sunamachi that is not crowded with tourists. This is a real street, with real residents going about their day.
I could totally see myself living just off the road, coming up every day to choose my tempura for lunch. It was a perfect first day in Japan.
Thank you to Japan Wonder Travel for the complimentary Tokyo food tour. As always, all opinions are our own.