Lesson for the day – if someone emails you and asks if you want to visit a spa, you say yes.
It doesn't matter if you aren't quite sure how to fit it into your schedule, or if it will be difficult to find, or if you even like spas all that much. Trust me. Say yes.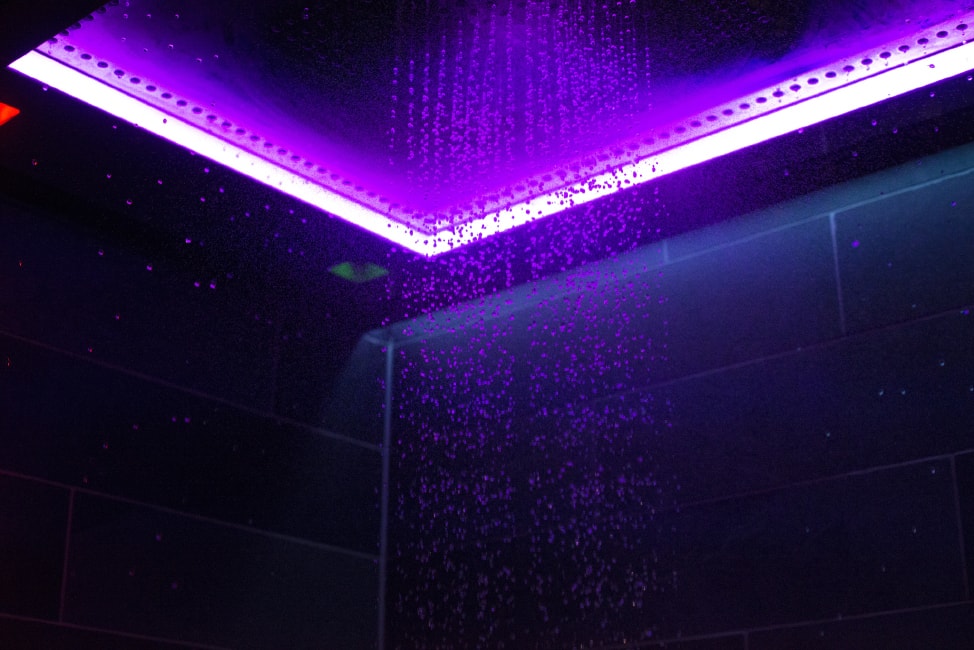 THE THIEF is a relatively new boutique hotel in Oslo. It is everything we like in a hotel, funky décor, a touch of luxury, an amazing canal-side location. The whole vibe there is whimsical and fun, all the way down to the job titles (The Vault Keeper, Chef of the Chefs). We love that stuff.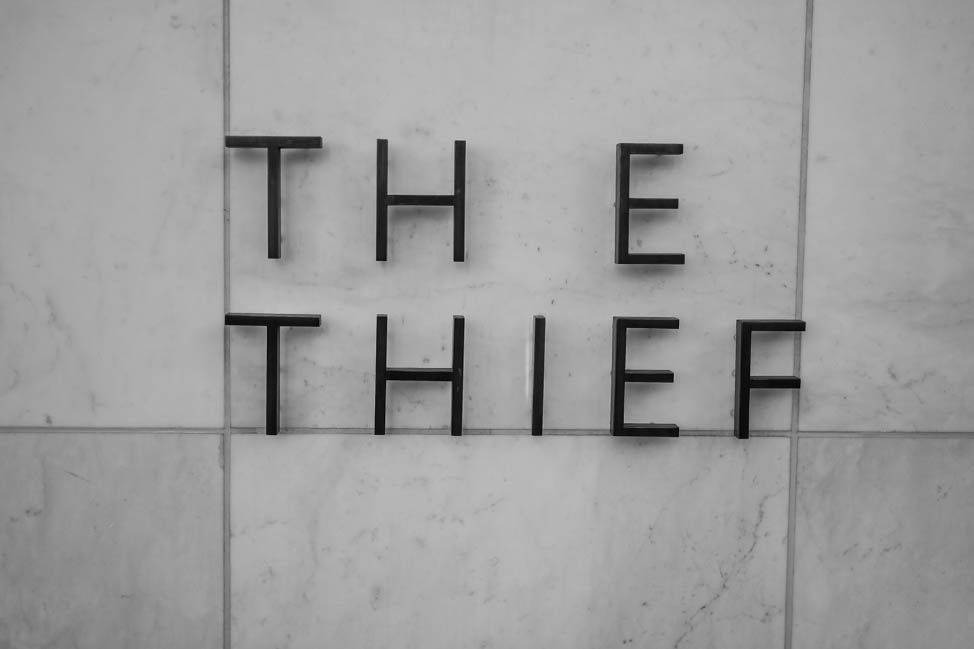 During our afternoon there, we were invited to lounge in the onsite spa, aptly called THIEF SPA. Unlike every hotel spa we've ever been in, this one has its own entrance, and caters to hotel guests as well as local residents. In Norway, where spas are a central part of daily life, it's normal to have a membership to a spa where you go for lunchtime treatments or evening saunas.
That in mind, let me paint a picture for you. THIEF SPA has workout rooms and treatments rooms, just like you'd expect. But it also has a massive inner sanctuary, with several communal sauna rooms, a variety of futuristic showers and a luxurious (but small) LED pool where guests swim and relax.
We began our afternoon lounging by the pool, drinking tea and basically giggling to ourselves about how we should spend more afternoons in bathrobes near pools. Then we ducked into the sauna area, and took turns in the Finnish sauna, the Steam Room and the Turkish Hammam.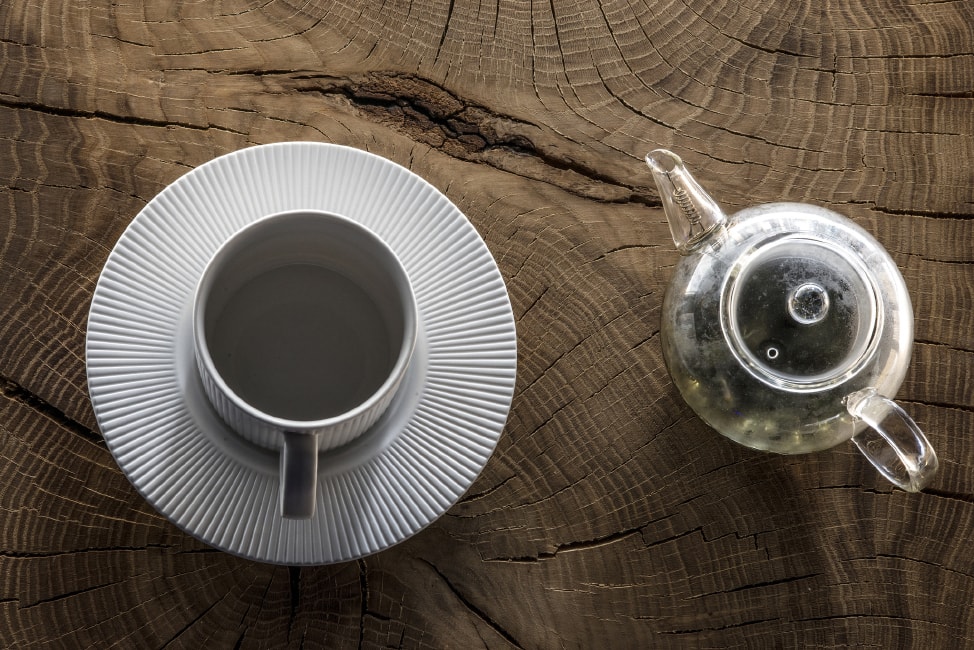 Drew's well documented love for Finnish saunas got a nice refresh, and we sat sweating up a storm while he reminded me of how amazing sauna life is in the Nordics. In the Finnish sauna, we were also treated to scented minty ice water, which we poured over the central stones to increase the steam and heat. The spa manager showed us how to use towels to whip the hot air around the room. The hot air wave crashed over us with newfound intensity, and then quickly dissipated.
Over and over and over.
The steam room was less hot, but the steam made the air so thick that we couldn't see our own hands. A salt scrub was provided for us and we sloughed off dead skin cells in marble luxury, using a cool water hose to wash the salt off.
Third in the rotation was a cool-down in the heated Turkish room. This room is used for treatments during the day but we arrived after the last treatment and had the massive stone room to ourselves. We loved visiting a traditional Turkish Hammam in Istanbul so we are all too familiar with the experience. This time around, we just cooled off on the massive central stone slab and wondered why we didn't dedicate more time to the spa.
Between sweating it out in the different rooms, we experimented with the showers. My favourite had a setting called 'Cool Mist' which was cold enough to shock away the heated rooms, but gentle enough that I didn't feel faint or like I was dying a slow and freezing death. Drew tried the more intense cold shower, which was like standing under a small freezing waterfall.
We couldn't get enough of THIEF SPA. It was the nicest hotel spa we've ever seen, and that is saying something. The spa manager gave us a little peek into the treatment room area, which has one crazy room that has its own whirlpool. We decided that if we ever find ourselves living in Oslo, first stop will be to get our membership at THIEF SPA.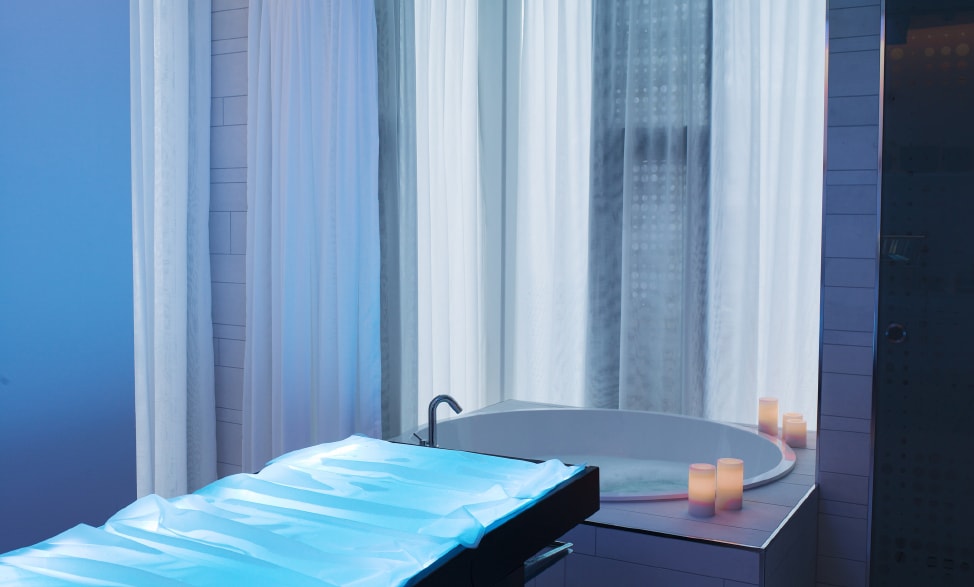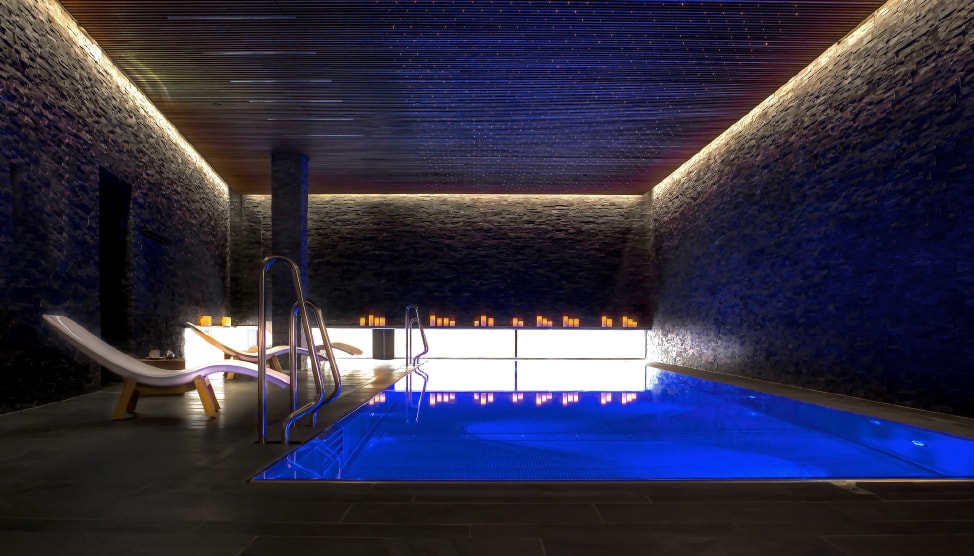 Our day at THE THIEF wrapped up with dinner in one of the onsite restaurants, FOODBAR.
For us restaurant aficionados, we are strong believers in comfortable chairs. Seriously, it's a feature that can set a restaurant apart, and our first observation of FOODBAR was the varied selection of obviously comfy seats. The high-back wing chairs would be very attractive sitting in our living room, but with luggage limits to contend with, we left them in place.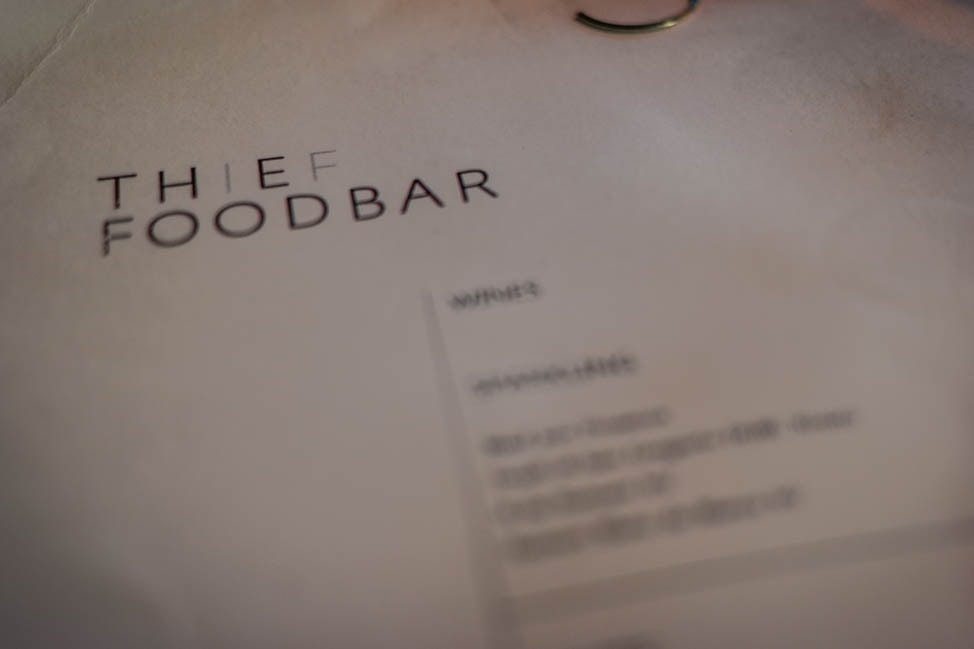 We took our server's recommendation for all dishes, happy that most of the menu was naturally gluten-free. The server, also the manager, was spot on with her recommendations and we shared two starters and a large main course (meant for sharing). We selected a light white wine to pair with the meal, as it was seafood heavy (more to come on that – if you hate seafood, Oslo is NOT the city for you).
My favorite part of the whole meal was a crispy potato cake topped with sour cream and bleak roe. It was salty and rich and I haven't stopped talking about those little crispy potatoes. I want one right now, as a matter of fact. Drew enjoyed the turbot apple soup even more, with its thick creaminess cut with little bursts of sweet apple.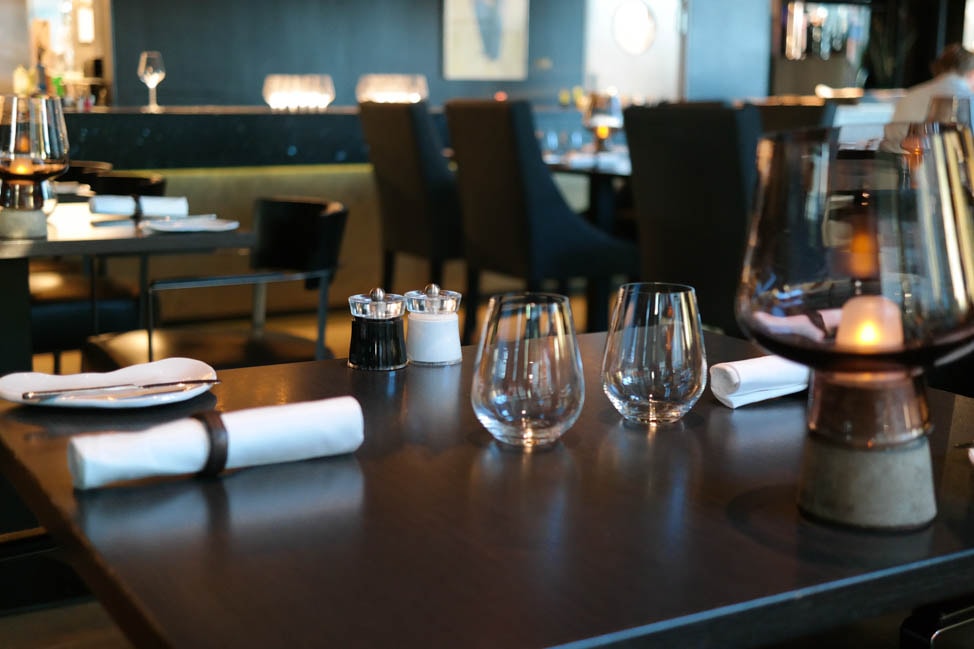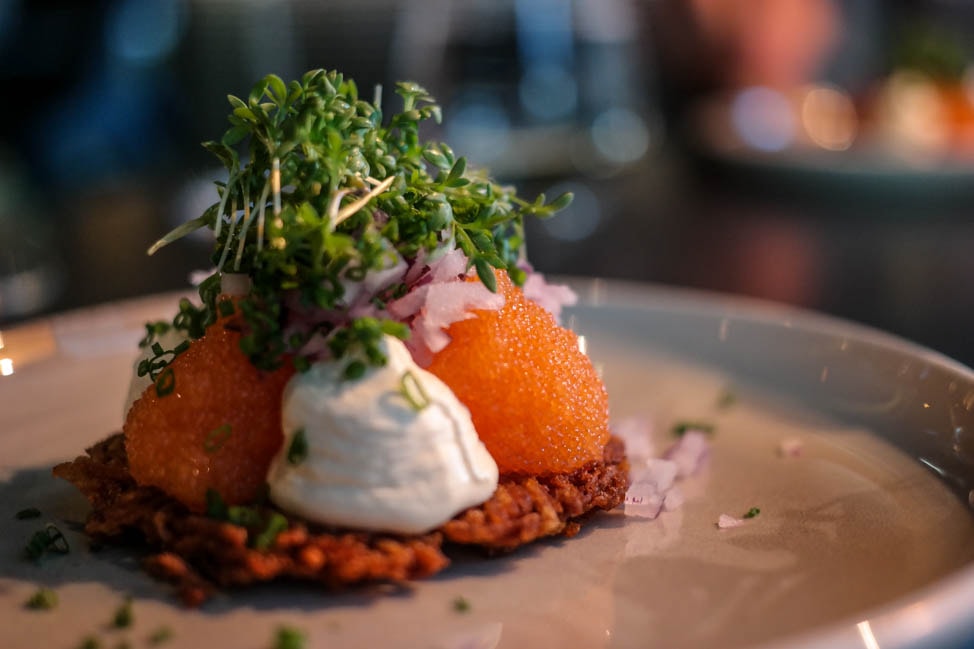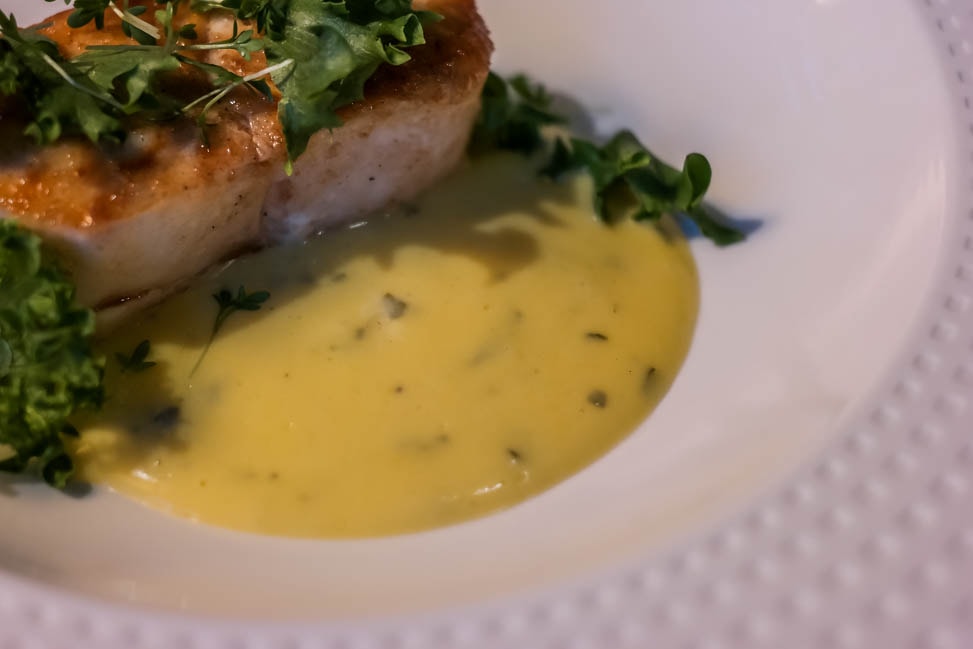 It was a feast.
Given that THE THIEF is relatively new to the Oslo scene, we're not surprised that it hasn't found its way to the top of every restaurant list on the internet. But I promise it's only a matter of time before FOODBAR and FRU K are all over the place, heralded as two of Oslo's finest eateries. The food was even better than our amazing meal at Solsiden, and the space is large and comfortable.
I guarantee the meal will surpass the one you'll have down the street the massive TGI Friday's (really, Olso?). But don't take my word for it. Try it for yourself.
We were guests of THE THIEF hotel, but as always, all opinions are our own. Plus, it actually was totally awesome!