The process of brewing beer always seemed pretty straight forward to me. There are only four ingredients. Barley, water, hops and yeast. And in theory, it is easy to brew at least in small amounts, like someone making beer at home from one of those home-brew kits. Just buy some packaged ingredients, follow the instructions on the label and after a few weeks, you can bottle a couple of six packs to share with friends.What about making beer on a larger scale though? Well, as you would expect, making beer on a commercial scale is a whole different process, one that requires a lot of blood, sweat and tears to produce a high quality beverage for all of us to enjoy.
Having spent quite a bit of time with the guys behind Mondo Brewing Company, a new craft brewery in London, I have developed a whole new level of respect for what it takes to make a great craft beer.
One of the biggest hurdles for breweries begins at finding a place to perfect their craft, especially here in London. Our friends at Mondo Brewing Company spent months and months looking for a suitable space. Acquiring an industrial space in a city that is rapidly converting any available building into luxury condos (because every city needs an endless supply of new luxury condo buildings) proved challenging.
After trekking all over the city, they eventually secured a location, but began the always frustrating lease signing process. Things took awhile, as adjustments and corrections were made to the lease contract in a long back-and-forth between the brewery and the new landlord.
Finally, after officially signing off on the lease, Mondo Brewing Company had a new home!
Now began the task of sourcing and purchasing equipment, outfitting the space to brew commercially. To make beer on that level means more than a few small tanks. You need a crusher, a pre-masher, a mash tun, a lauter tun, heat exchanger, fermenting tanks, bright beer tanks, a bottling assembly and many other pieces of equipment. None of which come cheaply.
It is a massive investment. But that is only half the battle.
You need to figure out the electrical supply, redo the floors and install proper drainage, a key element when you are constantly washing and cleaning the equipment.  Mondo had to improve the electrics, so that meant calling the city and dealing with ripping up the sidewalk outside. Obviously, the city was in no hurry, so the guys had to endure another long wait before the electric company eventually showed up to complete the work.
With the floors and drains done, it was time for the arrival of the equipment. Multiple semi-trailers arrived at the brewery, unloading huge pieces of equipment, one after another. Of course, the installation process is no simple step either. Welders, plumbers and more electricians were required to hard wire the pieces into place, run the proper drainage and connect all the wiring. That meant more time, waiting to actually beginning the process of brewing their beer.
Of course, the hard work was only beginning. It takes roughly six weeks for beer to go from grain to bottle, give or take some time depending on style of beer. The scale of the production though is the biggest challenge. If you make a mistake with a home-brew kit, you can dump it out and try again with minimal investment. But a mistake on a few dozen barrels means literally dumping your company's profits down the drain, a potential financial disaster for a new small business.
On the commercial scale, the process has to be rigorously overseen to avoid accidents that could damage a new business.
Accidentally boil the grain and water mixture (which is called wort) in the mash tun? Disaster. A matter of a few degrees can ruin the beer, resulting in an unsellable product. Missing a tiny step of the process in the lauter tun or bright beer tank can result in an overly cloudy beer, something that can damage the reputation of new brewery that is looking to produce a superior product.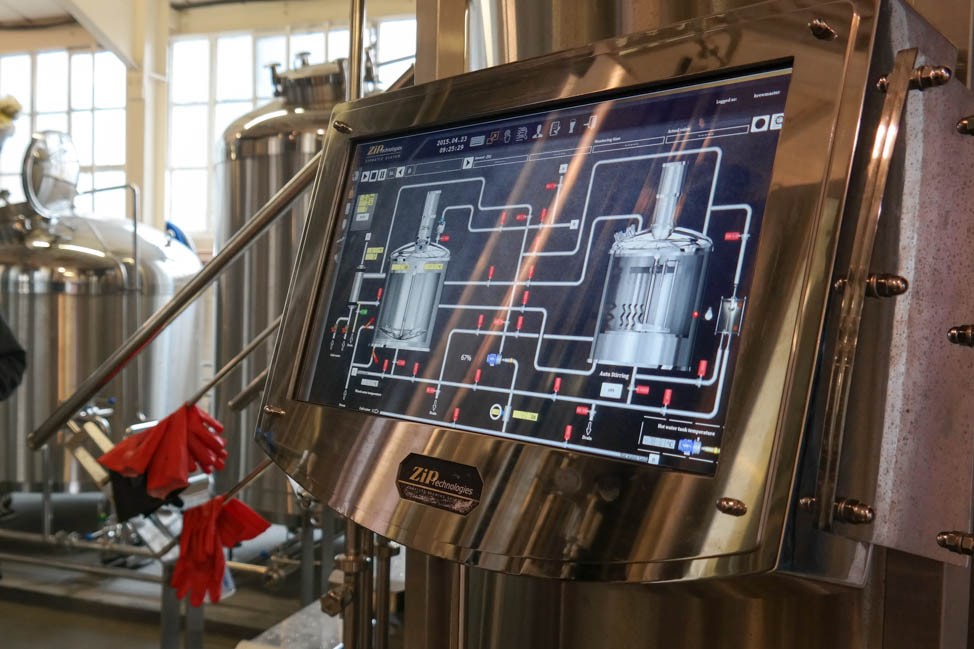 Then, there is the element of man power. While large scale breweries have hundreds of employees overseeing every part of the beer making process with machine-like procession, like any small business, a craft brewery starts with only a few employees. There are no eight hour work days and set schedules. No weekends or holidays off. It is a 24/7 job. Everyone needs to be on hand all the time, getting to learn on new equipment, finding out the quirks and focusing on a perfect final product.
Ultimately, starting a craft brewery is not for the casual beer fan. The act of brewing is still difficult, but the biggest challenge is getting to the final product. My level of appreciation for the hardships a new brewery has to endure has grown immensely. The months and months spent searching for a location, building out a space and installing equipment is brutal, let alone waiting to see if the beer they make will sell. Craft breweries like Mondo have to sacrifice a lot to see their dreams of producing great beer for us to enjoy at our local bar come to fruition.