Sunday dinner was always a big deal in my family. We ate together often but Sunday night was the dinner you could not miss. My mom would make a casserole or my dad would grill some chicken. Simple but delicious.
Here in the UK, the pub lunch (or Sunday roast) is a similar concept, except you typically go out to your local pub and gorge on meat, gravy and ale. It would be like having Thanksgiving every Sunday in the States. Think about that for a second.  We finally took part in our first proper lush Sunday roast last week. We hit up local restaurant, The Pig and Butcher, a convenient short waddle from our flat in Islington.
The basics – there are always two to three options, and some places like The Pig and Butcher do larger format roasts for 2-3 people (as one of the options). All roasts come with various roasted or creamed vegetables, gravy, crispy potatoes and Yorkshire pudding. You never see people roll solo to a Sunday roast. You go with friends or family (including your dog since they are allowed in pubs and also love Sunday roasts), drink a few pints, eat some delicious food, relax for a few hours and go home to power nap.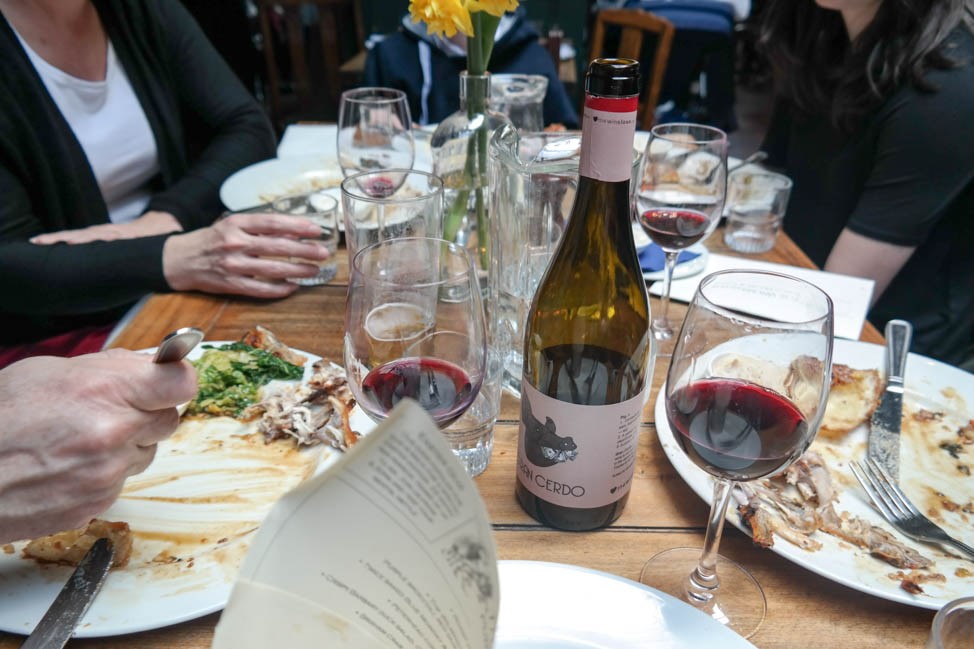 Our meal at The Pig and Butcher was outstanding. I went with roasted leg of lamb, served with a mint sauce, gravy, crispy potatoes, creamed leeks, roasted root vegetables and a Yorkshire pudding the size of a softball. Julie and our friends crushed the angus sirloin roast with mustard while enjoying a few pints of local brew Mean Time and finishing with the classic British dessert, Sticky Toffee Pudding, before crawling home and going into a coma within seconds of hitting the couch. Just another normal Sunday in the UK.